New Year's Eve: History and How countries in the worlds celebrate amidst COVID-19?
Most New Year's festivities begin on December 31 (New Year's Eve), the last day of the Gregorian calendar, and continue into the early hours of January 1 (New Year's Day). Below are the history and traditions of New Year's Eve that you should know.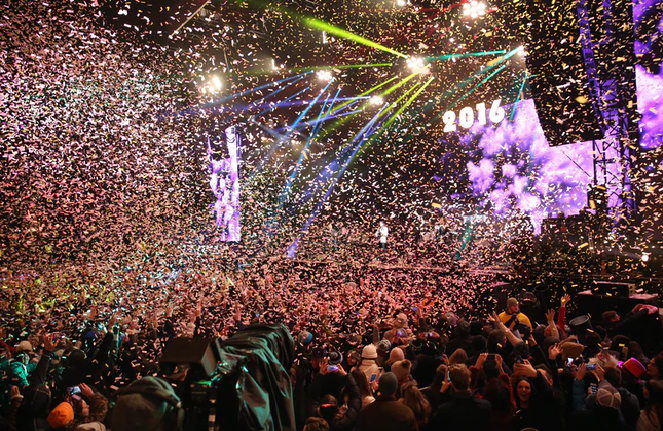 Photo: Mic
When did New Year's Eve festivities come about?
The earliest recorded New Year's celebration is thought to be in Mesopotamia around 2000 B.C., according to Earth Sky. While the celebrations actually occurred during the vernal equinox in mid-March — as this was considered the start of the new year by the calendar at the time — an eleven-day festival was held that would probably put our current parties to shame. According to History.com, the Ancient Mesopotamian people performed rituals, celebrated the religious victory of the sky god Marduk over the sea goddess Tiamat and either crowned a new king or allowed their old king to continue his reign.
Why do we celebrate the new year in January?
The new year wasn't always celebrated in January, according to History.com. The Ancient Roman calendar used to follow the lunar cycle, and had the new year beginning in March. Sosigenes, an astronomer, convinced Julius Caesar to follow the solar year, instead. From 46 B.C. on, the new year began in January.
Starting the new year in January was partially done to honor the god Janus, for whom the month was named. Since Janus had two faces, he was able to look back into the past and forward into the future simultaneously, making him a great spokesperson for the holiday we celebrate today.
Why do we drop a ball on New Year's Eve?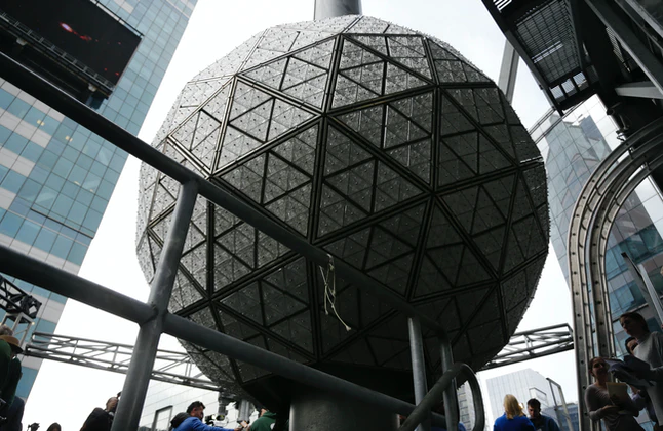 The ball for 2017 is preparing for its grand entrance. Photo: Seth Wenig/AP
Most of us are familiar with the traditional ball drop in New York City's Times Square; even if we haven't sojourned to the city to see it, we have likely watched it on TV. But why does New York drop a giant, lit-up ball on New Year's Eve anyway?
According to PBS, the festivities of New Year's Eve moved to the New York Times building in 1904 after previously taking place at Trinity Church in Manhattan, where spectators were able to hear the chiming of the bells signaling midnight. However, when the fireworks began, it quickly became obvious that the usual spectacle wouldn't do: Hot ashes fell down on the streets after the display, causing problems and leading the New York Police Department to put a ban on fireworks.
After this, New York Times publisher Adolph Ochs went to Walter Palmer, the Times' chief electrician, to create something different to draw in crowds and avoid the rains of fiery doom. Palmer, inspired by the maritime tradition of dropping a time ball so sailors could adjust their chronometers while at sea, devised the idea of dropping a lit-up ball on New Year's Eve.
The tradition of dropping the ball in Times Square has been a tradition ever since 1907.
New Year's Traditions From Around The World
Many New Year's traditions that we take for granted actually date from ancient times. This year, ring out the old and ring in the new with a New Year tradition—or two! From singing "Auld Lang Syne" to eating black-eyed peas for good luck to eating 12 grape at midnight, discover different ways to celebrate the start of 2021!
Make some noise
Making a lot of noise and light—from fireworks to gun shots to church bells—seems to be a favorite New Year's pastime across the globe.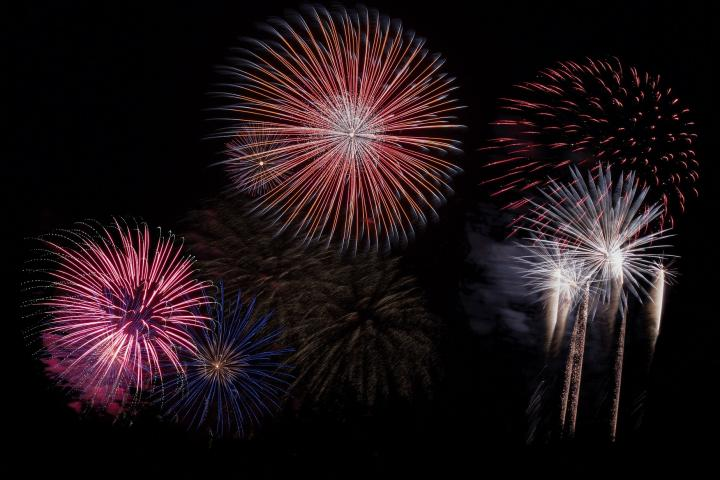 Photo: Tony Giuffrida/Shutterstock
In ancient Thailand, guns were fired to frighten off demons.
In China, firecrackers routed the forces of darkness.
In Denmark, they throw plates and glasses against each others' front doors to banish bad spirits.
In Ecuador, it's tradition to burn effigies of famous people to destroy bad "juju" from past year and start fresh.
In the early American colonies, the sound of pistol shots rang through the air.
In the United States today, many watch the ball drop in New York's Times Square.
In other countries, many folks wait for the church bells or the chimes of clock towers to ring out.
Eat lucky food
Many New Year's traditions involve food. Here are a few:
In Spain, people attempt to eat 12 grapes during these 12 strokes of midnight! Tradition says that if they succeed before the chimes stop, they will have good luck for all 12 months of the coming year.
In the southern US, black-eyed peas and pork foretell good fortune. See our recipe for Hoppin' John!
In Scotland—where Hogmanay is celebrated—Scots also hold bonfire ceremonies where people parade while swinging giant fireballs on poles!
Eating any ring-shaped treat (such as a doughnut) symbolizes "coming full circle" and leads to good fortune. In Dutch homes, fritters called olie bollen are served.
The Irish enjoy pastries called bannocks.
In India and Pakistan, rice promises prosperity.
Apples dipped in honey are a Rosh Hashanah (Jewish New Year) tradition.
In Swiss homes, dollops of whipped cream, symbolizing the richness of the year to come, are dropped on the floors—and allowed to remain there!
Have a drink
Although the pop of a champagne cork signals the arrival of the New Year around the world, some countries have their own beverage-based traditions.
Wassail, a punch-like drink named after the Gaelic term for "good health," is served in some parts of England.
Spiced "hot pint" is the Scottish version of Wassail. Traditionally, the Scots drank to each others' prosperity and also offered this warm drink to neighbors along with a small gift.
In Holland, toasts are made with hot, spiced wine.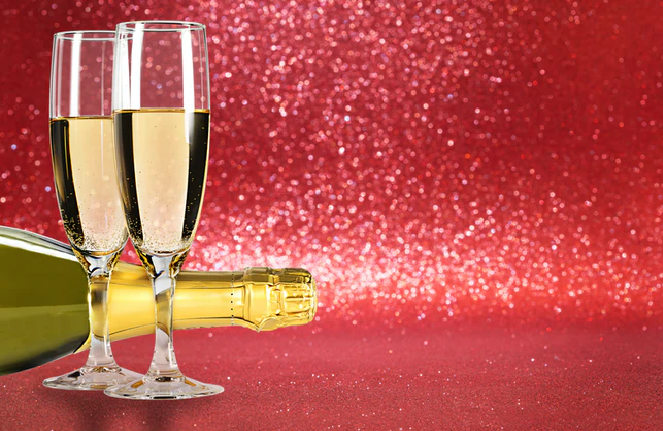 Photo: Almanac
In Spain, Cava (a sparkling white wine) is often served to guests for making toasts.
See our Holiday Punch Hints and Recipes for ideas.
Give a gift
New Year's Day was once the time to swap presents.
Gifts of gilded nuts or coins marked the start of the new year in Rome.
Eggs, the symbol of fertility, were exchanged by the Persians.
Early Egyptians traded earthenware flasks.
In Scotland, coal, shortbread and silverware were traditionally exchanged for good luck.
Put your best foot forward
During Scotland's New Year's Eve celebration of Hogmanay, the custom of "first-footing: is an important part of the celebration of Hogmanay, or New Year's Eve day.
After midnight, family and friends visit each other's home. The "first foot" (person) to cross a threshold after midnight should carry a gift for luck. Although the tradition varies, those deemed especially fortunate as "first footers" are new brides, new mothers, those who are tall and dark (and handsome?) or anyone born on January 1.
Turn over a new leaf
The dawn of a new year is an opportune time to take stock of your life.
Jews who observe Rosh Hashanah make time for personal introspection and prayer, as well as visiting graves.
Christian churches hold "watch-night" services, a custom that began in 1770 at Old St. Georges Methodist Church in Philadelphia.
The practice of making New Year's resolutions said to have begun with the Babylonians as early as 2600 B.C., is another way to reflect on the past and plan ahead.
New year's folklore
Some customs and beliefs are simply passed down through the ages. Here are some of our favorite age-old sayings and proverbs.
On New Year's Eve, kiss the person you hope to keep kissing.
If New Year's Eve night wind blow south, It betokeneth warmth and growth.
For abundance in the new year, fill your pockets and cupboards today.
If the old year goes out like a lion, the new year will come in like a lamb.
Begin the new year square with every man. [i.e., pay your debts!] –Robert B. Thomas, founder of The Old Farmer's Almanac.
How countries in the world celebrate New Year's Eve amidst Covid-19?
U.S
Like the Thanksgiving parade and other iconic events in 2020, New Year's Eve in Times Square is happening this year without the crowd, the Times Square Alliance announced Tuesday, according to Abc7ny.
The program will take place but without the million people that ordinarily cram into the "Crossroads of the World" to watch the iconic ball drop.
The featured musical performance, befittingly enough for a year like this, will be Gloria Gaynor singing "I Will Survive."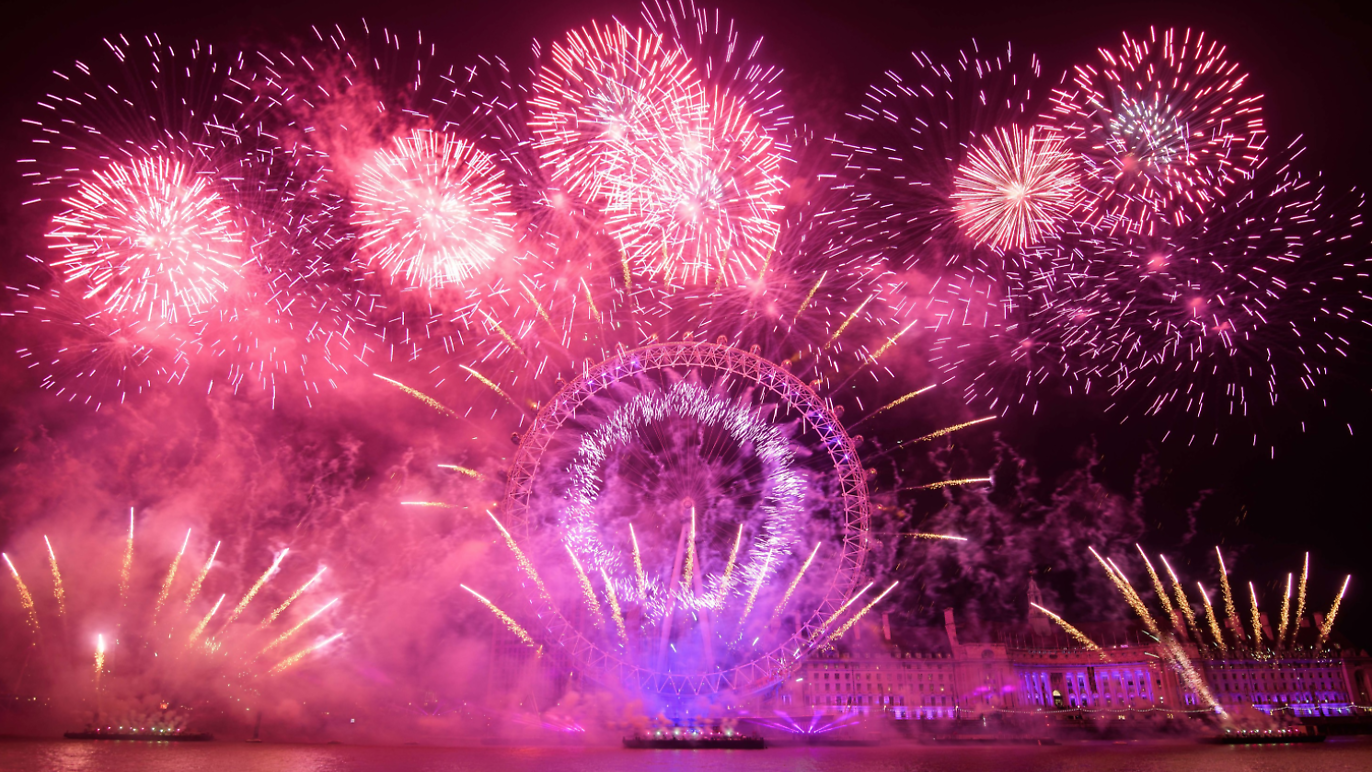 Photo: Laura Roberts/AP
The Heroes of 2020 will be represented onsite by New York families of first responders, frontline and essential workers, whose personal stories from the past year inspire all of us and reflect the best of the human spirit. These New York stories of sacrifice and public service are representative of family stories in every community in every state across our country and around the world.The program will honor health care workers and other heroes of the year, "representing resounding resolve and a determined spirit, at a time when the world collectively awaits a renewed beginning," said Tim Tompkins with Times Square Alliance.
The broadcasts that usually set up shop in Times Square will be there, including "Dick Clark's New Year's Rockin' Eve with Ryan Seacrest 2021," which will have a performance from Jennifer Lopez. Other performers include Cyndi Lauper and Billy Porter.
All participants will remain masked at all times except when preforming and will adhere to distancing regulations throughout the production site, officials said. Additionally, all special guest household groups, who are included in the capacity limits for the production, will be staged within an individual household sealed zones to proper distance from other guests, performers and crew.
UK
On Wednesday December 16 at 00.01am, London officially entered Tier 3, which means bars, restaurants, theatres and cinemas will all be forced to close at what is normally their busiest and most lucrative time of year. It also means no socialising indoors, unless the visitors are in your support bubble. The length of time Tier 3 restrictions will be in place is currently undetermined, but is set to be reviewed every 14 days, which would take us right up to December 30 (though some reports initially suggested the review would take place on December 23).
NYE was already hanging in the balance before Monday's announcement. The official London New Year's Eve fireworks were cancelled in Sepmtember, and the 11pm curfew for hospitality venues meant most of the capital's club nights would have to give the usual midnight countdown a miss. Some came up with clever ways to adapt: The Cause in Tottenham had planned a boozy NYE Breakfast Club which would celebrate 'midnight' at noon. Bruce Grove's Roller Nation was going to put on a retro NYE roller disco that would finish at 10.45pm and The Prince of Peckham was due to hold a massive socially distanced party across its three floors. If the case is reviewed on December 30, or sooner, and Tier 3 restrictions eased, events like these may go ahead, but the uncertainty will put a considerable strain on these venues, leaving little or no time for planning. The same applies to the hundreds of independent London restaurants who were depending on New Year's Eve brunch and early dinner reservations to help them stay afloat.
Outdoor NYE activities will remain largely unaffected by the Tier 3 restrictions, as long as Londoners attend in groups of no more than six. Outdoor ice rinks are allowed to stay open, which means you can still book in for an evening skate on New Year's Eve at The Queen's House rink in Greenwich. There are also a few December 31 tickets available for the massive light trail, Christmas at Kew, though they won't be around for long. Drive-in cinemas can remain open, so you could say goodbye to 2020 with an outdoor screening of 'Pretty Woman'.
For big NYE bashes that will actually take you to midnight, the only guaranteed options – for now – are the virtual ones. Two of the biggies include Rave to the Moon, where DJs like Mr Scruff, Rob da Bank and DJ Yoda will play from venues across the world, and 'Hello 2021: UK', a global YouTube stream that will feature a live performance from Dua Lipa along with sketches from Michaela Coel and Katherine Ryan.
France
The French government said it would lift a six-week-long coronavirus lockdown but impose a curfew from 8 p.m., including on New Year's Eve, as the number of infections creeps up again.
Prime Minister Jean Castex ended days of speculation over the year-end holidays by confirming that families would be allowed to travel to celebrate Christmas together.
But in a severe blow for the cultural sector, he said that museums, theatres and cinemas, which had been hoping to try to recoup some of their losses over the holidays, would remain closed for an extra three weeks, as will football stadiums.
Australia
There will be no 9 p.m. fireworks for the kids. The midnight show will be reduced from its 12 minutes and it will focus on the Sydney Harbour Bridge, scaling it down from several other locations. Over a million locals and tourists come to see this show, but this year they will be encouraged to watch it on TV, and there will be fewer viewing sites. So, the cost this year will come down from the $6.5 million it took last year.
Additionally, the celebrations will be run by the state government instead of the city. "Tourism Minister Stuart Ayres has assured me that the State Government will take full responsibility for preparations and funding of the fireworks, crowd management, safety, traffic and transport, and is prepared to cancel the event if there is a spike in COVID cases," Sydney Lord Mayor Clover Moore said.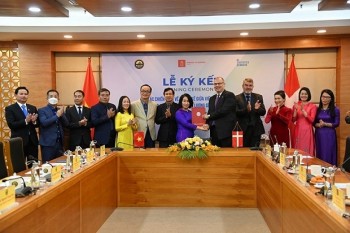 Friendship
Denmark will support Vietnam with about US$1 million to carry out a project on improving the quality of official statistics