Next Time in Hue, Try Traditional Salt Coffee!
Vietnam is famous for coffee and they serve it in some very inventive ways. Traditional salt coffee in Hue is a combination of the sweet, bitter, and salty tastes created by mixing fermented milk and salt.
The coffee consists of condensed milk, a layer of fermented milk with salt, and a traditional aluminum coffee filter on top. After waiting for about three minutes, the color of the coffee cup gradually changes as the black coffee drops gradually fall into the pure white salt cream. Finally, after stirring the cup, you can add a few ice cubes and enjoy.
At first, you will feel unfamiliar with the flavors, as salt coffee is much different from the daily coffee that you have. Its unique taste is created from the sweetness of milk, the bitterness of coffee, and the salt blended together. Salt has the role of neutralizing, highlighting the sweetness of milk, and reducing the bitter taste. The secret of a good cup of coffee is the right amount of salt, which makes the drink richer in flavor.
Here are the 6 best café destinations that make the best salt coffee for your taste in Hue.
1. Quan ca phe Muoi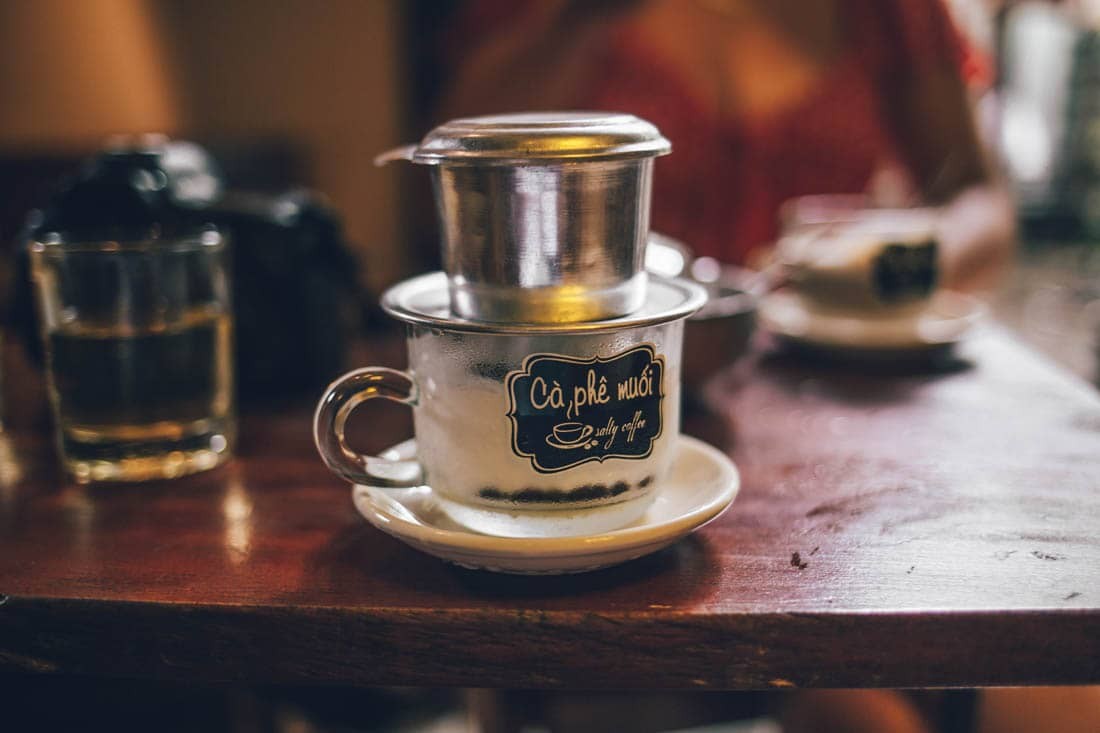 Photo: toplistcafe
Address: 10 Nguyen Luong Bang, Hue
142 Dang Thai Than, Hue
Ca phe Muoi is the first café in Hue that started this business and trend, and best known by many tourists. This place attracts people for its warm, lovely space. The outdoor seating is airy and spacious, which is suitable for groups of friends gathering around and chatting, and those who want to enjoy a bit of fresh air.
Ca Phe Muoi is where the story of this amazing salt coffee began, and becomes more famous than any other drink here. The coffee of Muoi cafe still retains the traditional way of extracting filter coffee. It makes you feel familiar as if you were sitting at home and waiting for your father to brew a delicious cup of coffee for you. Coming here, the atmosphere and space will soothe your anxious soul and bring you inner peace.
2. Bali Coffee
Photo: Toplist
Address: 115 Le Huan, Hue
Opening hours: 6:30 am – 10 pm
Bali Coffee is a lovely and familiar corner of young people living in Hue and is run by an aspiring young coffee lover. Even though this café is small, there are still a lot of guests visiting every day. The salty taste made by Bali helps to neutralize the sweetness and bitterness, creating a fatty and aromatic flavor that will remain at the tip of your tongue, making you want more than just a sip.
The quality of the drinks sold at Bali never ceases to amaze the customers, and its taste never changes, as the baristas are professionally trained to bring out only the perfect cups of salty coffee that will satisfy everyone.
3. Tan. cafe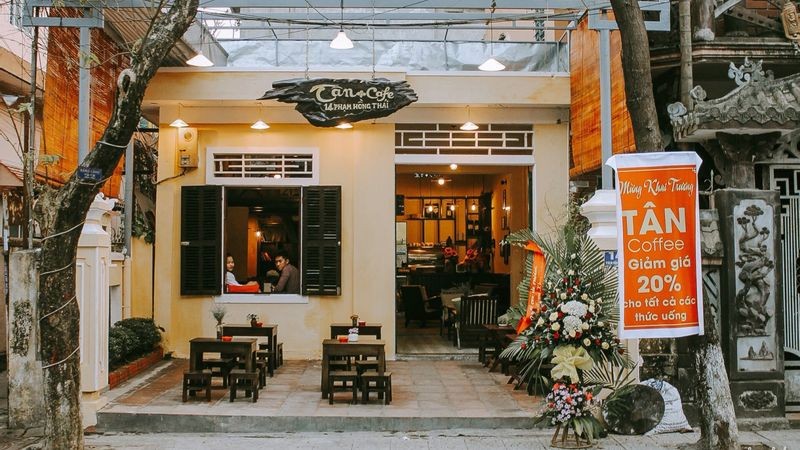 Photo: Toplist
Address: 14 Pham Hong Thai, Hue
Opening hours: 7 am – 10 pm
If you have a chance to visit Hue, do not forget to stop at Tan. cafe to enjoy a hot cup of salt coffee with your friends or family. Tan. cafe coffee shop is a familiar name to a lot of young people living here, as the coffee itself has a very special taste as no other place has.
Walking into the café, you can choose a seat by the window and feel all your tiredness begin to slip away. It almost feels like all the noises and the bustling life stop once you step through the door, and enter a totally different world that brings back old memories. The old-style ceramic tile background is worn by time, the tables and chairs have antique and old colors, and the walls are stained with old-style drawings, curtains, cushions, and blankets create a strange but familiar feeling.
4. Nha 87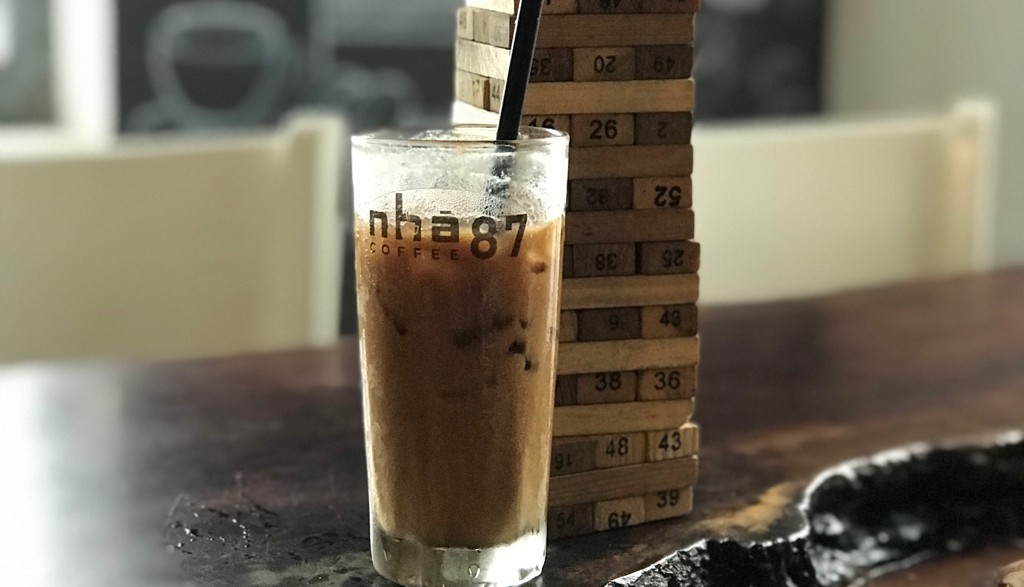 Photo: Foody.vn
Address: 87 Le Huan, Hue
Hotline: 0867984789
Nha 87 is designed with a warm and friendly space, and the tables and chairs are neatly arranged for customers to sit comfortably. This place has a classic design, with a lot of peaceful corners where you can sit quietly and watch the life flowing outside the windows. Coming here, you will have a chance to enjoy the best dishes and also take some unique Instagram check-in pictures.
5. Mo Coffee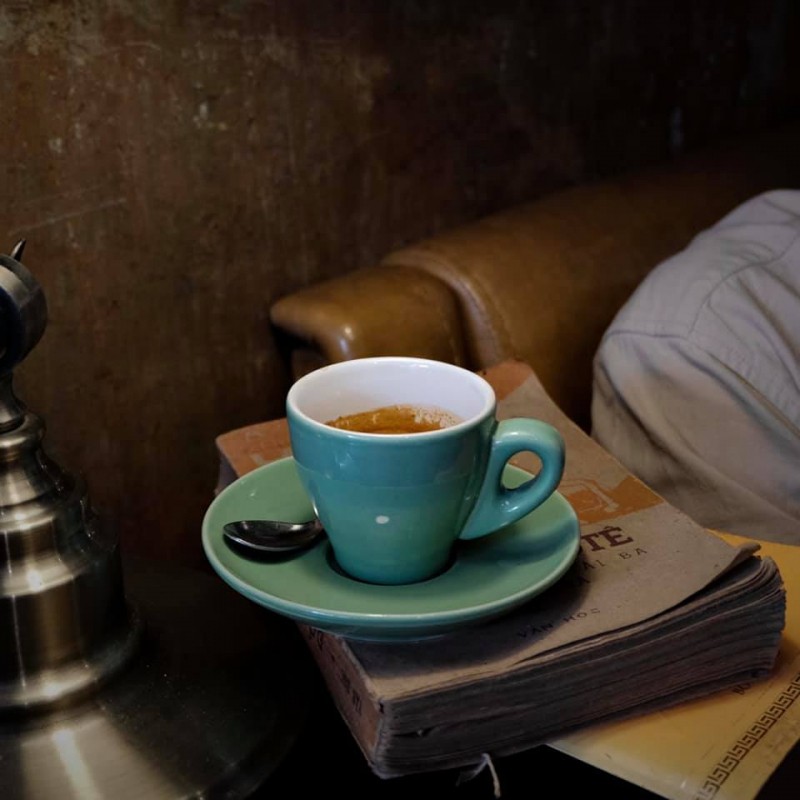 Photo: Toplist
Address: 4 Nguyen Thi Minh Khai, Hue
138 Nguyen Hue, Hue
Mo Coffee is loved by many young people for bringing a true Hue atmosphere to the customers, and one of the most famous places that make delicious salt coffee. This place has a modern architectural design with two floors. Nothing is more perfect than choosing a beautiful corner to sit in and have a sip of your cup of coffee while working or studying, which will give you the energy to complete the most difficult task.
The coffee here is also highly recommended by visitors, as the sweet taste of milk and the salt combined together to create a lovely flavor that captures the hearts of coffee lovers, and satisfies the pickiest customers.
6. Laph Coffee
Photo: Foody.vn
Address: 4 Truong Dinh, Hue
Opening hours: 6:30 am – 10 pm
Laph Coffee is a petit café nestled in the heart of Hue and is well–known for its tranquil space and delicious salt coffee. It has a spacious seating space, which is open to the street scenery. The arrangement of tables and chairs creates a feeling of closeness and allows guests to chat comfortably with each other.
Laph coffee is usually very crowded in the morning and evening, as the atmosphere is cooler during this time.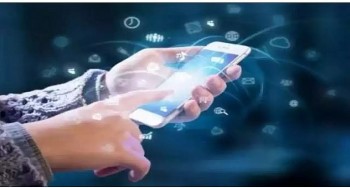 World
The Indian government has blocked as many as 232 apps operated by foreign entities, many of them Chinese, for being involved in betting, gambling and unauthorised loan services.