NGO promotes school readiness and learning outcomes among ethnic minority children
Children in the project schools demonstrated a improvement in both early literacy learning and math skills.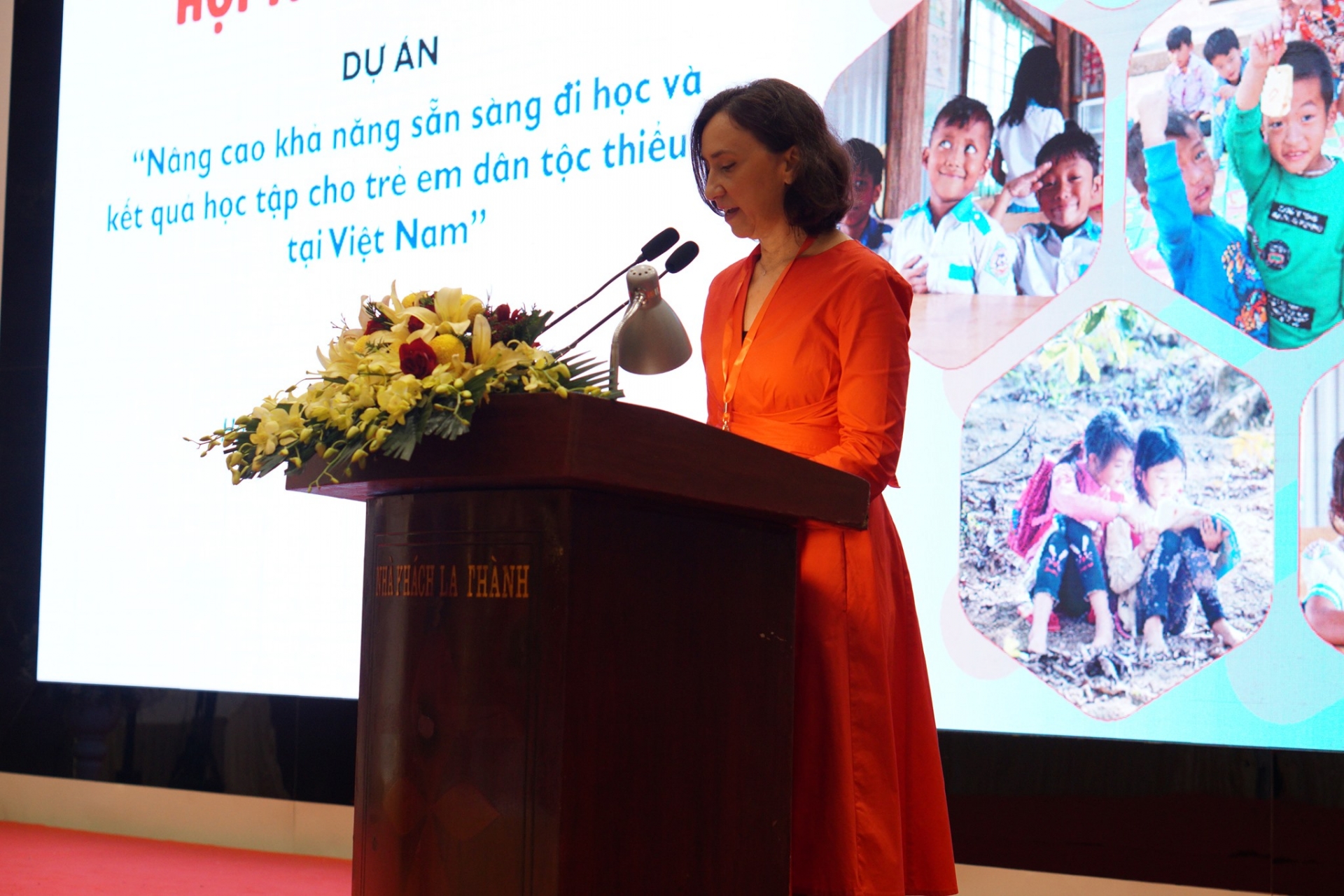 Dragana Strinic, Country Director of Save the Children, shared: "Ensuring that every last child has access to a quality education is one of Save the Children's global breakthrough goals."
Save the Children, with the support from the Korea International Cooperation Agency (KOICA), organized the "Enhancing school readiness and learning outcomes of ethnic minority children in Vietnam project dissemination workshop".
Literacy acquisition, the process of becoming a reader, begins in the earliest stages of a child's life. This period when children are not yet reading and writing but are acquiring foundational skills and tools they need in order to read and write is called emergent or early literacy. Much in the same way, even before children learn to add, subtract, multiply, divide, and count to one hundred, children learn many concepts about numbers and mathematics that are a part of emergent or early mathematics. Early literacy and math knowledge is an even greater predictor of school outcomes than interventions in early primary grades. Most importantly, mastery of emergent literacy and math skills are not optional – they are critical for children to succeed in early primary grades.
Implemented in Quang Nam and Yen Bai provinces from 2018, the project focuses on capacity building for teachers and parents, creating quality and print-rich learning environment for children, and advocacy for the adoption of Save the Children's common educational approaches. These approaches are: Emergent Literacy and Math skills (ELM), Literacy Boost (LB), complemented by Mother Tongue Based Multi-Lingual Education to address the language barrier for ethnic minority children.
KOICA, DOET, and the inspiring teachers and parents
After three years of implementation, the project has achieved impressive results: School readiness of pre-school students at the project schools increased from 36 percent to 63 percent and literacy skills of primary school students increased from 14 percent to 51 percent.
The change in the home learning environment and attitudes towards supporting children's learning at home are very encouraging: more than 80 percent of caregivers have helped their children develop fundamental literacy and math skills through story-telling and simple games.
Children's learning environment at school has also been improved as teachers implement various teaching approaches to increasing children's readiness for school, such as Emergent Literacy and Math Skills (ELM) and Literacy Boost (LB). Emergent literacy and math skills (ELM) developed in these preschool years are crucial for later reading and math outcomes.
In addition to the project results, a plan for sustaining and replicating project activities was also discussed by local partners, teachers and parents at the workshop.
Dragana Strinic, Country Director of Save the Children, shared: "We would not be here today celebrating the project successes without the generous support of KOICA, and especially the tireless efforts of our partner, Departments of Education and Training, and the inspiring teachers and parents who are working hard to improve the learning outcomes of ethnic minority children in Tay Giang (Quang Nam), Van Chan and Mu Cang Chai (Yen Bai)."