Nha Trang And Vung Tau Voted Among World's Top 10 Popular Beaches
According to the Voice of Vietnam, Nha Trang and Vung Tau are featured among the Top 10 list of the most popular beaches worldwide on TikTok by Australian tourism newswire Escape.
Vung Tau Beach in the southern province of Ba Ria-Vung Tau makes up one of the country's most famous beaches worldwide, with the site being famed for its natural beauty and stunning white sand, the travel website wrote.
On TikTok, the beach has already clocked up 238.1 million views, with users showcasing the ocean rocks and fresh fruit drinks you can order by the sea, Escape reported.
Vung Tau Beach came in at third position in the world's 10 most popular beaches.
Bondi Beach in Sydney Australia topped the list with TikTok views reaching 660.3 million. "When you think of Bondi Beach, the glistening ocean, gorgeous sand, and surfing spirit of the area might come to mind first. Videos show clips from Bondi Rescue as well as dolphins swimming and waves crashing," the website recommended.
With over 345 million TikTok views, Pattaya Beach in Bangkok Thailand ranked as the world's second most popular on the social platform.
According to Escape, Thailand represents a dream travel destination for many TikTok users, whilst Pattaya Beach near Bangkok is one of the most beloved beaches on the app. TikTok videos featuring Pattaya Beach showcase its world-class seafood restaurants, cheap hotels, and idyllic ocean views.
Rounding off the top 10 includes Nha Trang Beach of Vietnam; Kelingking Beach of Indonesia; JBR Beach of the United Arab Emirates; Airlie Beach, Whitehaven Beach, and Manly Beach of Australia; and Playa Paraiso of Mexico.
Nha Trang
Nha Trang is the most popular beach destination in Vietnam. The city has a coastline of six kilometers where you can enjoy a day of island hopping, diving, swimming or just relax and enjoy the beautiful view of the sunset. The vast countryside is great for exploring by bike or motorbike.
Nha Trang is a popular beach destination for Russians and Chinese. The beaches here and in the area are some of the best in Vietnam, but it lacks atmosphere and Vietnamese culture. If you just want to relax on the beach, this city is fine for a day or two.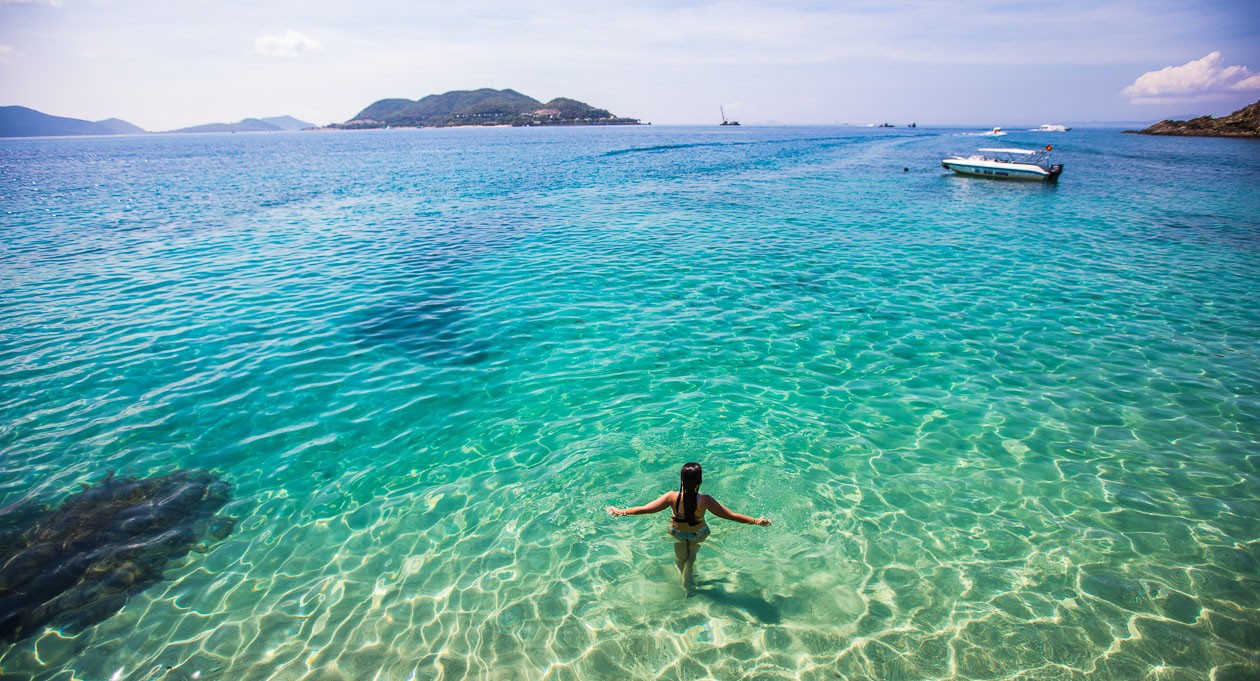 Photo: Vietnam Tourism Board
Nha Trang is also called the "beach capital" of Vietnam. The city is booming, packed with restaurants, bars hotels and hostels. Granted; you've got to love it. But even if you don't like it; Nha Trang is in an impressive setting. Surrounded by green mountains, a breathable beach, clear blue water, and tropical islands off the coast.
Nha Trang is the most popular place for diving in Vietnam, although not necessarily the best. There are about 25 dive sites in the area, most of which are around the different islands. In the city, you will find enough diving schools that can take you with their boat to these dive sites. It does not matter if you have never dived or are already experienced.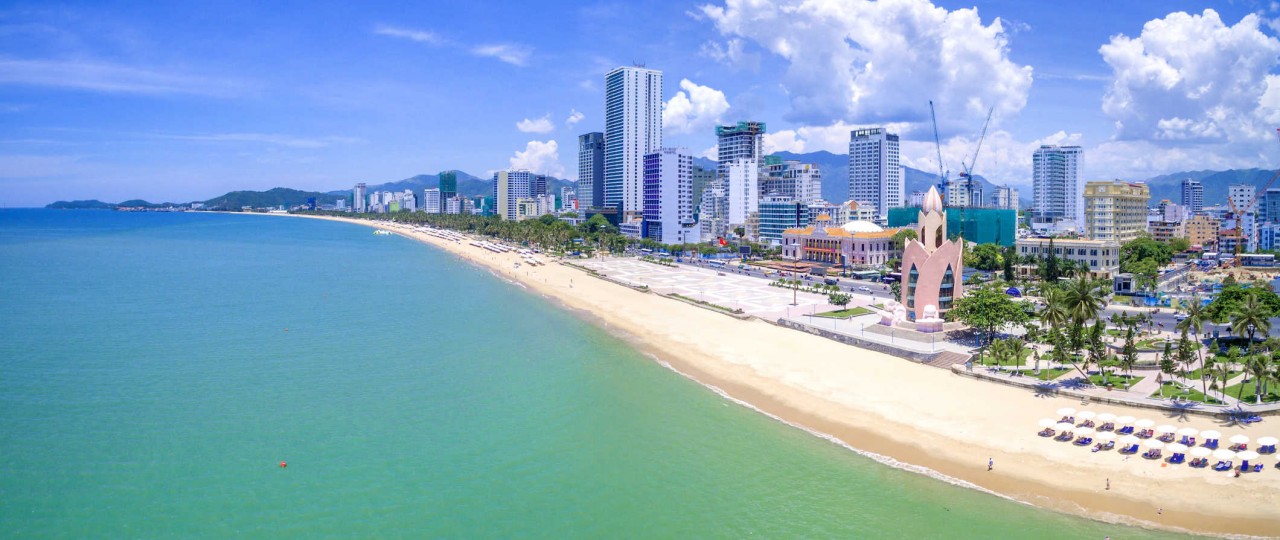 Photo: Normandic Matt
The main reason to go to this city and therefore the best thing to do in Nha Trang is to enjoy the beautiful beaches. The town has a beautiful coastline with a wide variety of food and accommodation along the white sandy beaches. The most famous beaches are Jungle Beach, Doc Let Beach, Nhu Tien Beach, and Bai Dai Beach.
With a total of 19 islands, island hopping is one of the best things to do in Nha Trang. The most famous islands are Mieu Island, Mun Island, Tam Island, Tre Island, Monkey Island, and Yen Island.
There are several boat tours to these islands, so check the quality and type of tour. Some tours are mainly aimed at backpackers with a lot of drinks, others for people who want to fish, and others for swimming and snorkeling. On some islands, there are also alternative activities such as helmet diving, jet skiing, and the banana boat.
Vung Tau
The pretty seaside town of Vung Tau is the Vietnamese equivalent of fish n' chips and a few days by the sea. In short, it's where locals go to relax, soak up the sea breeze, and indulge in seafood feasts. Vung Tau may not have Con Dao's paradisiacal white-sand beaches, but just two hours from Ho Chi Minh City, it's perfect for a quick getaway. Here is the perfect guide to your Vung Tau holiday.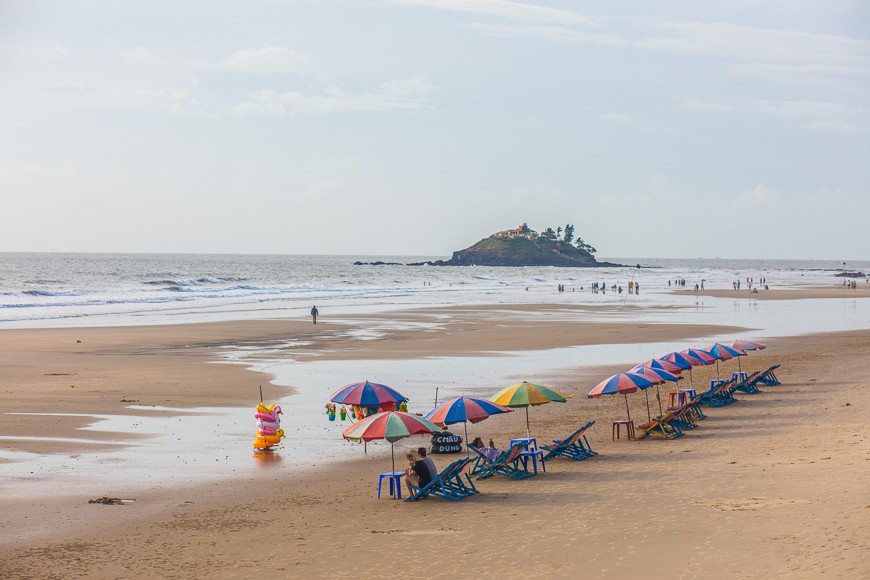 Photo: Vietnam travel
Dip your toes in cool water and watch the day wake up on Vung Tau's beautiful Back Beach. This three-kilometer-long strip of sand will entice you to spend a day in the shade of an umbrella, cocktail in hand. A handful of high-end hotels, restaurants, and beach clubs line Back Beach, and local vendors rent umbrellas on the sand. When you're hungry, break for a delicious seafood lunch overlooking the water.
Vung Tau is known for its wide range of mouthwatering dishes made with fresh, local ingredients. Try a fragrant, steaming hot pot of stingray and baby bamboo shoots; or crispy bánh khọt, a mini-pancake made of flour and curry powder, topped with fresh squid or shrimp, green onion, and shrimp powder. Each piece is wrapped in lettuce and fresh herbs and then dipped into a mix of fish sauce, papaya, and chili.