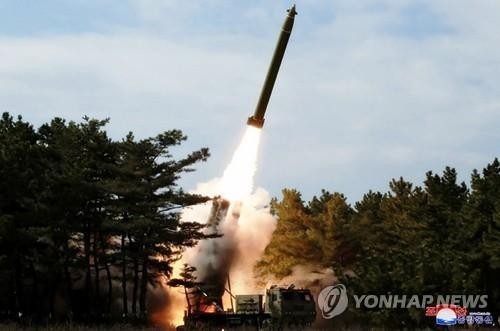 A projectile is launched during a long-range artillery drill by the North Korean army's long-range artillery sub-units on March 2, 2020, in this photo released by the North's official Korean Central News Agency the next day. North Korean leader Kim Jong-un inspected the drill. The report came one day after South Korea said the North fired what appeared to be two ballistic missiles. (Yonhap)
According to South Korea's Joint Chiefs of Staff (JCS), the projectiles were fired northeastward from areas near its eastern town of Sondok in South Hamgyong Province. However, other details, including their type, flight range and altitude, were not immediately available.
"Our military is monitoring the situation in case of additional launches and maintaining a readiness posture," the JCS said in a brief release.
Sondok is where the North conducted the first known test of its super-large multiple rocket launcher in August. Last year, the North test-launched missiles 13 times amid the stalled denuclearization talks with the United States.
At the same morning, South Korea reported 248 new cases of the coronavirus on Monday, bringing the nation's total infections to 7,382, with most new virus infections still emerging in the southeastern city of Daegu, the epicenter of the virus outbreak here, and neighboring North Gyeongsang Province.
So far, 51 people, mostly elderly patients with underlying illnesses, have died in South Korea from the respiratory virus that emerged in China late last year, the Korea Centers for Disease Control and Prevention (KCDC) said.
About 60 percent of confirmed cases have been linked to a branch of the Shincheonji religious sect in Daegu, which, at a population of 2.5 million, is the country's fourth-largest city.
The pace of daily new inflections has shown signs of slowing down in recent days as health authorities have completed extensive testing of 210,000 Shincheonji followers who are at the center of the rapid spread, but authorities are still on high alert over new clusters of infections.
Last Monday, North Korea fired two projectiles from a super-large multiple rocket launcher after a three-month hiatus. It was believed to be part of its artillery strike drill for the wintertime exercise.
Tests again?
According to Yonhap, Pyongyang could have tested the super-large multiple rocket launcher system again, possibly to reduce the firing intervals for operational deployment.
The latest firings came just five days after North Korean leader Kim Jong-un sent a personal letter to President Moon Jae-in and wished him and other South Koreans good health amid the massive outbreak of the novel coronavirus.
Such a conciliatory gesture came as a surprise as Kim's younger sister, Kim Yo-jong, had issued a statement just the previous day blasting Moon's office as "gangster-like" and "foolish" for complaining about Pyongyang's recent projectile launches.
In its New Year's Day message, Pyongyang warned it will show off a "new strategic weapon" in the near future. Experts said the "strategic weapon" may mean an advanced type of its intercontinental ballistic missile (ICBM) or a submarine-launched ballistic missile (SLBM)./.
VNF/Yonhap/Korea Times