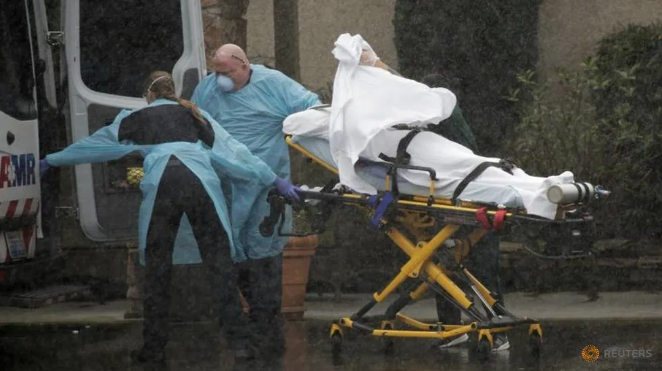 Medics transport a patient through heavy rain into an ambulance at Life Care Center of Kirkland, the long-term care facility linked to several confirmed coronavirus cases in the state, in Kirkland, Washington, U.S. March 7, 2020. REUTERS/David Ryder
Two more people succumbed to the novel coronavirus in Washington state, officials said on Saturday (Mar 7), bringing the nationwide toll to 19, while the number of confirmed cases in New York jumped by 21 overnight and a cruise ship with infected passengers remained stranded outside San Francisco.
More than half of all US states have reported cases of the coronavirus, which originated in China last year and causes the sometimes deadly respiratory illness COVID-19.
The two latest deaths were in Washington's King County, the hardest hit area in the United States after the virus spread among residents at a nursing facility in the Seattle suburb of Kirkland.
Out in the international waters off California, passengers on a cruise ship that was barred from docking in San Francisco after some aboard tested positive for the novel coronavirus did not know on Saturday when they might be able to step ashore.
President Donald Trump said on Friday he would prefer the Grand Princess's 2,400 passengers and 1,100 crew remain out at sea, but that he would let others decide where she should dock.
After 19 crew and two passengers out of 46 tested on the Grand Princess were found to have the virus, Vice President Mike Pence said the ocean liner will be taken to an unspecified non-commercial port where everyone on board will be tested again, and that those "who need to be quarantined will be quarantined" and those who need medical care will receive it.
The ship's captain had addressed passengers earlier to say he did not know when they could dock, and that one guest who was critically ill on Friday was taken off the ship, Aleteanu said.
It was unclear what was in store for passengers who showed no signs or symptoms of illness.
The predicament of the Grand Princess was reminiscent of the Diamond Princess cruise liner, also owned by Carnival Corp, the world's leading cruise operator. It was quarantined off Japan in February and was for a time the largest concentration of coronavirus cases outside China.
In New York, the number of confirmed cases jumped by 21 overnight to a statewide total of 76 people, 10 of whom have been hospitalized, Governor Andrew Cuomo said on Saturday. He issued a declaration of emergency.
The respiratory illness has spread to 95 nations and territories, killing more than 3,500 people and infecting more than 100,000 worldwide.
Italy set to lock down Lombardy
Italy is set to lock down its wealthiest and most populous region, which includes the financial capital Milan, as part of tough new measures expected to be approved on Saturday (Mar 7) to try to contain the coronavirus outbreak.
The new rules include telling people not to enter or leave Lombardy, which is home to some 10 million people, as well as 11 provinces in four of Italy's 19 other regions, according to a draft decree seen by Reuters.
The legislation is expected to be approved later on Saturday, the head of the civil protection agency said earlier, after the number of coronavirus infections jumped by more than 1,200 in the past 24 hours.
The number of coronavirus cases in Italy, Europe's worst-hit country, reached 5883 on Saturday, the Civil Protection Agency said, the biggest daily rise since the epidemic began just over two weeks ago.
Deaths due to the highly infectious virus were up 36 to 233, the head of the agency, Angelo Borrelli, told a news conference.
Meanwhile, the number of confirmed cases in the United Kingdom has risen to 209, up from 163. So far, two patients who had confirmed positive for the virus have died, the health ministry and the Public Health England agency said.
The latest figures include three cases in Northern Ireland, which has now reported seven cases of the virus. England has 184 cases, Wales has two and Scotland 16.
The Maldives on Saturday reported its first two confirmed cases of new coronavirus, and placed two of its island resorts under lockdown, as authorities conducted further tests to try to limit the spread of the disease.
The two infected people are believed to have caught the disease from an Italian tourist who has returned to Italy and tested positive there.
"These two cases which tested positive are from a resort. They are employees of the resort and are now quarantined," said Ali Waheed, the tourism minister of the island nation.
In a press release earlier on Saturday, the Maldives Health Protection Agency said two French nationals on a second island who showed symptoms of the disease had also been placed in isolation on Saturday.
In Germany, the number of coronavirus patients stood at 684 on Saturday morning, the country's public health agency, the Robert Koch Institute, said, an increase of 45 over Friday evening.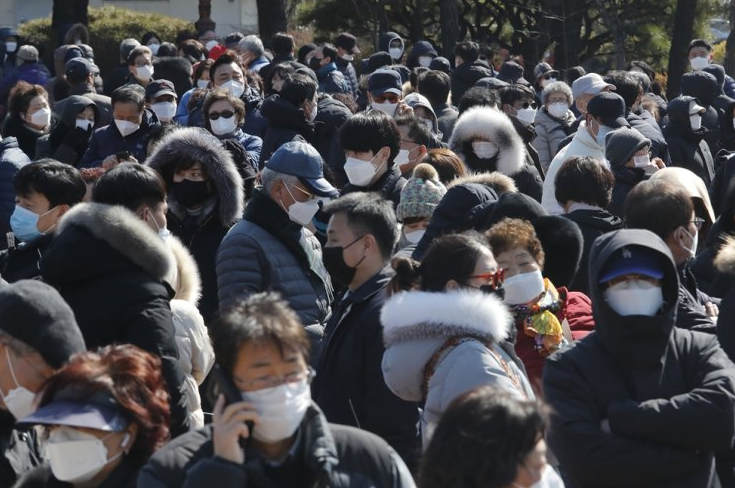 People line up to buy face masks to protect themselves from the new coronavirus outside Nonghyup Hanaro Mart in Seoul, Thursday, March 5, 2020. AP
Over 7,000 cases in South Korea
In Asia, South Korea reported 367 additional cases of the new coronavirus on Sunday, bringing the total number of infections here to 7,134.
A majority of the new cases again came from the southeastern city of Daegu and neighboring North Gyeongsang Province, the two epicenters of the virus outbreak that together account for more than 90 percent of all infection cases, according to the Korea Centers for Disease Control and Prevention (KCDC).
Of the 367 new cases, which were detected Saturday, 294 cases came from Daegu, the country's fourth-largest city with a population of about 2.5 million that is located some 300 kilometers from Seoul.
About 60 percent of confirmed cases here have been linked to a Daegu branch of a religious sect, Shincheonji.
Daegu's total infection cases now stands at 5,378.
South Korea reported its first COVID-19 case on Jan 20. So far, 50 people, mostly with preexisting medical conditions, have died.
First coronavirus fatality in Latin America
A 64-year-old man died of the novel coronavirus on Saturday in Argentina, making him Latin America's first fatality in the global epidemic.
The Buenos Aires man had returned from Europe on Feb 25, Argentina's health ministry said in a statement, without specifying which country or countries he had visited.
The man had underlying health issues including diabetes, hypertension, chronic bronchitis and kidney problems.
Argentina has reported another eight cases of coronavirus.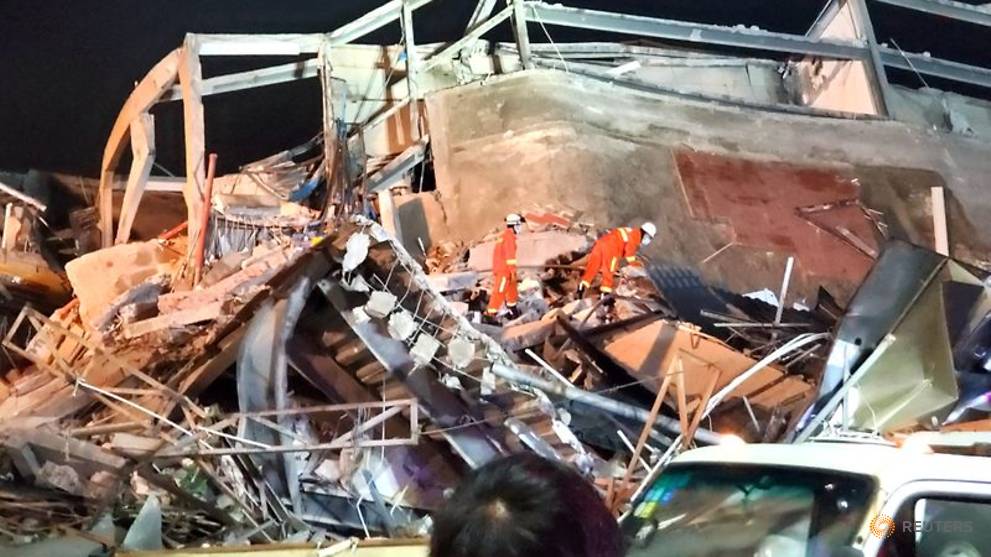 Rescue workers are seen on the site where a hotel being used for the novel coronavirus quarantine collapsed in the southeast Chinese port city of Quanzhou, Fujian province, China March 7, 2020. Picture taken March 7, 2020. cnsphoto via REUTERS
China's new cases fall, quarantine hotel collapsed
China on Sunday reported 27 new deaths from the coronavirus, bringing the nationwide toll to 3,097.
There were 44 new cases of the infection, most in the virus epicentre of Hubei province, according to the National Health Commission.
That brings the total number of confirmed cases in China to 80,695.
Only three cases, all imported from abroad, were reported outside of Hubei, in Beijing and the northwest province of Gansu.
Nationwide new infections have also been on a downward trend, but confirmed imported cases have prompted fears in recent days that infections could swell as people get infected overseas.
More than 40 people have been rescued following the collapse of a hotel used as a coronavirus quarantine facility in eastern China on Saturday. Around 70 people were initially trapped when the 80-room Xinjia hotel in coastal Quanzhou city first crumbled, state media reported.
A total of 43 people have so far been rescued from the wreckage, state news agency Xinhua said.
The hotel's facade appeared to have crumbled into the ground, exposing the building's steel frame, and a crowd gathered as the evening wore on.
Officials have yet to confirm whether anyone died in the accident.
Quanzhou has recorded 47 cases of the COVID-19 infection and the hotel, which opened just two years ago, was recently repurposed to house people who had been in recent contact with confirmed patients, the People's Daily state newspaper reported./.
VNF/Reuters/CNA/Yonhap