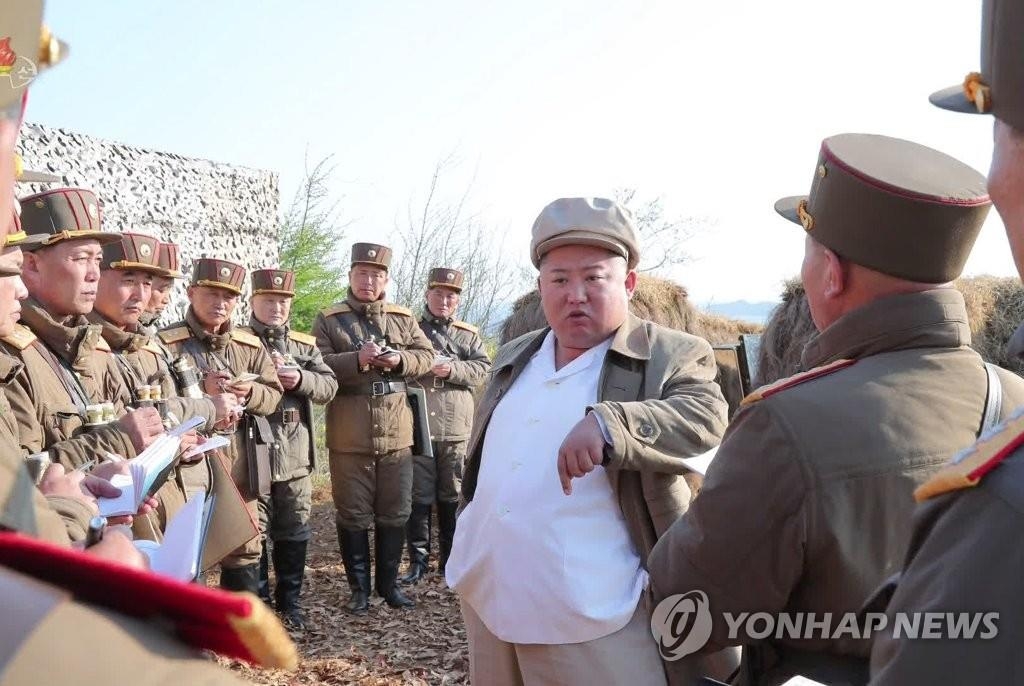 North Korean leader Kim Jong-un (C) inspects an artillery drill in an April 10, 2020, photo released by Pyongyang's media. (For Use Only in the Republic of Korea. No Redistribution) (Yonhap)
Pyongyang's propaganda outlets instead hyped the 88th anniversary of the birth of the Korean People's Revolutionary Army (KPRA) that falls on April 25.
The official Korean Central News Agency detailed the history of the KPRA that dates back to the anti-Japanese people's guerrilla army formed by Kim Il-sung, late grandfather of the current leader. Korea was under Japan's brutal colonial rule at that time.
In an editorial, the Rodong Sinmun, the organ of the North's ruling party, stressed Kim Jong-un's call for bolstering the military power and urged the further strengthening of the entire army's support for his leadership.
China sends doctors to advise on North Korea's leader
According to Reuters, China has dispatched a team to North Korea including medical experts to advise on North Korean leader Kim Jong-un, according to three people familiar with the situation.
The trip by the Chinese doctors and officials comes amid conflicting reports about the health of the North Korean leader. Reuters was unable to immediately determine what the trip by the Chinese team signaled in terms of Kim's health.
A delegation led by a senior member of the Chinese Communist Party's International Liaison Department left Beijing for North Korea, Thursday, two of the people said. The department is the main Chinese body dealing with neighbouring North Korea
The sources declined to be identified given the sensitivity of the matter.
The Liaison Department could not be reached by Reuters for comment late Friday. China's foreign ministry did not immediately respond to a request for comment, also late Friday.
The Daily NK, a Seoul-based website, reported earlier this week that Kim was recovering after undergoing a cardiovascular procedure, April 12. It cited an unnamed source in the North- Korea Times cited.
South Korean government officials and a Chinese official with the Liaison Department challenged subsequent reports suggesting that Kim was in grave danger after surgery. The South Korean officials said they had detected no signs of unusual activity in North Korea.
On Thursday, U.S. President Donald Trump also downplayed earlier reports that Kim was gravely ill. "I think the report was incorrect," Trump told reporters, but he declined to say if he had been in touch with North Korean officials.
On Friday, a South Korean source told Reuters their intelligence was that Kim was alive and would likely make an appearance soon. The person said he did not have any comment on Kim's current condition or any Chinese involvement.
An official familiar with U.S. intelligence said that Kim was known to have health problems but they had no reason to conclude he was seriously ill or unable eventually to reappear in public.
A U.S. State department spokeswoman had no comment. U.S. Secretary of State, Mike Pompeo, when asked about Kim's health on Fox News after Trump spoke said, "I don't have anything I can share with you tonight, but the American people should know we're watching the situation very keenly."
"North Korean military plane activities on 'unusual' rise"?
North Korea has shown an "unusual increase" in inspecting its artillery's readiness and carrying out air force flight operations, heightening tensions in the region, Defense Minister Jeong Kyeong-doo said April 24 to Yonhap News.
The South Korean defense chief made the remark in a congratulatory message for a commissioning ceremony of medical and veterinary officers, noting that the North has been concentrating on its weapons development while remaining unresponsive to offers for talks.
"North Korea ... has been heightening military tensions through an unusual increase in the inspection activities for its combat readiness posture, mostly of its artillery, and in its air force planes' flight operations," he said to Yonhap.
Along with smaller-scale artillery firing drills, the communist country has conducted five major weapons tests this year.
The latest one took place last week, during which the North fired what appeared to be surface-to-ship cruise missiles off its east coast. On the same day, the North also flew Sukhoi-variant fighter jets and MiG-type planes above the eastern coastal city of Wonsan, and fired multiple air-to-ground missiles into the East Sea.
A Joint Chiefs of Staff officer earlier said there has been an increase in North Korea's surveillance activities in skies near its demarcation line with China over the Yellow Sea, adding that some maritime and air spaces over the body of waters have not been clearly declared either by Pyongyang or Beijing.
Latest news Kim Jong Un's Health
North Korea is one of the world's most isolated and secretive countries, and the health of its leaders is treated as a matter of state security. Reuters has not been able to independently confirm any details on Kim's whereabouts or condition.
North Korea's state media last reported on Kim's whereabouts when he presided over a meeting, April 11. State media did not report that he was in attendance at an event to celebrate the birth of his grandfather, Kim Il Sung, April 15, an important anniversary in North Korea.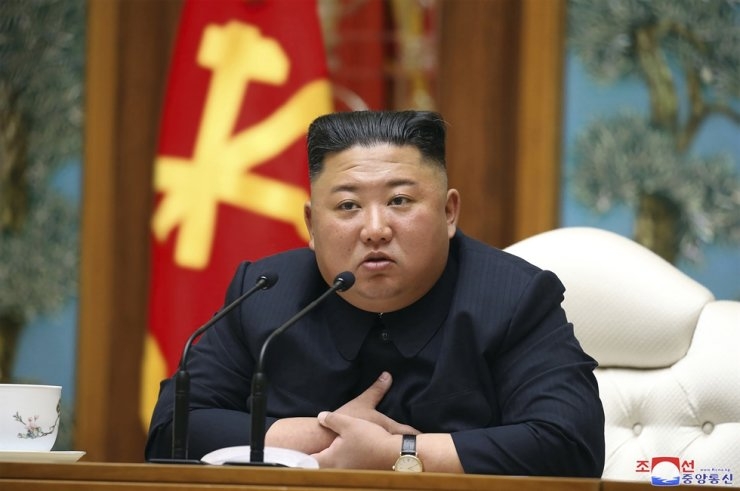 North Korean leader Kim Jong-un attends a politburo meeting of the ruling Workers' Party of Korea in Pyongyang, in this April 11, 2020, file photo provided by the North Korean government. AP
Kim Jong Un, believed to be 36, has disappeared from coverage in state media before. In 2014, he vanished for more than a month and North Korean state TV later showed him walking with a limp. Speculation about his health has been fanned by his heavy smoking, apparent weight gain since taking power and family history of cardiovascular problems.
When Kim Jong-un's father, Kim Jong-il, suffered a stroke in 2008, South Korean media reported at the time that Chinese doctors were involved in his treatment along with French physicians.
VNT