Quang Tri: Grenades near villagers' garden safely destroyed
The Norwegian People's Aid - Project RENEW (NPA-RENEW)'s Battle Area Clearance (BAC) teams' members on January 15, found four unexploded 40mm grenades, also known as M79 munitions, while clearing contaminated areas in Dong Tan An Village of Hai An Commune, Hai Lang District, Quang Tri Province.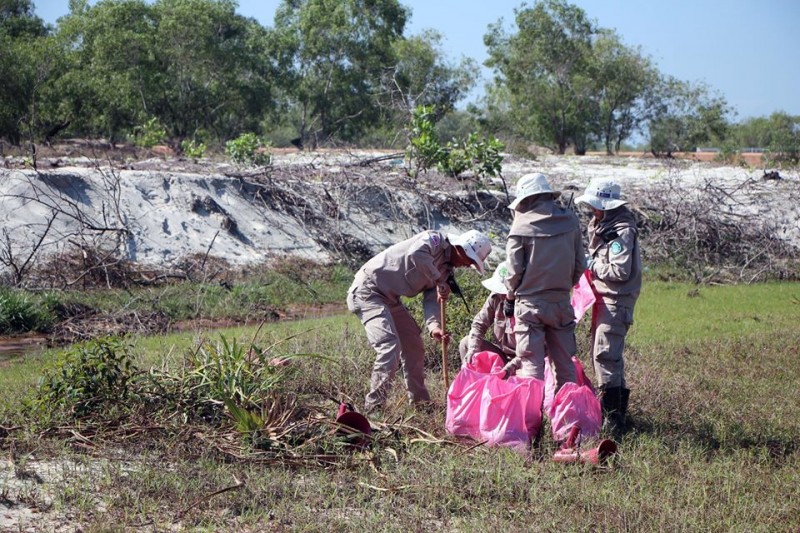 The team had conducted a controlled demolition to get rid of these dangerous weapons. Photo: NPA
These dangerous munitions were found about 500 meters from a green onion garden of local villagers. Therefore, the team had conducted a controlled demolition to get rid of these dangerous weapons.
Quang Tri is the province hardest hit by unexploded ordnance (UXO) with the area of land contaminated with the deadly war legacy amounting to 82 percent of its total, and more than 8,500 local people have been killed or injured after the war ended.
Contamination also imposes a heavy financial cost at a time of rapid economic modernization, limiting cultivation of affected agricultural areas and requiring major infrastructure and industrial development projects to provide for costly clearance operations.
The province has implemented various projects on the prevention of incidents related to UXOs and land clearance, thereby contributing to the province's socio-economic development.
Since October 2019, NPA-RENEW have deployed two BAC teams to clear a Confirmed Hazardous Area in Dong Tan An Village. The teams so far have cleared over 400,000 meters of land and still have the same amount of meters to complete the site. A total of 495 items of unexploded ordnance have been found and safely destroyed during the clearance process. Post-clearance safe land has been released for the Dong Tan An villagers to expand their green onion production, helping generate incomes for their families.
NPA Survey & Clearance Program implemented at Project RENEW is funded by the US Department of State and the DFID - UK Department for International Development, and a cooperation project between NPA and Quang Tri Province Department of Foreign Affairs.