Nurses: Profession in Japan Attracts Vietnamese Workers
The demand for Vietnamese nurses and caregivers in Japan is higher than the number of recruited and trained candidates each year.
About 380,000 Vietnamese labourers are working in Japan, with 200,000 trainees and more than 10,000 working in the nursing sector, of them about 2,000 sent to Japan under the Economic Partnership Agreement (EPA).
Promoting cooperation between Vietnam and Japan in education and sending trainees/nurses was the main focus of discussion at a recent seminar in Japan's Osaka city, VNA reported.
Speaking at the event, Vietnamese Consul General in Osaka Ngo Trinh Ha stressed ample room remains for the two countries to boost their cooperation in labor, including nurses.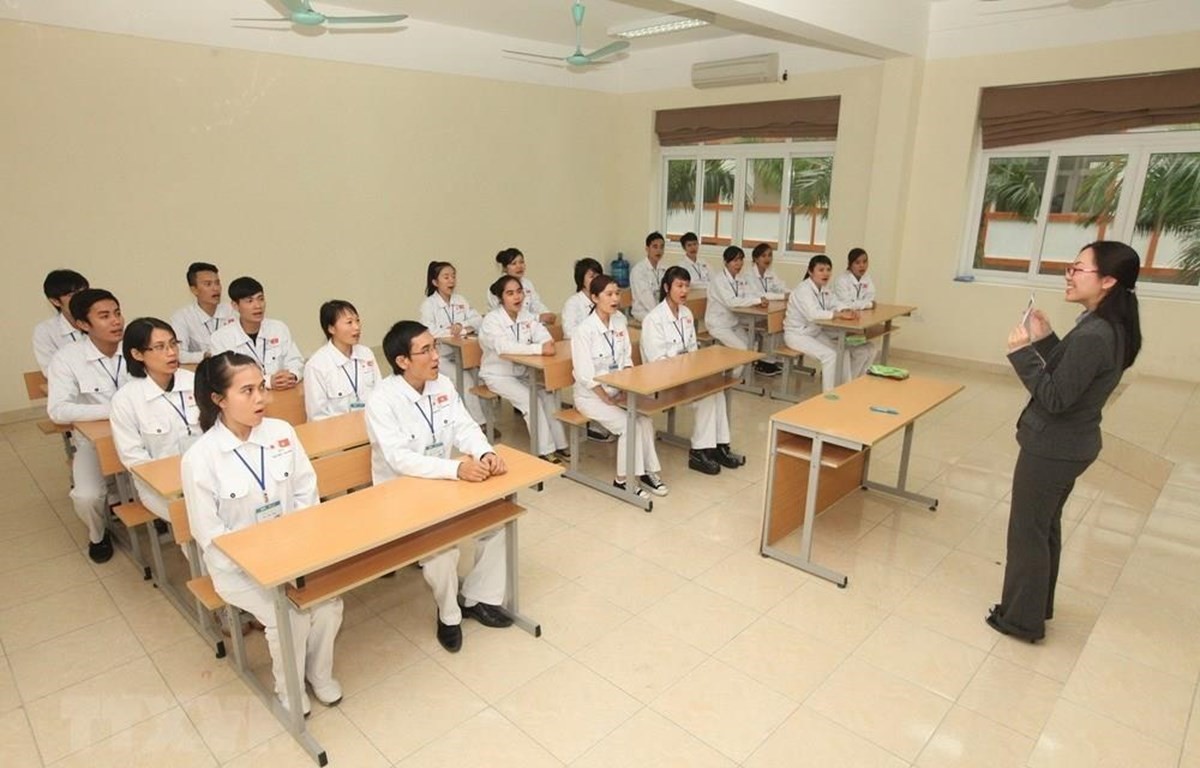 Vietnamese nurse and caregiver candidates study Japanese before arriving in Japan for working. Photo: VietnamPlus
Assessing the current labor situation, head of the Vietnamese Labor Management Board in Japan Phan Tien Hoang said there are currently about 380,000 Vietnamese workers working in Japan, of which about 200,000 interns, 10,000 specified skilled workers and more than 70,000 workers with college, university or higher degrees. The above number of workers accounts for about 18% of the total number of foreign workers in Japan.
Regarding the nursing and elderly care industry, there are more than 10,000 Vietnamese workers working in this industry, of which about 2,000 are nurses and caregivers under the Economic Partnership Agreement (EPA).
According to Hoang, the attraction of the nursing profession to Vietnamese workers is showing signs of increasing recently thanks to the Japanese Government having quite appropriate policies to increase the number of workers working in the nursing profession. In this field, such as increasing salaries for nursing workers from April 2022, Japanese businesses that accept interns/care workers strive to ensure the rights and living conditions for workers.
Enhancing the sending and reception of interns and nurses not only meets Japan's needs but also addresses Vietnam's demand for nurses as the Southeast Asian nation's population aging is predicted to accelerate in the future.
Hayashi Takaharu, chairman of Japan's Avance Group that has admitted more than 50,000 foreign workers, highlighted requirements for nurses and caregivers to work in Japan, including Japanese language skills.
He said that one of the working conditions in the nursing and elderly care industry is that Japanese must reach the Japanese Language Proficiency Test (JLPT) N2, the second highest level of Japanese, but currently most foreign workers in this industry come to Japan, the level is only N5 and N4, the lowest and second lowest level.
To attract workers, Higashikawa town, Hokkaido province has built a mechanism to support the entire cost of vocational and Japanese language training for those who will work long-term in this industry. In addition, in order to attract international students to the town in the context of an aging population and low birth rate, in 2015, the local government established the first public Higashikawa Japanese school in the country. To date, the town has 4% of residents being foreigners.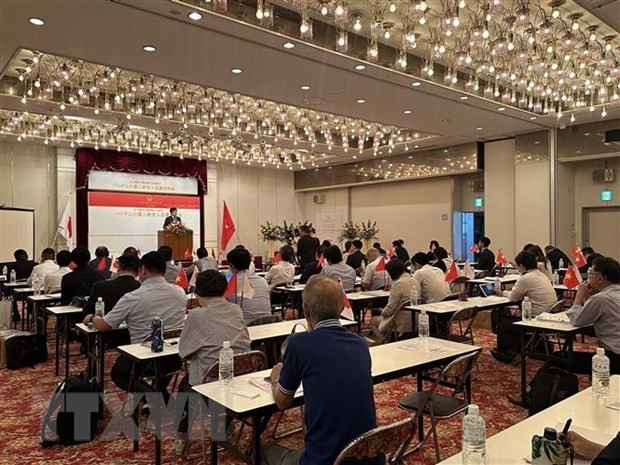 A view of the seminar in Osaka city, Japan. Photo: VNA
Luu Thi Ngoc Tuy, a representative from the VILACO company that sends Vietnamese nurses to Japan, pointed out in the context that the proportion of elderly people in Vietnam is increasing at a rapid pace, the Vietnamese Government is implementing many measures and plans to care for the elderly.
She commented that Vietnam needs to learn from Japan's experience to build and implement an effective elderly care insurance system. She said that with 15 years of experience, VILACO has built an effective recruitment network, without going through brokers and providing job opportunities in Japan at costs lower than the government regulations.
The company targets 2,000 trainees/nurses this year, three times higher than the pervious year. In addition, VILACO also opened a new center for training in elderly care as well as a nursing home according to Japanese standards so that workers have the opportunity to work when returning home.
Consul General Ngo Trinh Ha assessed that the seminar created conditions for Japanese recruitment businesses to have the opportunity to directly interact and discuss with Vietnamese dispatching units, thereby sharing problems and issues. Together we will overcome difficulties, aim for cooperation, development and prosperity, contributing to further promoting this potential field of cooperation.