Online Exhibition of 110 Photos to Pay Tribute to General Vo Nguyen Giap
An upcoming online exhibition will honour General Vo Nguyen Giap (1911-2013).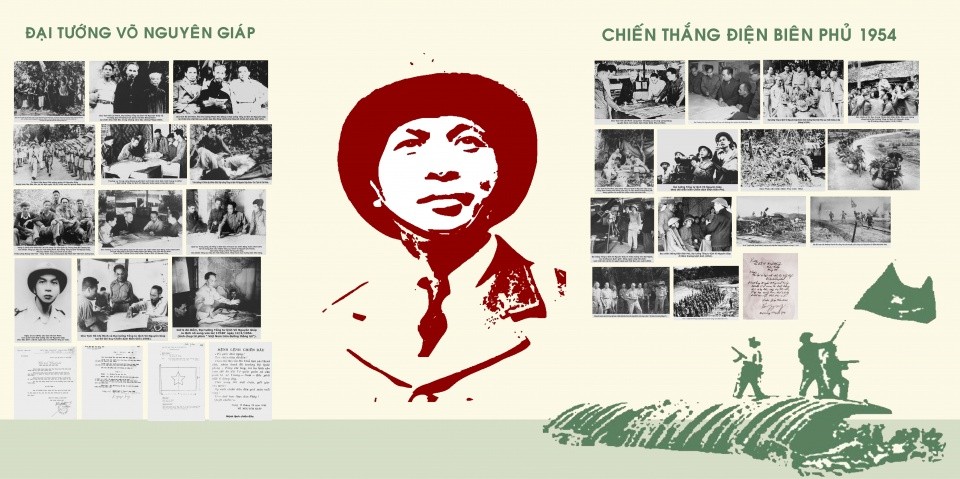 As an eminent student close to President Ho Chi Minh, General Vo Nguyen Giap was loved and respected by the people and international friends and has been a source of pride for generations of officers and soldiers nationwide. Source: TG&VN
An online exhibition on the late General Vo Nguyen Giap will open on August 22 on the occasion of his 110th birth anniversary (August 25) to honour the legendary general's great contributions to the national liberation cause, reported VNA.
Launched at https://trungbayonline.hoangthanhthanglong.vn/, the works on display include 200 photos and documents highlighting General Giap's achievements and contributions when he served as the Secretary of the Central Military Commission, Minister of National Defence and Commander in Chief of Vietnam People's Army.
Through the exhibition held by the Thang Long-Hanoi Heritage Conservation Centre, visitors will have the opportunity to look back at the heroic revolutionary tradition of the Vietnam People's Army associated with General Giap - a loyal revolutionary soldier, an excellent and close disciple of President Ho Chi Minh and the "eldest brother" of the Vietnam People's Army.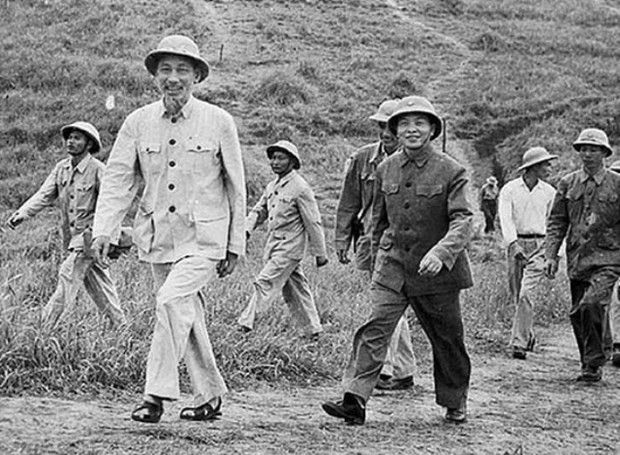 General Vo Nguyen Giap (R) and President Ho Chi Minh (L). File Photo
General Vo Nguyen Giap, whose birth name is Vo Giap (alias Van), was born in Loc Thuy commune, Le Thuy district, the central province of Quang Binh in a family with rich tradition of patriotism. He was an excellent disciple of President Ho Chi Minh.
Giap's early revolutionary journey started since he entered the Hue national high-school, where he was taught by patriotic and outstanding teachers like Vo Liem Son and Dang Thai Mai.
As a student, he was a proactive participant in various anti-colonial movement, and later became a key member of Tan Viet revolutionist party and worked for several newspapers following progressive tendency in the central Vietnam.
He once served as a Politburo member, Secretary of the Central Military Commission, Standing Deputy Prime Minister, Minister of National Defence, Commander-in-Chief of the Vietnamese People's Army and a National Assembly deputy from the first to seventh tenures.
The General, whose military career starting with his appointment to lead the first Vietnamese revolutionary army unit with only 34 soldiers in 1944, led the Vietnamese people's army from victory to victory during the resistance war against French colonialists and then the American imperialists.
In the Dien Bien Phu battle in 1954, Gen. Giap was the Commander-in-Chief who helped Vietnam defeat the French colonists after over 80 years of being oppressed. Dien Bien Phu was considered a resounding victory throughout the five continents, marking the collapse of colonialism all over the world.
21 years later, Gen. Giap, once again, put his name in Vietnam's and the globe's history by leading his military to win the Ho Chi Minh battle in 1975. Ho Chi Minh battle victory was considered a vital stepping stone for the historic Spring Victory on April 30, 1975, which finally reunified the country's South, North after decades of being separated.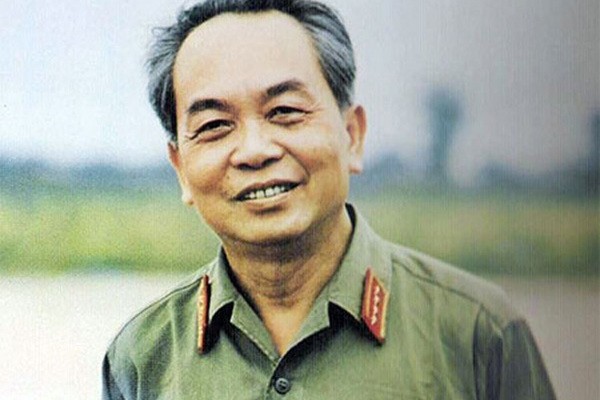 His name is closely linked to the historic victory at Dien Bien Phu in 1954, which put an end to French colonialism in the country. He was also instrumental in fighting the American imperialists, who replaced the French colonialists.
In recognition of his great contributions to the Party and country's revolutionary cause, he was awarded the Gold Star Order, the Ho Chi Minh Order, the 70-year Party membership insignia and other noble orders and medals of Vietnam and foreign countries and organisations.
He passed away in Hanoi on October 4, 2013 at the age of 103.
On the day his official memorial service was held, hundreds of thousand of people from different walks of life, of different ages, from out and inside Hanoi, flocked to the capital's streets, cheering, crying and holding aloft pictures of him, calling him the national legend, the eldest Brother of the country.
Meanwhile, vast number of Vietnamese Facebook users changed their avatar into General Giap's picture, as a gesture of respect to the late Commander.
Nowadays, in the country, road in several provinces and cities in three regions, including Hanoi, Ho Chi Minh City, Da Nang, Can Tho, Dong Nai are named after Vo Nguyen Giap, to commemorate the legendary General.
The cave, located in Ngan Thuy Commune in Le Thuy District where he stayed in the cave where he led military campaigns in southern Vietnam, also is named after the General.
This year, a contest on the life and career of General Vo Nguyen Giap also is being organised for Vietnamese citizens at home and abroad.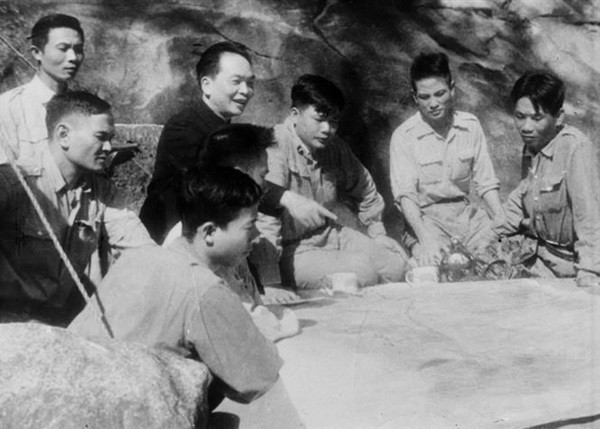 Dien Bien Phu Campaign was under the command of General Vo Nguyen Giap. Photo: VNA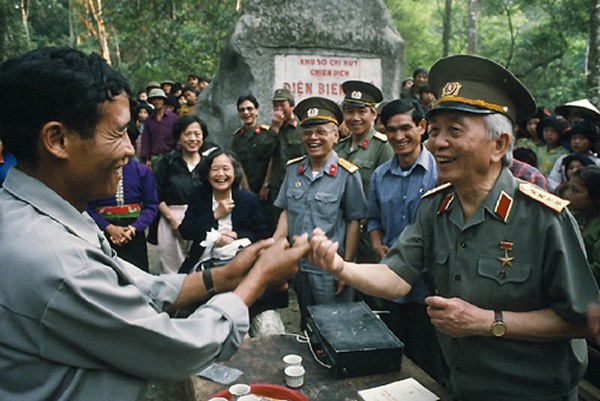 General Vo Nguyen Giap re-visited Dien Bien Phu old battlefield in 2004. Source: vnexpress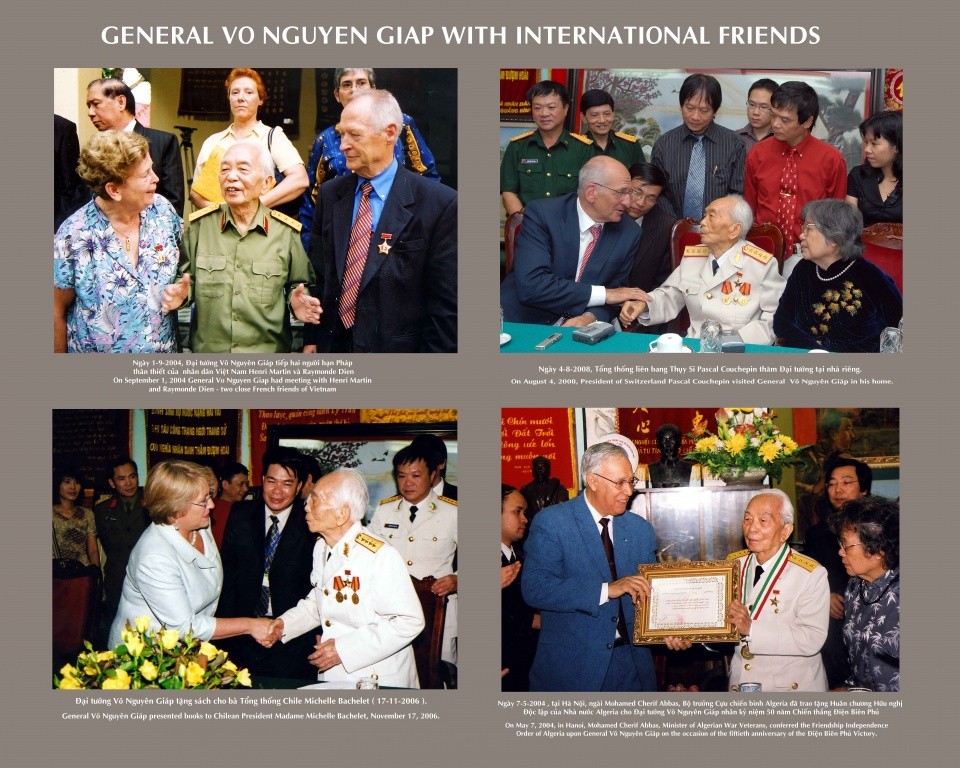 General Vo Nguyen Giap with international friends. Source: TG&VN