Online Tourism - an Inevitable Trend in Vietnam Amid Covid-19
Online tours are promoted by many localities thanks to the support of modern technology. This is considered an effective solution, both promoting tourism in the context of the complicated development of the Covid-19 pandemic, and creating momentum for development for 2022 and the following years.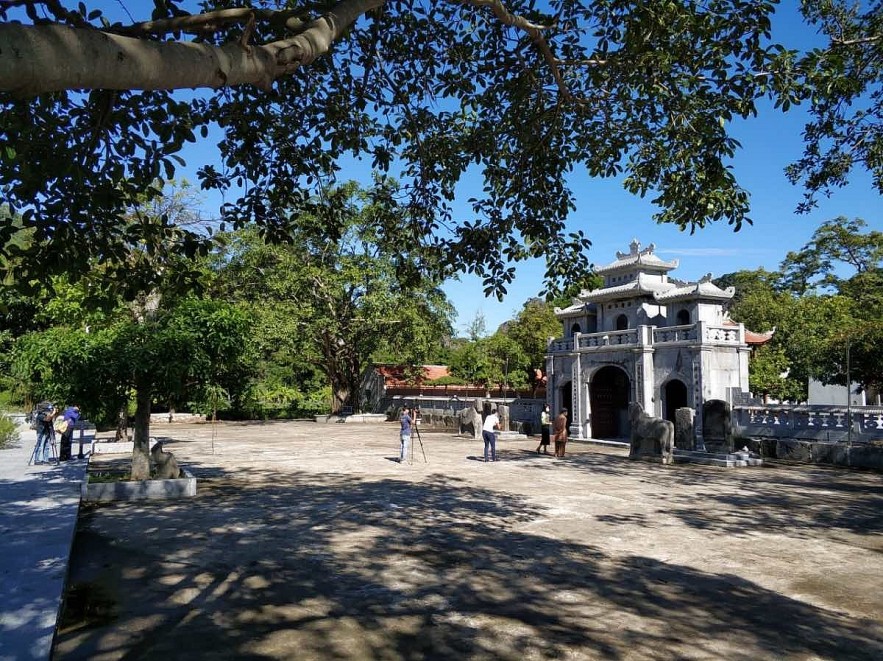 The online tour in Ninh Binh premiered yesterday (October 3) has attracted thousands of viewers. Photo: Ninh Binh Tourism Promotion Information Center.
From September to December, Ninh Binh organizes a series of online tours every Sunday morning, taking visitors to visit Hoa Lu Ancient Capital, Thai Vi Temple, Tam Coc - Bich Dong tourist area, National Park Cuc Phuong. Many specialties of Ninh Binh such as Yen Mac spring rolls, shrimp paste, eel vermicelli, Tong Truong perch soup will also be introduced in these tours.
Nguyen Van Minh, director of Ninh Binh Tourism Promotion Information Center said: "Online tourism is becoming a trend that many countries are aiming for, when all activities have to be suspended due to the Covid-19 pandemic. I hope that when the Covid-19 pandemic is under control, tourists will choose Ninh Binh for travel and discovery." The center's representative said that the first two programs have attracted nearly 30,000 views and interactions on social networking platforms such as Facebook, TikTok, and Twitter.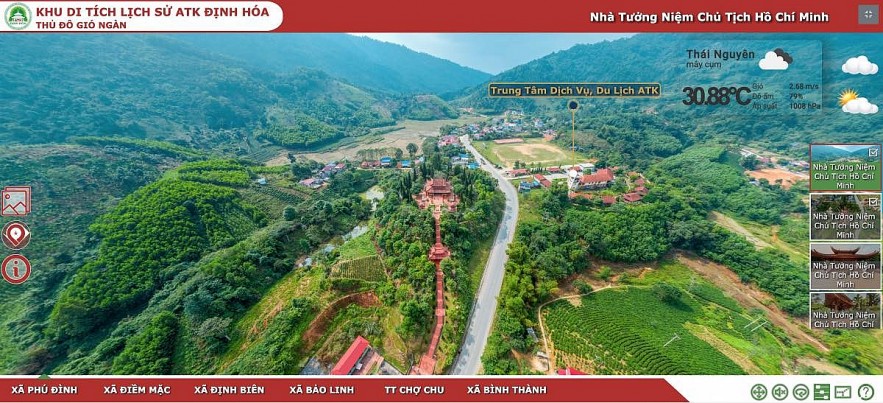 Scenery of ATK Dinh Hoa historic site on an online platform. Photo: ATK Dinh Hoa
In Thai Nguyen, Dinh Hoa ATK historic site has deployed digital maps and VR tours (virtual reality) at the relic through the address https://atk.vimap.vn; through which the audience can observe the sights up close. Bui Huy Toan, director of the Management Board of Dinh Hoa ATK historic site said that virtual tourism and digital maps have helped tourists from all over the world to visit ATK destination even during Covid-19.
According to Nguyen Thi Mai, director of Thai Nguyen Department of Culture, Sports and Tourism, digital transformation in tourism is a right direction and extremely important for Thai Nguyen tourism industry. In the coming time, destinations and tours in Thai Nguyen will continue to be applied 3D and 4D simulation technology, combined with an automatic narration application on visitors' mobile devices. In addition, Thai Nguyen province continues to promote website thainguyentourism.vn, smart tourism portal mythainguyen.vn, promote tourism on social networks such as Facebook, Zalo, Youtube.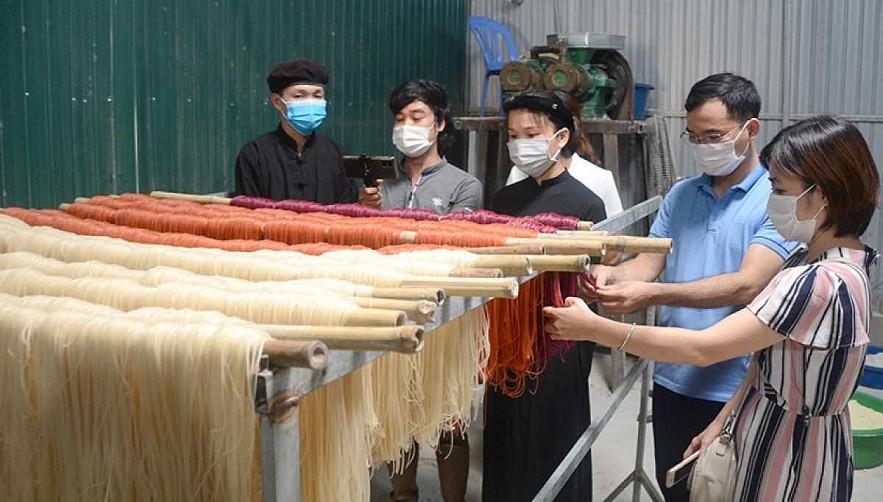 Conduct an online tour at Da Vi, the place making dry vermicelli in Na Hang, Tuyen Quang. Photo: Tuyen Quang Investment Promotion Center.
In Ha Giang, Ha Giang Provincial People's Committee has issued Plan No. 242/KH-UBND on introducing ethnic cultural identities associated with Hoang Su Phi terraced fields, tea culture and typical products of Ha Giang province through digital technology applications.
Thereby, many photos and videos about Ha Giang's culture, people and tourism such as Hoang Su Phi terraced fields, drum dance of the Lo Lo people, Ha Giang tea culture, fire dance festival of Dao ethnic group widely promoted to domestic and international tourists.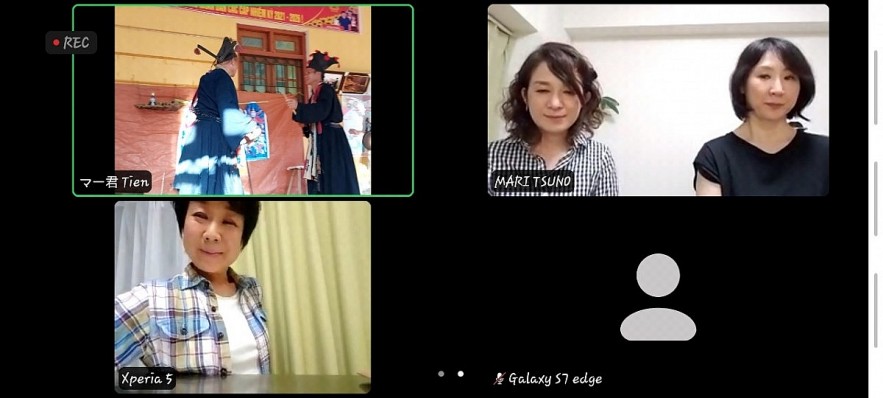 Introducing the Dao ethnic group's ceremony to Japanese tourists in an online tour. Photo: Ho Trong Tien
In addition, Ha Giang province also organizes virtual exhibitions to introduce products on e-commerce exchanges. Dang Quoc Su, director of the Ha Giang Tourism Promotion Information Center, said that Ha Giang not only promotes and introduces tourism on a digital platform, but also supports individuals and businesses in marketing their products online. "We facilitate, support transportation and orientate to build online products for businesses to introduce to tourists; so that destinations are still promoted, businesses and tourism industry workers can also have extra income during difficult times," said Dang Quoc Su.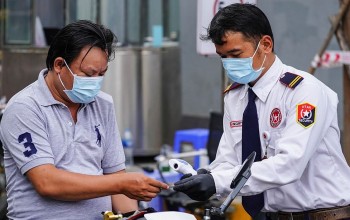 National
More than 1.12 million vaccine doses were administered in Vietnam on October 24. The country has now inoculated more than 74 million doses of vaccine to date, with over 21.46 million people fully vaccinated.