US Ambassador in Vietnam sent Tet wishes in Rap Viet style - Video
The US Embassy in Vietnam has just posted a video of Ambassador Daniel Kritenbrink's New Year greeting in Rap Viet style on the occasion of Vietnam's preparation to welcome Lunar New Year.
The Facebook page The US Embassy in Hanoi has posted a video of the US Ambassador Daniel Kritenbrink and Wowy - one of the rappers "initiating" the Vietnamese underground music, rapping to congratulate the occasion of Vietnam's upcoming Lunar New Year with the caption:
"With all his affection for Vietnam, together with enthusiastic guidance from the amazing coach Wowy, #AmbassadorKritenbrink's Lunar New Year musical masterpiece gained the praise of one of Vietnam's top rap artist - Binz Da Poet, who called the Ambassador's rap, "Amazing, Good Job!"
In the video, Ambassador Kritenbrink and Wowy walked the old streets of Hanoi and Ho Chi Minh City, stopping at Hoan Kiem Lake and Saigon Central Post Office, enjoying coffee on the sidewalk, and enthusiastically "rapping".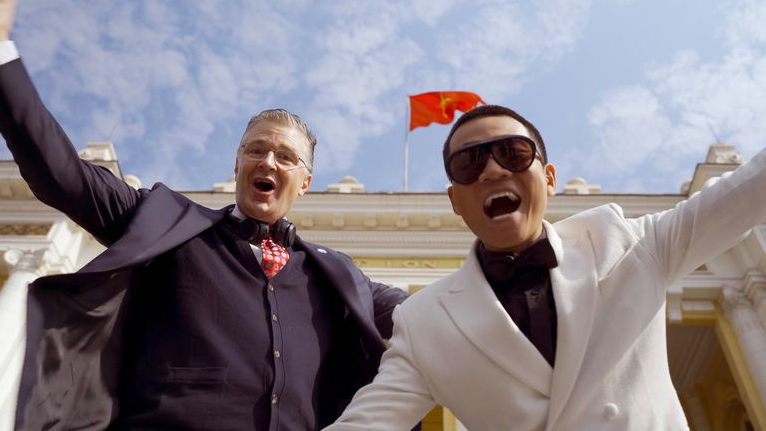 Photo: Vietcetera
Vietcetera, a Vietnam's media company who joined hand in producing the video, said: "On a bright and clear day in January, we met with U.S. Ambassador to Vietnam Dan Kritenbrink for the first time. What was supposedly a nerve-racking moment turned out to be one of the most memorable experiences the team has had. Instead of a formal set up inside the U.S. Embassy, we were lucky to see one of the most important people in the U.S.-Vietnam relationship in a relaxed and entertaining environment. And instead of hours-long discussions on trade and politics, we were treated to a musical affair that could easily outdo a Beyoncé concert."
"It was an experience to remember, and we dare say, a performance to be etched in U.S.-Vietnam history. This nation, which has become Ambassador Kritenbrink's home for the past three years, could not be more grateful for the legacy he's leaving behind and the unmatched singing flair he's shown in a surprise music video, which Vietcetera dropped today".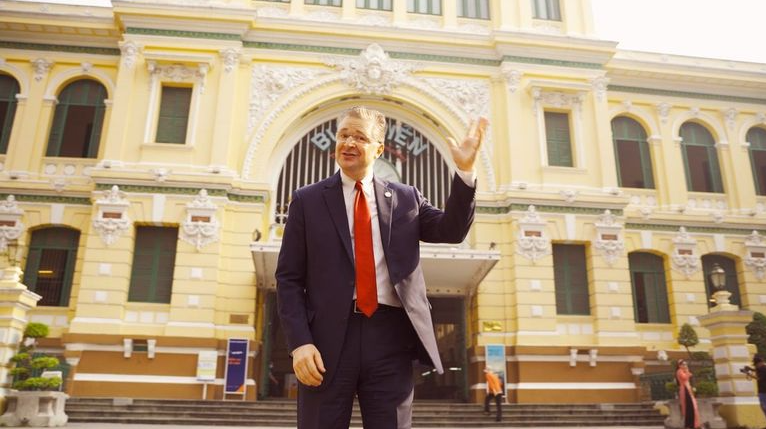 Photo: Vietcetera
Told Vietcetera in a recent interview about his rapping video, the Ambassador confirmed: "The breadth and depth of the U.S.-Vietnam comprehensive partnership today is simply stunning. We cooperate closely on everything from security, trade, and education, to war legacies, energy, and health. We are committed to a strong, independent, and prosperous Vietnam. During my tenure as Ambassador, the United States and Vietnam have reached many important milestones. To keep this as an interview, rather than turn it into a book, I'd like to highlight four things I'm incredibly proud to have been a part of."
"As we welcome the Year of the Buffalo, I am confident that the U.S.-Vietnam partnership will continue to grow. You might say I am bullish about our future", the US Ambassador said. "Today, our nations are trusted partners with a friendship anchored in mutual respect and trust, including respect for one another's independence, sovereignty, territorial integrity, and respective political systems."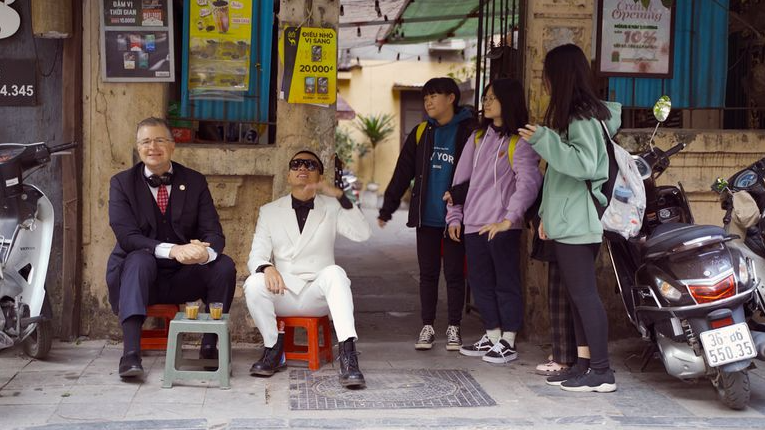 Photo: Vietcetera
Regarding the US - Vietnam relations under Biden's administration, the Ambassador said: "It is normal for every new U.S. administration to make changes and adjustments. However, I expect that you will continue to see a great deal of continuity in our relationship with Vietnam because U.S. interests in the region are longstanding and enduring. We remain committed to peace and prosperity across the Indo-Pacific."
"Regarding our bilateral relationship, the United States remains committed to the comprehensive partnership we have built over the last 25 years. There is strong bipartisan support for our relationship with Vietnam. Our goal is to support the development of a strong, prosperous, and independent Vietnam. In other words, it is in America's national interest to see Vietnam succeed. We believe that we are more secure and prosperous when we work together with successful, strong, and like-minded partners such as Vietnam to advance our shared interests to create a free and open region in which we all want to live."