How Ho Chi Minh seeded patriotism of Vietnamese in Thailand
Patriotism was 'seeded' by President Ho Chi Minh when he lived and worked in Thailand and has been promoted by overseas Vietnamese ever since
Truong Thi Hang. (Photo: VNA)
To promote the Vietnamese patriotism movement, in July 1928, revolutionary Nguyen Ai Quoc (Ho Chi Minh) arrived in Thailand (then Siam) from Europe. Near the end of 1929, he left Thailand for Hong Kong (China) to hold a meeting to merge different communist organizations in Vietnam, forming the party responsible for leading the Vietnamese people's fight to win national freedom.
Besides working in Bangkok, Uncle Ho also went to overseas Vietnamese's patriotism movement bases in Phichit and spent most of his left time pushing patriotism for overseas Vietnamese in Northeast Thailand.
In 1928 and 1929 when Ho Chi Minh propagandized patriotism to Vietnamese in Thailand, he was not only the 'glue' to connect overseas people in different parts of Thailand, but also a bridge to bring Vietnamese in Thailand closer to Vietnamese at home. He was the great inspiration for Vietnamese in Thailand to trust in the Thai government and people and to contribute to the Vietnamese people's fight.
As a researcher specializing in Ho Chi Minh's activities in Thailand, Truong Thi Hang Ph.D. is currently teaching at Lampang Rajabhat University (Thailand). She wrote the book "President Ho Chi Minh, the Founder of Modern Vietnam – Thailand Relations," which explains why he chose Thailand after leaving Europe.
In 1928 in Vietnam, the French colonialists were conducting a hunt for Ho Chi Minh and announced that they give a high reward for anyone who knew anything about his location and activities. The fact that that Ho Chi Minh could not directly return to Vietnam meant he headed for Thailand.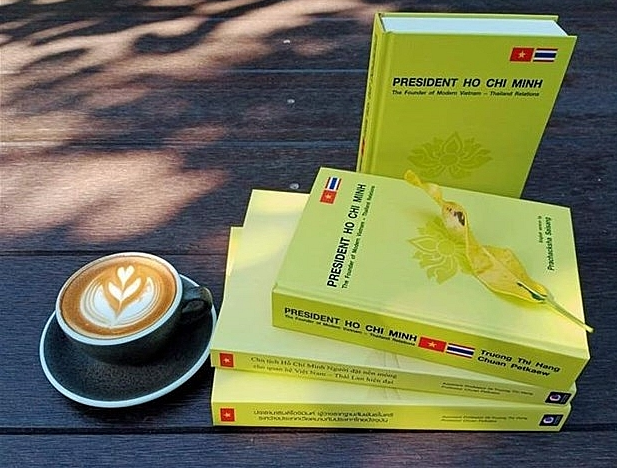 "President Ho Chi Minh, the Founder of Modern Vietnam – Thailand Relations." (Photo: VNA)
Hang says the research question should be why Ho Chi Minh chose Thailand rather than any other country on the Indochinese peninsula, especially Laos and Cambodia, which shared borders with Vietnam.
The answer lies in the fact that both Laos and Cambodia had the same fate as Vietnam,;they were under French colonial rule. Accordingly, French colonialists could easily control cells fighting for national independence. Thailand was the only free country in Southeast Asia, so the French would face struggles monitoring Vietnamese revolutionaries' patriotism activities. In Thailand there was also a large number of overseas Vietnamese who had settled for many generations. During the 1920s it was estimated that nearly 30,000 overseas Vietnamese were living in Thailand, especially in the Northeast
Therefore, Ho Chi Minh's choice of Thailand, where a large number of overseas Vietnamese lived, as his working area, was a precise decision. The decision not only helped spreading patriotism, but also helped him avoid French secret agents.
Assessing the Vietnamese people's movement in Thailand after being propagated by Ho Chi Minh, Hang said that although he was working in Thailand for only a short period of time, he left a deep impression in the overseas Vietnamese community.
His appearance raised patriotism, fanning the flames for defending the Fatherland among overseas Vietnamese. He was the glue that connect overseas in different regions of Thailand, brining them closer, helping them make decisions and contributing to the whole nation's war.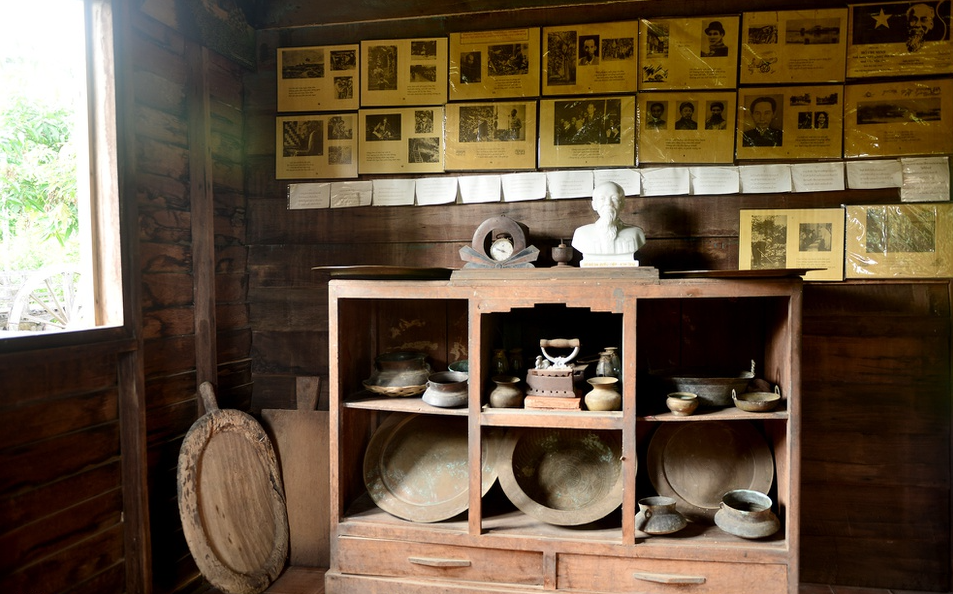 A house where Ho Chi Minh used to live and work in Thailand. (Photo: Zing News)
After the revolutionary left Thailand, patriotic movements of overseas Vietnamese in Thailand continued to develop in many forms such as fighting for the rights of overseas Vietnamese who were detained, as well as sending money and equipment from Thailand to Vietnam to support the people's fight against France and America.
Hang said that the continuous development of the Internet and modern electronic devices has made has a huge impact on all aspects of life and that thanks to this, young people could easily find information about Uncle Ho's life and career, as well as the patriotism of the Vietnamese.
"I myself always consider families as the cells of society and the place where good seeds are grown for the future social development," Hang said. "Therefore, the fact that grandparents, fathers and mothers educate their children about patriotism and the great merits of President Ho Chi Minh will make young people have deeper feeling about their responsibility to those around them, to the society and the country."
According to Hang, overseas Vietnamese in Thailand are well aware of preserving the nation's traditional values. The young people can speak Vietnamese well. Vietnamese Thai women like to wear ao dai on important holidays, and Vietnamese in Thailand have donated money support flood areas in the country.
Hang believes that overseas Vietnamese families in Thailand had been doing a great job in spreading patriotism to young people, helping their children understand their national roots and be aware of their responsibilities as Vietnamese to the Vietnamese Fatherland, and as Thai citizens to Thailand.
As such, it can be said that patriotism was seeded Ho Chi Minh from the days he worked in Thailand, and has been promoted by overseas Vietnamese until this day.