Overseas director and the ties with Vietnamese root
(VNF) – Tran Anh Hung is presently the most globally acclaimed director of Vietnamese descent. His films have won him international praise and awards, including a "Golden Lion" (best film at the Venice Film Festival), a "César" (best first film) and an "Academy Award nomination" for best foreign film.
(VNF) – Tran Anh Hung is presently the most globally acclaimed director of Vietnamese descent. His films have won him international praise and awards, including a "Golden Lion" (best film at the Venice Film Festival), a "César" (best first film) and an "Academy Award nomination" for best foreign film.
Director Tran Anh Hung and his wife, actress Tran Nu Yen Khe (source: Tuoitre News)
Born in the city of Da Nang in central Vietnam, Hung moved to France to live with his parents at age 12 following the end of the American war in 1975.
He is very proud to have benefited from his Vietnamese roots, as well as other international influences. He is, however, especially aware of how exposure to perse cultures has continued to enhance his role as both screenwriter and director. He has stated, "I adore American painting, German music, Japanese cinema and literature, Vietnamese contemporaries work and Italian cuisine."
The award-winning director
Tran Anh Hung's films have earned him numerous prizes from international film festivals.
His debut, "Mui du du xanh" (The Scent of Green Papaya), earned the Caméra d'Or prize at the 1993 Cannes Film Festival, a César Award for Best Debut at the French annual film award ceremony and remains the only Vietnamese-made film to be shortlisted for the 1993 Academy Award for Best Foreign Language Film so far.
This production was filmed not in Vietnam but in a studio in Paris,"…but my sensibility is not French; it's deeply Vietnamese," Tran said.
A scene from the movie "The scent of green papaya" (source: saostar)
His next film, Xich lo (Cyclo), was filmed in 1995 in Ho Chi Minh City. Cyclo told the story of an impoverished life of a young bicycle-taxi driver. which starred top Hong Kong actor Tony Leung Chiu Wai, brought to Tran Anh Hung a Golden Lion, the highest prestige in Venice Film Festival 1995. The movie was also a winner of the International Federation of Film Critics's Prize.
The year 2000 was marked with Tran's most contemporary relationship drama, entitled "The Vertical Ray of the Sun" in North America and "At the Height of the Summer" in Europe (taken from a Japanese poem).
The film centres on three sisters who live in present-day Hanoi. The film takes place over the course of one month, starting on the anniversary of their mother's death and ending on the anniversary of their father's. Tran was inspired to make the film after visiting Hanoi during a break in the filming of Cyclo during the Christmas holidays in 1994.
This drama was lensed in Vietnam's capital, Hanoi, as well as in Ha Long Bay and the village of Luoi Ngoc, Quang Ninh province.
Being screened at the 2000 Cannes Film Festival, though it was not an award winners like Hung's previous film, "Vertical Ray of the Sun" received lots of positive review from movie critics.
In later years, Tran adapted the well-loved "Norwegian Wood" by Japanese author Haruki Murakami into film, which was released in Japan in late 2010.
With his adaptation of Murakami's 1987 novel, director Tran Anh Hung has shaken off any possible qualms about tackling such a loved work of fiction. His adaptation has an elegant beauty to it that honors Murakami's story while also being true to his own filmmaking style.
His movie, "Norwegian Wood" was nominated for the Golden Lion Award at the 2010 Venice Film Festival, official selection at the 2010 Toronto Film Festival, Best Cinematography Award in the Asian Film Awards.
At the moment, Tran is working with his new project, a film named "Dodin-Buffant", adapted from the book "Dodin-Bouffant", a fictional gourmand created by French food writer Marcel Rouff, published in 1924.
By the end of last November, the script has almost been finished and Tran is looking to shoot as soon as finances are raised, the director told the Variety at the Singapore International Film Festival's benefit dinner where he was one of the guests in.
Dedication for homeland
The talented director's most recent visit to Vietnam was in December 2017, to participate in a sharing session named "Inspire". In the event, his latest movie "Eternity" was screened, and the director afterwards spent time talking to prospective movie makers and interested audience about their shared passion: the seventh art.
It was not the first time Tran took his time to support homeland's cinema. Earlier, in 2013, he taught a directing course for young local filmmakers themed "Gap go mua thu" (Autumn Catchup).
Throughout the course, he shared his passion, knowledge and experience on filmmaking to help the students improve their film projects.
Director Tran Anh Hung (center) in the event "Inspire" in HCM.City in December 2017 (source: vnexpress)
"Young people often raise many questions, and they expect good answers for them. I'm not sure if I was able to satisfy them all with my answers, but at least I created some space to share my thoughts and inspiration, which hopefully can help them in one way or another," shared Hung.
"My job is to help them know which of their ideas are cinematic and which can set them in traps. Meanwhile, I really appreciate their youthfulness and extremity, which make me feel much younger,"Hung added.
He noted that one of the traps they typically fall for is their tendency to use symbolism. Another trap is their rashness, which keeps them from delving deep into their ideas.
"We really appreciate Hung's contributions to the training of young local directors. It's a good signal for the feebling local movie industry," remarked local director Nguyen Vinh Son./.
( VNF )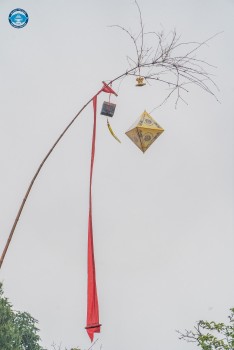 Viet's Home
In the past, the Neu pole (a tall bamboo pole with red garment strips used to ward off evil spirits during the lunar New Year) lowering ceremony at the royal palace of the Nguyen Dynasty was performed to mark the end of the New Year holiday and prepare to enter a new working year.