Overseas Vietnamese Celebrate Tet in Africa
For many overseas Vietnamese living, working, and studying in African countries, the traditional Lunar New Year is an occasion to gather and enjoy Tet together.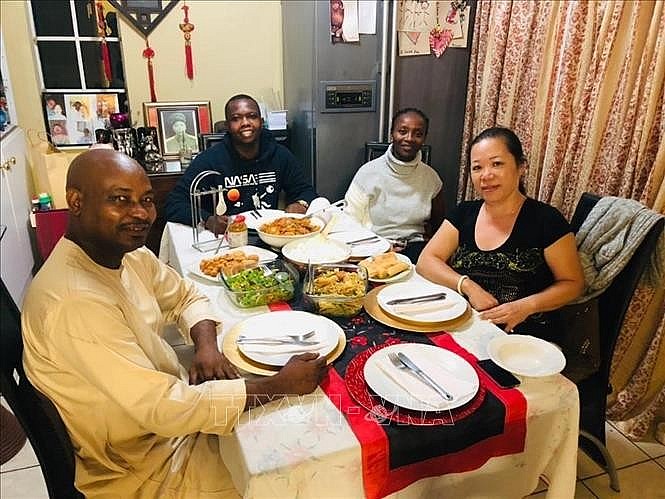 Phan Thi Nhung, an overseas Vietnamese living in Eswatini cooks Vietnamese food and invites local friends to enjoy Tet. Photo: VNA
Having moved to South Africa since 2002, get married and have a business in Cape Town, the southernmost city of the country, Kieu Phuong has celebrated many New Year in South Africa.
She said that when she was a young student, busy with her studies and new life in an African country, she was not much aware of the traditional New Year. However, currently, she regularly celebrates Tet with her family members and shares the Tet atmosphere with the Vietnamese community in the same area.
Phuong said that celebrating Tet in South Africa is very different because it is summer in January and February. Therefore, it is not possible to have a cool atmosphere like Tet in the North of Vietnam.
Phuong said: "For me, the most memorable Tet in South Africa was probably 2017. That year, I knew more Vietnamese people in Cape Town and it was also the first year I wrapped banh chung in South Africa with everyone. When we celebrated Tet together, we could eat a lot of specialties from different regions."
Bui Thi Anh Nguyet, a Vietnamese education expert in Mozambique, also said that Mozambicans do not celebrate the Lunar New Year like Vietnam. On Tet, most Vietnamese still have to go to work as usual. There is not as much Tet atmosphere as in their homeland.
For her, the Lunar New Year is a traditional Vietnamese culture, a time when family members gather to summarize the past year and prepare for the coming new year. For her, Tet is also a joyful, happy and memorable time when family members gather together.
Nguyet said that every year, the Vietnamese Embassy in Mozambique will often organize a community Tet. Here, people will be able to eat traditional dishes on New Year's Day, participate in cultural and artistic activities, and receive lucky money.
"Every time I participate in the event, I feel warm in my heart and less homesick. In addition to the Vietnamese, there are also local people, so that they can better understand the culture and traditional customs of the Vietnamese people," she said.
Nostalgia for Vietnamese New Year from Africa
Phan Thi Nhung, an overseas Vietnamese living in Eswatini, a small country located in the southern part of Africa, said she always looks forward to the day when she can return to her hometown to have a real Vietnamese New Year. For 22 years , she has not had the opportunity to return home in Tet.
In Eswatini, the Vietnamese community is small. According to Nhung, in the last 2 years, due to the Covid-19 pandemic, many people have returned to the country to avoid the pandemic. Therefore, it is impossible to celebrate Tet together in Eswatini.
Nhung said that in the past, on the Lunar New Year, she often went to South Africa, a country bordering Eswatini, to join in the atmosphere of celebrating the New Year here.
However, because of the Covid-19 pandemic, last year, she was unable to go to South Africa. She could only decorate her house with flowers, cooked a few simple dishes to worship ancestors, and offered incense to worship Buddha on New Year's Day.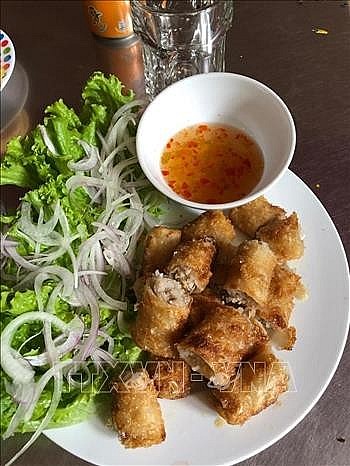 Fried spring rolls cooked by Phan Thi Nhung, an overseas Vietnamese living in Eswatini in Tet. Photo: VNA
She said: "There are also Asian shops here, having few items. She can only buy glutinous rice and green beans to make sticky rice and cook the traditional Vietnamese braised pork with eggs.
Eswatini is located in the southern hemisphere, where spring usually falls in September to October. At that time, the peach trees are also in full bloom. Nhung said, every time she sees the peach blossom, she misses Vietnam and the Vietnamese New Year.
Nhung's wish for the New Year 2022 is that the pandemic will soon pass, everyone can move freely, so that she can easily return to Vietnam with her husband and 4-year-old son to celebrate Tet in the homeland.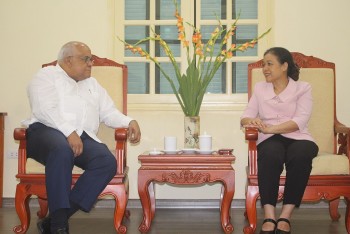 Friendship
Ambassador Nguyen Phuong Nga - President of the Vietnam Union of Friendship Organizations had a meeting and worked with Cuban Ambassador Extraordinary and Plenipotentiary to Vietnam Orlando Nicolas Hernandez Guillen. The two Ambassadors agreed to work closely in organizing solidarity and friendship activities.