Overseas Vietnamese donate 51.600 USD to people, soldiers in Truong Sa Islands
As many as 55 overseas Vietnamese from nearly 20 countries presented gifts to soldiers and people lived in Truong Sa islands district in the islands' visit.
The delegation visit Vietnamese soldiers. Photo: Mai Phuong
The visiting, had been started for 8 years, was an annual event held by State Committee for Oversea Vietnamese and High Command of Vietnam People's Navy for Overseas Vietnamese
In 9 days of islands 'visit (on April 14-22), delegation which contained 55 Overseas Vietnamese from 19 countries along with representatives of ministries, departments and local authority met soldiers and people in 10 islands of Truong Sa islands district and the DK1/20 offshore platform on the continental shelf of Southern Vietnam, Ba Ria – Vung Tau province
On this occasion, the delegation had donations, included a multi-purpose stadium and computers which was worth 1.2 billion VND (51,600 USD) to soldiers of Vietnamese Navy with people lived in Truong Sa islands. These contributions were a figure of the deep fondness of overseas Vietnamese toward Vietnam's land and territorial sea.
Gifts presented to people and soldiers in Truong Sa islands district. Photo: Mai Phuong
Deputy Minister of Ministry of Foreign Affairs, Chairman of State Committee for Oversea Vietnamese, Nguyen Quoc Cuong considered the visit was an opportunity of Overseas Vietnamese to witness the life of soldiers and people in Truong Sa island district.
He affirmed "Our home front is people within Vietnam and Vietnamese Overseas who always tend to Truong Sa, are willing support to the soldiers' better life".
DK1 was set up on July 5, 1989, on the continental shelf belonging to the Vung Tau-Con Dao Special Zone (now the southern province of Ba Ria-Vung Tau) with the task of defending the country's sovereignty over the waters in the southeastern region.
It is a complex of structures of large steel pipes which strike roots deep into coral reefs. Covering these steel pipes is a living space for soldiers who guard the platform./.
Translated by Thanh Van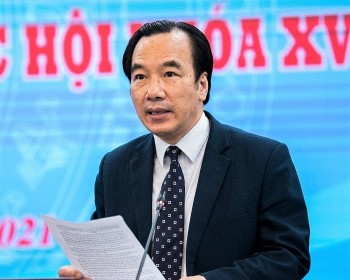 Focus
Consolidation of personnel; building and expanding the network of Malaysian partners; strengthening communication, and contributing to introducing to the people, especially the young generations of the two countries about the country and people of each side... are the focus of the Vietnam-Malaysia Friendship Association in the coming time. Chairman of the Association, Ngo Sach Thuc hopes that "people-to-people diplomacy will continue to be a pioneer in bringing the two countries and cultures closer to the goal of cooperation and integration".