Overseas Vietnamese is a Bridge to Introduce Dak Lak to the World
The overseas Vietnamese community is an integral part, a resource of the Vietnamese ethnic community, and an important factor contributing to strengthening friendly and cooperative relations between Vietnam and other countries. Dak Lak takes advantage of this opportunity to mobilize and focus investment resources to exploit the potential and advantages for breakthrough development to be a central urban area in the Central Highlands.
Promote international integration
Determining international integration as a driving force for social development, with economic integration as the focus, Dak Lak province promptly grasps and concretizes the Central guidelines and policies, and commits to economic integration, bringing many positive results.
Over the past time, the province's investment attraction work has become increasingly flexible and open, contributing to better exploitation of resources. Non-state economic sectors are gradually developing, creating many jobs for local workers.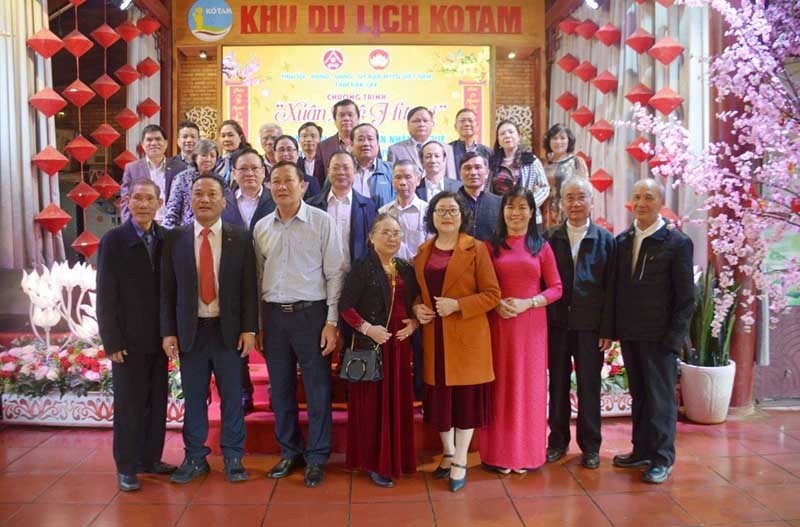 Provincial leaders took souvenir photos with overseas Vietnamese and their relatives on the occasion of Lunar New Year 2023. (Photo: TGVN)
From 2013-2023, the province has attracted 382 investment projects (outside industrial parks), with a total registered capital of more than VND 110,007 billion, of which many projects have come into effective operation.
Foreign affairs and multilateral diplomacy activities have been expanded, with many positive changes, contributing to promoting international integration. The province actively promotes the image of Dak Lak rich in historical traditions, culture, and strong potential, calling for investment and socio-economic development. In the past 10 years, the province has attracted 21 ODA projects with a total investment of about VND 4,363 billion, focusing on areas such as education, transportation, and agriculture.
The province focuses on organizing and supporting businesses to participate in domestic and foreign fairs and exhibitions to access international markets and promote exports to large markets. In addition, Dak Lak strives to improve the business investment environment openly and organize weekly meetings of associations, business chambers, and businessmen to listen to the opinions of entrepreneurs.
After 10 years of international integration, the province's average economic growth rate increased by 6.8%/year. The total product in the area (according to 2010 comparative prices) of 10 years reached VND 505,366 billion. Regarding the scale of the economy, GRDP in 2023 is estimated to reach VND 61,854 billion, an increase of 1.8 times compared to 2013. The province's total export turnover in 10 years reaches USD 9,435 million, of which, export turnover in 2023 is estimated to increase 2.6 times compared to 2013.
Take advantage of overseas Vietnamese resources
When the country's potential, position, and international reputation are increasingly enhanced, the overseas Vietnamese community is growing stronger in number and expanding in area with about 6 million people living and working in 130 countries and territories. Resolution No. 36-NQ/TW dated 26/3/2004 and Directive No. 45-CT/TW dated 19/5/2015 of the Politburo consistently affirmed: "The overseas Vietnamese is an integral part and a source of strength of the Vietnamese ethnic community".
In the new situation and requirements for the country's development, the 13th Party Congress set the task of "more comprehensively and strongly deploying the work of overseas Vietnamese", at the same time, supporting the overseas Vietnamese community to strengthen the legal status, develop and integrate into the host society, and actively contribute to realizing the vision and goals of national development. On that basis, the Politburo issued Conclusion No. 12-KL/TW dated 12/8/2021 on overseas Vietnamese work in the new situation. It can be said to be one of the important milestones for the work in the context of international integration.
Clearly defining the position, role, and importance of the overseas Vietnamese community in the country's socio-economic development, in recent years, Dak Lak province has focused, promoted, and paid much attention to the work, especially those whose homeland is Dak Lak. The Provincial People's Committee issued Plan No. 67/KH-UBND dated 24/3/2022 to implement tasks and assign all levels, branches, and localities in the province to coordinate well in propaganda and connecting, disseminating the policies and guidelines of the Party, the State, and the province's policies to overseas Vietnamese through different information channels
Thereby, the province attracts overseas Vietnamese who are interested and have the desire to connect, learn information about investment cooperation opportunities, promote trade, culture, and people of Dak Lak, and contribute to building a more developed homeland.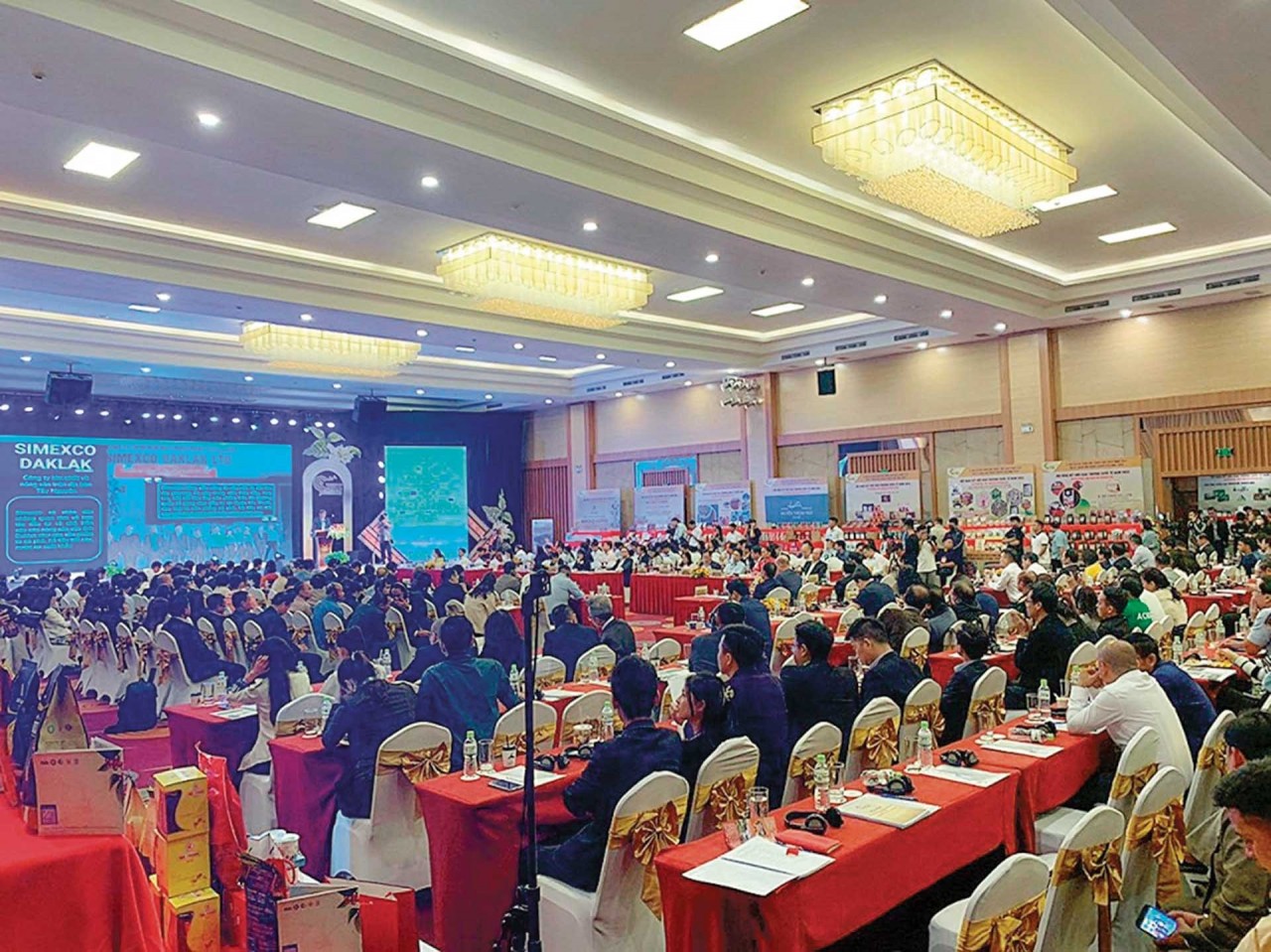 Overview of the 2023 Trade Connection Conference in Dak Lak province. (Photo: TGVN)
Up to now, Dak Lak province has mobilized overseas Vietnamese to return to their homeland to carry out investment and business activities in different forms. The entire province currently has an enterprise registered and invested by overseas Vietnamese operating in food and beverage supply services; commission agent services; and wholesale agricultural and forestry raw materials... In general, the investment and business activities of overseas Vietnamese contribute significantly to the local socio-economic development.
In addition to the aforementioned direct contributions, overseas Vietnamese also make many contributions to attracting foreign investment by connecting and introducing foreign investors to Vietnam and connecting foreign investors with domestic partners. At the same time, this community contributes to advertising and promotion, helping to increase the reputation and attractiveness of Vietnam's investment environment to international investors.
According to a report of the State Bank of Dak Lak province branch, in the period from 2016-2021, the total amount of remittances transferred by Dak Lak people abroad through the system of commercial banks in the province reached 156,656,303 USD; not to mention the amount of cash, jewelry, and valuable assets brought directly by overseas Vietnamese during trips back home; contributes significantly to increasing savings sources. At the same time, these resources promote investment, and consumption, and improve local people's lives.
Spread the image of Dak Lak province
In February 2023, Dak Lak issued the project "Promoting the resources of overseas Vietnamese to contribute to the development of Dak Lak province in the period 2023-2027" to take advantage of resources and mobilize overseas Vietnamese to become a bridge for the province in propaganda work, promoting the image of the land, culture, people, achievements and socio-economic development potential of Dak Lak province to the world, to a large number of overseas Vietnamese.
At the same time, the province established close relationships with the overseas Vietnamese community in general and Dak Lak people abroad in particular. They also focus on countries, territories, and areas where the community is actively working towards the Fatherland or in foreign localities with a large number of people of Vietnamese origin, receiving attention and favorable conditions from the host country's government. Besides, the province strengthens connections and attracts and promotes resources from overseas Vietnamese in investment, trade, technology transfer, science, and engineering...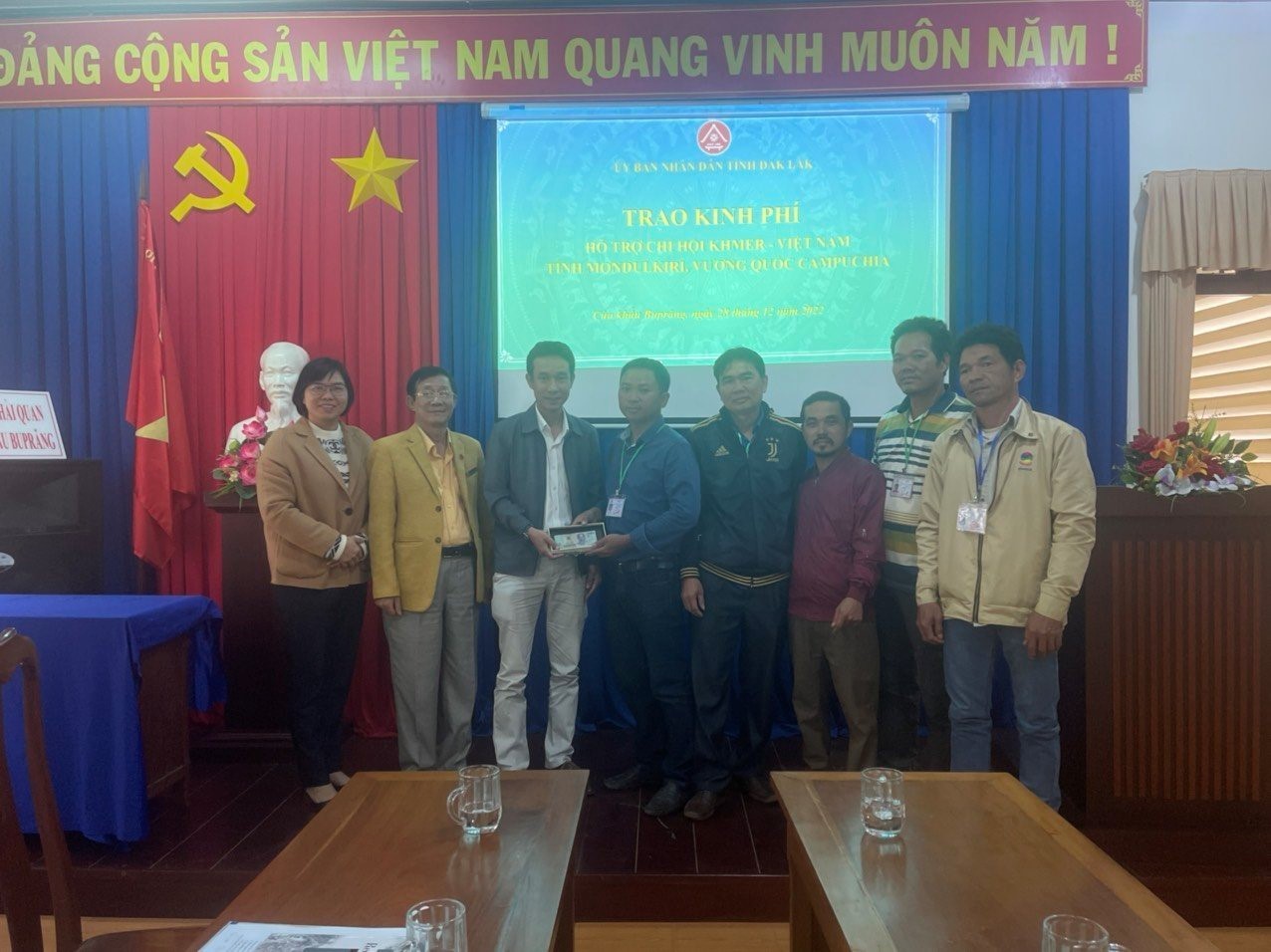 Dak Lak province awarded funding support to the Khmer-Vietnam Association of Mondulkiri province, Cambodia. (Photo: TGVN)
The province connects with associations and unions of overseas Vietnamese to support and promote the establishment of Dak Lak compatriot associations abroad and associations of relatives of overseas Vietnamese. They also strengthen the organization of group exchange activities and tourism connections to promptly grasp the thoughts, and aspirations and receive contributions from overseas Vietnamese in the construction and development of the homeland.
In addition, the province completes and effectively deploys mechanisms, policies, and laws for overseas Vietnamese; which focuses on building and synchronously implementing specific strategies and solutions to approach, encourage and attract overseas Vietnamese in general, and Dak Lak people abroad in particular with high professional qualifications and have a desire in scientific research, financial potential, extensive international relationships... to contribute to the homeland.