Overseas Vietnamese - Key Resource in Country's Development
Deputy Prime Minister Tran Luu Quang recently signed Decision No. 1334/QD-TTg dated November 10, 2023, approving the project to promote the resources of Vietnamese people abroad to serve national development in the new situation.
Party General Secretary Nguyen Phu Trong cordially received 100 outstanding overseas Vietnamese living in 25 countries and territories at 2018 Xuan Que Huong - Vietnam's Shining Future Program.
Overseas Vietnamese - an important resource contributing to the cause of building, developing, and protecting the Fatherland
The overall goal of the project is to mobilize overseas Vietnamese resources (OVs) to participate in national development during the period of promoting industrialization and modernization of the country, associated with Vietnam's goal of becoming a developed, high-income country by 2045 as set out by the 13th Party Congress.
The project helps strengthen the great solidarity of the entire Vietnamese nation at home and abroad and consolidates the strength and potential of the overseas Vietnamese community to contribute to the country.
The project's specific goal is to strengthen the unified awareness that overseas Vietnamese is an increasingly important resource contributing to the cause of building, developing, and protecting the Fatherland.
Vietnam develops comprehensive, basic and long-term orientations, policies, and measures to attract and maximize this resource.
Ministries, agencies and localities develop projects, programs and plans to attract resources from OVs. They establish a synchronous implementation and coordination mechanism from the Central to the grassroots and nationwide, at home and abroad.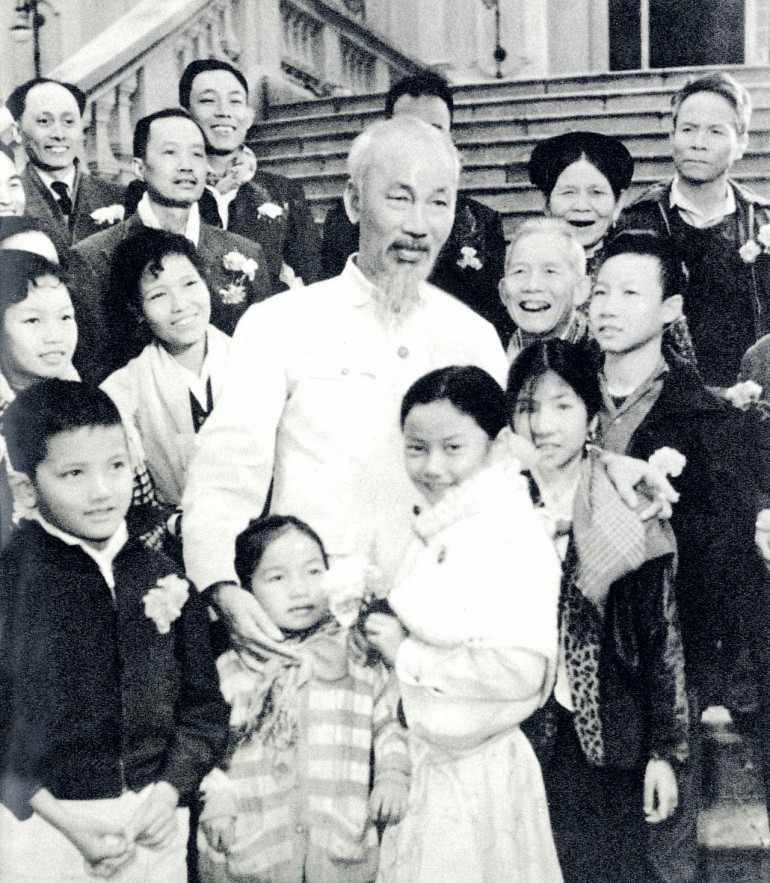 Vietnamese overseas in Thailand visited and extended New Year greetings to President Ho Chi Minh at the Presidential Palace during their first visit on Jan 29, 1960.
The country creates a favorable environment and domestic mechanism for overseas Vietnamese to promote their resources.
Vietnam builds a legal corridor so that they can enjoy the same legal environment as domestic people when conducting investment, business, science and technology, culture, sports, and humanitarian activities.
Strengthen overseas Vietnamese network worldwide
The goal of Vietnam's project is to strengthen the network of OVs worldwide and complete the construction of a database project on Vietnamese people abroad.
Vietnam supports the overseas Vietnamese community to develop and gain a position in their host countries and strengthen cohesion and exchange between overseas Vietnamese, and domestic people's organizations and associations.
The project aims to improve the effectiveness of legal education, consular work, citizen protection, exchange with overseas Vietnamese, and labor management.
Three groups of solutions
The project proposes three groups of solutions to promote the resources of Vietnamese people abroad to serve the country's development in the new situation.
Group 1: General solutions for raising awareness, policies, organizations, and coordination mechanisms
This group of solutions includes raising awareness and responsibility of the entire society regarding the work of attracting overseas Vietnamese resources to serve national development, reviewing, amending, and supplementing policies and laws to create conditions for OVs to return to the country to invest and do business.
Ministries, branches, localities, the Vietnam Fatherland Front, unions, and socio-economic organizations develop specific policies, projects, and programs to attract overseas Vietnamese resources.
Group 2: Individual solutions for each object and type of resource, attracting experts, intellectuals, overseas Vietnamese talents, and Vietnamese workers to return home.
Vietnam improves the investment environment, maintains the annual increase in remittances, and supports OVs to promote and trade Vietnamese products in foreign markets, provides specific policies and measures to strengthen the "soft" resources of the overseas Vietnamese community.
Group 3: Solutions to foster and develop the overseas Vietnamese community
The project promotes cooperation with other countries, international organizations, and governments of countries where Vietnamese people live to protect their legitimate rights and interests.
Vietnam strengthens coordination between Vietnamese and host authorities to support the overseas Vietnamese community to have a strong, stable legal status, develop and integrate into the host country, and create conditions for them to have direct contact with the host government, especially at events organized by representative agencies.