Overseas Vietnamese Joins Hand to Fight Covid-19
A webinar was held on August 12, focusing on "Overseas experts working with Ho Chi Minh City to fight the pandemic." Experts from across the world joined to share their experience.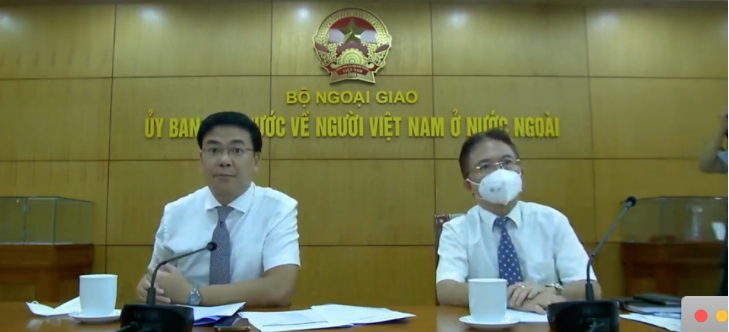 Pham Quang Hieu - deputy minister of Foreign Affairs, (left) spoke at the webinar
Speaking at the webinar, Deputy Foreign Minister and head of the State Committee for Oversea Vietnamese Affairs Pham Quang Hieu, said he hoped that through the event, overseas Vietnamese doctors would share their opinions based on practical experiences fighting the pandemic.
Actively treat patients, minimizing mortality
At the webinar, Dr. Vu Ngoc Khue shared a strategy and plan to control the Covid-19 pandemic billed as "4 weeks for 4 cores and 4 goals." According to Dr. Khue, the three front lines against the pandemic include: people in residences, medical forces, doctors, nurses in hospitals, medical facilities or isolation areas to treat patients and armed forces.
Dr. Khue said that 4 weeks is enough time to stop the spread of the pandemic, disinfect and purify the environment. The first 2 weeks is the time required to recognize a patient with symptoms and initiate isolation. The next 2 weeks are to detect long incubation and sporadic cases, to cover the spread of the pandemic. Severe cases require more time to treat and recover in a hospital or isolation ward.
The four goals are: "Actively treating patients, minimizing mortality as much as possible; preventing the spread; disinfecting the environment so people can live safely and preventing recurrence; reopening activities and businesses when requirements for ending the pandemic are met."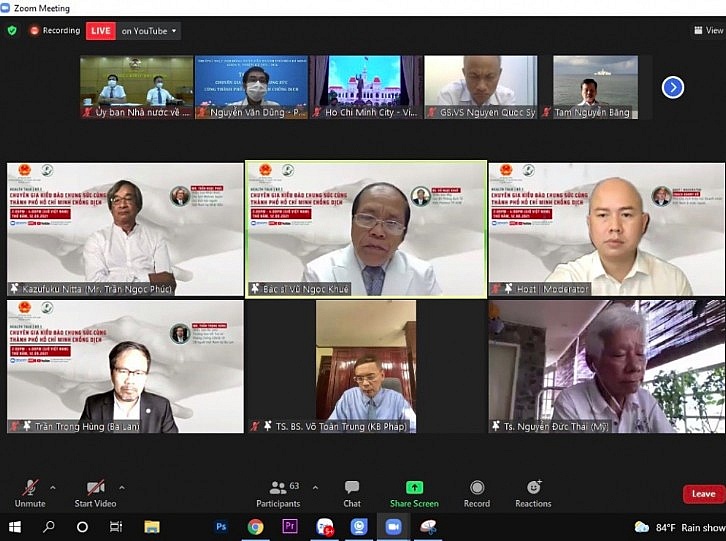 The conference took place online
Useful experiences from Poland
Tran Trong Hung, an overseas Vietnamese from Poland, and vice president of the Vietnamese Community in Poland spoke about the "Handbook and 3 buoys to support Covid-19 pandemic prevention."
In the third phase of the Covid-19 pandemic, the Covid-19 Prevention and Support Committee formed in Poland developed a Covid-19 prevention manual for its members as a basis for information for people in the community. The committee has also formed a message of 3 relief buoys to convey to patients. These were:
Thorough prevention, including: hand washing, antibacterial water, keeping distance, wearing masks, limiting meeting and eating.
Fight immediately: When determining Covid-19 infection with symptoms of fever, cough, shortness of breath, sore throat, headache, it is necessary to contact a doctor to do a Sars-Cov-2 test, and install the Pulso Care Doctor application within the framework of the Polish Government's home care program for patients over 55 years old. At the same time, practice breathing and yoga to support the lungs, clear the airways, ventilate the room regularly to ensure air quality. At this stage, take advantage of the opportunity to defeat Covid-19 while it is still weak.
Get immediate emergency care: Call 911 for emergency medical care when you start having trouble breathing or your heart rate is too high or low, or you feel exhausted. Let your doctor help you with lung damage. Unlike the beginning of the pandemic, medical staff are now vaccinated, they will take better care of you. Convalescent plasma, anti-SARS-Cov-2 drugs are only available in hospitals. The doctor will be able to do tests, and take a lung scan. Everyone, whether insured or not, is treated for Covid-19 free of charge.
Choosing the right ventilator
Tran Ngoc Phuc, a Japanese expatriate, and president of Metran Japan, president of the Vietnamese Association in Japan, shared at the webinar: "General strategy on using ventilators for Covid-19 patients in Vietnam."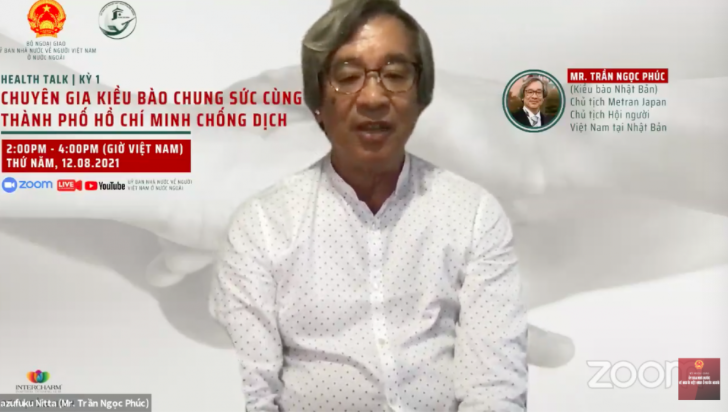 Tran Ngoc Phuc, president of Metran Japan, and president of the Vietnamese Association in Japan.
According to Phuc, it is advisable to buy a ventilator that the vast majority of doctors at the provincial, district and field levels can safely use for patients. Choose a low-cost ventilator as many machines meet the needs of an increasing number of patients today. In addition, it is necessary to increase the number of CPAP machines and oxygen generators to meet the needs of patients isolated at home to reduce the number of patients having to move to the central hospital.
Sharing isolation strategies, according to Phuc, state agencies need to connect and contact people isolated at home to guide basic knowledge about cross-infection. There is an urgent need to provide instructions and an online monitoring system for those with unstable conditions. In addition, set up a mobile medical team to diagnose and care for isolated patients.
Finding mutant strains, avoid overloading the health system
Professor Nguyen Duc Thai, a Vietnamese-American, introduced the super-sensitive PCR solution of Dr. Ho Huu Tho, Hanoi Military Medical Academy. This solution has a higher sensitivity than conventional PCR, and helps find mutants. This method can combine 100 samples with accuracy, which is very suitable for large-scale testing or testing for the whole city. Currently, a high-capacity laboratory has been established that can test 10,000 samples per day or 100,000 samples per day when necessary.
Doctor Vo Toan Trung, a doctor in Paris hospitals shared a talk: "Experience in fighting pandemic in Paris & recommendations to Ho Chi Minh City". He said that it wasnecessary to focus on building all options for the worst case scenario when the infection rate exceeds care capacity. Therefore, it is necessary to organize medical forces into 3 groups. These groups will take turns replacing each other to have time to rest and avoid overloading the health system.
Leaders of Ho Chi Minh City hope that overseas Vietnamese experts and doctors will continue to support Vietnam in implementing successful Covid-19 prevention and control. Leaders expect experts to support the supply and purchase of vaccines and essential medical equipment,as well as ensuring people's health and stabilizing economic development.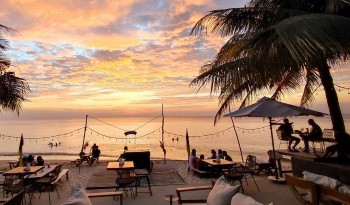 National
Vietnam News Today (Jan. 27): Vietnam confirms 15,885 local cases; Vietnam among top 20 World's Best Places to Retire in 2022; HCM City continues with vaccination during Lunar New Year festival; Vietnam enjoys trade surplus from 54 export markets globally.