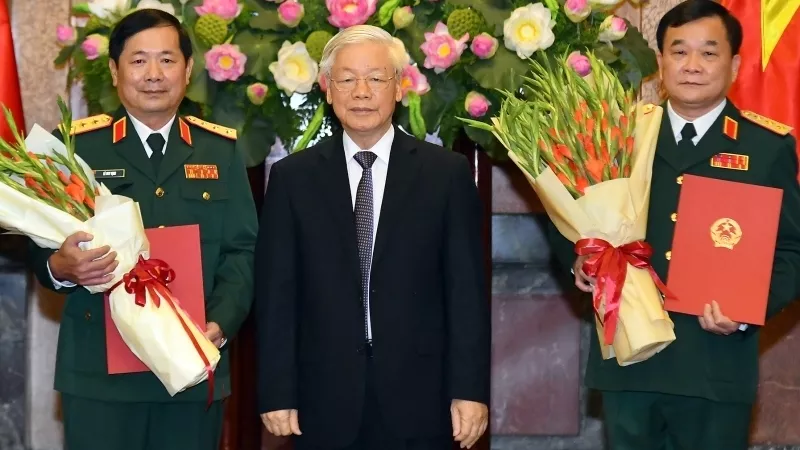 Party General Secretary and President Nguyen Phu Trong (C) hands over the promotion decisions to Senior Lieutenant General Hoang Xuan Chien and Senior Lieutenant General Le Huy Vinh.
Party General Secretary and State President Nguyen Phu Trong, who is also Secretary of the Central Military Commission and Chairman of the National Defence and Security Council as well as being head of the armed forces, handed over the promotions to the officers at a ceremony in Hanoi on October 16.
Speaking at the ceremony, Deputy Minister of Defence Hoang Xuan Chien expressed his deep honour about receiving the ranking, and promised to work harder to firmly safeguard national independence, sovereignty, unity and territorial integrity, always showing loyalty to the Party, the Fatherland and the people; steadfast in adhering to Marxism-Leninism and Ho Chi Minh Thought as well as in his striving for the glorious revolutionary cause of the nation.
He added that he and Deputy Chief of the General Staff of the Vietnam People's Army Le Huy Vinh will overcome all challenges to fulfil the missions entrusted them by the Party, State, and Military.
nhandan