Top leader, Party General Secretary attends Hanoi Party Congress
Party General Secretary and State President Nguyen Phu Trong attended and delivered a key speech at the 17th Party Congress of Hanoi which opened on October 12, calling for Hanoi to become a "peaceful, beautiful capital that is healthy physically and spiritually."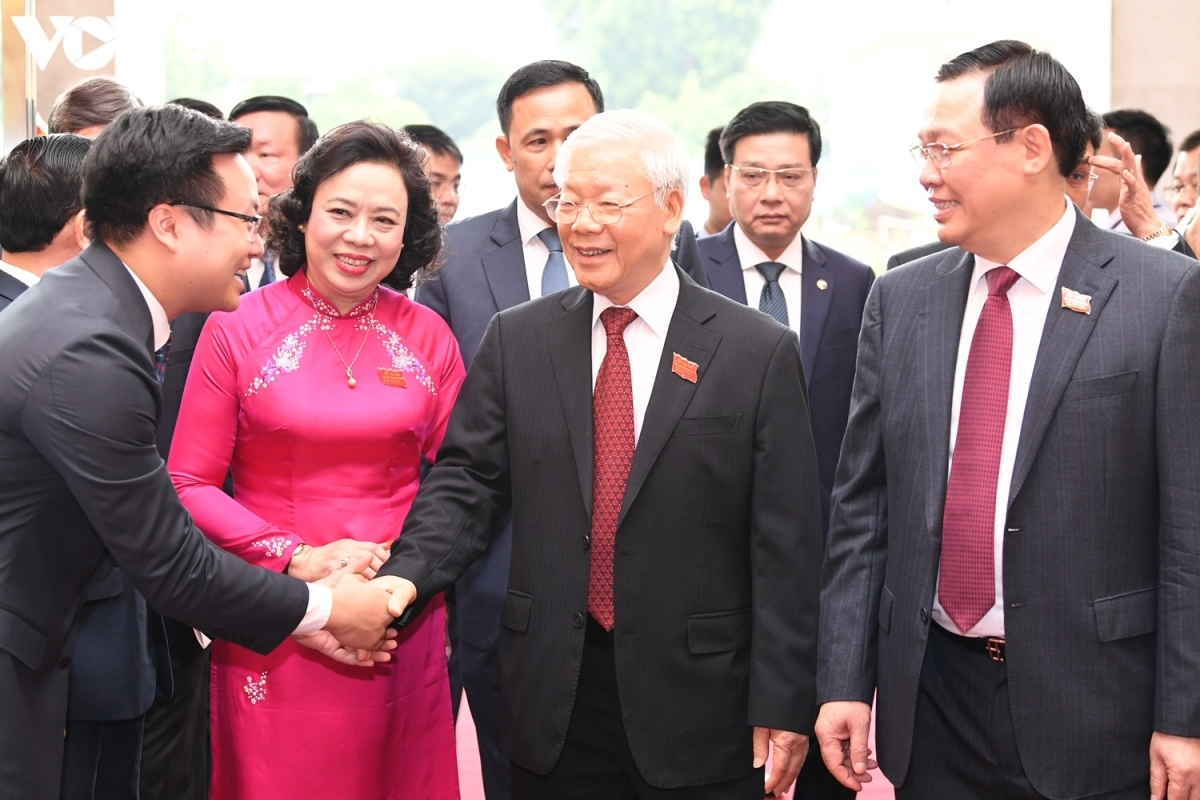 Party General Secretary and State President Nguyen Phu Trong is welcomed to the Hanoi Party Congress.
The congress attracted the participation of nearly 500 delegates, representing more than 450,000 members of the Hanoi Party Committee. It is to review the committee's major achievements during the past five years, draw lessons and outline orientations for the coming tenure.
Delegates will debate and give opinions on political documents to be submitted to the upcoming 13th National Party Congress, elect the executive board for the next tenure, and elect delegates to the National Party Congress.
In its political report to the congress, Hanoi aims to develop rapidly and sustainably towards a green urban, smart, and modern city with high competitiveness nationally and regionally and with a GRDP per capita of between US$8,300-8,500 by 2025 and between US$12,000-13,000 by 2030.
According to Vuong Dinh Hue, incumbent Secretary of the Hanoi Party Committee, Party General Secretary Nguyen Phu Trong has directed Hanoi to successfully organize its Party Congress to set an exemplary model for other localities nationwide, reported the VOV.
The Congress must create new momentum and make fundamental changes in all domains to help develop the capital more rapidly and sustainably, Trong said as quoted by the Hanoi Party Committee Secretary.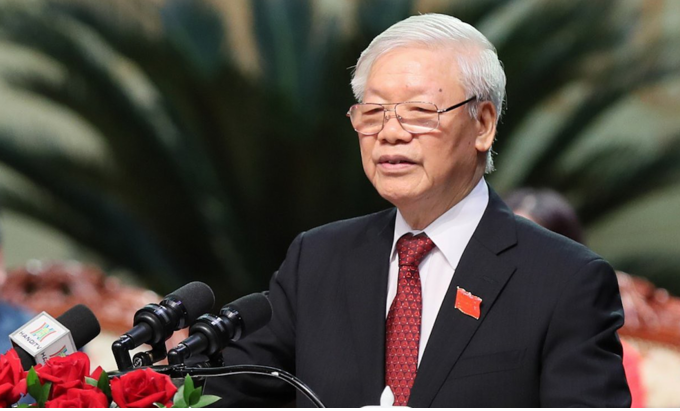 Vietnam's Party Secretary and President Nguyen Phu Trong speaks at the 17th Party Congress of Hanoi, October 12, 2020. Photo by VnExpress
Addressing the opening session of the 17th Hanoi Party Congress for the 2020-2025 tenure, Trong acclaimed the results achieved by the city's Party Committee for the 2016-2020 term, describing them as "great and important."
Hanoi currently contributes over 16 percent of the nation's economic growth, 18.5 percent of national budget collection, 20 percent of domestic revenue and 8.6 percent of the country's total import and export turnover.
Trong also pointed out that despite its impressive achievements, the Hanoi Party Committee has still shown limitations in failing to create breakthroughs commensurate with the capital city's potentials and strength.
Its work in urban planning development and management as well as ensuring traffic order and safety and environmental protection has been wanting, the Party leader said.
The capital has failed to handle resolutely and promptly several cases involving violations of regulations on construction and land use and even let some cases develop in a complicated manner, causing serious consequences.
"That has affected the capital's image, which is truly unfortunate," he said.
The Hanoi People's Court sentenced two men to death last month for the killing of three policemen in the city's Dong Tam Commune earlier this year. Two civilians also died in the clash.
The Party leader also requested Hanoi to speed up its administrative processes and expedite implementation of major projects that have already been approved.
Speaking as a Hanoi citizen, the Party leader and State President also said central agencies must collaborate better with Hanoi to help it achieve its targets because it is the capital city and face of the nation, according to the vnexpress.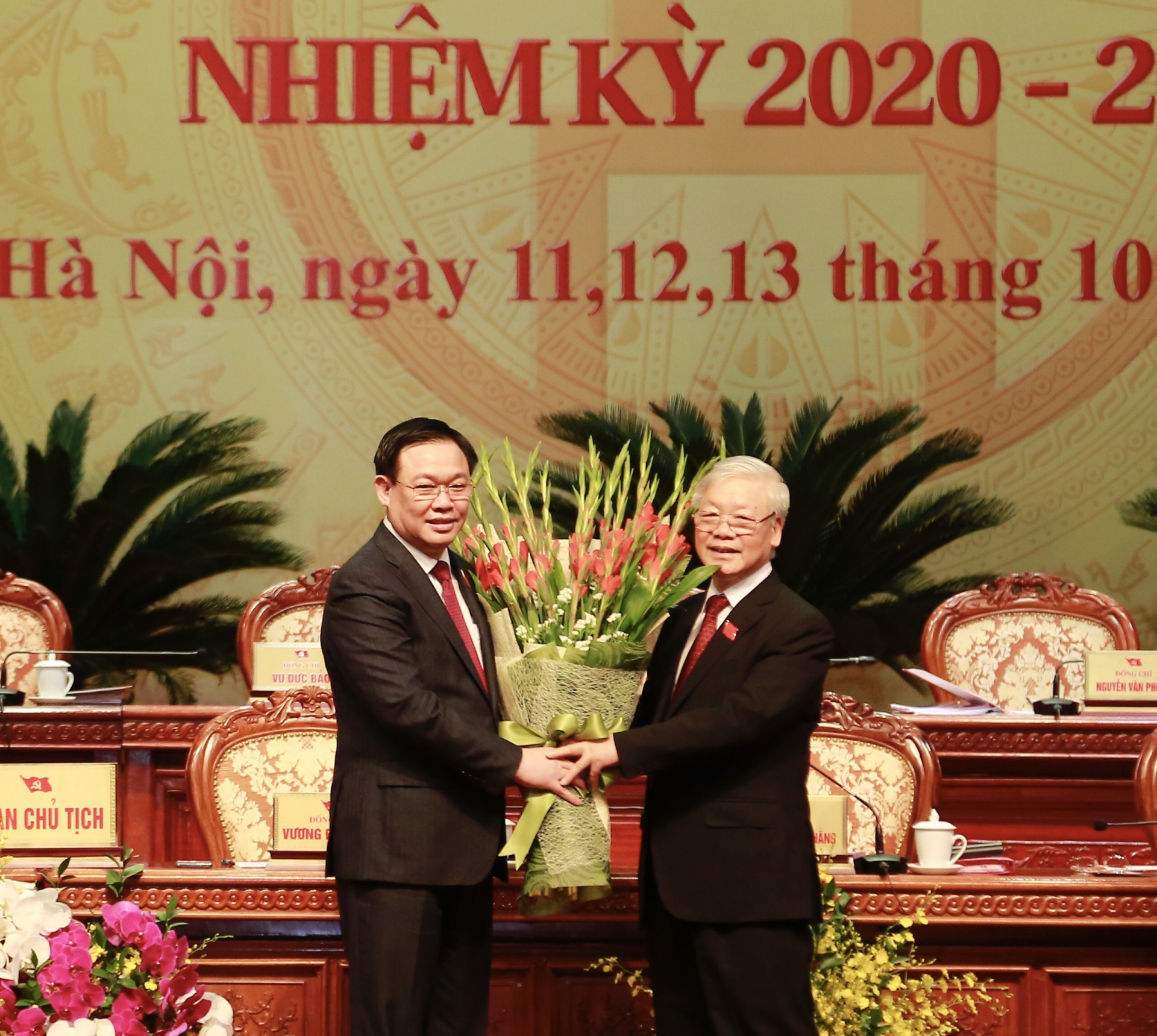 Party Secretary Vuong Dinh Hue presents flowers to General Secretary and President Nguyen Phu Trong. Photo:vietnamnet
The Hanoi Party Committee must continue making more drastic changes in the work of building character and discipline of its members and strengthen the fight against corruption, wastefulness and negativity, he said.
The Hanoi Party congress, which will last until Tuesday, will vote to elect the Secretary for the city's Party Committee, a position that has been held by Vuong Dinh Hue since February.