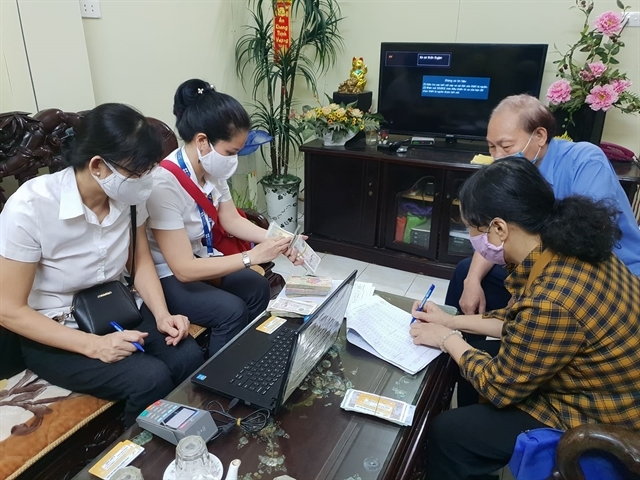 Two post office staff make a payment for pensioners at home in Doi Can Street, Hanoi (Photo: Vietnam News)
Hanoi currently has more than 581,000 people enjoying pensions and social insurance benefits (social insurance), with a total payment of over VND 2,800 billion/month (US$119,153). To implement social spacing to prevent and control Covid-19 epidemic, from April 16 to May 10, the Social Insurance in coordination with the city Post Office shall send employees to "walk in every lane and knock on every door" to directly distribute pensions and benefits to the beneficiary's hand without collecting any fees.
Previously, every month, Mr. Nguyen Van Dung (90 years old, living at Lane 1, Hoang Dieu Street, Nguyen Trai Ward, Ha Dong District) had to receive pension at the Cultural Center of Quarter 6. But this month, he not only received two months of pension (April and May 2020), but also received the payment delivered by the Post Office worker to his home.
Mr. Dung felt touched and shared: "We are old, have weak health and lots of difficulties in traveling. Every month, on the payday, I was always worried and did not dare to take a nap for fear of being overtime. Now, while there is the outbreak, the elderly like us are concerned by the Party, the State, and the city government. We can still receive wages at home, it is so thoughtful. I am really happy that this policy helps us keep ourselves healthy and safe during the epidemic season. "
Like Mr. Dung, during the previous pension period, Nguyen Thi Hang (77 years old) at lane 179 Doi Can, Ba Dinh and her husband (83 years old) still often go to the payment point to receive wages. But this month, they just need to prepare their retirement books and then wait for the Post Office worker to pay them. Ms. Hang shared: "My husband and I are both old. It is very difficult for us to travel, especially when epidemic breaks out like this. Therefore, we are very excited to be concerned by the Post Office workers and departments of the city. We feel thrilled that you come to our home to deliver pensions to us, as well as to many other retired and elderly people locally. We really thank you."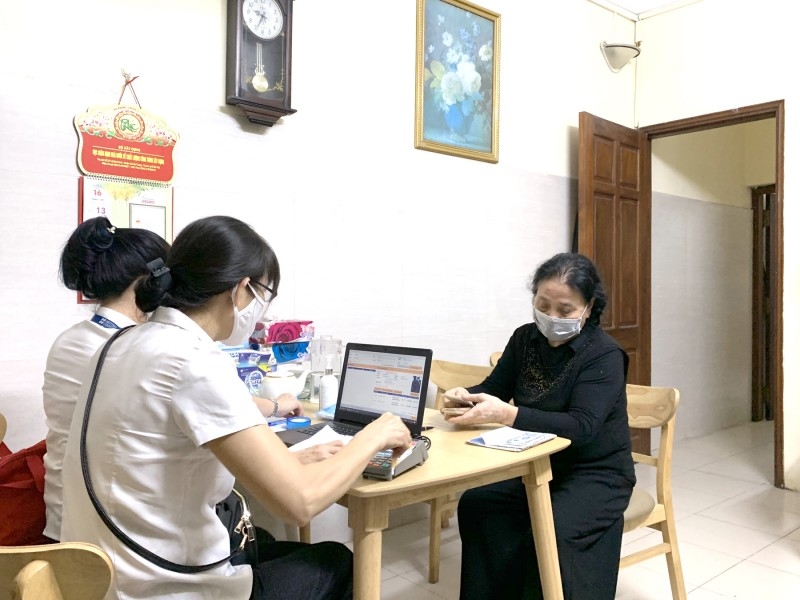 Post Office workers come to pay pension to Ms. Nguyen Thi Hang (77) at Doi Can, Ba Dinh
Mr. Dung and Ms. Hang are among 440,000 elderly people in Hanoi who received their pension for April and May in cash at home under the policy of the social agency running between April 16 and May 10. Data from the city's Social Security Agency shows that paying the pensions for 440,000 people for the two months amounts to more than VND3.94 trillion ($ 168.6 million) in cash.
According to Vietnam News, the city has mobilized more than 1,500 employees of the Hanoi Post Office to work with heads of residential areas to deliver the cash.
Nguyen The Vinh, head of the residential area No. 6 of Nguyen Trai Ward said he took the post office's staff to each pensioner's house to hand over the cash. It was estimated that more than 100 elderly people in the residential area received their pension at home on the first day of implementing the policy on April 16, he said.
"At first, pensioners were very worried about the form of the payment. They did not know whether the payment would be slow or fast," he said. In reality, it took a few minutes for them to receive the payment, he said.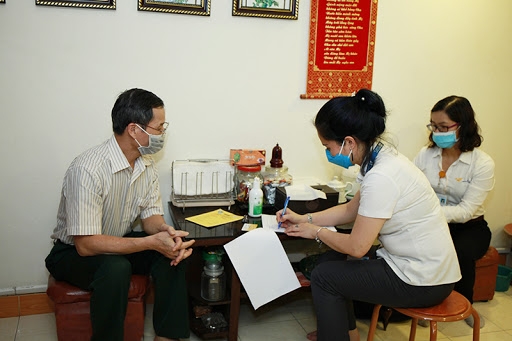 The elderly can receive pension at home from April 16 to May 10 (Photo: Kinh te do thi)
Dinh Thi Thu Huong, director of the Center 1 Post Office, said after the post office was assigned to pay pensions in Ba Dinh, Hoan Kiem and Tay Ho districts, the office made a detailed plan to ensure the timely payment.
Nguyen Cong Dinh, director of Social Security Unit in Ba Dinh District, said the post office staff called each elderly person to remind them to prepare documents to make sure the payment happen smoothly. The payments were delivered successfully thanks to close co-operation among the ward authority, police and the post office staff, he added.
The Hanoi Social Insurance said that in recent times, this unit has actively coordinated with the Hanoi Post Office to promote propaganda and mobilize pensioners to receive monthly social insurance benefits via the bank account. However, in reality, the number of people receiving monthly pensions and social insurance benefits through this method in the city is not high.
Mr. Dang Dinh Thuan - Deputy Director of Hanoi Social Insurance, said that implementing the above resolution and developing non-cash payment target have been assigned to the district social insurance authorities. At the same time, there is a close cooperation with commercial banking systems (Vietcombank, BIDV, Vietinbank, Lienviet Postbank, Seabank) to develop a process of opening a personal account and issuing ATM cards for beneficiaries when submitting to settle the social insurance regime, reported by The Labor.
In the coming time, the City Social Insurance continues to be more drastic in directing the development of monthly pension beneficiaries through personal accounts. In particular, even in the period of payment of pensions and social insurance benefits in April and May 2020, the paying unit will continue to coordinate with commercial banks to open personal accounts for beneficiaries at home if the beneficiary needs," Mr. Thuan said.
Candy Lee