Send the Love: Gift Giving for Seniors, Children Before Lunar New Year Festival
Sending affection to disadvantaged and affected by Covid-19 families on Lunar New Year 2022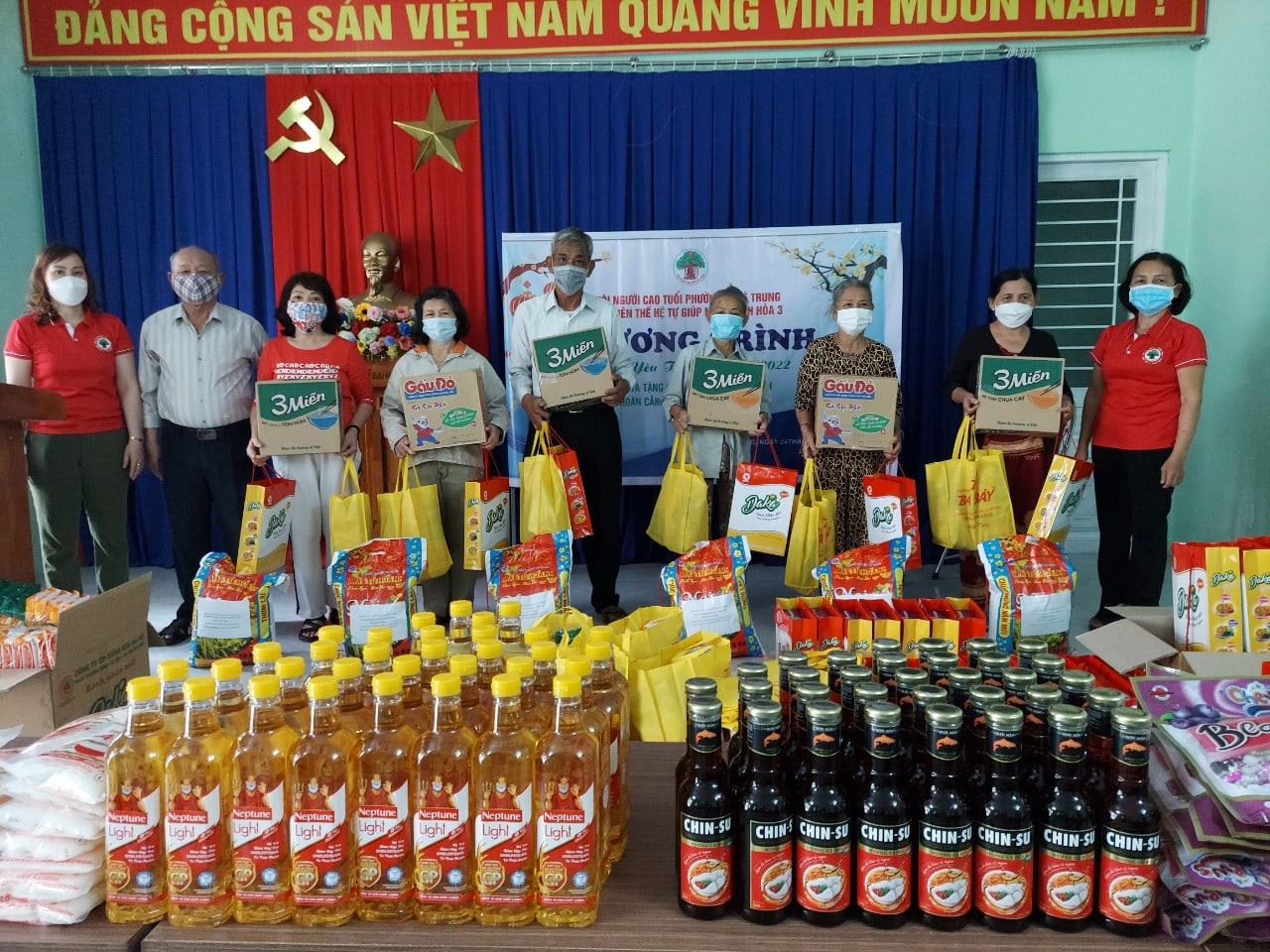 Sharing good wishes and hopes for the new year is just as important during this time as exchanging physical gifts and cash. However, giving Lunar New Year gifts for adults is part of the traditional celebration and is given in order to show respect or affection. Photo: HelpAge Vietnam
There are only a few days left until the Lunar New Year (Tet), the most important festival of Vietnamese people, but this year's atmosphere seems to be quieter than usual due to the Covid-19 situation. Many families, particularly those with older members, have been adversely impacted by the long-term pandemic.
Faced with this situation, many Intergenerational Self-Help Clubs (ISHCs) in Da Nang city have offered gifts to impoverished and Covid-19 pandemic-affected families in order to help them enjoy a more complete Tet.
Intergenerational Self-Help Club (ISHC) model, developed by HelpAge International in Vietnam, is a community-based intervention project which centers around the elderly, aiming to promote the livelihood and the role of elders in their communities.
Some typical ISHCs that implemented this meaningful activity are Resident 7 Xuan Hoa A ISHC, Thanh Khe district gave 72 presents, Binh Hoa ISHC, Cam Le district gave 45 presents, Le Son Bac ISHC giving 45 presents, Hoa Vang district, and Resident 10, 17, 18 ISHC, Cam Le district gave five presents each.
The gifts include those largely consumed during the occasion such as rice, noodles, cooking oil, sauces, confectionery, and red envelopes with lucky cash inside, hand-delivered to each family with the message "Giving is forever."
The families expressed their deep emotions and gratitude for the support from the ISHCs.
This is an extremely meaningful and practical activity, showing the care and compassion of the ISHCs for members as well as the community during the Tet holiday.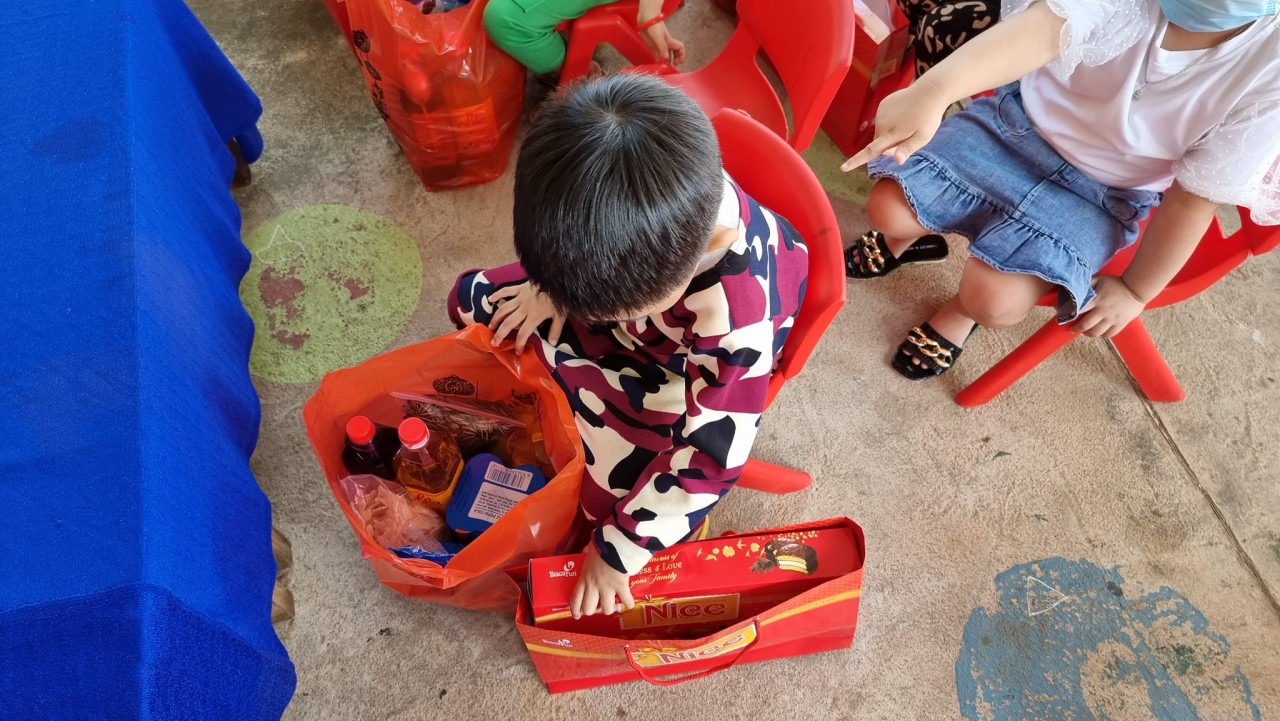 Gifts sent to children who are living in disadvantageous circumstances and adversely affected by the Covid-19 pandemic, on the occasion of the approaching Lunar New Year (Tet). Source: CHIA
In cooperation with the Department of Labor Invalid for Social Affairs of Hoi An City, Children's Hope in Action (CHIA) a non-government organization operating in Hoi An, was able to reach and give 50 Tet gifts to kids in disadvantageous circumstances on Jan.25.
They are from poor families in Hoi An and most of them are children with a disability. Some of the kids have severe disabilities, so their siblings or parents came to receive the gifts on their behalf.
Earlier, the NGO and the Department of Labor, Invalid for Social Affairs of Duy Xuyen district, also went to Duy Tan commune, one of the poorest communes in Duy Xuyen, to deliver gifts for 50 kindergarten students there.
The kindergarten students are all from very poor families and they were so very excited to receive their Tet packages. Each package contained a half dozen cans of Coke, 500g of watermelon seed, 500g of ginger jam, jelly, candies, cakes, cooking oil, and fish sauce.
The principal of the kindergarten, on behalf of all the students and families, was so emotional and thankful for our support and the meaningful Tet gifts for their students.
Together with the Department of Labor, Invalid for Social Affairs, Quang Nam Union of Friendship Organisations, CHIA provides practical care for children from some of the poorest families in Quang Nam province.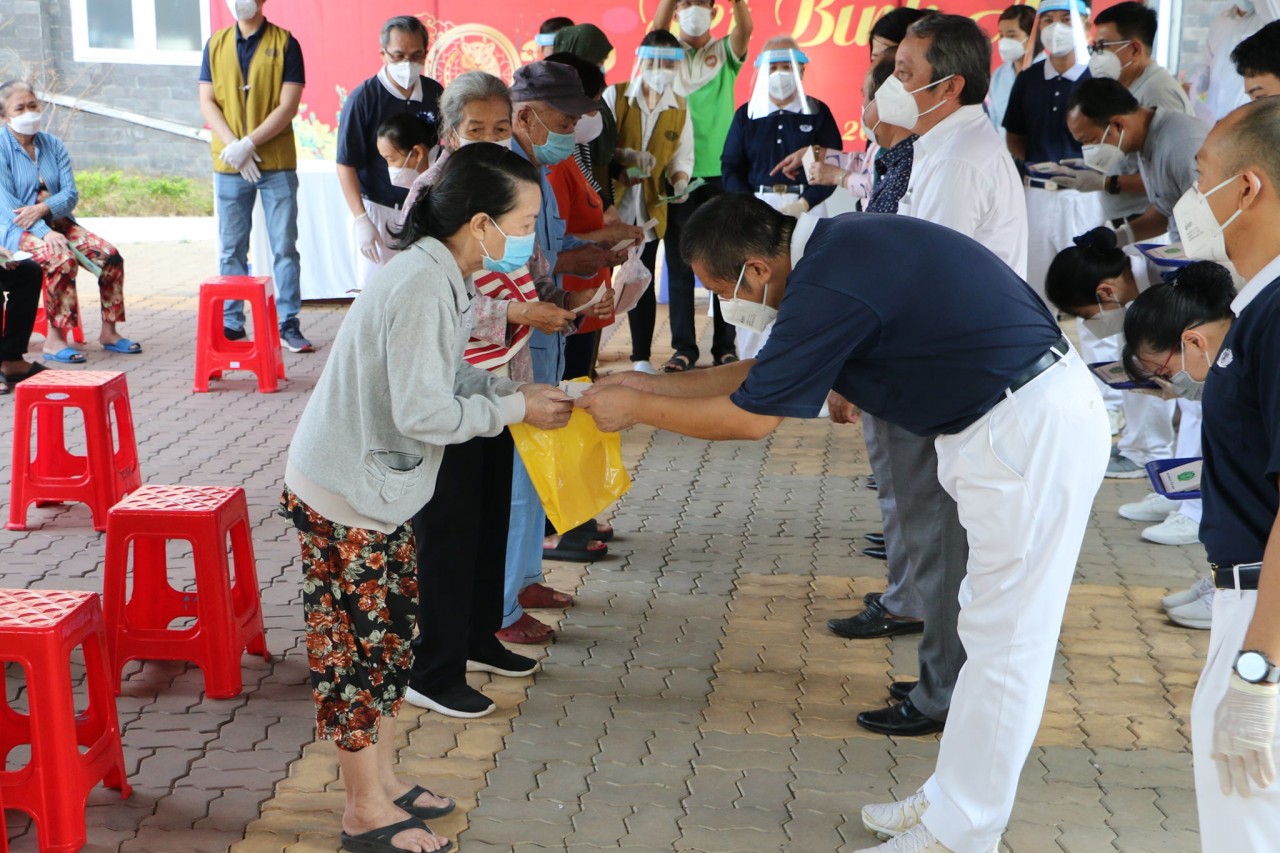 Needy residents in District 8, Ho Chi Minh City receive Tet gifts. Photo: Tzu Chi
Elsewhere, the Buddhist Compassion Relief Tzu Chi Foundation on Jan. 24 has visited and presented 200 gifts to poor, near-poor and disadvantaged households affected by the Covid-19 pandemic in five border communes of Quan Ba district (Ha Giang province).
On Jan. 25, Tzu Chi, with support from the locality, distributed Tet gifts to 500 disadvantaged households in Tan Chau town, the southern province of An Giang. Each gift includes VND 700,000 cash and 20kg of rice.
Similar gift-giving activities were also held in Ho Chi Minh City, the epicenter of the fourth coronavirus wave.
The pandemic has greatly dampened local lives, making it difficult for many families to sustain their livelihoods. The aid from Tzu Chi thus came at a time when it was most needed.
Tzu Chi has joined hands with the Ho Chi Minh City Union of Friendship Organisations (HUFO) in many charitable activities such as awarding scholarships to poor students, offering Tet presents to people with hard-living, and protecting the environment.