People-to-people Relationship - Testament To Vietnam - Philippines Great Friendship
President of the Philippine-Vietnam Friendship Association highlighted the two countries' people-to-people relations in a congratulatory letter to celebrate Vietnam - Philippines' 45 anniversary of diplomatic relations establishment.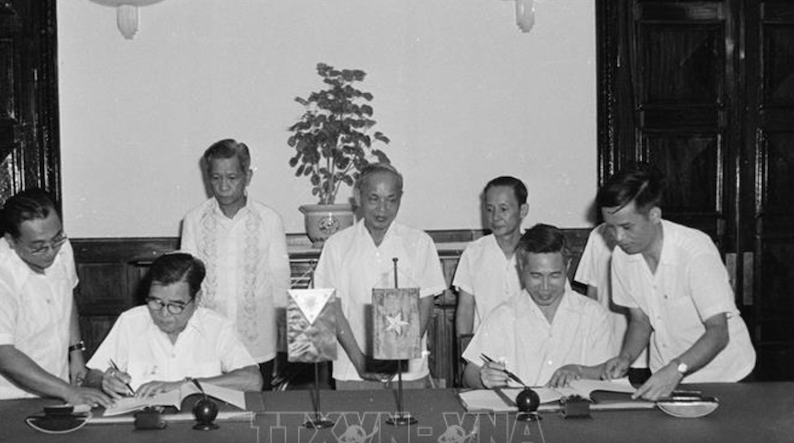 Vietnam Deputy Foreign Minister Nguyen Co Thach and Philippines Ambassador Austin P.Magina signed a Joint Communiqué on the establishment of diplomatic relations between Vietnam and the Philippines, on August 7, 1975. (Photo: VNA)
The President of the Philippine-Vietnam Friendship Association sent a letter to the President of the Vietnam - Philippines Friendship Association on July 12 to celebrate the 45th anniversary of diplomatic relations establishment between the two countries, which took place on the same day.
Mario Ferdinand Ayano Pasion, president of the Philippine - Vietnam Friendship Association, opened his letter with a sincere and heartfelt congratulations to his counterpart and the entire Vietnamese nation on the anniversary.
He wrote that the two countries had both went through struggles to defend their respective national independence and sovereignty would forever be remembered as worthy of respect and admiration all over the world. For that reason, it is but natural for both nations to enjoy a strong diplomatic and cultural bond.
"The people-to-people relationship between our two countries is testament to the great friendship that has been in existence since before the arrival of foreigners in our enchanting region of Southeast Asia. For long before other peoples came into this area, our peoples have already been engaged in economic, cultural, and trade exchanges. In fact, the theory that there were land bridges before the global sea-level rise after the last Ice Age has already been proven and peoples from mainland Asia (Vietnam, Malay Peninsula, etc.) have indeed arrived in the Philippines through these physical land bridges."
"But now, even though there is no longer any land bridge connecting our two great countries, the invisible but indestructible bridge of understanding and friendship between our two peoples continues on."
To celebrate the anniversary, Vu Van Tam, the President of the Vietnam - Philippines Friendship Association sent a congratulatory letter to Mario Ferdinand Ayano Pasion on July 10. In the letter, Tam thanked the president and members of the Philippines – Viet Nam Friendship Association for their cooperation and valuable support to promote mutual understanding among the two peoples. He said that his association would continue to work more closely with its counterpart to further strengthen solidarity, traditional friendship, and bilateral cooperation between two countries in the future.