Philippines President Rodrigo Duterte: Biography, Personal Profile, Career
Rodrigo Duterte, Filipino politician who was elected president of the Philippines in 2016.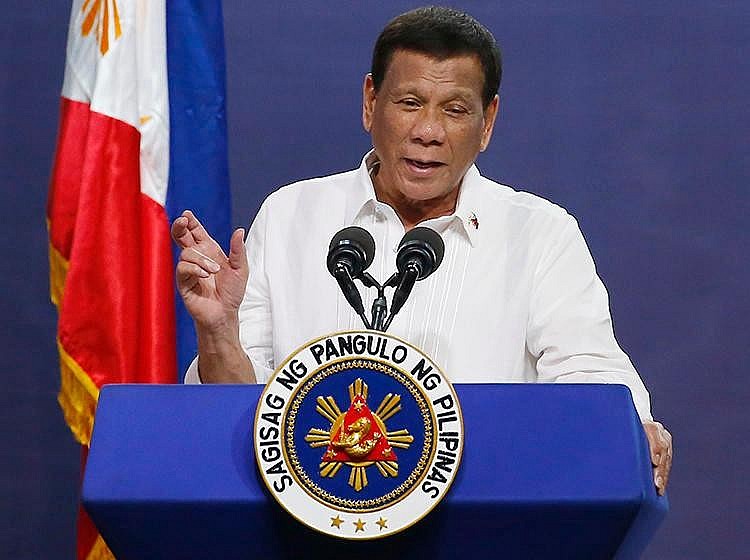 Philippine President Rodrigo Duterte. Photo: cpj
Who is Rodrigo Duterte - Biography
President Rodrigo Roa Duterte was born on March 28, 1945 in Maasin, Southern Leyte to Vicente Duterte and Soledad Roa who were both civil servants. His mother was a public school teacher while his father was a government worker.
Duterte traces his roots to the Visayas. He spent his early years in Danao, Cebu, the hometown of his father. But his lineage has also direct ties from Mindanao as his mother hails from Cabadbaran, Agusan del Norte while his paternal grandmother was a Maranao.
In 1949, when Duterte was four years old, his family resettled in the then-undivided Davao where his father Vicente later entered the political arena and was elected governor of the province and served from 1959 to 1965.
Duterte graduated in 1968 with a Bachelor of Arts degree in Political Science at the Lyceum of the Philippines University and obtained a law degree from San Beda College of Law in 1972. He passed the bar exam that same year. He served as special counsel and later on became a city prosecutor at the City Prosecutor's Office in Davao City from 1977 until 1986, when he was appointed as OIC Vice Mayor of Davao City, cited philippineshonolulu.
He ran and successfully won the mayoralty post in 1988. Since then, Duterte has not lost an election. He is among the longest-serving mayors in the Philippines and has been Mayor of Davao City for seven terms, totaling more than 22 years. He also served as vice-mayor and as congressman of the city's first congressional district.
On May 9, 2016, Duterte won a landslide victory as the 16th President of the Philippines, with 16.6 million votes, the highest number of votes won by any Philippine president before him, with a margin if 6.6 million votes from the second placer. He was officially proclaimed by a joint session of the Philippine Congress on May 30, 2016. He is the first President from Mindanao, and the first local chief executive to get elected straight to the Office of the President.
Philippines President Rodrigo Duterte: Early Life
Rodrigo Roa Duterte (also known as Digong and Rody) was born in the town of Maasin, in Southern Leyte, the eldest son of local politician Vicente Duterte (1911–1968), and Soledad Roa (1916–2012), a teacher and activist. He and two sisters (Jocellyn and Eleanor) and two brothers (Benjamin and Emmanuel) moved to Davao City when their father was made the governor of the now-defunct Davao province, reported thoughtco.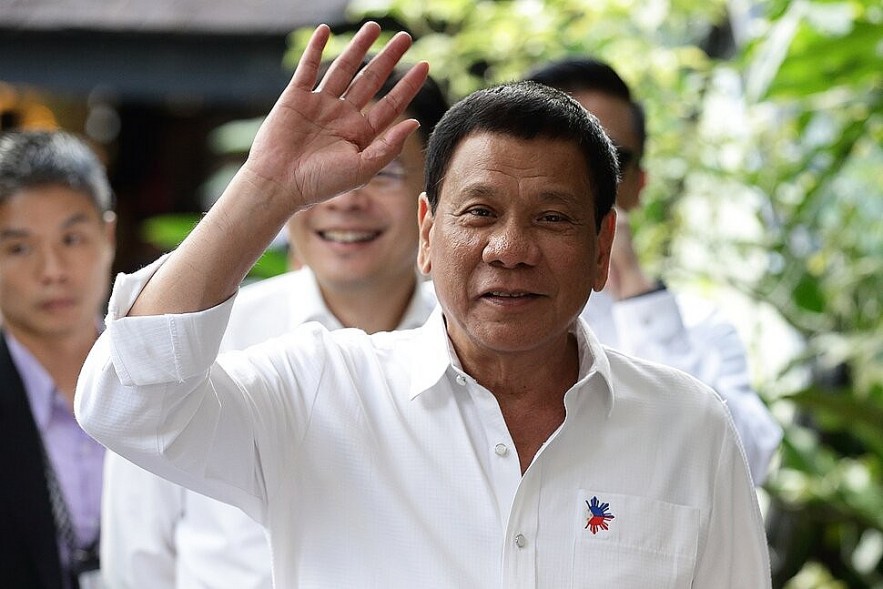 Photo: Getty Images
Philippines President Rodrigo Duterte: Career
Rodrigo Roa Duterte began his career at Davao City bar. Subsequently in 1977, he became Special Counsel at the City Prosecution Office, serving in the post until 1979.
From 1979 to 1981, he served as the Fourth Assistant City Prosecutor; from 1981 to 1983, as the Third Assistant City Prosecutor and from 1983 to 1986, as the Second Assistant City Prosecutor.
Meanwhile in 1983, People's Power Revolution began which in 1986, overthrew the dictatorial government of Ferdinand Marcos and restored democratic institutions in the country. In the same year, Duterte was appointed as the Officer-in-charge Vice Mayor for the City of Davao.
In 1988, he contested the election for the Mayoral post and won. Subsequently, he won two more terms, remaining in the position till 1998. During this period, he set an example by choosing his deputy mayors from the Lumad and Moro communities, a practice that was later emulated by other cities.
As the country's law does not allow any person to hold any civic office for more than three consecutive terms, he could not stand in the mayoral election in 1998. So, Duterte chose to run for the House of Representatives and won.
From 1998 to 2001, he served as the Congressman of the 1st District of Davao City under the Laban ng Makabayang Masang Pilipino coalition, a job he found immensely boring. Therefore in 2001, he once more stood for the mayoral election in Davao.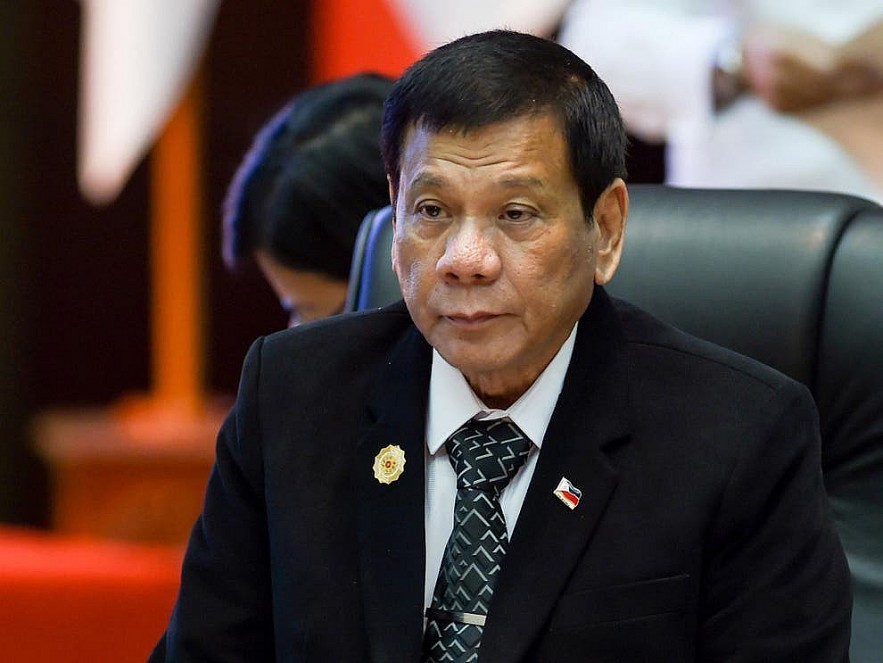 Philippines president Rodrigo Duterte. Photo: independent.co.uk
Subsequently, he won three more consecutive terms (2001, 2004 and 2007). During this period, the condition of Davao City improved in all respects. It won the National Literacy Hall of Fame Award for winning the first place in the Outstanding Local Government Unit, Highly Urbanized City category thrice.
Moreover, Duterte never confined himself to his office. He worked at the street level and was often seen leading from the front, riding his big motor cycle with a convoy, fitted with M16 rifles, following him. As a result, the crime rate was drastically reduced during his tenure.
More significant was his war on drugs. In addition, he imposed anti-smoking rules and prohibited selling, serving, and consuming alcoholic beverages from 01:00 AM until 08:00 AM. He also introduced women's rights bill that aimed to eliminate discrimination against women and promote their rights.
In 2010, after running three consecutive terms as the Mayor of the Davao City, he was once again barred by law to contest for the same post. Therefore, he ran for the post of Vice Mayor while his daughter Sara Duterte-Carpio became the Mayor.
In 2013, he again ran for the post of the Mayor of Davao City and won. He now continued his work on making the city crime free. Previously, he had refused to become the Interior Secretary four times, preferring to serve his city; but now he began to take interest in national politics, cited thefamouspeople.
In 2014, Duterte gave a call for forming a federal form of government, which would reflect the aspiration of the Pilipino people including the various tribes. The following year, he was asked to run for the post of President.
Initially he was very hesitant, citing lack of campaign funds and political machinery for his reticence. He only agreed when his daughter Sara Duterte-Carpio shaved her head as a mark of her protest.
The General Election took place on May 9, 2016. On May 27, 2016, the 16th Congress of the Philippines proclaimed Rodrigo Duterte of Partido Demokratiko Pilipino–Lakas ng Bayan party as the President-elect of the Philippines. He won with 16,601,997 (39.01%) votes, which is 6.6 million more than his nearest rival.
President Duterte began his term on 30 June 2016. As the President of Philippines, he now resides in Manila, but visits Davao City every week.
Philippines President Rodrigo Duterte: Personal Life
In 1973, Rodrigo Duterte married Elizabeth Abellana Zimmerman, a flight attended of German-American ancestry. They have three children; Paolo, Sara and Sebastian Duterte. Among them Paolo and Sara joined politics while Sebastian became a businessman.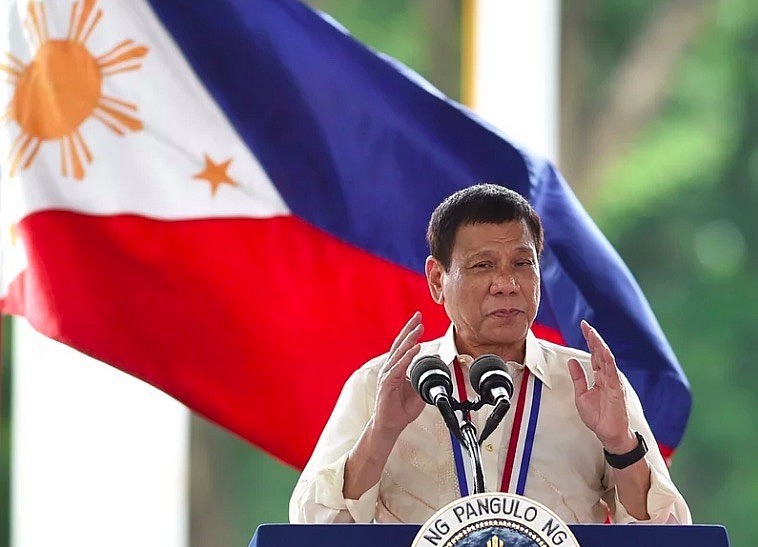 Philippine President Rodrigo Duterte speaks in Manila on Aug. 29. Photo: npr.org
Duterte was not a faithful husband. Even while he was married to Zimmerman, he went public about his infidelity and philandering. Consequently in 1998, Zimmerman filed an annulment, which was granted in 2000. They however, remained friends and as the marriage was not nullified by Roman Catholic Church she continues to use her former husband's surname Duterte.
In the middle of 1990s, Duterte developed a relationship with Filipino businessperson and former nurse Cielito Avanceña. Later she became his common-law-wife and they now live together in Manila. They have a daughter called Veronica, reported thefamouspeople.
Duterte was once a heavy smoker, but later gave it up due to health reason. But because of it, he now suffers from Thromboangiitis obliterans, a disease involving recurring progressive inflammation and thrombosis of blood vessels in the hands and feet.
Philippines President's role
The President is the Head of State and Head of Government, and functions as the commander-in-chief of the Armed Forces of the Philippines. As chief executive, the President exercises control over all the executive departments, bureaus, and offices, cited officialgazette.gov.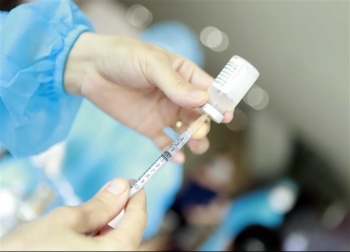 Viet's Home
Teenagers aged 16 and 17 in Vietnam will receive Pfizer vaccine shots against Covid-19 starting from next month, according to the health ministry.