President of the United States Joe Biden: Biography, Early Life, Political Career and Facts
President Biden represented Delaware for 36 years in the U.S. Senate before becoming the 47th Vice President of the United States. As President, Biden will restore America's leadership and build the communities back better
Joe Biden's Education and Early Life
Joseph Robinette Biden, Jr. was born in Scranton, Pennsylvania in 1942, the first of four children of Catherine Eugenia Finnegan Biden and Joseph Robinette Biden, Sr. In 1953, the Biden family moved to Claymont, Delaware. President Biden graduated from the University of Delaware and Syracuse Law School and served on the New Castle County Council.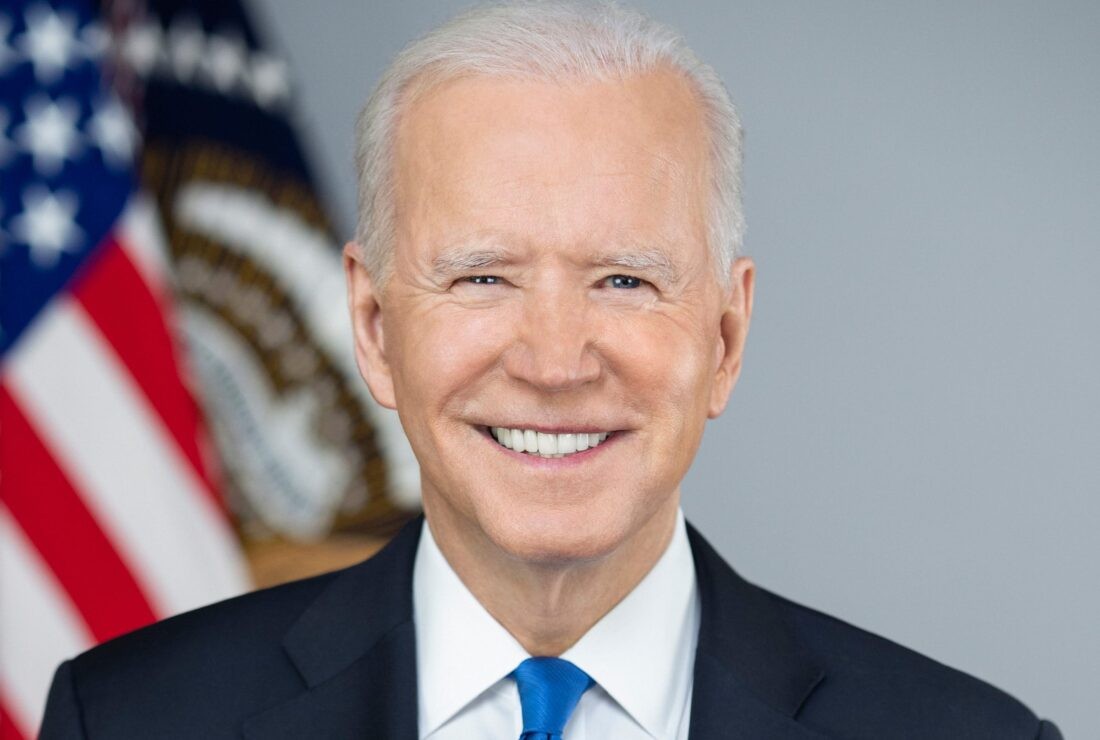 President of the United States Joe Biden. Photo: White House
Joe Biden's Family
According to the White House, at age 29, President Biden became one of the youngest people ever elected to the United States Senate. Just weeks after his Senate election, tragedy struck the Biden family when his wife Neilia and daughter Naomi were killed, and sons Hunter and Beau were critically injured, in an auto accident.
Biden was sworn into the U.S. Senate at his sons' hospital bedsides and began commuting from Wilmington to Washington every day, first by car, and then by train, in order to be with his family. He would continue to do so throughout his time in the Senate.
Biden married Jill Jacobs in 1977, and in 1980, their family was complete with the birth of Ashley Blazer Biden. A lifelong educator, Jill earned her doctorate in education and returned to teaching as an English professor at a community college in Virginia.
Beau Biden, Attorney General of Delaware and Joe Biden's eldest son, passed away in 2015 after battling brain cancer with the same integrity, courage, and strength he demonstrated every day of his life. Beau's fight with cancer inspires the mission of President Biden's life — ending cancer as we know it.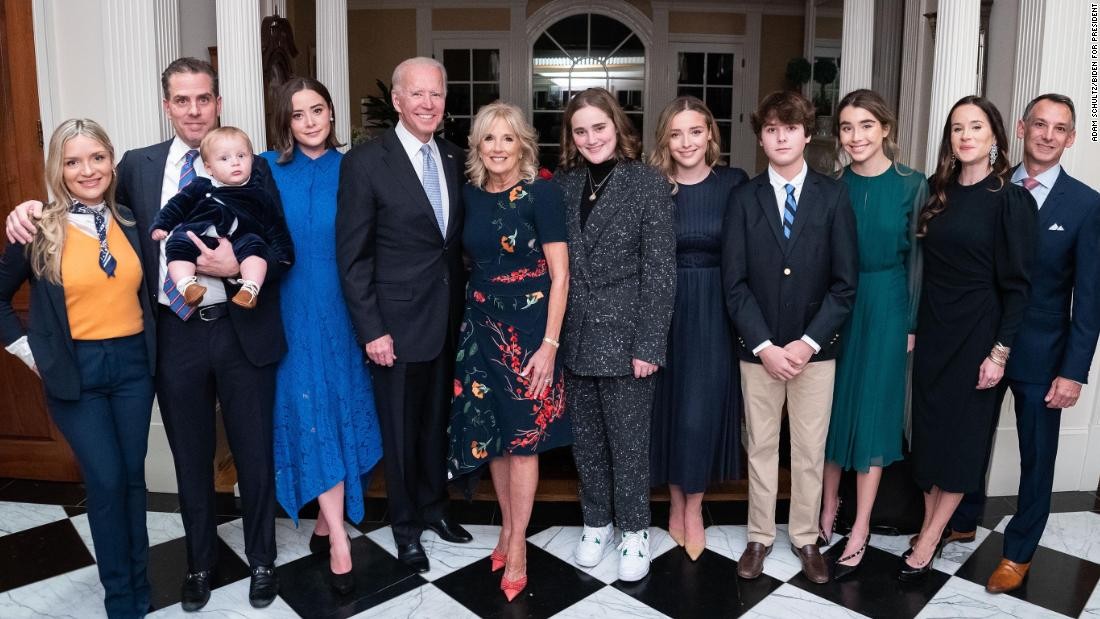 The Biden family poses for a picture on Saturday, November 7, 2020. From left: Melissa Cohen, Hunter Biden, Beau Biden, Naomi Biden, President-elect Joe Biden, Dr. Jill Biden, Maisy Biden, Finnegan Biden, Hunter Biden, Natalie Biden, Ashley Biden, and Dr. Howard Krein. Photo: CNN
Early Life And Career In The Senate
Biden, who was raised in Scranton, Pennsylvania, and New Castle county, Delaware, received a bachelor's degree from the University of Delaware in 1965 and a law degree from Syracuse University in New York in 1968. During this time he married (1966) Neilia Hunter, and the couple later had three children, Britanica describes.
Joe Biden briefly worked as an attorney before turning to politics, serving on the New Castle county council from 1970 to 1972. He became the fifth-youngest U.S. senator in history as well as Delaware's longest-serving senator. His 2008 presidential campaign never gained momentum, but Democratic nominee Barack Obama selected him as his running mate, and Biden went on to serve two terms as the 47th vice president of the United States. In 2017, at the close of his administration, Obama presented Biden with the Presidential Medal of Freedom. Two years later Biden launched his campaign for U.S. president and is the 2020 Democratic presidential nominee.
Presidential Ambitions
In 1987, Biden decided to run for the U.S. presidency. He dropped out of the Democratic primary, however, after reports surfaced that he had plagiarized part of a speech from British Labour Party leader Neil Kinnock without appropriate attribution.
Biden had been suffering severe headaches during the campaign, and shortly after he dropped out in 1988, doctors discovered that he had two life-threatening brain aneurysms. Complications from the ensuing brain surgery led to blood clots in his lungs, which, in turn, caused him to undergo another surgery. Always resilient, Biden returned to the Senate after surviving a seven-month recovery period.
The 47th Vice President of the United States
As Vice President, Biden continued his leadership on important issues facing the nation and represented our country abroad. Vice President Biden convened sessions of the President's Cabinet, led interagency efforts, and worked with Congress in his fight to raise the living standards of middle-class Americans, reduce gun violence, address violence against women, and end cancer as we know it, the White House reported.
Biden helped President Obama pass and then oversaw the implementation of the Recovery Act — the biggest economic recovery plan in the history of the nation and our biggest and strongest commitment to clean energy. The President's plan prevented another Great Depression, created and saved millions of jobs, and led to 75 uninterrupted months of job growth by the end of the administration. And Biden did it all with less than 1% in waste, abuse, or fraud — the most efficient government program in our country's history.
President Obama and Vice President Biden also secured the passage of the Affordable Care Act, which reduced the number of uninsured Americans by 20 million by the time they left office and banned insurance companies from denying coverage due to pre-existing conditions.
He served as the point person for U.S. diplomacy throughout the Western Hemisphere, strengthened relationships with our allies both in Europe and the Asia-Pacific, and led the effort to bring 150,000 troops home from Iraq.
In a ceremony at the White House, President Obama awarded Biden the Presidential Medal of Freedom with Distinction — the nation's highest civilian honor.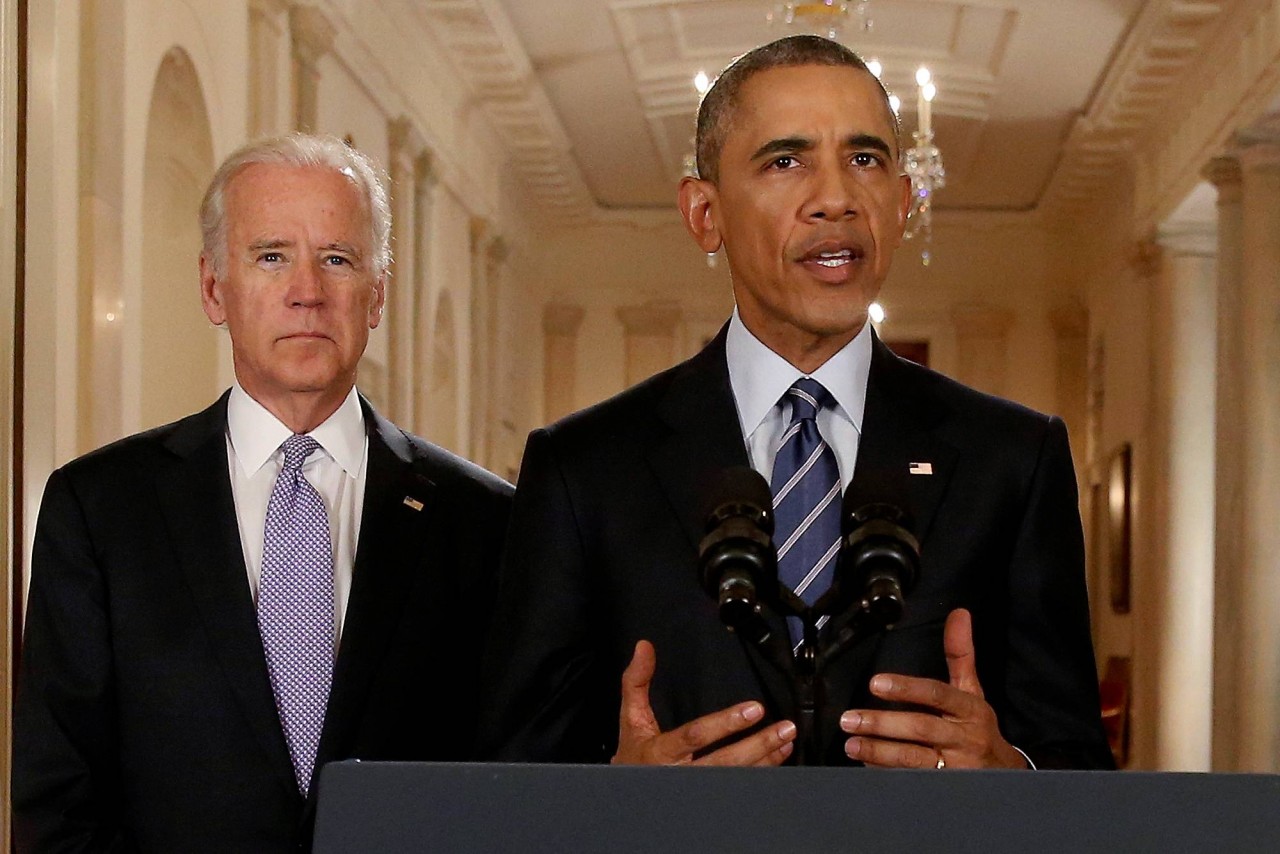 Joe Biden as Vice President standing next to President Obama in July 2015. Photo: Reuters
Joe Biden's 2020 Presidential Run
On April 25, 2019, Biden announced his candidacy in the 2020 Democratic presidential primaries. As a popular former vice president, he immediately entered the race with high name recognition.
As reported by History, Biden ran alongside 28 other Democratic candidates in a crowded primary that pitted Biden's more moderate policies against those of progressive candidates such as Bernie Sanders and Elizabeth Warren. Throughout his campaign, Biden emphasized his working-class background, drawing a contrast with the wealthy upbringing of his opponent, President Trump. Biden often quoted his father as telling him, "The measure of a man is not how often he is knocked down, but how quickly he gets up."
Initially behind in the race for the Democratic nomination, Biden bounced back with a big win in the South Carolina primary at the end of February. A key part of Biden's win in South Carolina was a strong showing of support from African American voters in the state. He then clinched the majority of delegates in Super Tuesday voting in early March.
In May 2020, when the police killing of George Floyd spurred nation-wide protests, Biden traveled to Houston to meet with Floyd's family. It was his first major trip outside his home in Delaware since he had shifted his campaign away from public events amid the threat of COVID-19. As some protests and police response to protests escalated to violence, Biden called for racial justice, but also appealed to the country to heal, saying, "We're a nation enraged, but we can't let our rage consume us. We're a nation exhausted, but we can't let our exhaustion defeat us."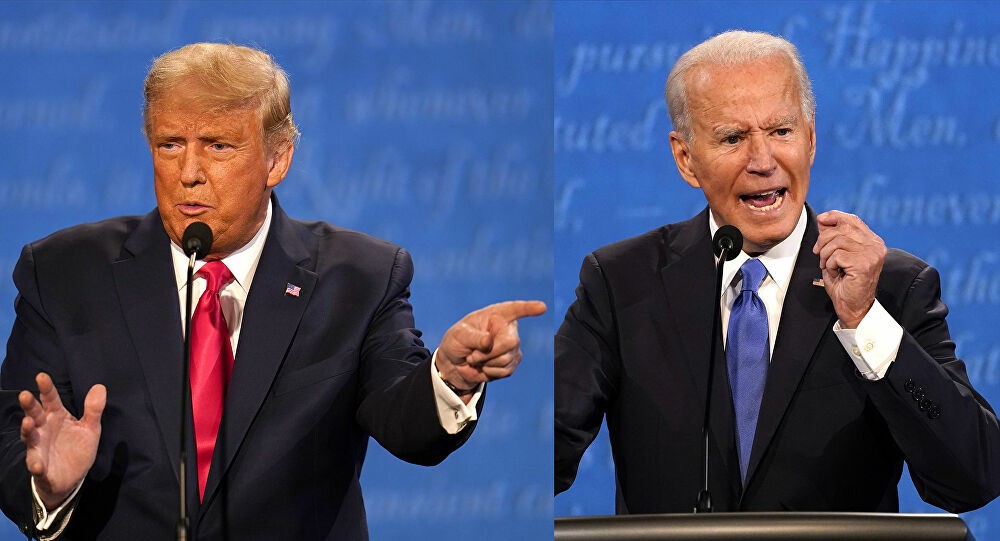 Photo: Sputnik
On August 11, 2020, Biden announced Kamala Harris as his vice presidential running mate, writing in a note to campaign supporters, "I need someone working alongside me who is smart, tough, and ready to lead. Kamala is that person." Harris, a senator from California, had initially campaigned on her own ticket for the presidency and had challenged Biden on issues of race during debates for the Democratic nomination. With her selection, Harris became the first Black and Asian American woman to be named on a major party's ticket.
In the run-up to the election, Biden and Trump took part in two presidential debates. The first, held on September 29, was a chaotic event overwhelmed with interruptions, cross-talk and name-calling. A second debate, held on October 22, was a calmer exchange as the moderator controlled a mute button to silence either of the candidates should they continue to speak beyond their time or interrupt the other.
Covid-19 and the 2020 Election
According to History, a looming issue throughout the election was the coronavirus pandemic which had claimed more than 230,000 American lives and infected more than 9 million in the country. President Trump, himself, became infected with COVID-19 in October and was hospitalized at Walter Reed Medical Center, where he received several treatments, including an experimental antibody. A central argument in Biden's campaign was that Trump had failed to effectively lead in the fight against the virus.
The pandemic was not only a prominent campaign issue, it also transformed the way Americans voted in the presidential election. States saw record numbers of people taking part in early voting as well as using mail-in ballots.
The high number of early and mail-in ballots was partly why Americans waited four days to learn which candidate they had elected as president. Electoral college voting outcomes that initially looked positive for President Trump, shifted in Biden's favor as more votes were counted.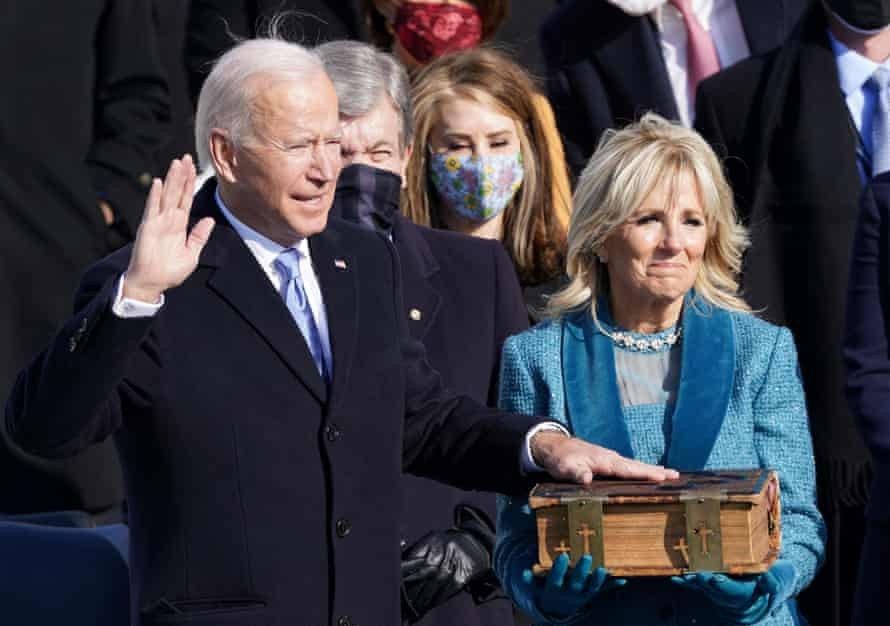 By November 7, Biden was declared the winner of the 2020 presidential election by the Associated Press and major media outlets. Despite the outcome, President Trump continued to challenge the election by pressuring election officials to find more votes and by filing more than 50 lawsuits in state and federal court, claiming there was "massive fraud." None of the courts ruled there was evidence of any significant voter fraud. Despite the court findings, Trump's and others' persistent claims that the election was fraudulent fueled the January 6, 2021 storming of the U.S. Capitol by extremists.
At his inauguration, Biden addressed the country's challenges and divisions, saying, "Few people in our nation's history have been more challenged or found a time more challenging or difficult than the time we're in now...To overcome these challenges, to restore the soul and secure the future of America, requires so much more than words and requires the most elusive of all things in a democracy, unity."
The Duties and Powers of US President
The President is both the head of state and head of government of the United States of America, and Commander-in-Chief of the armed forces, according to the White House.
Under Article II of the Constitution, the President is responsible for the execution and enforcement of the laws created by Congress. Fifteen executive departments — each led by an appointed member of the President's Cabinet — carry out the day-to-day administration of the federal government. They are joined in this by other executive agencies such as the CIA and Environmental Protection Agency, the heads of which are not part of the Cabinet, but who are under the full authority of the President.
The President also appoints the heads of more than 50 independent federal commissions, such as the Federal Reserve Board or the Securities and Exchange Commission, as well as federal judges, ambassadors, and other federal offices. The Executive Office of the President (EOP) consists of the immediate staff to the President, along with entities such as the Office of Management and Budget and the Office of the United States Trade Representative.
The President has the power either to sign legislation into law or to veto bills enacted by Congress, although Congress may override a veto with a two-thirds vote of both houses. The Executive Branch conducts diplomacy with other nations and the President has the power to negotiate and sign treaties, which the Senate ratifies. The President can issue executive orders, which direct executive officers or clarify and further existing laws. The President also has the power to extend pardons and clemencies for federal crimes.
11 Unknown Facts about Joe Biden
1. Biden used to stutter when he was younger! He didn't stop until he got to law school and got a friend to help im fix it.
2. When he was at Syracuse University College of Law, he and his first wife bought a puppy, which they named Senator.
3. He was elected as a senator when he was 29 years old, even though you have to be 30 to be a member of Congress. No laws were broken, though. He was 30 by the time he was inducted.
4. Biden owns four homes worth $3M million-$7.5M million. With the election just days away, Democratic nominee Joe Biden's adversaries continue to push false narratives about his finances to try to raise doubt around "Middle Class Joe's" trustworthiness. "Bidens 4 3.7.5 million-dollar homes on a 200k a year salary," reads a meme posted to Facebook Oct. 20
There are four of Biden's current, temporary and previous homes, most of which cost less than $3 million. But Biden has not made a senator's salary for more than a decade, and hasn't been vice president since 201, USAToday reported.
5. Though this is his first time running for vice president, he's no stranger to presidential races. Biden ran for president in 1988 and again this year, 2008 (now you know why his name sounded so familiar!).
6. In 1988, Biden had to have brain surgery after being diagnosed with two life-threatening cranial aneurysms. Before surgery, the surgeon told him that he had a 35 to 50 percent chance of living a normal life afterwards. - According to thefiscaltimes.com.
7. Biden carries a good-luck charm everywhere he goes. He always likes to carry a rosary, though he says he has to replace them all the time because they tend to go missing!
8. What's his go-to meal and all-time-favorite food? Pasta!
9. Biden has never taken a drink in his life because alcoholism runs in his family. — what a sweetie!
10. Biden has been married to his second wife, Jill Tracy Jacobs, for 30 years. His son Beau joked in his speech at the Democratic National Convention that they all married her. With Jill Jacobs, Biden had another child named Ashley. Right now he's got four grandchildren!
11. A Catholic, Biden has said he finds comfort in the rosary beads he carries. "He has a rosary with him all the time and he uses it," a longtime friend told people earlier this year. "He'll never do it in front of people, though. Faith, family and character are what has enabled him to survive these incredible tragedies.", as noted by thefiscaltimes.com.