The travel ban, lasting until Jan. 15, covers those who have been to the United States within 14 days preceding arrival in the Philippines, President Rodrigo Duterte's spokesman said in a statement.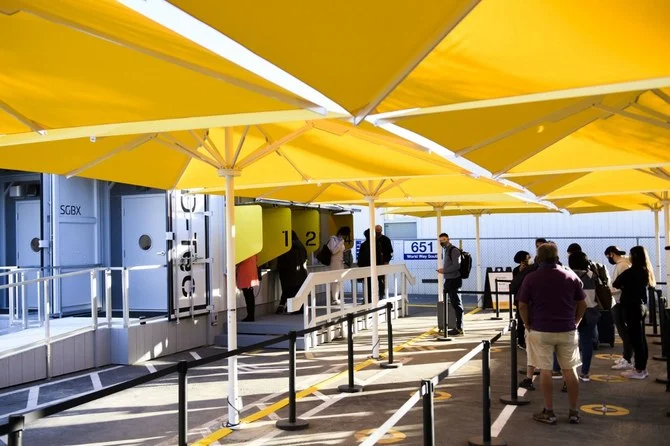 The Philippines will prohibit the entry of foreign travelers from the United States from Sunday after the more infectious new variant of the coronavirus was detected in Florida. (File/AFP)
The measure expands the travel restriction that Manila announced on Tuesday, which initially covered passengers from 19 countries and territories and took effect from midnight of Dec. 29.
According to CNN Phillipines, passengers coming from the US or passed through the US who will arrive before Sunday are allowed to enter the country, but they are required to complete the 14-day facility-based quarantine regardless of their RT-PCR test result.
The US confirmed its first known case of the UK coronavirus variant on Dec. 30. The patient, a man in his 20s, was found to have the new COVID-19 variant even if he did not travel abroad.
US state health officials have detected the new variant of COVID-19, which has swept through the United Kingdom, in Florida, marking the third known US state to identify such a case.'
Spokesman Harry Roque said the Office of the President decided to include the United States in the regulation on the recommendation of the health and foreign affairs departments, told the Arab News.
The restriction does not cover Filipinos travelling from the United States but they are also required to undergo a 14-day quarantine in a government facility when they arrive.
The Philippine government will keep expanding the list as more countries confirm the presence of the new variant in their areas.
Florida became the third state to confirm a case with the new variant on New Year's Eve, with Colorado and California previously announcing cases earlier this week, according to The Hill.
Health experts have said they believe the Pfizer-BioNTech and Moderna vaccines are effective against the variant, but more trials are needed to confirm that.
The strain has not yet made its way to the Philippines, which has recorded more than 475,000 COVID-19 cases and 9,248 fatalities, according to data from Johns Hopkins University.
Earlier, the Philippine government announced to suspend all flights from the United Kingdom and will bar entry to travelers originating or transiting from the following locations through January 15, 2021, : United Kingdom; South Africa; Switzerland; Italy; Denmark; Israel; Hong Kong; Spain; Ireland; Netherlands; Singapore; Lebanon; Japan; Canada; Germany; Sweden; Australia; France; Iceland; and South Korea.

Passengers already in transit, or who were in any of the locations listed above within 14 days of their arrival in the Philippines, and who arrive before December 30, 2020, will be allowed entry but are subject to a mandatory 14-day quarantine, regardless of a negative RT-PCR result.
Chau Polly
Arab News