The World celebrates muted New Year's Eve under Covid Lockdowns
Several countries across the world celebrate the new year of 2021 with no crowds gathering, no fireworks show and strangers exchanging hugs and kisses. After a year devastated by disease, unemployment and racial unrest, people around the world will still raise a glass and toast the start of 2021.
With revelry around the world curtailed by lockdowns and curfews imposed to stem the spread of Covid-19, the lions of London's Trafalgar Square were barricaded off, and there were no crowds in St Peter's Square and no one diving into the Tiber in Rome, told the Guardian.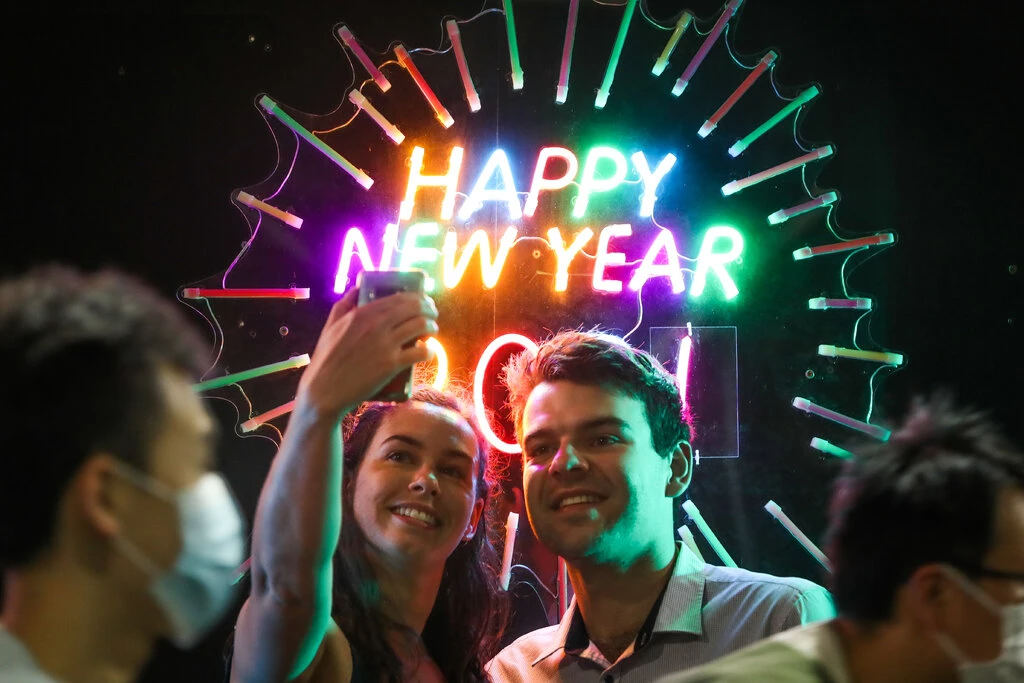 Celebrations looked different this year as coronavirus restrictions remained in place in Melbourne, Australia. (Photo: Getty Images)
This New Year's Eve is being celebrated like no other as many people bid farewell to a year they would much prefer to forget – one that has seen more than 1.7 million people killed and 82 million infected by the coronavirus since January.
According to New York Times, in Sydney, the authorities tightened restrictions in recent days after an increase in locally transmitted cases. Parties of up to 10 guests were allowed in parts of the city, but residents were encouraged to watch the seven-minute fireworks show over the Sydney Harbor Bridge on TV. A viewing party for frontline workers was canceled.
Only people who had restaurant reservations or were one of five guests of an inner-city resident were allowed in. "What a hell of a year it's been," said Gladys Berejiklian, premier of New South Wales state answering The Guardian's reporter. "Hopefully 2021 will be easier on all of us."
The fireworks display over Victoria Harbor in Hong Kong was also canceled, along with the Lunar New Year parade in February, according to The South China Morning Post.
In London, the annual fireworks along the Thames River have been canceled, but Big Ben, which has been silent while undergoing renovation, will chime at midnight. The city's residents are under England's strictest lockdown measures, which were extended on Thursday to cover the majority of the country's population. Under those rules, people can leave home only for certain activities, such as exercise and grocery shopping.
Big Ben has been mostly silent since 2017, but it will ring in the new year at midnight on Thursday. (Photo: Getty Images)
In the Chinese city of Wuhan, where the pandemic originated a year ago, thousands gathered at popular spots across the city centre for the countdown to 2021. Some said they were being cautious, but were not particularly worried.
In New Zealand, too, which has managed to eliminate coronavirus after a strict seven-week lockdown, New Year's Eve plans proceeded as usual.
Edinburgh's Hogmanay celebrations, which typically involve processions, fireworks and singing, will be held online.
In Paris, the composer-performer Jean-Michel Jarre will host a free, virtual live-streamed concert called "Welcome to the Other Side". from a studio near the Cathedral of Notre-Dame. France and Italy are among several countries in Europe that have imposed curfews during the pandemic to prevent large gatherings at night.
In Germany, however, where the sale of fireworks has been banned to discourage crowds and authorities in Berlin said police would "punish violators consistently", Angela Merkel said in her 16th and final new year's address as chancellor that she had never found the old year so heavy.
"And never have we, despite all the worries and some scepticism, looked forward to the new one with so much hope," said Merkel, a trained physicist who won praise for taming the first virus wave but has drawn criticism for soaring infection and death numbers in the second, told the Guardian.
In Rio de Janeiro, where revelers usually wear white and flock to the beach, the authorities will block beach access to prevent crowds from gathering.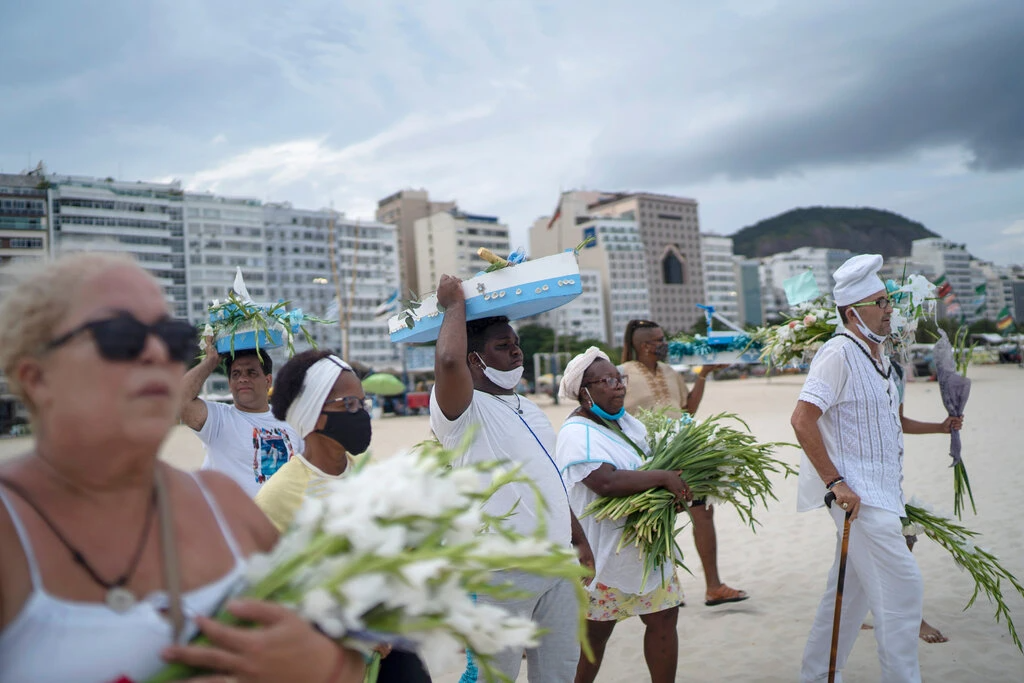 As part of New Year's Eve celebrations in Rio, Brazilians flock to the beach to pay homage to Yemanja, the goddess of the seas (Photo: Associated Press)
In New York, the New Year's Eve ball will drop on Broadway but in place of hundreds of thousands of New Yorkers packed shoulder-to-shoulder into Times Square, the audience will be a small pre-selected group of nurses, doctors and other key workers, their families kept six feet apart in socially distanced pens.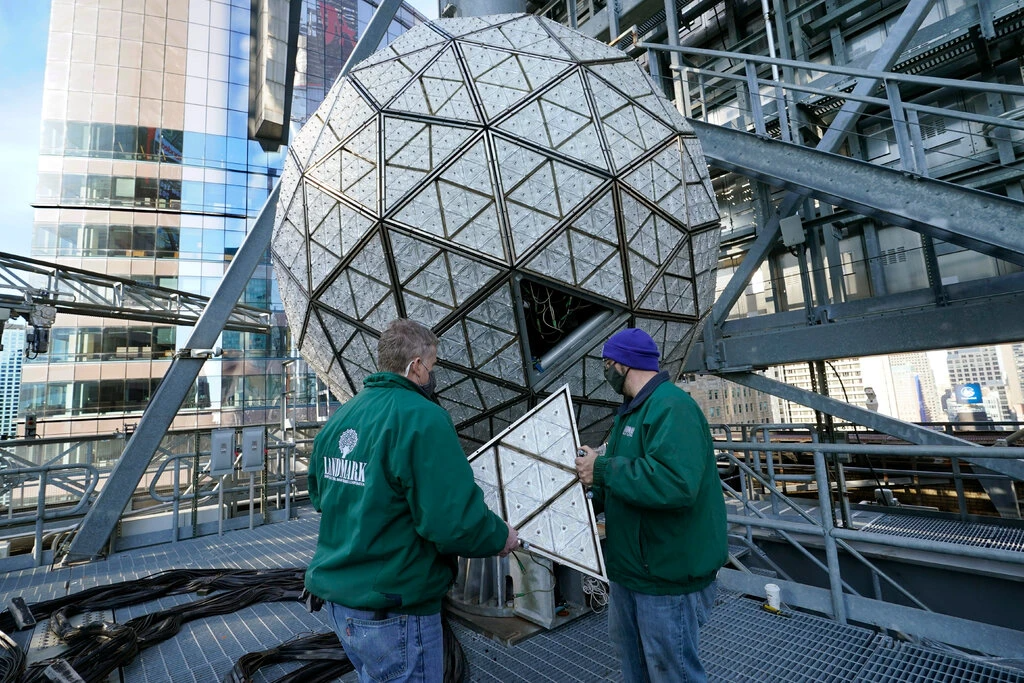 Workers this week installed Waterford Crystal triangles on the Times Square ball. (Photo: Associated Press)
According to New York Times, in New Zealand, the fireworks show and parties went on as usual in Auckland, which was one of the first major cities to ring in 2021, at 6 a.m. Eastern.
"Thanks to the incredible efforts of all New Zealanders to eliminate Covid-19, we're in the fortunate position of being able to live our lives relatively normally," Mayor Phil Goff said this month. "That's worth celebrating, and this year's spectacular display will be a perfect opportunity for Aucklanders to do that."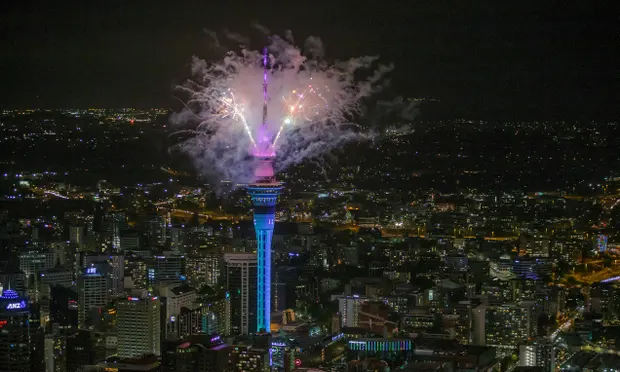 Fireworks from the SkyTower during Auckland's New Year's Eve celebrations. Photograph: Dave Rowland/Getty Images for Auckland Unlimited
The New York Times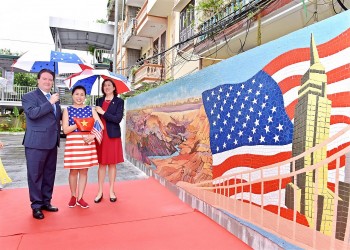 Multimedia
A ceramic mosaic mural named "Vietnam - US friendship" depicting the natural and cultural heritages of the two countries, was just revealed in Hanoi