"Pho Love" for Hanoi's Sanitation Workers During Covid-19 Crisis
A charity group in Hanoi named "Pho Love" has been catering free Phở (Vietnamese noodle soup) to the city's dedicated sanitation staff, during their late night shift.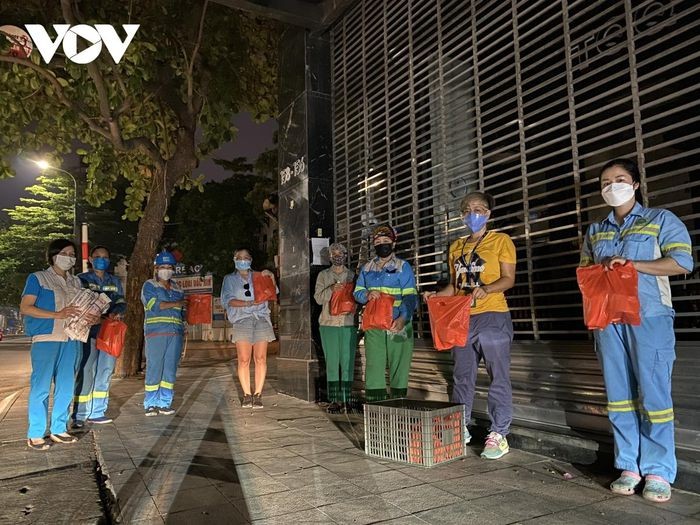 The sanitation workers get their serving. Photo: VOV
"The frontline personnel includes not only medics, soldiers but also the sanitation workers who keep the environment clean," Anh Bui, leader of "Pho Love". "We really appreciate their hard work and silent sacrifice and had come together to prepare Pho – the iconic food of Vietnam – as a tribute to what they've been doing to the community."
Hue Anh, head chef of "Pho Love" – which is located on Hanoi's Dong Da district, said the group prepares 50 servings a day, once a week. It looks daunting to do at first, but the job becomes simpler as all members work together.
"We feel like we are preparing meals for a big family. Our motto is a delicious bowl of Pho is a hygiene one. Therefore, we always prioritize food hygiene and safety during the preparation," she told VOV.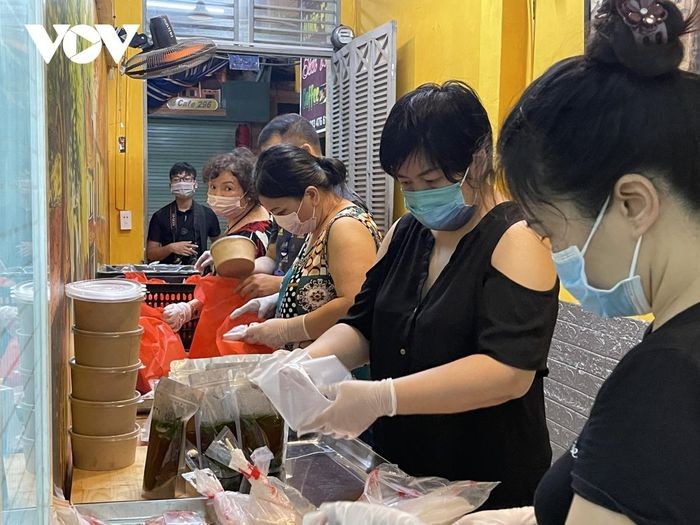 Members of Pho Love charity group prepare Pho. Photo: VOV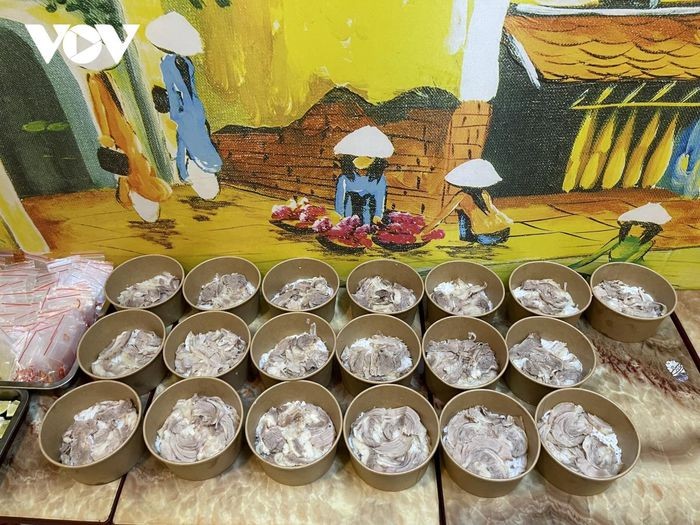 50 servings are prepared a day. Photo: VOV
Every day, the sanitation workers of the Hanoi Urban Environment Company starts their shift at 7 p.m. and only go home at dawn. Their workload is heavier during this social distancing period as more people stay at home. They also face coronavirus infection risks, but the love for the job has kept them stay and fulfill their task, according to Truong Thi Minh Lan, team leader of Group 3.
"The fragrant aroma of Pho reminds me of the days before Covid-19. It's been a long time since I last had a bowl of Pho," Lan told VOV. "The steaming hot bowl of Pho I receive today gives me a sense of solidarity among city-dwellers in difficult times. We are very happy to get such good and meaningful things."
Meanwhile, Lu Thi Nhan, a worker of Group 4, said she didn't know what to say about the special care. "The gifts are not big but represent the love and encouragement for blue-collar workers like us, which are very meaningful at the moment. Such good deeds make life better and more worth living."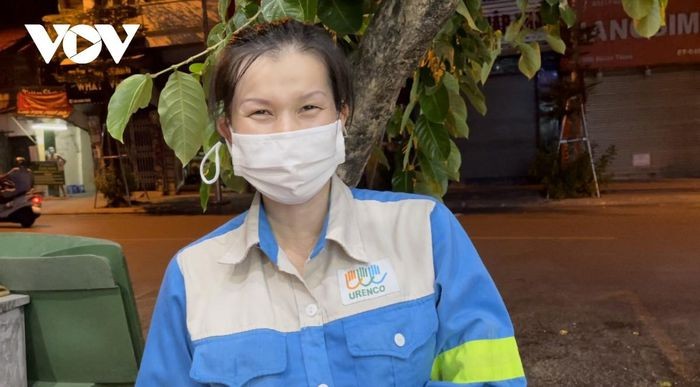 Lu Thi Nhan said the servings are the love and encouragement for blue-collar workers. Photo: VOV
"There's no vehicle horns, dirt, or daily quarrels these days in Hanoi. What the sanitation personnel has been doing day and night is silent, but admirable. Our charity project is just a small contribution to the many good things out there," Huynh Ngoc, a member of "Pho Love" group, said. "We hope to spread a positive energy to cheer everyone up as the city battles a complicated outbreak."
Ngoc said the group will offer 50 servings a week to the sanitation workers. "There's always someone facing difficulties out there. If we each join a hand, there will be more strength to win the pandemic."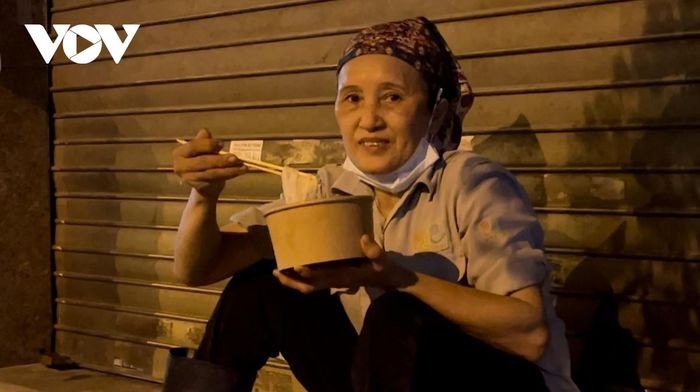 Photo: VOV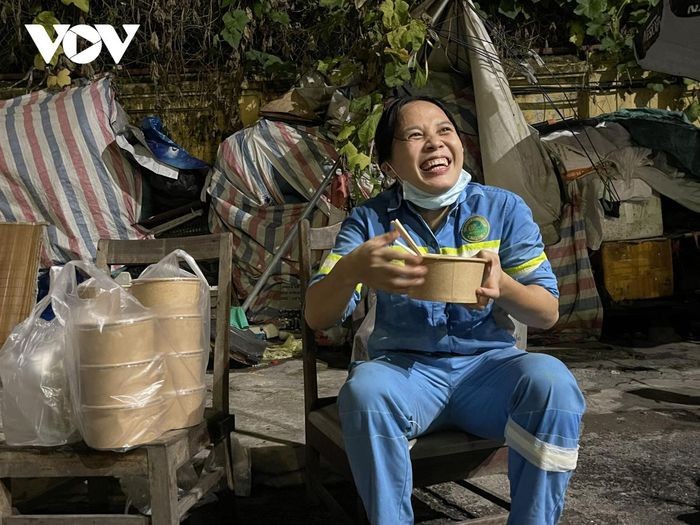 Photo: VOV
Free meals or Zero-dong market models have been emerging in Vietnam and across Hanoi in particular since the pandemic began.
In May, Buddhists at Phuc Long Pagoda in Thanh Tri District reportedly cooked 150 to 250 free meals to donate to patients at K Hospital, which was under lockdown at that time.
Thich Dam Hoai, the pagoda's abbot, said that knowing the pagoda planned to cook free meals, many organizations and individuals had supported it with ingredients such as rice, vegetables and eggs. The pagoda also presented pandemic-hit provinces such as Vinh Phuc and Ha Giang with 60,000 face masks.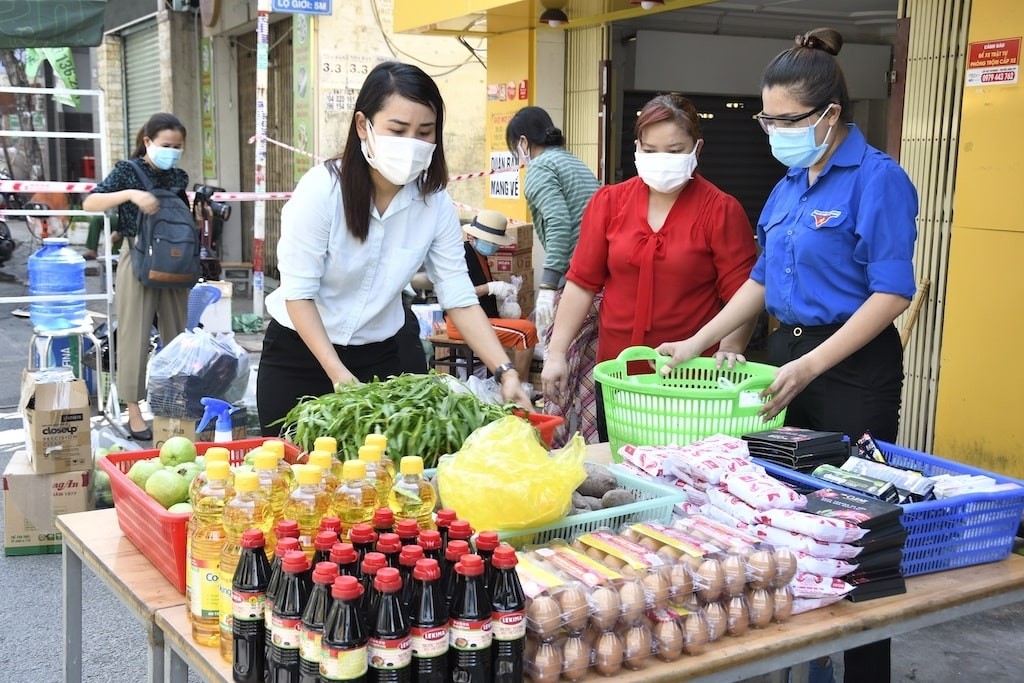 Foodstuff are on offer for free (Photo: Thanh Nien)
In HCMC, the current epicenter, a number of so-called "zero dong stalls" have popped up near locked-down residential areas in Son Ky ward, HCMC's Tan Phu district. Run by the local Women's Union and Youth Union, the market offers free essentials and foods to households heavily affected by the new outbreak.
Every day, members of the unions wake up before dawn to prepare breakfast for the first responders fulfilling their duty at blockade areas. After breakfast, they would then busy categorizing and laying free stuff onto the tables. The daily necessaries which residents can take include rice, cooking oil, species, veggies, canned fish, instant noodles, fresh vermicelli, fruits, shampoo, toothpaste, among others.
The market reportedly opens twice a day, at 10 – 11 a.m. and 3-4 p.m. near three locked-down areas in Son Ky ward.
Hanoi is undergoing a prolonged social distancing order which has lasted for over 50 days. Since April 27 when the fourth resurgence broke out, the city has recorded 4,012 patients.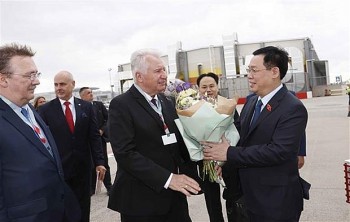 National
Chairman of the Vietnamese National Assembly (NA) Vuong Dinh Hue's official visit to Hungary from June 26-28 will surely open up many cooperation opportunities for the two countries and their parliaments, Hungarian Ambassador to Vietnam Ory Csaba has affirmed.