Photo: Stunning Peach Forest Blooms Late in Ha Giang
The weather in Ha Giang is still cold in March, which creates favorable conditions for the peach forest to bloom.
In recent days, the peach forest in Cao Ma Po commune, Quan Ba district, Ha Giang is covered in the poetic pink color of faded peach petals. In the cold weather, under the morning fog, the peach petals stand out.
All the peach trees in Cao Ma Po forest are ancient. Before the Lunar New Year, many people came to the forest, asking to buy ancient peach trees but local people did not want to sell them.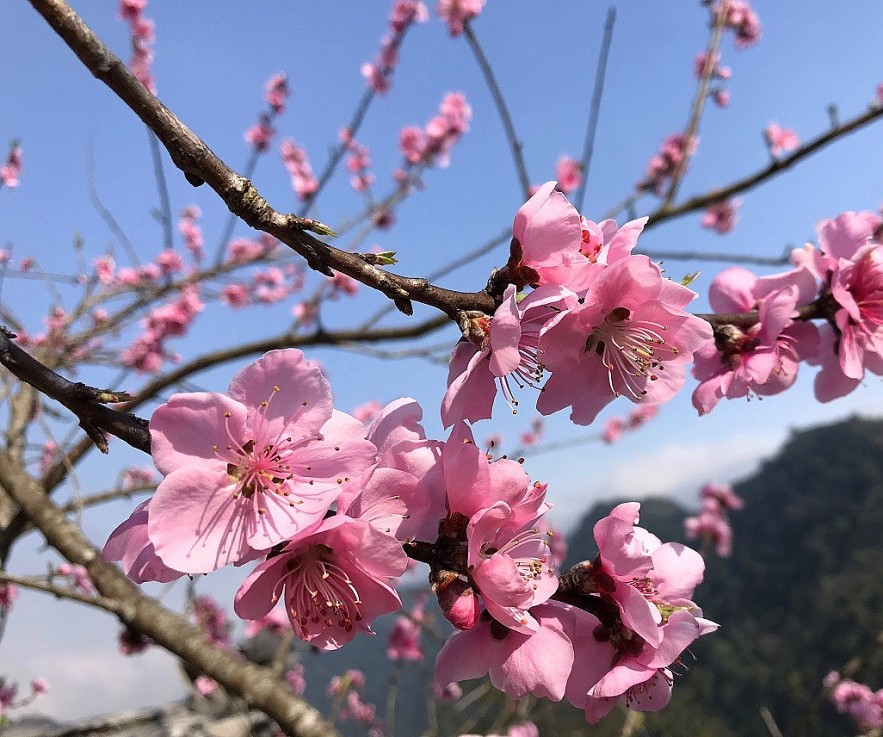 Peach blossom in Ha Giang. (Photo: Vietnamnet)
Hoang Viet, a tour guide in Ha Giang, said many groups of tourists wanted to enjoy late peach blossoms in the province.
"Peach flowers in many forests have faded since Tet, but here the flowers are still in full bloom. Visitors often go cloud hunting in the early morning, then travel to this forest to enjoy the flowers. They call this location an untouched attraction," said Viet.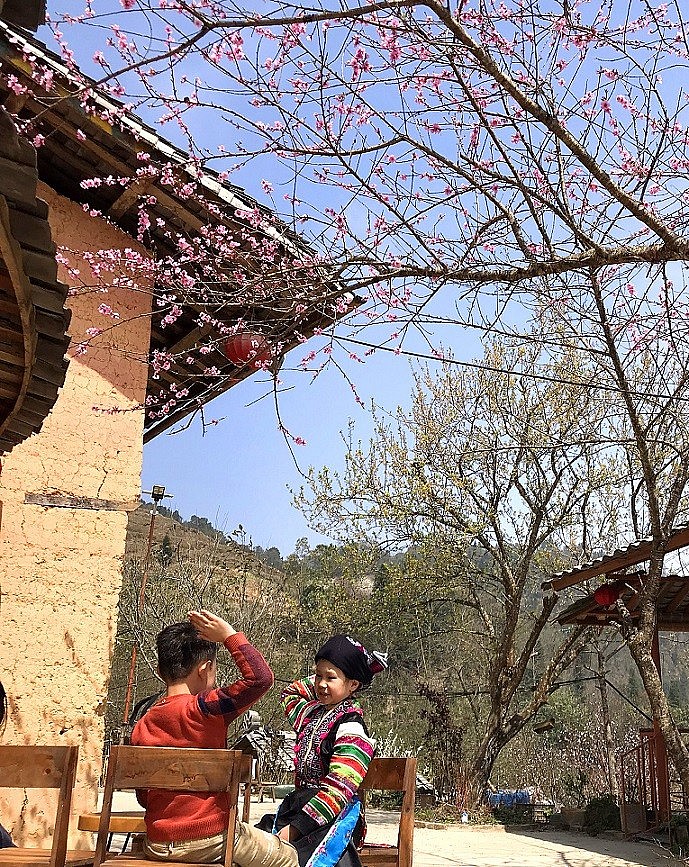 All houses in Cao Ma Po are surrounded by peach trees. (Photo: Vietnamnet)
Cao Ma Po people mostly plant "stone peach," which is given the name because of its thick petals and fainter color compared to other kinds of peach. Stone peach flowers blooming season lasts until the end of March. After that, local farmers get in the busy fruit season.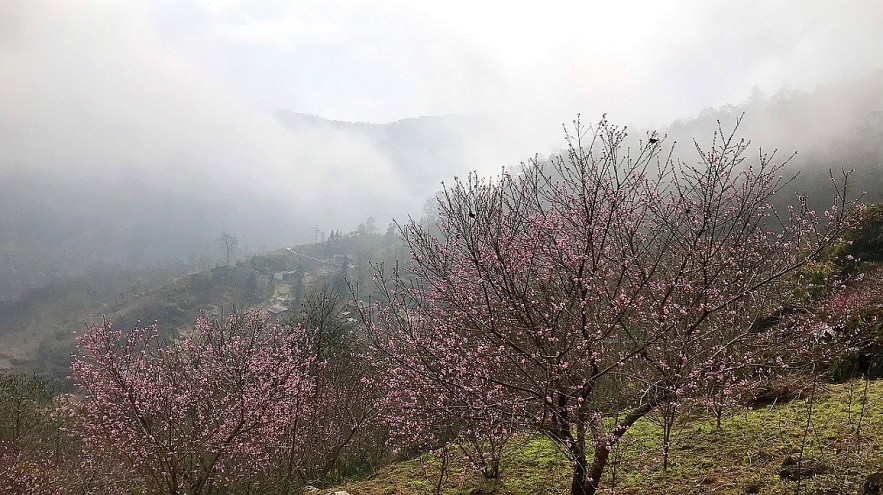 Age-old trees in morning dew. (Photo: Vietnamnet)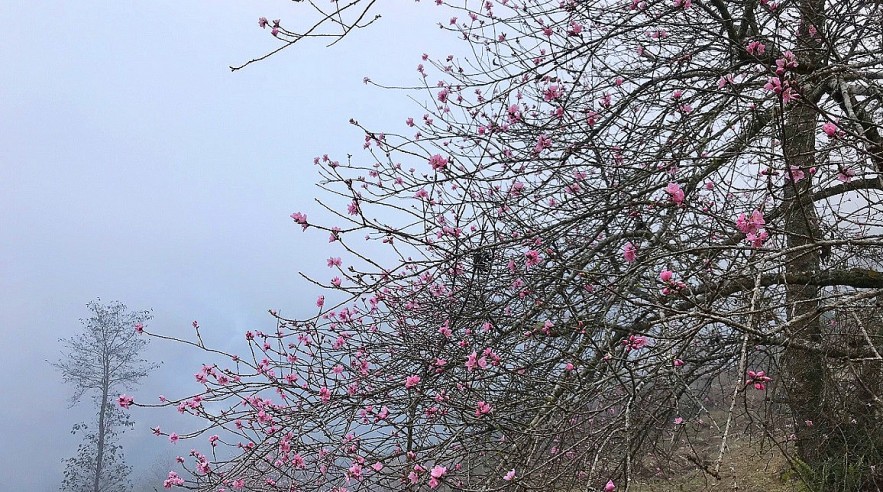 No leaves left on the branches. (Photo: Vietnamnet)
Cao Ma Po is called "the gate to Quan Ba plateaux". Due to its cold weather, peach blossom season often comes late compared to parts of Ha Giang.
Vang Cha Phin, a village in Cao Ma Po, is mostly chosen by tourists who wish to enjoy out-of-season peach flowers. Driving on the main road of Quan Ba district to milestone 291/2 Cao Ma Po, tourists encounter a vast peach garden belonging to Vu To Hoi, a Ha Giang local.
Hoi planted 30 trees more than ten years ago and has taken good care of them since then. On the last month of every spring, his garden turns pink, standing out against the grey background of Ha Giang's mountain.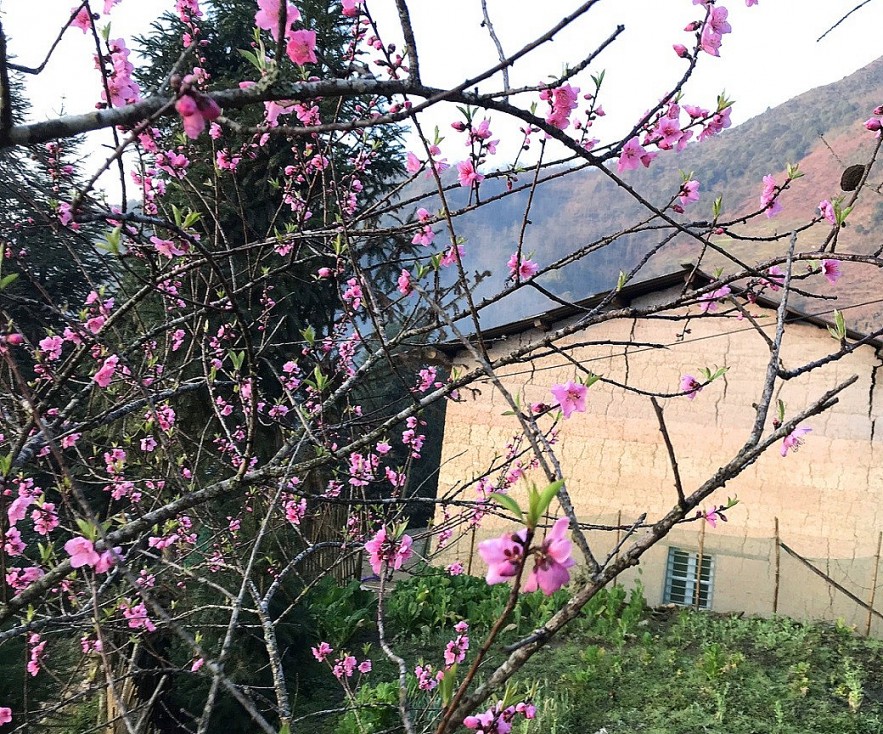 Stone peach flowers cover the grey mountains of Ha Giang. (Photo: Vietnamnet)
All peach trees in the Cao Ma Po forest have existed for years. (Photo: Vietnamnet)
The local authority has put much effort in encouraging the residents to expand their peach gardens, aiming to highlight Cao Ma Po's special landscapes and attract more tourists. With such focus on tourism, they hope to improve the locals' income and well exploit the village's natural beauty.
Different types of peach are planted in the forest. (Photo: Vietnamnet)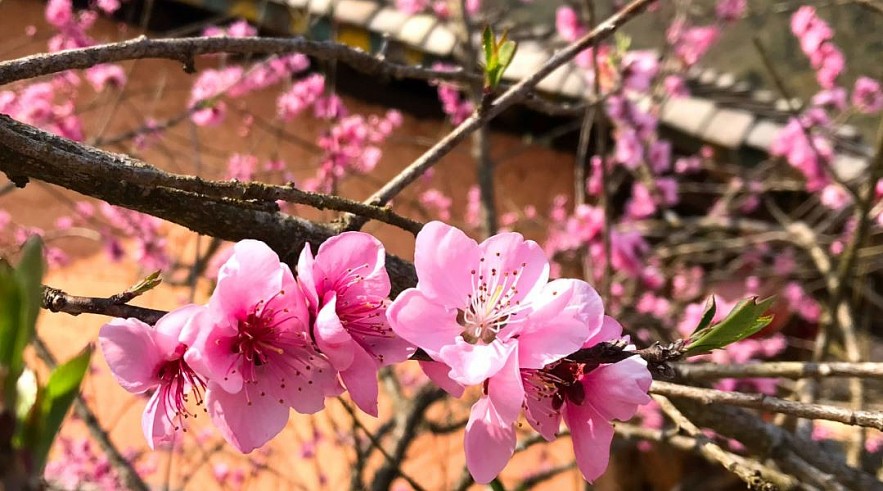 A close look at stone peach blossoms. (Photo: Vietnamnet)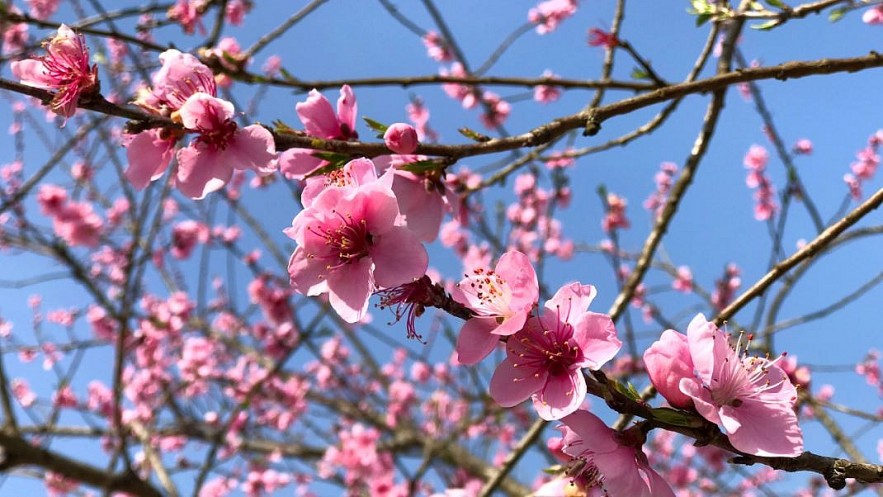 A close look at stone peach blossoms. (Photo: Vietnamnet)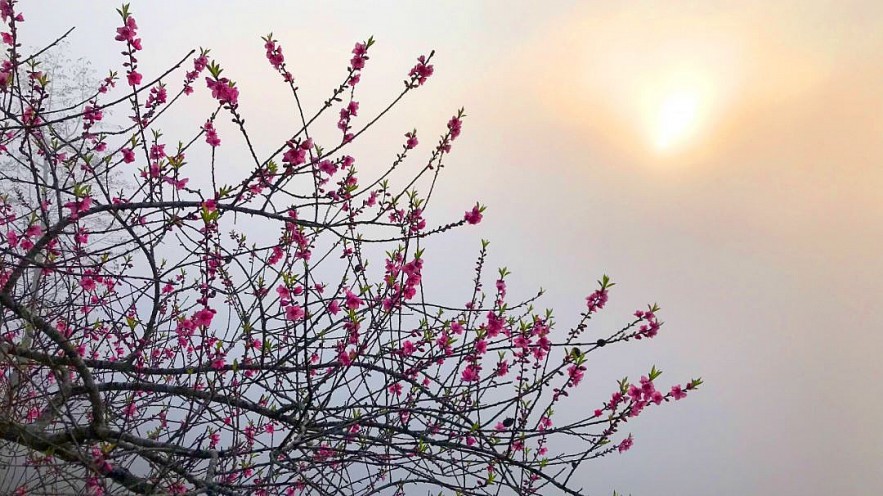 Peach blossoms at dawn. (Photo: Vietnamnet)