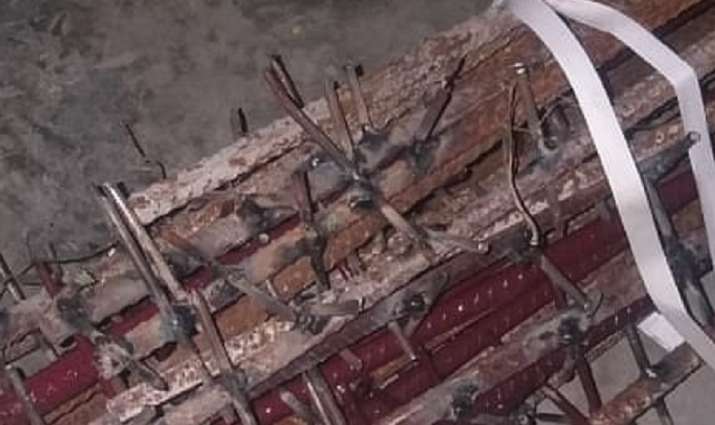 Image Source : TWITTER
National defense analysis Ajai Shukla described in the image in his post on Twitter "barbarism" as India and China agreed on not using firearms during faceoffs to prevent tension escalation.
The widely tweeted images on India's Twitter have ignited outrage among netizens. However, both China and India haven't raised their voices over the authenticity of the information. While some Indian MPs demand the government take revenge on China after photographs emerge of spiked club used in the clash.
To track if those pictures are real, India TV contacted the Indian Army Headquarter and the truth appeared far from true the "The photo is fake," the army headquarter confirmed.
The clash between India and China troops led as many as 43 soldiers injured and died and was the biggest confrontation between the two sides in about five decades.
More such rumors have been afloat ever since the faceoff between India and China further worsened the relations. Congress leader Rahul Gandhi today questioned why Indian soldiers were sent "unarmed to martyrdom", triggering heated reactions towards the government. However, Foreign Minister S Jaishankar later asked him to get his facts right and clarified that the troops in Galwan valley were carrying arms.
Another rumor that was clarified was about " missing soldiers in action". The Indian Army trashed reports claiming that a number of its soldiers went missing after the violent clashes with Chinese troops at Galwan Valley three days back. "It is clarified that there are no Indian troops missing in action," the Army said in a statement today.
Relations and matters of opinion between two giant Asian nations
According to AP, the sides established diplomatic relations in 1950, but a 1962 border war between them set back ties for decades.
In all, China claims some 90,000 square kilometres of territory in India's north-east, including the Indian state of Arunachal Pradesh with its traditionally Buddhist population. India says China occupies 38,000 square kilometres of its territory in the Aksai Chin Plateau in the western Himalayas, including part of the Ladakh region.
In 1993, the two countries signed an agreement on the "Maintenance of Peace and Tranquillity" along what is known as the Line of Actual Control along their border.
But they are nowhere near to settling their dispute despite more than 20 rounds of talks along with multiple meetings between Indian Prime Minister Narendra Modi and Chinese President Xi Jinping.
Despite the sporadic border clashes, economic ties between the two have expanded in the past decade, with China exercising a large trade surplus.
More than 100 Chinese companies, many of them state-owned, have established offices or operations in India, according to India's External Affairs Ministry. Chinese firms including Xiaomi, Huawei, Vivo and Oppo occupy nearly 60 per cent of India's mobile phone market, while major Indian exports to China lean towards cotton, copper and gemstones.
VNT