PM calls for redoubling of efforts to compensate disaster losses
The settlement of the consequences of the recent storms and flooding in the central region was high on the agenda at the Government's monthly meeting on October 30, during which Prime Minister Nguyen Xuan Phuc demanded that efforts to compensate local residents for their losses be redoubled.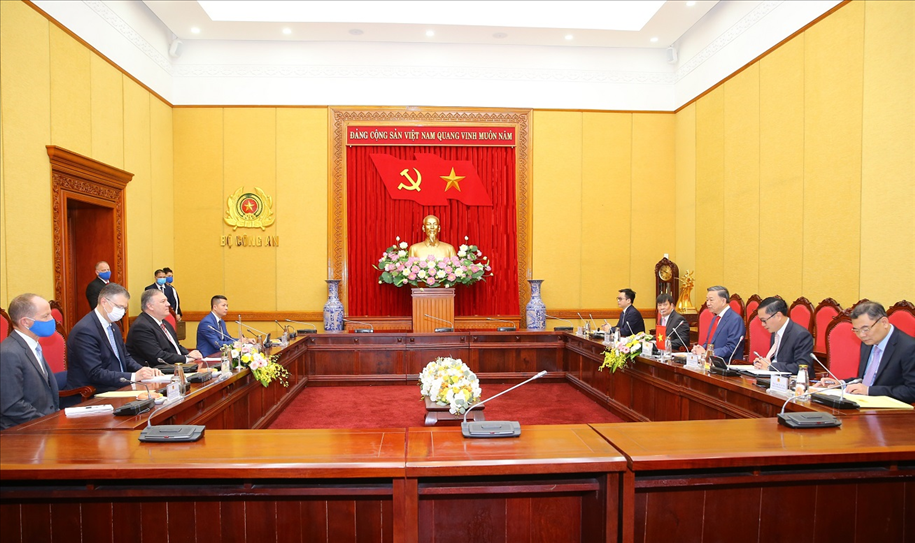 At the meeting (Photo: NDO/Tran Hai)
The PM, Deputy PMs, and other Government members observed a minute's silence in honour of the cadres, officers, soldiers, and civilians who lost their lives in the natural disasters.
PM Phuc stressed that storms and floods are common in October, but consecutive storms and floods this year caused huge losses of life and property, with 230 people having died, including cadres and officers of the armed forces while performing their duties, while many civilians are still missing at sea or in landslides.
He lauded efforts of the Central Steering Committee for Natural Disaster Prevention and Control along with police and military forces in locating and saving people in distress, in particular the ongoing search for landslide victims in mountainous areas in central Quang Nam province and the Rao Trang 3 hydropower plant in nearby Thua Thien Hue province.
The Government offered its sympathies to the people of the central region and the families of officers and soldiers lost, the PM said, noting that the government has taken various drastic measures to save people, evacuate residents, and minimise damage, particularly in the face of Storm Molave, which hit the region on October 28.
More than 1.3 million people were moved to safer places in anticipation of Storm Molave.
The PM said the greater the hardships, the stronger the mutual support is, highlighting that people nationwide have joined hands to aid the central region and address the consequences of natural disasters.
Minister of Agriculture and Rural Development Nguyen Xuan Cuong reported that, over the course of about two days, more than 90,000 military and police personnel and local forces from six central provinces were deployed to respond to Storm Molave.
However, he noted, as it was so strong, loss of life and property were huge. Twenty-three of the 26 seamen on two fishing boats from Binh Dinh province remain unaccounted for, and only three have been rescued. Meanwhile, in four provinces directly affected by the storm, 92,000 houses lost their roofs and 5,000 collapsed, while some 600 other facilities, like health stations and schools, were damaged.
Efforts are ongoing to search for landslide victims in Quang Nam, said Cuong, who is also deputy head of the Central Steering Committee for Natural Disaster Prevention and Control.
At the meeting, the PM requested that all-level authorities, sectors, and localities continue with search and rescue efforts, deal with the aftermath of the storms and flooding, pay due regard to the prevention of disease, including COVID-19, and return life to normal as soon as possible.
Financial support will be provided to families in Quang Nam and Quang Ngai provinces with seriously damaged houses, he said, adding that more assistance will also be given to provinces affected.
The Government leader stressed the necessity to double or even triple efforts to make up for the losses suffered, including stepping up the disbursement of public investment and ODA capital and boosting production and trade over the two remaining months of the year, to record annual growth of 2-3%.
nhandan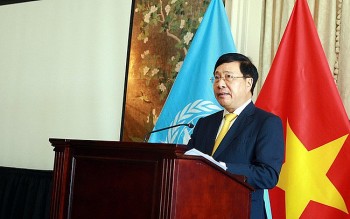 Friendship
Deputy Prime Minister Pham Binh Minh has asserted Vietnam's strong support for and commitment to the UN's role in leading and coordinating multilateral efforts to respond to global challenges.