PM commits to protecting intellectual property rights for startups
Prime Minister Nguyen Xuan Phuc commits to protecting intellectual property (IP) rights for startups, and creating the best environment for innovative start-ups and the start-up ecosystem, thus turning Vietnam into a country of innovation.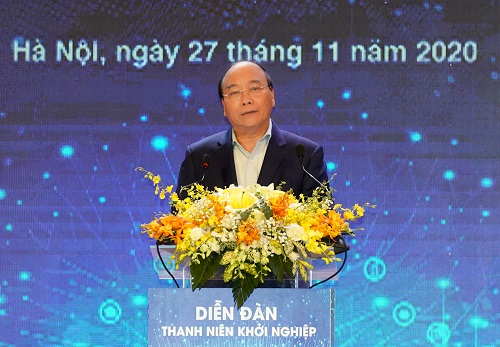 Prime Minister Nguyen Xuan Phuc addresses the 2020 Startup Youth Forum, Ha Noi, November 27, 2020. Photo: VGP
Prime Minister Nguyen Xuan Phuc commits to protecting intellectual property (IP) rights for startups, and creating the best environment for innovative start-ups and the start-up ecosystem, thus turning Vietnam into a country of innovation.
Speaking at the youth start-up forum held as part of the TECHFEST VIETNAM 2020 which opened the same day, the PM said IP, which refers to creations of the mind, such as inventions, literary and artistic works, designs, and symbols, names and images used in commerce, is the invaluable asset of a startup.
He urged ministries, agencies and local authorities to consider providing assistance to businesses and startup as their top priority in their working agenda, VGP News reported.
He said ministries and agencies need to regularly hold dialogues with businesses, increase information dissemination and speed up co-ordination with the innovative start-up centre to build financial mechanisms and promote the role of private investment funds.
It was necessary to view innovation as a new resource that must be exploited, an endless resource of 100 million Vietnamese people inside and outside the country, he said, adding that human beings must be seen as a centre of innovation.
The PM told the youths of today that they needed to see start-ups as an interesting experience and look at failure as a mother of success.
"If you fail, you have to stand up and move on," he was quoted by Viet Nam News as saying.
The Government will pay attention to removing obstacles facing start-ups and give priority to investment in technology infrastructure and telecommunications, he said.
He stressed that two years ago when he attended the 2018 Youth Start-up Forum, he found 13.4 million results when searching for the "start-up" keyword online and the figure now was 20.7 million. It meant the start-up spirit had been spread strongly among people of different ages.
At this year's forum, themed 'Young start-ups shoulder with the nation to overcome challenges', the PM and leaders of ministries and agencies discussed with youths four main issues, including financial policies for start-ups, digital transformation and innovation, opportunities and the role of young start-ups; high-quality human resources; and the young start-up ecosystem.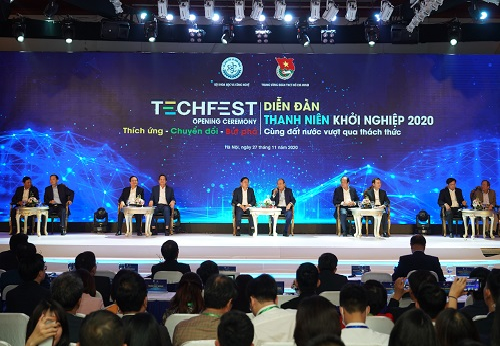 The forum draws the participation of several Cabinet ministers. Photo: VGP
The national festival for innovative start-ups, TECHFEST VIETNAM 2020, is the largest annual virtual event organised by the Ministry of Science and Technology (MOST) to work with international partners to develop and promote science, technology, and innovation.
Taking place amid global disruption caused by the COVID-19 pandemic, TECHFEST is part of an emerging nation eager to display the dynamism of the Vietnamese start-up ecosystem among investors/investment funds, enterprises, and experts worldwide via virtual events.
Themed 'Respond - Transform - Breakthrough', the event is structured into 12 technology villages: Medical Technology, Agricultural Technology, Educational Technology, Tourism and F&B Technology, Frontier Technology, Financial Technology, Smart Cities, Social Impact, Student Start-ups, Local Start-ups, Community and International village, with 250 potential start-ups booths, attracting nearly 200 investors, 150 corporations, enterprises and business accelerators virtually and physically.
The attendance of PM Phuc at this year's forum reflects the Government's determination to address institutional bottlenecks in order to create most favorable ecosystem for startups to thrive.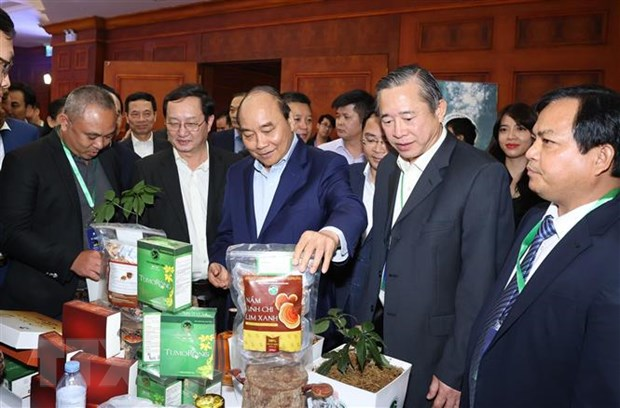 PM Nguyen Xuan Phuc visits booths at the forum. Photo: VNA
Vietnamese start-ups continue to pull in investment
Investment in Vietnamese start-ups is growing sharply with millions of dollars pledged in 2019, according to Singaporean venture capital firm Cento Ventures.
In a report, it pointed out that Vietnam saw the highest increase in share in the region, from 4 percent of investment in Southeast Asia in 2018 to 18 percent last year after surging from 284 million USD to 741 million USD.
This was attributed to the fact it had more late-stage companies such as e-commerce platform Sendo.
Sendo, owned by Sen Do Technology JSC, completed a 61 million USD series C funding round.
Besides existing investors, this round also saw the participation of two new investors, Indonesia's EV Growth and Thailand's Kasikornbank.
Last year Sendo had mobilised 51 million USD in the series B round.
Tran Hai Linh, Sendo's general director, said the company would use the money to expand its services and invest in AI and machine learning technologies.
JupViec.vn received several millions of dollar worth of investment from STI Holdings.
It supplies domestic hourly and daily help and post-construction industrial cleaning service to more than 10,000 customers in Hanoi and HCM City through its network of 3,000 maids.
By applying modern technologies in the recruitment, training and management of workers, JupViec.vn has created a new model of technology-based hourly domestic help who have been screened and trained to meet certain standards.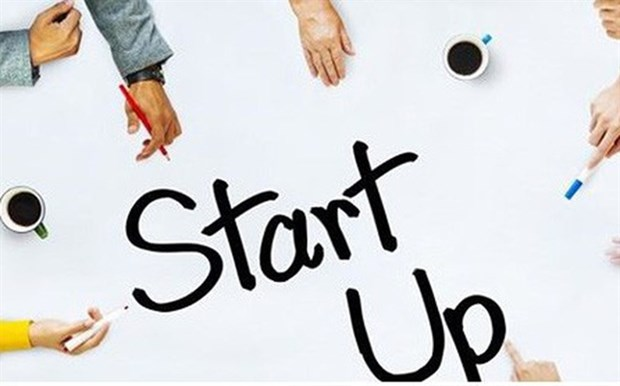 Photo: internet
Elsa Speak, an English learning app, successfully raised 7 million USD in a series A round in February from investors led by Gradient Ventures, a Google fund for AI.
It raised the total investment in Elsa Speak to 12 million USD.
Elsa Speak was co-founded in 2015 by Van Dinh Hong Vu and Portuguese national Xavier Anguera, an AI and voice recognition expert.
It now has four million users in 101 countries, making it one of the top five AI apps along with Microsoft's Cortana and Google's Google Allo.
Grab, one of Southeast Asia's leading apps, earlier this month announced the launch of Grab Ventures Ignite in Vietnam, an accelerator programme for early-stage start-ups.
It will nurture and support promising Vietnamese start-ups in line with the government's strategy to create at least five billion-dollar tech firms by 2025 and 10 by 2030, Viet Nam News said./.
Vietnam moved up 13 places from last year to 59th in ranking of 100 economies with the best startup ecosystems, according to a report released in May by StartupBlink, a global comprehensive startup ecosystem map and research center.
The report ranked 100 countries and territories around the world based on three aspects, namely quantity, quality and business environment.
Despite the improvement, Vietnam remains behind several Southeast Asian peers like Singapore (16th), Malaysia (48th), Thailand (50th), the Philippines (53rd), and Indonesia (54th).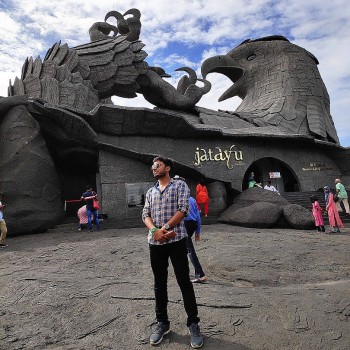 World
The world's largest bird sculpture in India took artists 10 years to complete