PM: Maritime Security Issue Needs Global Solution
Prime Minister Pham Minh Chinh raised proposals to effectively tackle challenges to maritime security while addressing the high-level open debate on "Enhancing Maritime Security – A Case for International Cooperation" of the United Nations Security Council (UNSC), held virtually on August 9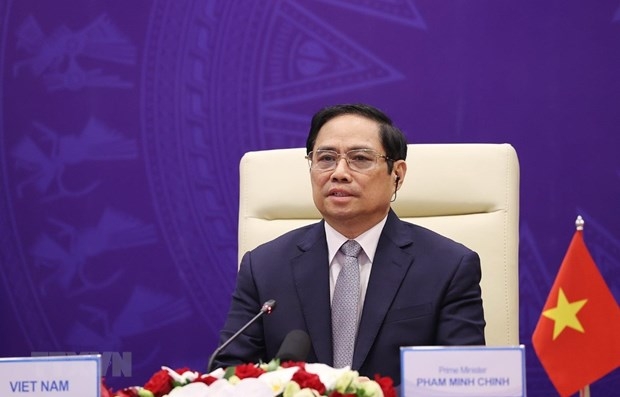 Prime Minister Pham Minh Chinh (Photo: VNA)
As reported by Vietnam Plus, he highlighted comprehensive and adequate awareness of the significance of seas as well as possible threats to maritime security, saying it is necessary to promote responsibility and political resolve, reinforce trust, build closer and more effective cooperation mechanisms to ensure a maritime environment of peace and stability, and exploit maritime resources sustainably.
Maritime security is a global issue, so it needs a global solution, he continued, suggesting setting up a network of mechanisms and initiatives on regional maritime security to be coordinated by the UN to increase the sharing of information and experience, and take joint actions to cope with common challenges in a timely manner.
Policies, laws and behaviours of countries should be in accordance with international law, particularly the 1982 United Nations Convention on the Law of the Sea (1982 UNCLOS), and activities that would complicate the situation and cause tensions should be averted, he said.
Participants at the debate expressed their concern over increasing threats to maritime security and safety. (Photo: VNA)
Vietnam has worked to actively contribute to maintaining an environment of peace and security, as well as the ecology and sustainable development in the region and the world as well, the PM emphasised.
He said Vietnam is resolved, together with the Association of Southeast Asian Nations (ASEAN) and China, to seriously, fully and effectively implement the Declaration on the Conduct of Parties in the East Sea (DOC), and negotiate to build a substantive and effective Code of Conduct in the East Sea (COC) in accordance with international law and the 1982 UNCLOS.
PM Chinh's attendance at the debate was made at the invitation of PM Narendra Modi of India that is holding the UNSC's rotating Presidency.
his is the first time maritime security has been discussed as an exclusive agenda item at the UNSC.
Participants expressed their concern over increasing threats to maritime security and safety, and shared their view on the need to strengthen international cooperation to cope with such challenges, observe international law, especially the 1982 UNCLOS, and promote regional and global initiatives to enhance maritime security.
The UNSC adopted a presidential statement calling for stronger regional and international cooperation to address challenges to maritime security and safety, acknowledging the significance of the UNCLOS, and calling on the UN and the international community to further support countries to improve their capabilities and share experience in handling threats to maritime security.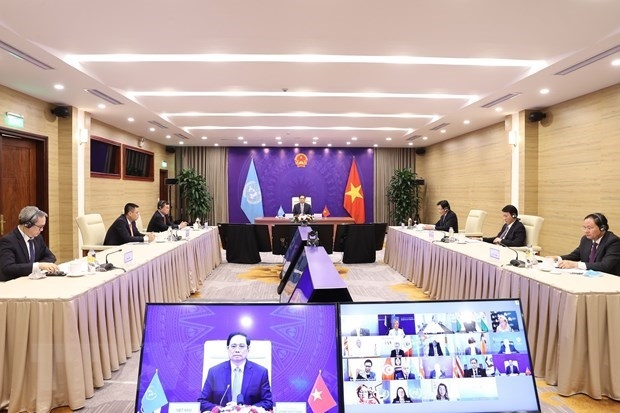 The high-level open debate on "Enhancing Maritime Security – A Case for International Cooperation" of the United Nations Security Council (UNSC) was held virtually on August 9. (Photo: VNA)
Vietnam in mid-June called for the early completion of an effective and practical Code of Conduct (COC) for the South China Sea towards ensuring peace and stability in the region.
"Vietnam believes all relevant parties need to strictly abide by the principle that conflict resolution is based on peaceful methods in accordance with international law, including the United Nations Convention for the Law of the Sea," Minister of National Defense Phan Van Giang said, adding that an effective and practical COC for the South China Sea needs to be completed soon.
Authoritative forces at sea need to refrain from actions that escalate tension and complicate the situation, he said, adding that "fisherpeople need to be humanely treated under any circumstances at sea."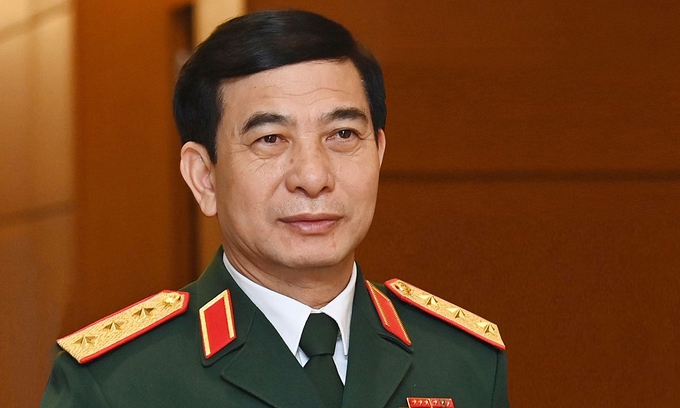 Vietnam's Minister of National Defense Phan Van Giang. Photo: VNE
The ADMM+ issued a joint statement of 18 defense ministers, stressing the importance of maintaining and promoting peace, security, stability, prosperity, safety and freedom of movement at sea and in the air to tackle maritime security challenges and resolve regional sea issues.
The statement also acknowledged the existence of unprecedented security challenges like transnational cybersecurity issues and emergency medical issues, including natural disasters and the ongoing Covid-19 pandemic, VNE reported.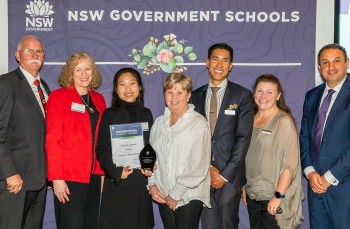 Overseas Vietnamese
The award for international students studying at New South Wales state schools (Australia) honors excellent ones from many countries, including a Vietnamese female student.