World breaking news today (May 3): Philippines Vows to Continue Maritime Exercises in South China Sea
World breaking news today (May 3): Philippines Vows to Continue Maritime Exercises in South China Sea. Meanwhile, China's carrier group conducts exercises in South China Sea, UK rushes to increase aid to India's health care system and gold price also make headlines today.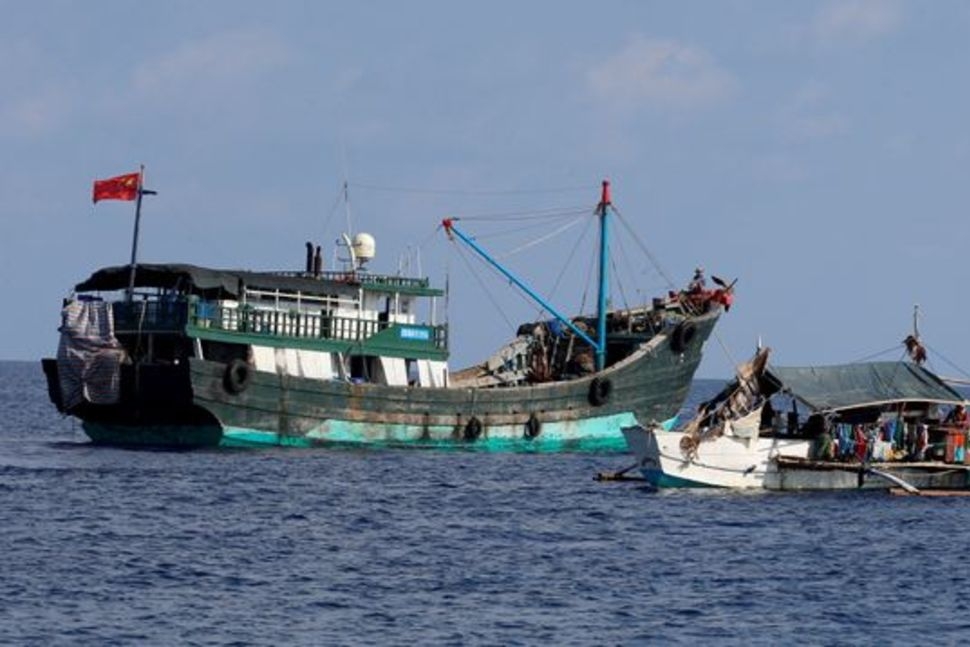 A Chinese fishing vessel is anchored next to Filipino fishing boats at the disputed Scarborough Shoal April 6, 2017. (Photo: Reuters)
Philippines Vows to Continue Maritime Exercises in South China Sea
The Philippines will continue maritime exercises inside its 200-mile Exclusive Economic Zone (EEZ) in the South China Sea, the country's defence minister said on Sunday, despite a call by China to stop actions that it said could escalate disputes.
The Philippine coastguard and fisheries bureau started maritime exercises last month, having boosted its presence in the area to counter the "threatening" presence of Chinese boats.
China claims almost the entire South China Sea, through which about $3 trillion worth of ship borne trade passes each year, despite a 2016 ruling by an arbitration tribunal in The Hague that Beijing's claim was inconsistent with international law.
"The conduct of maritime patrol in the WPS (West Philippine Sea) and Kalayaan Island Group by the Philippine Coast Guard and the Bureau of Fisheries and Aquatic Resources will continue," Defence Secretary Delfin Lorenzana said in a statement, using the local name for the South China Sea.
"The government will not waver in its position," he said.
The lingering presence of hundreds of Chinese boats in the Philippines' EEZ has revived tensions between the countries, despite President Rodrigo Duterte's friendship with Beijing.
While Duterte still considers China as "a good friend", the Philippine leader last week said: "There are things that are not really subject to a compromise ... I hope they will understand but I have the interest of my country also to protect."
As reported by Reuters, Lorenzana said the Philippines "can be cordial and cooperative with other nations but not at the expense of our sovereignty and sovereign rights".
China's carrier group conducts exercises in South China Sea
China's Shandong aircraft carrier group recently conducted annual exercises in the South China Sea, the People's Liberation Army said on Sunday, after Beijing criticised the US for sending Navy ships into the strategic area.
Navy spokesperson Gao Xiucheng said in a statement the exercises were "completely legitimate" and part of safeguarding national sovereignty, security and development interests, as well as maintaining regional peace and stability.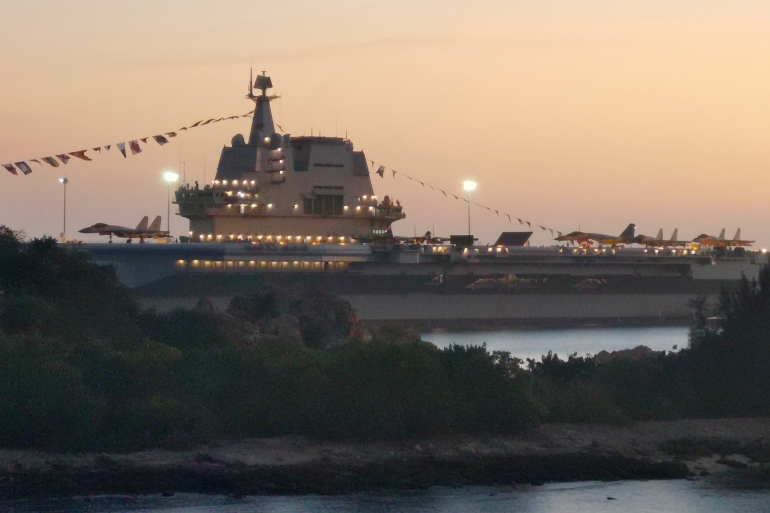 The Shandong, China's first entirely home-built aircraft carrier, underscores its rise as a regional naval power at a time of tensions with the US (Photo: AP)
"We hope the outside world will view it in an objective and rational way. In the future, the Chinese navy will continue to hold similar exercises as planned," said Gao.
The Chinese defence ministry last week urged the United States to restrain its front-line forces in the air and seas near China. US reconnaissance aircraft and warships have become more active around China since President Joe Biden took office, it said.
The South China Sea is particularly contentious because China's smaller neighbours also have competing claims to one of the world's busiest sea lanes, which Beijing claims virtually in its entirety. China has constructed several man-made islands in the disputed waters in what the US says is a move to militarise the area, Al Jazeera reported.
UK rushes to increase aid to India's health care system
Britain rushed to increase aid for India's teetering health care system on Sunday, promising more ventilators and expert advice as doctors grapple with a surge in coronavirus infections that is killing thousands of people a day.
The U.K. government said it will send an additional 1,000 ventilators to India. In addition, England's National Health Service, which has battled one of the worst COVID-19 outbreaks in Europe, is creating an advisory group to share its expertise with Indian authorities.
Prime Minister Boris Johnson plans a video meeting with his Indian counterpart, Narendra Modi, on Tuesday to discuss further cooperation between the two countries, the U.K. government said in statement.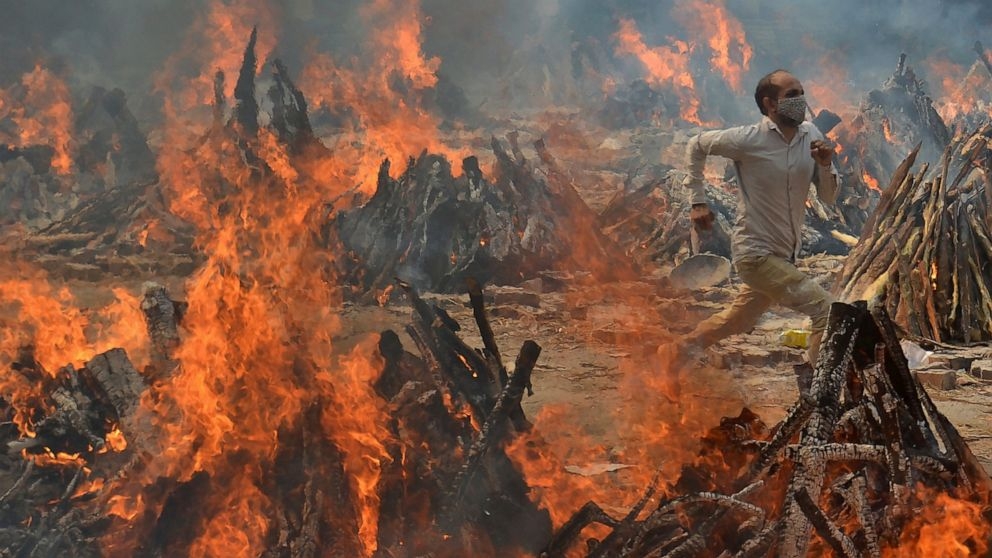 A man runs to escape heat emitting from the multiple funeral pyres of COVID-19 victims at a crematorium in the outskirts of New Delhi, India, Thursday, April 29, 2021. (Photo: AP)
The new round of government aid comes in addition to the 200 ventilators, 495 oxygen concentrators and three oxygen generation units the U.K. said it was sending to India last week.
India recorded 392,488 new infections, down from a high of more than 400,000 in the previous 24 hours. It also reported 3,689 deaths, raising overall virus fatalities to 215,542. Experts believe both figures are undercounts, abc News said.
Takeo blockade some areas in So Phy Commune, Bati District
Ouch Phea, Governor of Takeo Province, has ordered the blockade of parts of Tram Khnar village and Trapeang Russey village of So Phy commune, Bati district.
These two villages have a number of direct COVID-19 infections and numerous indirect cases.
The blockade is to be implemented from today until further notice. The closure is aimed at ensuring the effective control of the spread of COVID-19 in geographically closed areas and preventing the disease from spreading to other areas.
During the implementation of the closure measures, all individuals are prohibited from traveling to and from their current residence or lodge, except as otherwise required.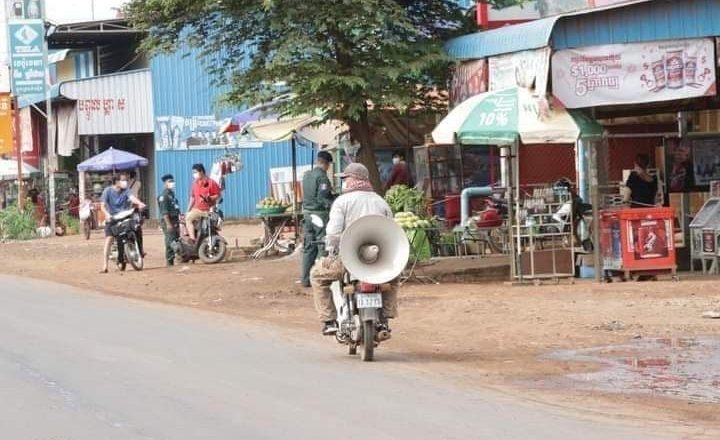 (Photo: Khmer Times)
As of this morning, May 2, 2021, Takeo province has found a total of 114 cases of COVID-19, Khmer Times reported.
Gold price forecast – prices slide as treasury yields surge
Gold prices consolidated, moving lower on Tuesday as the dollar continued to consolidate. U.S. Treasury yields surged higher, putting downward pressure on the Yellow metal. This movement followed a more robust than expected home price report, announced by S&P on Tuesday.
Gold prices moved lower on Tuesday and continued to trade sideways. The upward trend remains in place as prices head for resistance near a Fibonacci retracement level of 38.2%, which is seen near 1,828. Target resistance on the yellow metal is seen near the February highs at 1,855. Support is seen near the 10-day moving average at 1,774. The 10-day moving average has crossed above the 50-day moving average which means that a short-term uptrend is now in place.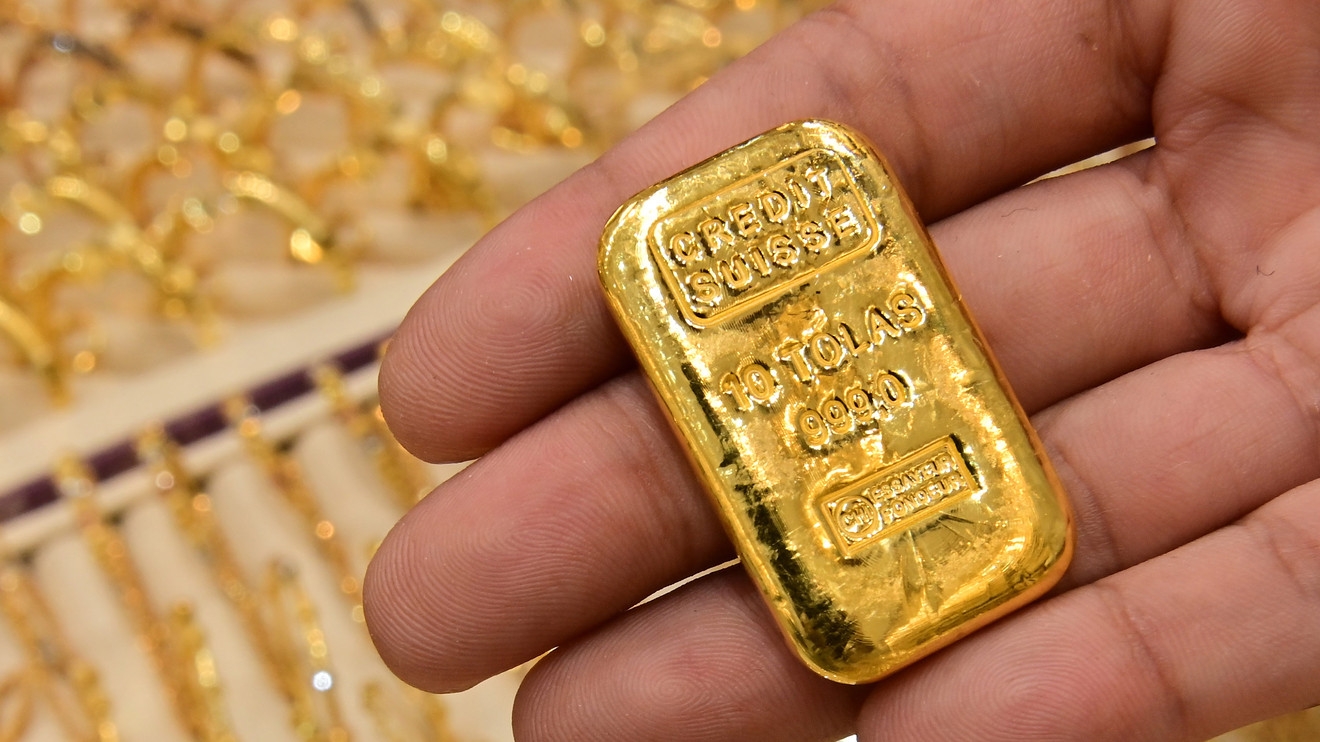 (Photo: Locals Adda)
Short-term momentum reversed and turned negative as the fast stochastic generated a crossover sell signal. The current reading on the fast stochastic is 73, down from 76, which reflects accelerating negative momentum. Medium-term momentum has turned positive as the MACD (moving average convergence divergence) index generated a crossover buy signal. The MACD histogram is printing in positive territory with a declining trajectory which points to consolidation, according to FX Empire.