PM Meets Crown Prince Charles, World Leaders on COP26 Sidelines
Prime Minister Pham Minh Chinh on November 3 met with UK Crown Prince Charles, the Prime Ministers of Japan, India, Ireland and Kuwait and other leaders on the sidelines of the 26th UN Climate Change Conference (COP 26) in Glasgow, Scotland.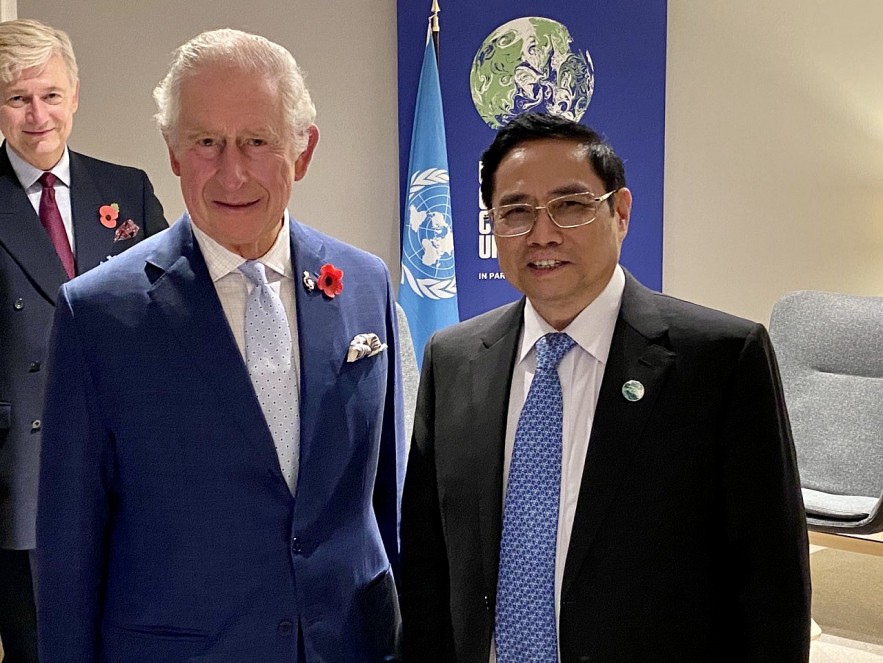 Prime Minister Pham Minh Chinh and British Prince Charles, Glasgow, Scotland. Photo: VGP News
In his meeting with Crown Prince Charles, Chinh congratulated the UK on successful hosting of the COP26, and welcomed the UK's commitments at the event, VGP News reported.
He reaffirmed Vietnam's strong commitment to achieving net-zero emissions by 2050 by mobilizing the strengths of both public and private sectors.
He suggested the UK assist Vietnam in promoting the role of public-private partnership and human resource development to help the Southeast Asian country in its transition to low-carbon economy.
The PM took the occasion to extend sincere thanks to the UK for its timely donation of Covid-19 vaccines to Vietnam and expressed his hope that the UK would continue helping Vietnam access vaccines and medical equipment and supplies.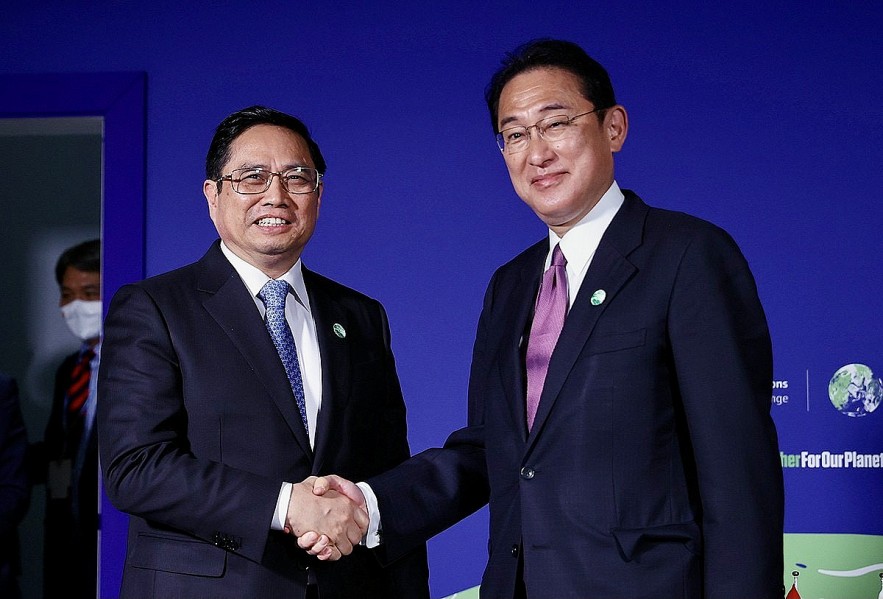 Prime Minister Pham Minh Chinh and Japanese Prime Minister Kishida Fumio, Glasgow, Scotland. Photo: VGP News
Meanwhile, Chinh congratulated Kishida Fumio on his election as the 100th Prime Minister of Japan, and extended sincere thanks to Japan for having gifted Vietnam millions of Covid-19 vaccine doses.
The two PMs were pleased with the robust and comprehensive growth of the Vietnam-Japan extensive strategic partnership for peace and prosperity in Asia and agreed to work closely together to organize practical activities to mark the 50th founding anniversary of diplomatic ties between the two countries in 2023.
They discussed a range of regional and international issues of shared interest such as climate change and coordination at multilateral forums.
The two PMs shared the same view on the importance of maintaining peace, security, and safety in the South China Sea (Bien Dong Sea) and the East China Sea, settling disputes through peaceful measures and dialogues, and respecting international law, including the 1982 United Nations Convention on the Law of the Sea.
The pair agreed to coordinate closely to further strengthen the Vietnam-Japan ties for the benefit of the two countries, thus contributing to shared prosperity in the region and the world.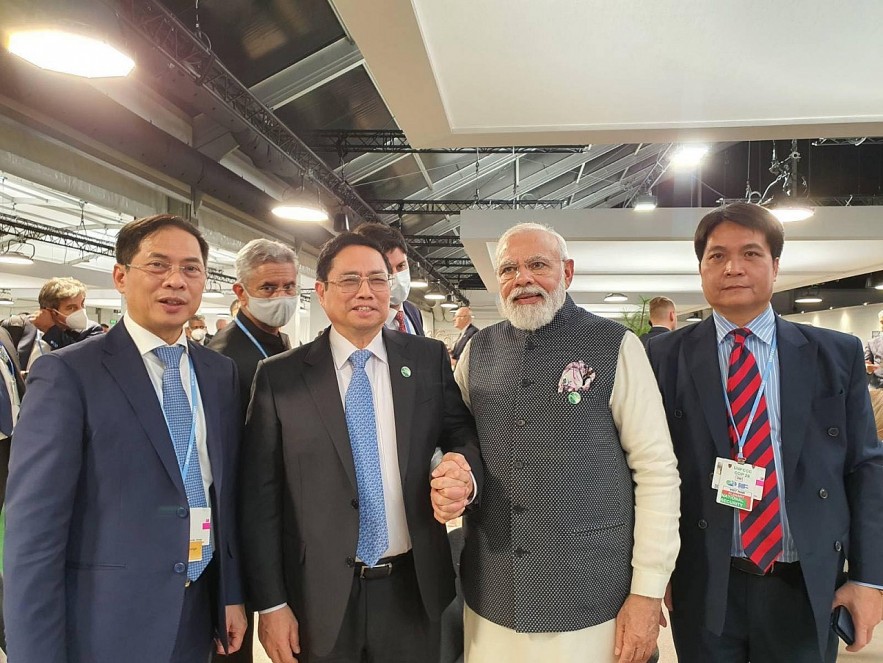 Prime Minister Pham Minh Chinh and Indian Prime Minister Narendra Modi, Glasgow, Scotland. Photo: VGP News
Chinh and his Indian counterpart Modi expressed their pleasure at the advancement of the Vietnam-India comprehensive strategic partnership across all five pillars: Politics-diplomacy, defense-security, science-technology, culture, and people-to-people exchanges.
The two PMs agreed to organize practical activities to celebrate the 50th founding anniversary of the Vietnam-Indian diplomatic relations in 2022.
Chinh extended sincere thanks to India for its donation of medical equipment and treatment drugs to Vietnam, hoping that the Indian side to continue vaccine exports and provision of drugs and medical supplies to Vietnam.
The two PMs agreed to enhance cooperation over regional and international issues, including climate change, peace, stability, safety, and freedom of navigation and aviation, and support each other at multilateral forums.
The same day, PM Chinh met with Irish PM Micheal Martin, Kuwaiti PM Sabah Khalid Al-Hamad Al-Sabah, and US Special Presidential Envoy for Climate John Kerry. He also hosted a reception for Director-General of the International Atomic Energy Agency (IAEA) Rafael Grossi.
Highlighting Vietnam's view on investment cooperation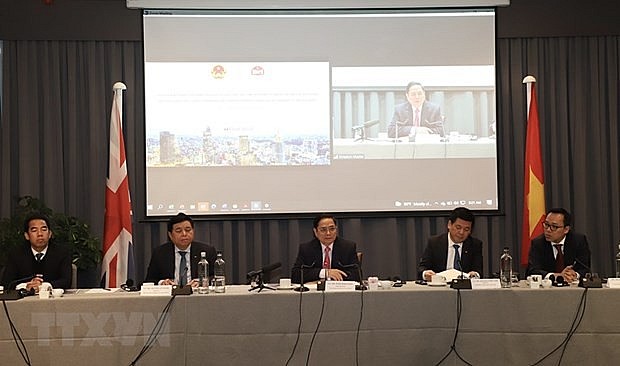 Prime Minister Pham Minh Chinh met with representatives from more than 40 UK enterprises in Edinburgh, Scotland. Photo: VNA
Also on Nov. 3, Chinh met with representatives from more than 40 UK enterprises in Edinburgh, Scotland, according to VietnamPlus.
The businesses are operating in the spheres of finance, banking, investment and asset management, auditing and insurance.
In his remarks, the PM emphasized Vietnam's views on investment cooperation that is based on the harmony of interests and the sharing of risks.
Regarding investment opportunities and advantages in Vietnam, he said the country has a stable political environment, with a foreign policy of self-reliance, diversification and multilateralisation, and being a good friend, a reliable partner, and a responsible member of the international community.
Vietnam is integrating intensively and extensively into the world, as the country has signed 17 free trade agreements, including those with major markets, according to Chinh.
He also introduced Vietnam's consistent policy towards investors, along with its advantages in terms of human resources, natural conditions, social settings and sustainable development policy.
At the meeting, VinaCapital General Director Don Lam, said Vietnam is expected to restore its growth trend strongly and have many investment opportunities after the Covid-19 is brought under control.
According to Don Lam, the participating businesses that own more than USD1 trillion would invest some USD10 billion in Vietnam.
Prior to the meeting, the PM had a separate meeting with Don Lam, during which he called on VinaCapital to pour investments not only into the stock market but also financial centers in Vietnam.
The leader was in the UK from Oct. 31 to November 3 to attend COP26 and pay a working visit to the UK at the invitation of his counterpart Boris Johnson.