PM Nguyen Xuan Phuc pays tribute to former Lao leader
A high-raking Vietnamese Party and State delegation led by Prime Minister Nguyen Xuan Phuc on May 13 paid a floral tribute to General Sisavat Keobounphanh, former Lao Prime Minister, who recently passed away in Vientiane.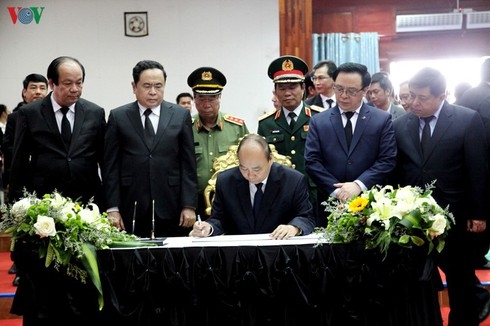 PM Phuc wrote in the mourning book after paying a floral tribute to the former Lao PM
PM Phuc expressed his grief and deep condolences to the Party, State, and people of Laos, as well as the family of General Sisavat, who was also former Politburo member of the Lao People's Revolutionary Party and former Chairman of the Central Committee of the Lao Front for National Construction, over his death.
He emphasized that Mr Sisavat is not only the talented and virtuous leader who greatly contributed to the revolutionary cause of the Lao people, but also a close, loyal friend who stood shoulder to shoulder with Vietnam during the struggle for national construction and defence in both nations.
In the mourning book, he wrote that Mr Sisavat's death is a great loss to the Party, State and people of Laos, as well as his relatives. The Party, State and people of Vietnam have lost a great friend and loyal comrade.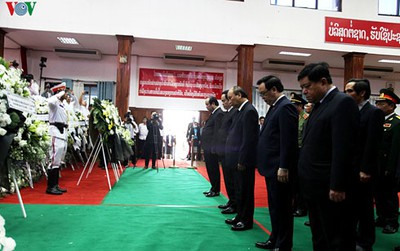 PM Nguyen Xuan Phuc pays tribute to former Lao leader
After the mourning, Prime Minister Nguyen Xuan Phuc paid courtesy visits to Party General Secretary and State President of Laos Buonnhang Vorachith and Prime Minister Thoongloun Sisulith.
They agreed that in the face of the global unpredictable fluctuations, Vietnam and Laos will always stand side by side, support and assist each other in the spirit of great friendship and special bond between the two parties, states and peoples.
PM Phuc spoke highly of Laos' initial success in containing the novel coronavirus and affirmed Vietnam stands ready to provide continued assistance to Laos. He expressed hope the two countries will soon overcome the difficult times to focus on boosting socio-economic development and improving people's living standards.
The Lao leaders thanked the government and people of Vietnam for providing medical supplies to Laos, and appreciated Vietnam for successfully hosting online high-level ASEAN summit and related meetings during the COVID-19 epidemic.
The two Prime Ministers agreed to instruct relevant agencies of the two countries to realise the results of the recent 42nd session of the Vietnam-Laos Intergovernmental Committee.
Prime Minister Thoongloun Sisulith voiced Laos' continued support for Vietnam in its capacity as the ASEAN Chair in 2020 and non-permanent member of the United Nations Security Council for the 2020-2021 term.
Laos will work closely with Vietnam to address regional and international issues of mutual concern, said the Lao PM./.
VOV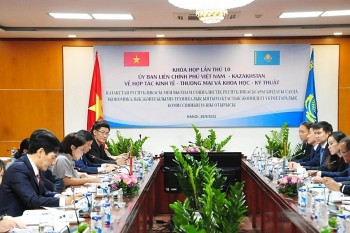 Friendship
The 10th session of the Vietnam-Kazakhstan Intergovernmental Committee on economic-trade and scientific-technical cooperation was held in Hanoi on September 26.