Prime Minister Nguyen Xuan Phuc (right) and Nigerian Ambassador Francis Young Efeduma (Photo: VNA)
Highlighting the great potential for cooperation between the two countries, the PM said their economic connectivity is feasible and expected to contribute to prosperity in each nation.

The leader stressed he pins high hope on a brighter future of the bilateral relationship.

He highlighted the fruitful friendship and cooperation between Vietnam and Nigeria during Ambassador Efeduma's tenure, and expressed his hope that Efeduma and his successor will make more contributions to the bilateral ties.

As ASEAN Chair, Vietnam will make all-out efforts for peace, stability and prosperity in the region and the world, he pledged.

The PM extended his sympathy over difficulties faced by Nigeria, especially the impact of the pandemic. He has ordered the supply of medical equipment to Nigeria to help the country soon contain the disease.

For his part, Efeduma told the host leader that Nigeria plans to send enterprises to Vietnam to study business opportunities and enhance economic and trade relations with the Southeast Asian country. However, the plan has been postponed due to COVID-19.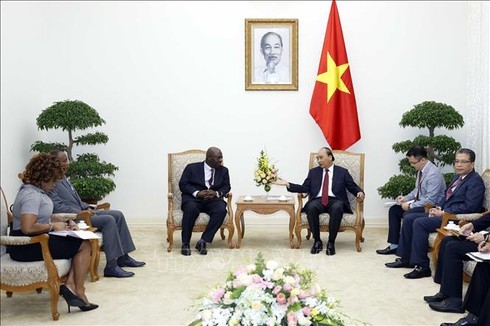 At the meeting.

Echoing PM Phuc's view, the ambassador said he believes that the bilateral economic and trade cooperation, especially in agriculture, will be resumed and grows even stronger once the pandemic is put under control.

Nigeria is also ready to implement tourism cooperation projects with Vietnam next year since Vietnam has beautiful sites and many Nigerians want to visit the country, he added.

The ambassador congratulated Vietnam on its successful ASEAN Chairmanship, which has contributed to regional peace, stability and development, and thanked the Vietnamese Government and the Prime Minister for supporting Nigeria with medical supplies in the fight against the COVID-19 pandemic.
Trade between Vietnam and Nigeria has shot up from USD 250 million a year in 2012-16 to USD 433.5 million in 2017.
Nigeria largely exports agricultural produce to Vietnam, raw cashew nuts, wood and wood products and cotton yarn while inports mobile phones and components, textiles, footwear, cigarettes and tobacco, machinery and spare parts, computers, and electronic devices from Vietnam.
According to data from the National Bureau of Statistics (NBS), Nigeria exported N13 billion worth of cashew nuts and raw cocoa beans to Vietnam in just three months (April – June 2019).
Nigeria has a large domestic market, the largest in Africa, and a large population of over 200 million.
The prediction that Nigeria will become the world's ninth-largest economy with a life expectancy higher than 80 years is based on the projection that, by 2100, Nigeria will have a population size that is 3.8 times larger than 2017, according to the study published in The Lancet on July 15.
The country, presently ranked as the 28th largest global economy, is likely to witness negative GDP growth this year and gradually improve its ranking to 17th largest in 2050. It will finally find a place in the world's top 10 economies as its working-age population swells from 86 million in 2017 to 458 million in 2100.
VNA