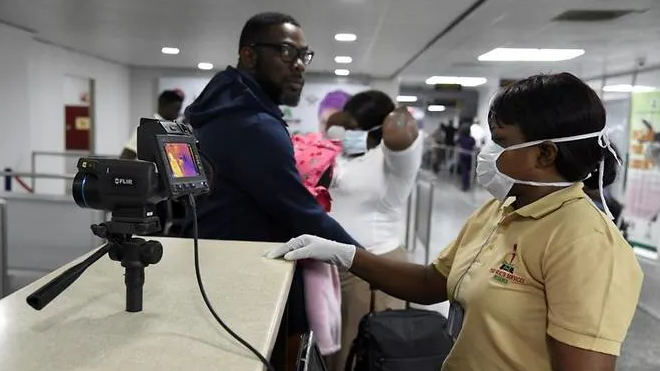 A Port Health Service staff member stands next to a thermal scanner as passengers arrive at the Murtala Mohammed International Airport in Lagos, Nigeria, on Jan 27, 2019. (Photo: AFP)
"The case is an Italian citizen who works in Nigeria and returned from Milan, Italy to Lagos, Nigeria on the Feb 25, 2020," Health Minister Osagie Ehanire said in a statement on Twitter.
"The patient is clinically stable, with no serious symptoms, and is being managed at the Infectious Disease Hospital in Yaba, Lagos."
Prior to the case in Nigeria, just two cases had surfaced across all of Africa - in Egypt and in Algeria - a tally that had puzzled health specialists, given the continent's close economic ties with China.
The World Health Organization warned earlier this week that African health systems were ill-equipped to respond to the deadly coronavirus outbreak should cases start to proliferate on the continent.
WHO chief Tedros Adhanom Ghebreyesus called on African Union member states "to come together to be more aggressive in attacking" the virus.
"Our biggest concern continues to be the potential for COVID-19 to spread in countries with weaker health systems," Tedros, speaking by video link from Geneva, said during a meeting of African health ministers at AU headquarters in Addis Ababa.
With new infections reported around the world now surpassing those in mainland China, the WHO's director-general, Tedros Adhanom Ghebreyesus, said on Thursday even rich nations should prepare.
"No country should assume it won't get cases, that would be a fatal mistake, quite literally," Tedros said, pointing to Italy, where 17 people have died in Europe's worst outbreak./.
VNF