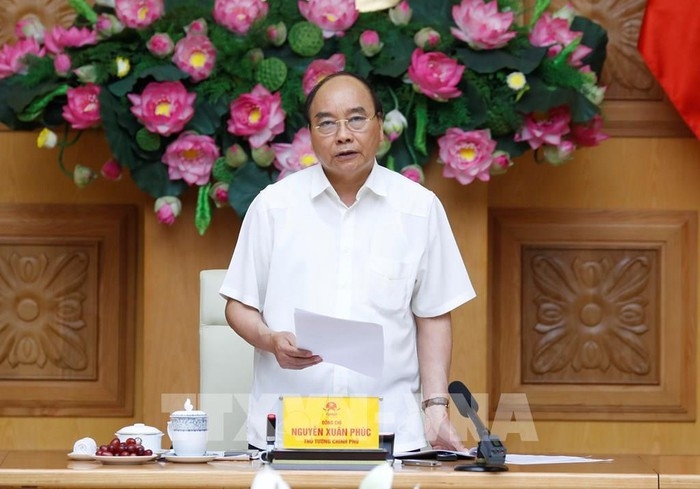 Prime Minister Nguyen Xuan Phuc (Photo: VNS)
Under Directive 20/CT-TTg aimed at saving power from 2020-2025, all Government offices have been asked to collaborate with electricity suppliers to implement a plan to save 2 per cent of total energy consumption each year. They are also instructed to set regulations on the use, repair and maintenance of electrical equipment.
The Prime Minister requested that, in the period of 2020 - 2025, the country must strive to save at least 2% of total electricity consumption annually. To achieve this goal, the Prime Minister requests ministries, ministerial-level agencies, government agencies, People's Committees of provinces and central cities, enterprises and mass-social organizations to implement the following 5 solutions:
Save electricity at offices
The Prime Minister requested the coordination with local electricity agencies to organize the electricity saving plans, ensuring a minimum annual saving of 5% of total electricity consumption in the year. The Prime Minister requested the elaboration, and organization of the maintenance and repair of electricity-consuming equipment and devices at agencies and units.
At the same time, the Prime Minister asks for dissemination and master of electricity saving for all employees, review and regularly inspect the implementation of current regulations on electricity saving.
The Prime Minister asks for the utilization and mobilization of resources to install and use rooftop solar power systems, solar water heating systems to reduce electricity consumption.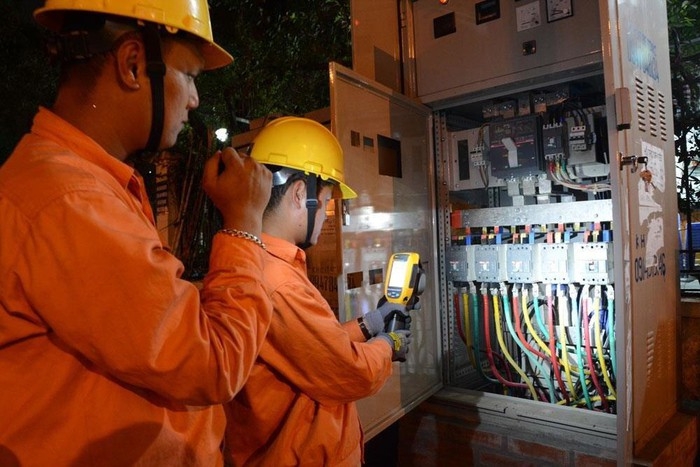 (Photo: Bao moi)
Save electricity in public lighting, advertising lighting and outdoor decoration
Organizations and individuals that manage and operate public lighting systems, lighting systems for advertising and outdoor decoration assume the prime responsibility for the power saving plan; accordingly, they must ensure a minimum saving of 20% of total power consumption in the period of 2020 - 2025.
Restaurants, hotels, commercial service facilities, office complexes and apartment buildings should reduce 50% of outdoor decorative advertising lighting capacity at the evening; be ready to reduce the need to use electricity in case of electricity shortage.
Save electricity in households
Households should use electrical equipment with energy labels according to the Prime Minister's Decision No. 04/2017/QD-TTg of March 9, 2017.
Households should frequently practice economical and efficient use of electricity at home, such as turning off electrical appliances when leaving the room, cutting off the power source if not using electrical equipment; only using air conditioner when absolutely necessary; giving priority to procurement of high-performance electric devices or electrical equipment with energy-saving labels; minimizing the use of incandescent light bulbs; installing and using rooftop solar power system, solar water heating system.
Save electricity at commercial and service establishments
The Prime Minister requested the implementation of economical and efficient use of electricity. Also the Prime Minister asks for formulating and disseminating the internal electricity saving regulations to customers and employees; and the coordination with electricity supply units to reduce electricity demand when required.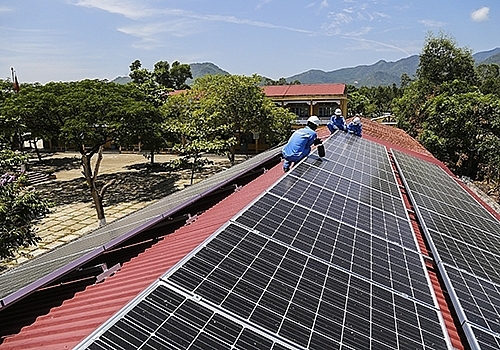 Prime Minister encourages the installment and use of rooftop solar power system (Photo: Law and Society)
Save electricity at manufacturing enterprises
The Prime Minister requests for the development and implementation of solutions to use electricity economically and effectively such as: ensuring the correct use of capacity; implementing a reasonable production plan; minimizing the mobilization of equipment with large power consumption in peak hours.
Besides, the Prime Minister asks for installing and integrating renewable energy sources such as solar and wind energy into internal energy systems; prioritizing the use of high-performance energy-labeled devices, according to Financial Magazine.
The Ministry of Industry and Trade (MoIT) is authorised to direct Vietnam Electricity (EVN) to make full use of power plants and electricity transmission networks and reduce losses across its entire network.
People's Committees of centrally-run cities and provinces are ordered to include criteria on economical and effective energy use in their annual socio-economic development plans.
EVN will be responsible for collaborating with the National Centre for Hydro-Meteorological Forecasting to update people with weather forecasts and water resources.
The PM's Directive comes in the wake of concerns over power supplies due to hydropower plants affected by climate change. The scale of renewable energy like wind and solar power is still limited while many technical barriers remain.
Demand for electricity is forecast to increase by 10 per cent annually, higher than the country's economic growth which stood at 7.02 per cent last year. Efficient use of electricity will be important to maintaining energy security, sustainable development and the country's economic growth in the next five years.
Positive changes have been made following the implementation of PM Directive No 34 issued on August 2017 to encourage energy safety. It helped the country save over 9 billion KWh, or VND15 trillion (US$642 million), according to Vietnam News.
Candy Lee