PM urges no panic over Covid-19 vaccinations
"Any vaccine can cause side effects and people should not panic," Prime Minister Pham Minh Chinh said, after a medical worker died in an adverse reaction to a Covid shot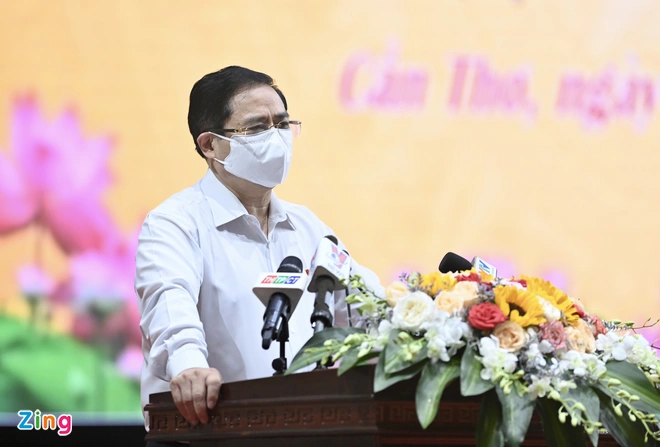 Prime Minister Pham Minh Chinh. Photo: zingnews
Prime Minister Pham Minh Chinh has called for calm, after a Vietnamese citizen died in an allergic reaction to a Covid vaccine.
"Any vaccine can cause side effects and people should not panic," Chinh said following the first death from an adverse reaction to the AstraZeneca Covid-19 vaccine in Vietnam.
A 35-year-old female medical worker in the southern province of An Giang died of anaphylactic shock on May 7, after receiving a dose of the AstraZeneca Covid-19 vaccine a day earlier.
The official cause of death was registered as anaphylaxis, with an underlying condition identified as an allergy to non-steroidal anti-inflammatory drugs.
The health ministry's notice said it was an extremely rare incident in regards to Covid-19 vaccinations.
Speaking at a meeting with voters in the Mekong Delta city of Can Tho on May 8, Chinh said that any vaccine, including for Covid-19, had side effects, and stressed the need to explain this to people so they would not panic.
The government leader said a number of countries had contained the pandemic thanks to mass vaccinations, citing China posting a growth rate of over 10% in the first months of this year as an example.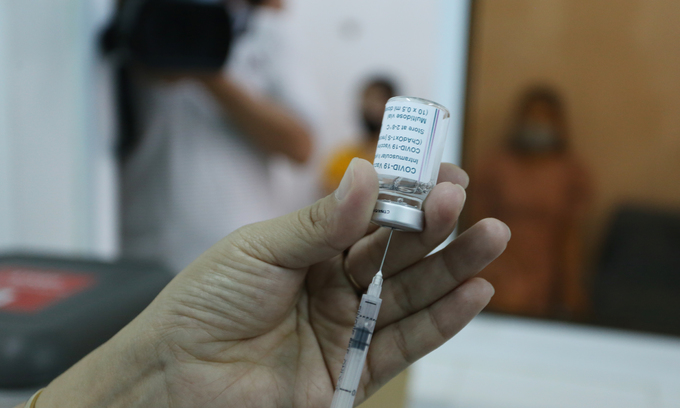 A medical staff prepares Covid-19 vaccine for injection on April 23, 2021. Photo: VnExpress
Vietnam, therefore, needs to targets mass vaccinations, he said.
However, it is hard to import vaccines due to scarcity, the PM said, adding that the World Health Organisation has approved a Covid-19 vaccine developed in China for emergency use worldwide.
The government will make every effort to access possible vaccine sources from China, the United States and Japan, Chinh said.
He warned of the "high price" for negligence, subjectivity, lack of vigilance and even panic in the fight against Covid-19, and emphasised the importance of observing the health ministry's 5K message - khau trang (facemasks), khu khuan (disinfection), khoang cach (distance), khong tu tap (no gathering) and khai bao y te (health declaration), and vaccinations.
The PM called on voters nationwide, especially those in border provinces to stay vigilant in the pandemic combat, and urged people to join hands in protecting public health.
Minister of Health Nguyen Thanh Long said Vietnam began administering the Covid-19 vaccine produced by the AstraZeneca company on March 8. As of May 7, a total of 747,827 people in 57 provinces and cities had been inoculated.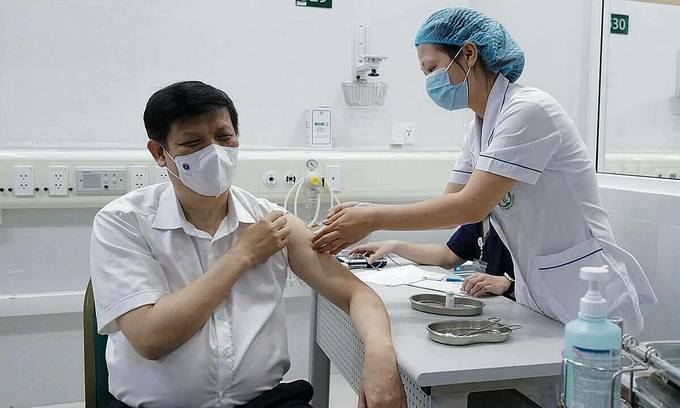 Minister of Health Nguyen Thanh Long receives a Covid-19 vaccine shot by AstraZeneca at Hanoi's Bach Mai Hospital, May 6, 2021. Photo: VnExpress
Inoculation priority has been given to medical workers treating Covid-19 patients; those collecting samples; members of Covid-19 prevention groups; Steering Committee for Covid-19 prevention members; as well as police and army personnel.
A review of over 600,000 people who had been vaccinated showed that 16% suffered a slight (normal) reaction after vaccination. The reactions disappeared after 24 hours, and the rate was lower than in other countries. A few cases with more severe reactions have been handled well by doctors.
To date, Vietnam has received two batches of Covid-19 vaccines from AstraZeneca: the first in February with 117,600 doses under a contract purchase by the Vietnam Vaccine Company; and the second of more than 800,000 doses in late March under the Covax facility, an initiative established by the United Nations for equitable access.
As planned, Covax will provide an additional 1.6 million doses to Vietnam on May 10. The vaccines will continue to be used for inoculating identified priority groups, VnExpress reported.