Polish Tourists: When We Had Accidents, Vietnamese People Rushed to Help
Kasia and Mateusz, Polish citizens, said their trip journey to explore 8 provinces in Vietnam was an adventure, filled with emotions and long-lasting memories.
"We were driving on a small road in Ha Giang, then we suddenly lost our balance and fell on the road due to a pothole. Some locals nearby quickly spotted us and rushed to help. Seeing our broken mirror, a local quickly found a new one for us to replace, he constantly waved his hand refuse when we offered to pay," Mateusz Chołołowicz said about the incident during his trip to Vietnam from May 28 to June 11.
For Mateusz and his girlfriend, Kasia Kurowska, the accident was also an unforgettable memory and an opportunity to experience the kindness and heartiness that Vietnamese people have for strangers. During their trip to eight provinces in the North of Vietnam, they also witnessed the local people's friendliness.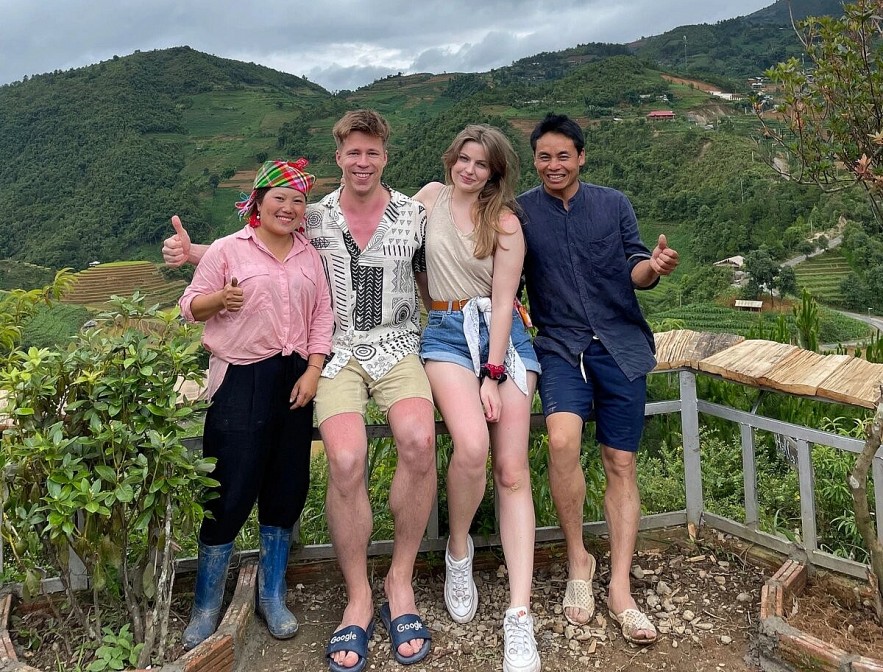 Mateusz, Kasia and their friends. (Photo: Zing)
"A very interesting trip"
Mateusz, a Google software engineer, and Kasia, a banker, live in Warsaw and have dated for four years. Mateusz met a Vietnamese couple, Nghia and Ha through work, who invited them to visit Vietnam.
"In April, Nghia and Ha said that they would return to Vietnam for a while and invited us to come along. It was not until about three weeks before the flight date that we decided and booked the plane ticket. Vietnam is actually a country we want to visit. Their suggestion made our decision much easier," the couple explained their May trip to Vietnam."
In the first two days, Kasia and Mateusz mainly spent their time resting, visiting some destinations in Hanoi, and staying at Ha's house. They were impressed by the scenery of the railway in Hoan Kiem district, which, in their words, is "unseen in Europe."
After recovering from the drive, they rented motorbikes and drove through eight famous destinations in Vietnam. Starting from Hanoi, they drove to Mai Chau (Hoa Binh province), Mu Cang Chai (Yen Bai province), Sa Pa (Lao Cai province), Ha Giang, Tuyen Quang, Ha Long (Quang Ninh province), and finished their trip in Hai Phong, completing a roadl of 1,500 km. From there, they flew to Da Nang.
Every morning, the two moved to a new place. In Da Nang, the couple rent motorbikes and roam around the city.
Before coming to Vietnam, Kasia and Mateusz watched many travel recommendations online, marked places they wanted to go, and prepared for the drive based on Google maps.
"We do not speak Vietnamese so we can only communicate in English with locals, which is not easy, especially in rural areas. When we do not meet anyone who knows English, we communicate our intentions through the translation tool."
"I would use 'adventure' to describe this trip," said Mateusz. (Photo: Zing)
Motorcycles, traffic, and Vietnamese food
Recalling their road trip, the Polish couple agreed that it was not easy. However, motorbikes are the ideal vehicle for the trip, they said.
"For Europeans like us, traveling in countries like Vietnam on motorbikes is not too strange. Of course, not everyone can do that and most choose other means, especially when traveling with children. But we wanted to try something close to Asians - ride a motorbike and explore the country and nature on the road."
Kasia and Mateusz think motorbikes give them more freedom than other vehicles. Therefore, they can decide the exact place to go, change their route and stop at any time to take photos of the beautiful scenery. The couple has experience in riding motorbikes during their trip to the Philippines in 2019, so they are confident in the vehicle and the traffic system in Southeast Asia.
"It is said that the streets in Vietnam are quite chaotic, especially in big cities, so we hadto drive more carefully. In the countryside, it's quite like Europe, not too many cars. It feels like there are just us on the road."
Relaxing on a motorbike, immersing in the cool breeze, and breathing in the clear air of the Northwest mountains, the couple is impressed by the majestic beauty of the S-shaped land. In Sa Pa or Mu Cang Chai, sometimes after walking for a while, the two stop, admire nature and take photos.
"The terraced fields are beautiful, especially when viewed from above," said Mateusz.
The young couple enjoying their time in Vietnam - Source: zingnews.vn
Having eaten Vietnamese and Asian food many times in Poland, the couple has high expectations to enjoy the "original" food.
"And we were not disappointed," said the couple. "Everything was delicious, but if we had to choose, perhaps we liked the rolls best, the ones that are homemade and all the ingredients are present on a plate. This is really an enjoyable dining experience for us."
After half a month of traveling in Vietnam, Kasia and Mateusz returned to Warsaw to continue their work with many good memories. Photos of the trip were shared by the young couple on Mateusz's personal YouTube channel.
"I would use 'adventure' to describe this trip," said Mateusz. "It includes hours of riding on motorbikes with amazing scenery, including experiencing chaos on the street and even accidents. In the future, we want to explore more new lands, but we are ready to return to Vietnam when we have the opportunity, we have only visited nearly one-third of this country."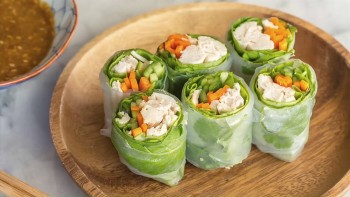 Travel
Rolls are a easy-to-make dish that is loved by many Vietnamese diners as well as Korean stars.