Vietnamese Man Conquers Korean Mountains
In nearly three years of climbing, a Vietnamese has conquered about twenty high mountains in the Land of Kimchi. He has admired the poetic beauty of this land in the season when the trees change leaves, or even when they are submerged in white snow.
Vu Hoang Long was born in 1998, Quang Ninh. Currently, he is living in Seoul, South Korea. Through introductions and guidance from a close brother, Long began to conquer mountains in the Land of Kimchi in 2020.
"For someone who didn't go out often, the first climb was extremely difficult, every time I climbed a little bit, I had to stop and rest. Luckily, I was encouraged by others, so I finally completed the trip. Since that time, I have enjoyed and learned more about mountain climbing. Every weekend I spend time conquering the mountains near my house," he said.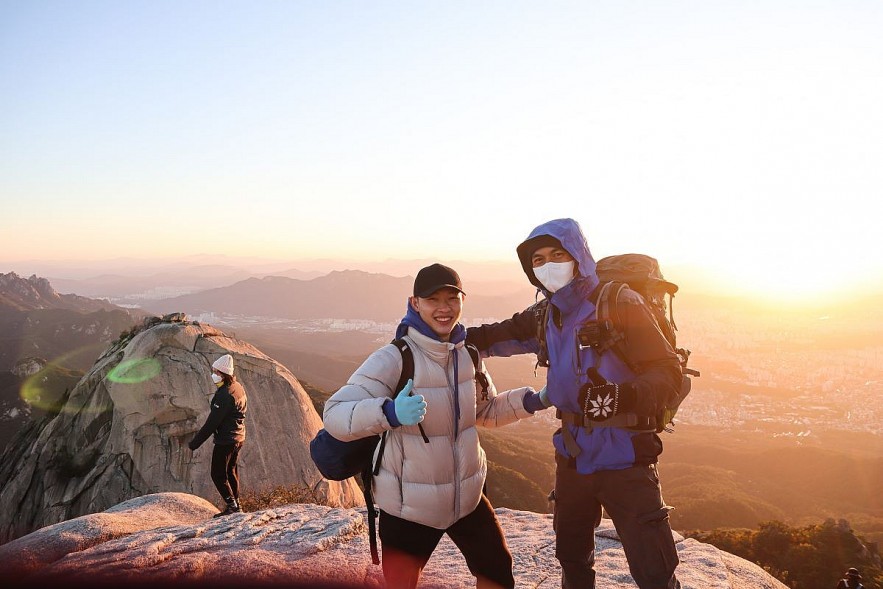 Photo: Vietnamnet.vn
In Vietnam, Long had the opportunity to set foot on Yen Tu peak (Quang Ninh) at an altitude of 1,068m. But in South Korea, up to now, the young man has conquered nearly twenty different peaks. Among them, there are places he has climbed repeatedly such as Seoraksan, Jirisan, Taebaeksan, and Deogyusan.
Seoraksan mountain (in Gangwon province, east of Korea) left a very special impression on Long. He has tried to conquer this destination twice, and although not yet successful, he has had many memorable experiences.
Seoraksan is the highest mountain in the Taebaek Mountain Ranges in Gangwon Province and also the third-highest mountain in Korea. It is located in a national park near the city of Sokcho. Daecheongbong is Seoraksan's highest peak with a height of 1,708m.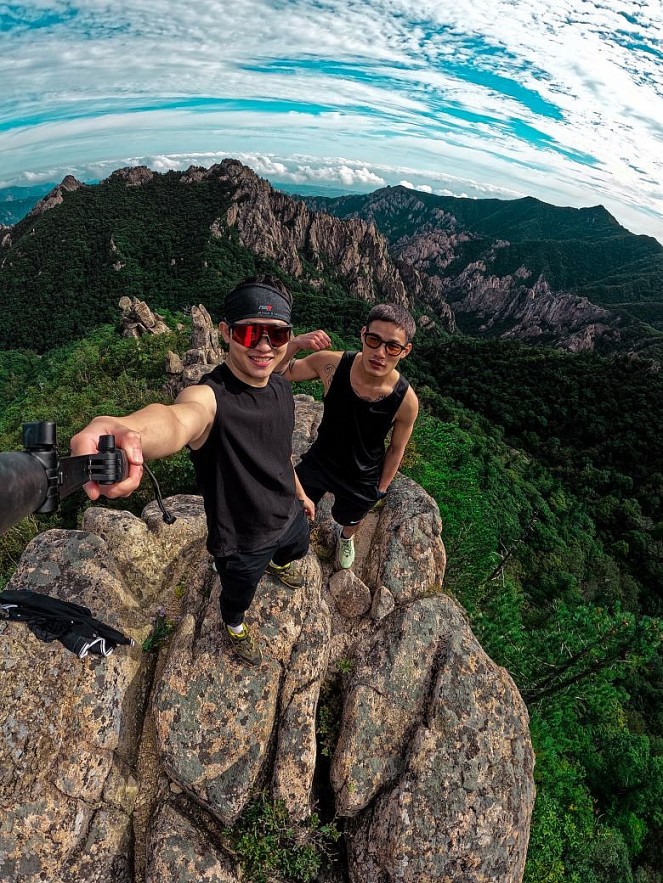 Photo: Vietnamnet.vn
Long recalls, the first time he climbed Seoraksan mountain. It took twelve hours. Because he had climbed since the night before, finding the way via a map was very difficult. This caused the group to get lost, it took two hours to return to the starting point.
"When I was only about 3km from the top, I thought I would successfully conquer this mountain, but in the end, the group had to give up. Because we had to climb at night, there was little food left, so the members were physically impaired. My blood pressure dropped, so everyone had to go back," recalls the Vietnamese man.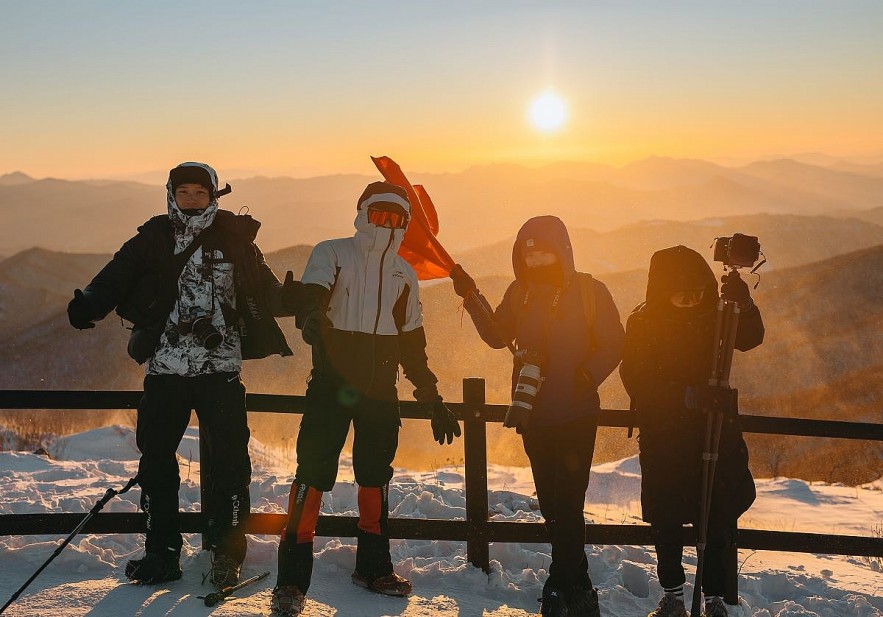 Photo: Vietnamnet.vn
The second visit to Seoraksan was also a trip that Long said was also memorable. Drawing from previous experience, this time the group of six people prepared food, water, and other necessities more carefully.
However, after the whole group climbed for nearly 2 hours, it started to rain which made the road become slippery and dangerous. Not to mention this road was quite long, to reach the top, visitors need to climb thirteen more km.
"The rain made everyone feel cold. We climbed from 3:00 a.m. until 13:00 p.m. but still did not see the top, so we had to go back down. The trip took 16 hours, but we still couldn't complete it because of the harsh weather conditions," Long added.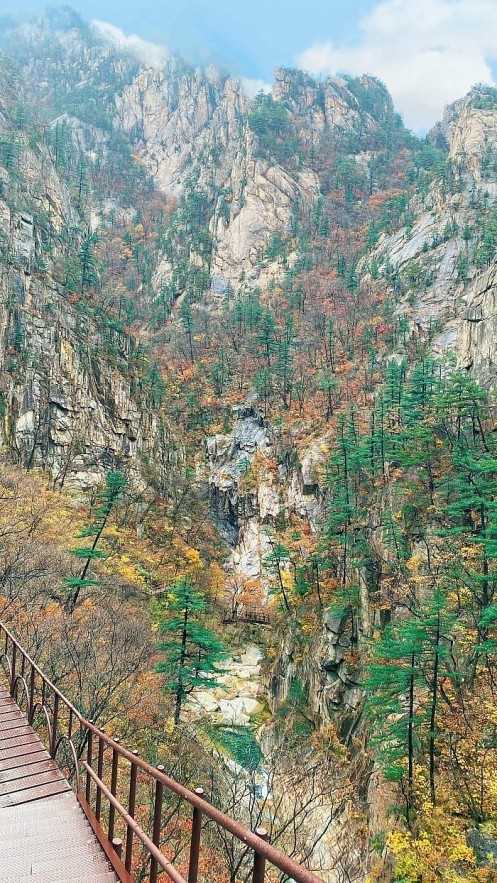 Photo: Vietnamnet.vn
Long commented that the most ideal climbing time in Korea is in spring and autumn. At this time, the weather is neither too cold nor too hot. If visitors climb the mountain in the spring, they will have the opportunity to admire the forests in the budding season. Spring is also when the famous cherry blossom of this land blooms. As for conquering the peaks in autumn, visitors will be able to witness firsthand the red and yellow maple leaf. The scenery at this time is as beautiful and romantic as that of Europe.
Long said, in the summer and winter, this place still has visitors. Although the summer is hot, visitors can "cool off" from the clear streams and waterfalls throughout the forests. Or in winter, the snow-covered scenery is enough to make climbers forget the cold.
"If tourists want to climb the mountain in winter, they have to prepare a lot of things, especially a hot water bottle. Eating instant noodles on the top of the snow-covered mountain feels delicious and wonderful," said Long.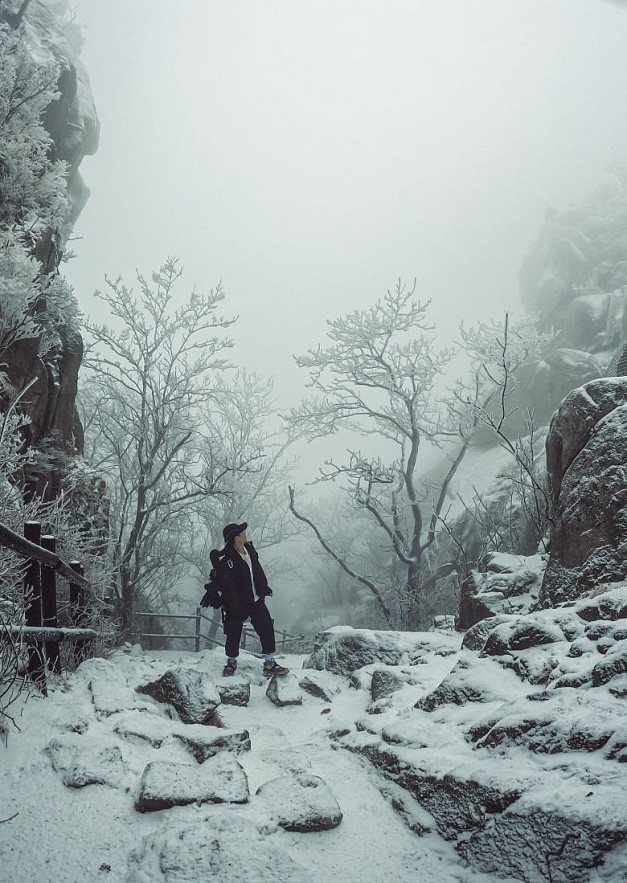 Photo: Vietnamnet.vn
Because of his work schedule, Long often go hiking on most Sundays. If the destination is far away, he often starts on Saturday afternoon and climbs at night. In addition to climbing, this guy also rides bicycles and exercises in the gym to increase his strength, endurance, and flexibility.
Long admitted that climbing is a very good sport for health as well as training reflexes, enhancing memory, and relieving stress. He plans to conquer Seorksan mountain in the future.