Poll: Vietnam, China and India most positive about coronavirus vaccine
According to a 32-nation study in December Vietnam, China and India had the highest levels of Covid-19 vaccine acceptance.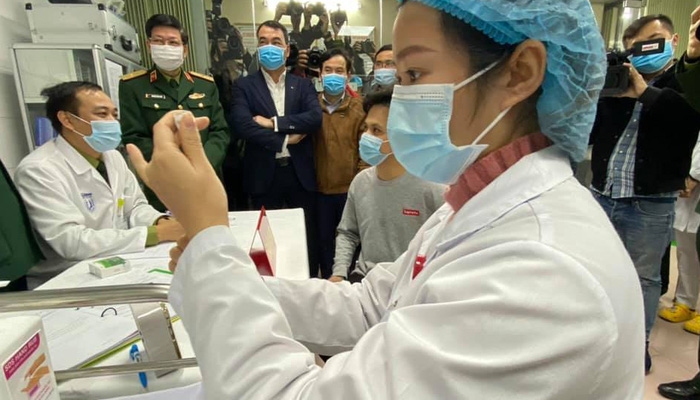 Vietnam started first human trial of COVID-19 vaccine on December 17. Photo: Dinh Anh
The survey was done across 32 countries with almost 27,000 respondents and coordinated by the Milan-based Worldwide Independent Network of Market Research (WIN).
Vietnam, China and India showed by far the highest levels of acceptance. More than 90 percent of respondents in all three countries said they would take the vaccine.
In Europe, people in Finland and Denmark are more willing to get the coronavirus vaccine than other countries, according to the study.
In Denmark, 87 percent of respondents said they would certainly or possibly take the vaccine, followed by Finland where the share was 81 percent. The two countries showed significantly higher acceptance levels than others in Europe.
For instance, in Italy 70 percent said they might take the vaccine, while the figure in Germany was 65 percent, in France just 44 percent, and in Serbia just 38 percent.
According to Hanna Nohynek, Chief Physician, Infectious Disease Control and Vaccinations at the Finnish Institute for Health and Welfare (THL), a vaccination level of at least 70 percent is necessary for a country to attain herd immunity.
Nohynek says that people's attitudes toward vaccinations can change quickly.
"Someone can say something and do something else. When a coronavirus death strikes close to them, they may suddenly start thinking completely differently," she told
The survey also asked respondents how satisfied they were about how their own governments had worked to control the pandemic.
Those in Vietnam – where just 35 deaths have been attributed to Covid-19 – gave their government 100 percent approval, followed by China at 99 percent approval.
In Europe, the highest levels were again in Denmark (77 percent) and Finland (75 percent). In comparison only 15 percent of those in Poland were satisfied, while in Spain the support level was 26 percent.
Men tended to be slightly more willing to take the jab than women. People with lower levels of education and the unemployed expressed less willingness to be vaccinated.
The margin of error is estimated at 3.5 percentage points.