Positive Energy Helps Sanitation Workers Overcome Pressure
At 10 p.m., on the low-traffic streets of Hanoi, Lan, the sanitation worker is still busy putting garbage bags on the wheelie bin to move to the gathering point. The little woman shares many things about her career story.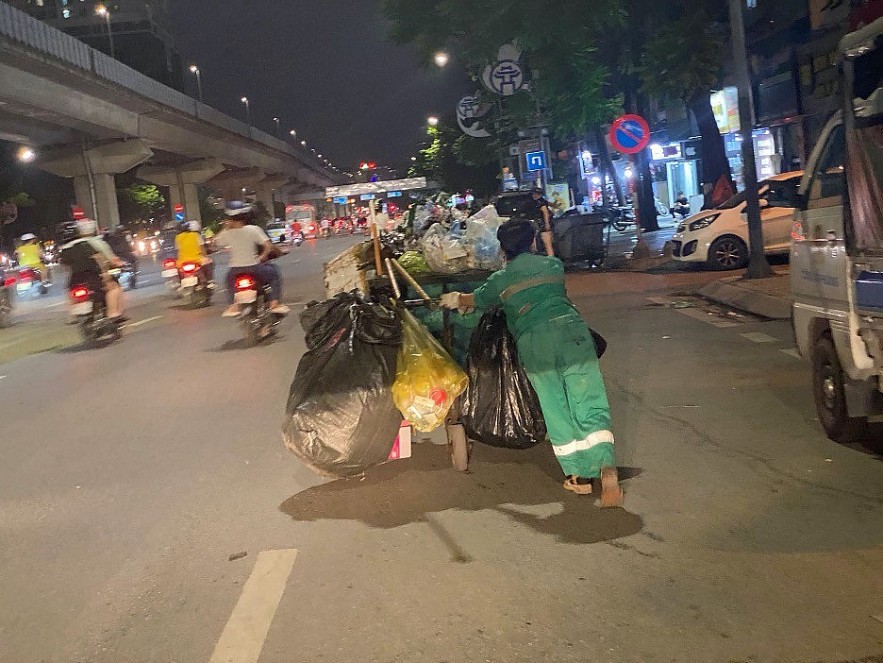 Sanitation workers bring a clean and beautiful image to each street.
Stopped to rest for a while, Nguyen Thi Lan had a little time to confide that she has been doing this job for nearly ten years. She roams with the wheelie bin on the streets and alleys of Hanoi. This job requires physical strength and health, but even as a woman, she still has to accept it for a living.
She said that as a sanitation worker, she must always be on the street. This work is hard in the hot sunny season, and even harder in the rainy season.
"Garbage collection in every season has its hardships. In the rainy season, the bags of garbage soaked in water are heavy, we have to discharge the water, sort it out, and then collect it. In the summer, it's hot and sunny, and the bad smell from the garbage often makes us dizzy," Lan said.
Not only working during the day, the sanitation worker will often change shifts during the week. The morning shift will start from 4 a.m. to 12 noon, the evening shift will start from 4 p.m. to 12 p.m. or sometimes lasts until 1-2 a.m. if the garbage truck has not arrived in time.
Each person will be assigned a specific area and must ensure timely collection. For Lan, working at night always puts her under pressure because of the fatigue of the body and the sleepiness that is always waiting. This makes her work ineffectively because she is always in a sluggish state.
Every 2-3 hours, she and other colleagues have to find a place to rest, take turns drinking water to regain strength and take a nap for a few minutes so as not to fall asleep.
However, the amount of garbage that needs to be collected is high and the collection time is limited, so this solution does not seem to be effective. Drowsiness and lack of energy are always waiting to overwhelm her and other colleagues at any moment.
Sitting down on a corner of the sidewalk to rest, pointing at the bag she carried, Lan said "In order to have the energy to work, I have to know how to keep the energy first. Working during the day was extreme, working at night was even harder when I had to stay awake and flexible.
I often bring Number 1 energy drink to quench my thirst, recharge quickly and deal with nighttime sleepiness."
The hard work and pressure of environmental cleaning work.
As she spoke, Lan took out a bottle of Number 1 energy drink and took two or three sips. She said this type of energy drink was introduced by her colleague. It is easy to drink, combined with ice to bring a feeling of refreshment and feel more energetic at work.
Since then, she always carries a few bottles when she goes to work, both to use and to share with everyone in case she is exhausted or sleepy in the middle of the shift.
This is Number 1 energy drink - a drink that is familiar to many workers, especially workers in occupations requiring physical strength, often working outdoors or overtime, working at night. Not only has a delicious taste, the product's ingredient list also helps to replenish energy and maintain alertness, support workers to concentrate, and improve work performance.
The moment of rest quickly passed when the garbage truck arrived, Lan quickly continued with the remaining unfinished work. Difficulties are still there. However, the responsibility with the profession and the know-how of energy that are always ready is probably the luggage to help Lan and many other workers continue to stick with the job for a long time.