Powerful quake hits Japan, evoking a worrisome memory
The epicenter of the quake was off the coast of Fukushima Prefecture, the site of a massive earthquake and tsunami in 2011 that killed thousands and caused meltdowns at a nuclear plant.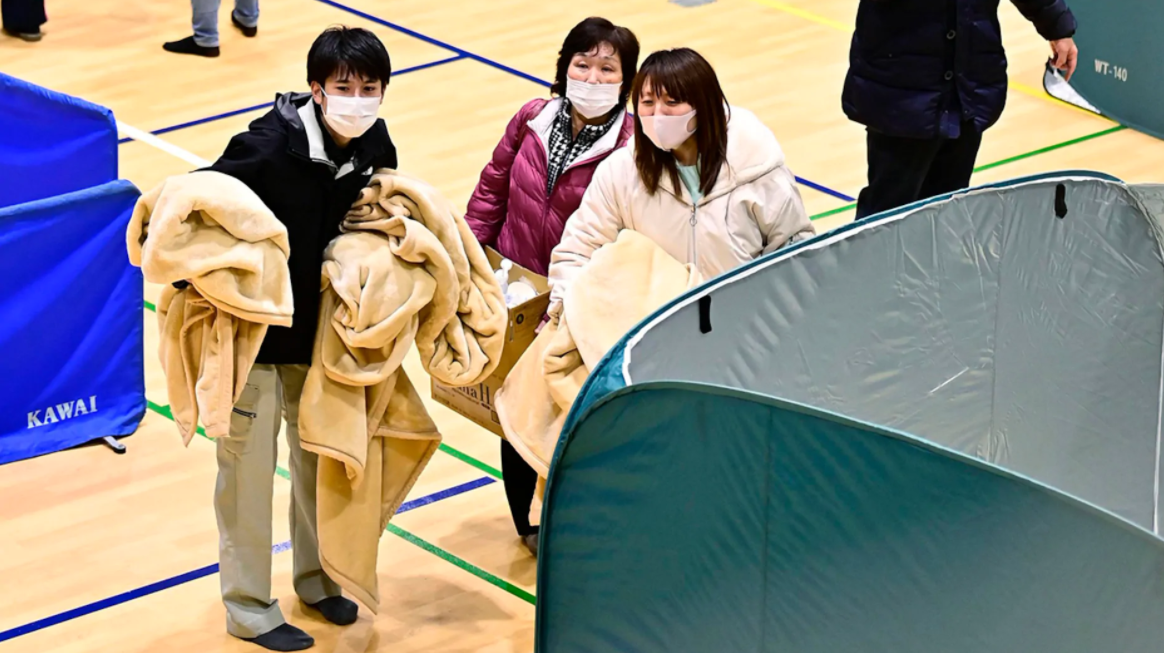 Evacuees shelter at a gym as an earthquake hit the area, in Soma, Fukushima prefecture, northeastern Japan, Sunday, Feb. 14, 2021. (Photo: Associated Press)
Residents in northeastern Japan on Sunday cleaned up clutter and debris in stores and homes after a strong earthquake set off a landslide on a highway, damaged buildings and parts of bullet train lines, and caused power blackouts for thousands of people.
The 7.3 magnitude temblor late Saturday shook the quake-prone areas of Fukushima and Miyagi prefectures that 10 years ago had been hit by a powerful earthquake that triggered a tsunami and a meltdown at a nuclear power plant, according to Fox News.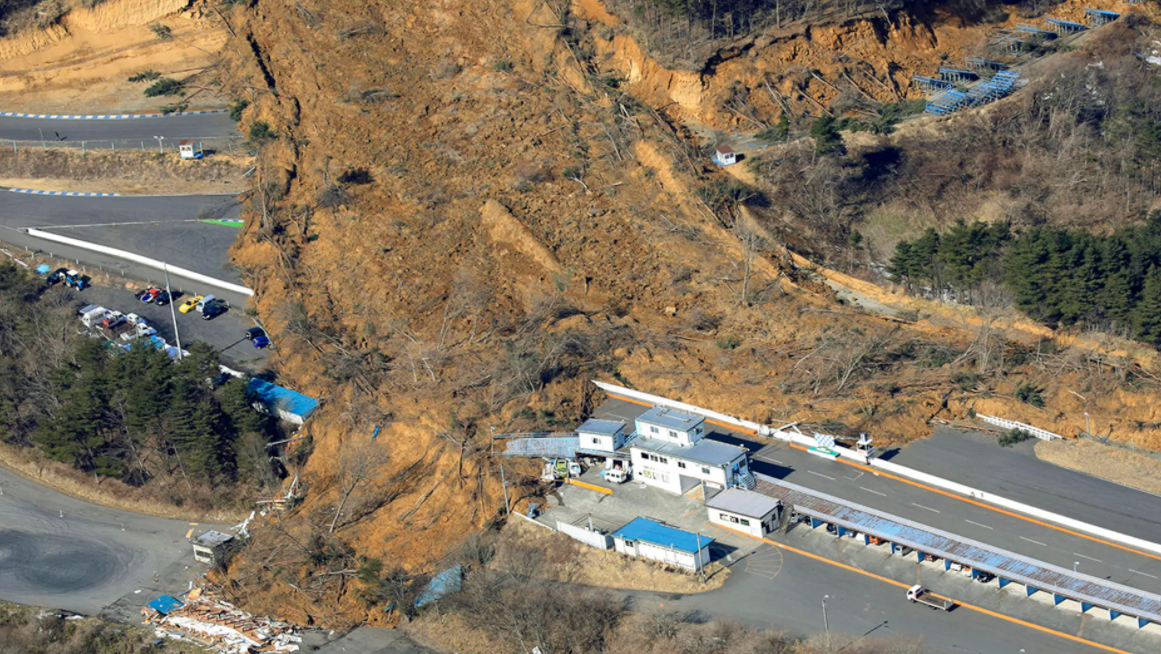 A landslide caused by a strong earthquake covers a circuit course in Nihonmatsu city, Fukushima prefecture, northeastern Japan, Sunday, Feb. 14, 2021. (Photo: Associated Press)
More than 140 people suffered mostly minor injures, many of them by falling objects and cuts while stepping on broken glass. Three people were confirmed with serious injures but there were no reports of deaths, Chief Cabinet Secretary Katsunobu Kato said.
The 7.1 magnitude earthquake struck the country's east coast at 11:07 p.m. Saturday. At least 48 injuries were reported in Fukushima and Miyagi prefectures, according to state broadcaster NHK, but there were no major casualties.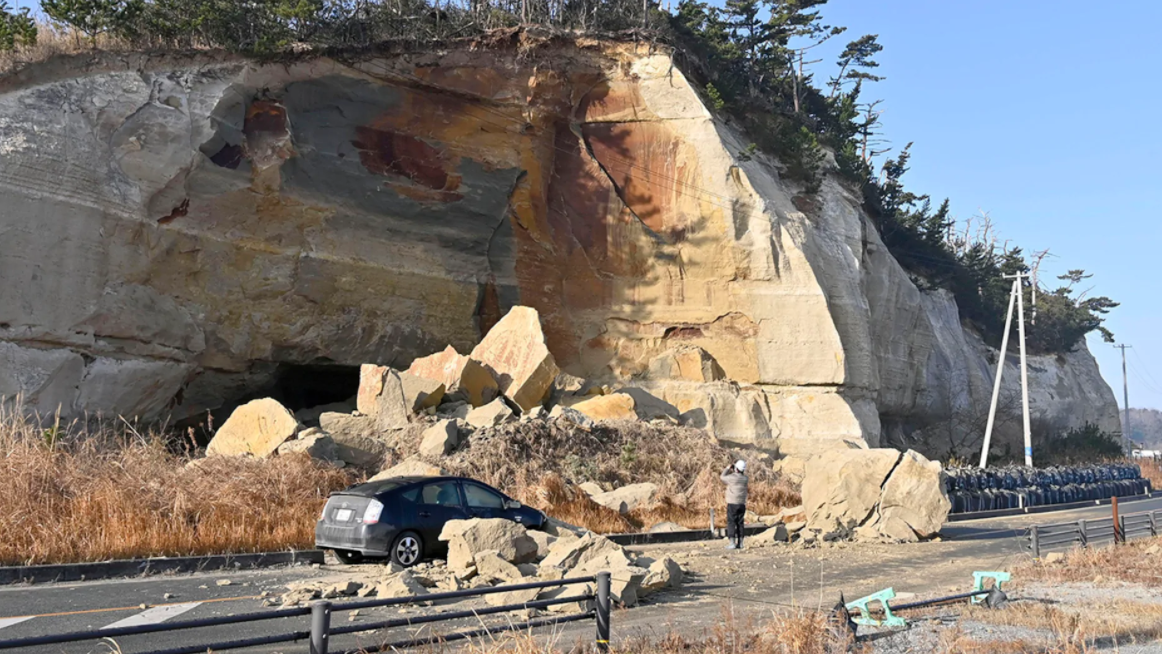 Collapsed rocks block a road after a strong earthquake hit Soma city, Fukushima prefecture, northeastern Japan, Sunday, Feb. 14, 2021. (Photo: Associated Press)
The epicenter hit about 46 miles (74 kilometers) northeast of Namie, a coastal town 60 miles from Fukushima, according to the United States Geological Survey. The earthquake measured about 36 miles in depth. No tsunami warning was issued.
More than 20,000 people died or went missing in the 2011 quake and tsunami, while hundreds of thousands more lost their homes. More than 100,000 people were evacuated from the area. Authorities have spent the past ten years cleaning up the area - a massive effort that experts say will take another few decades to complete.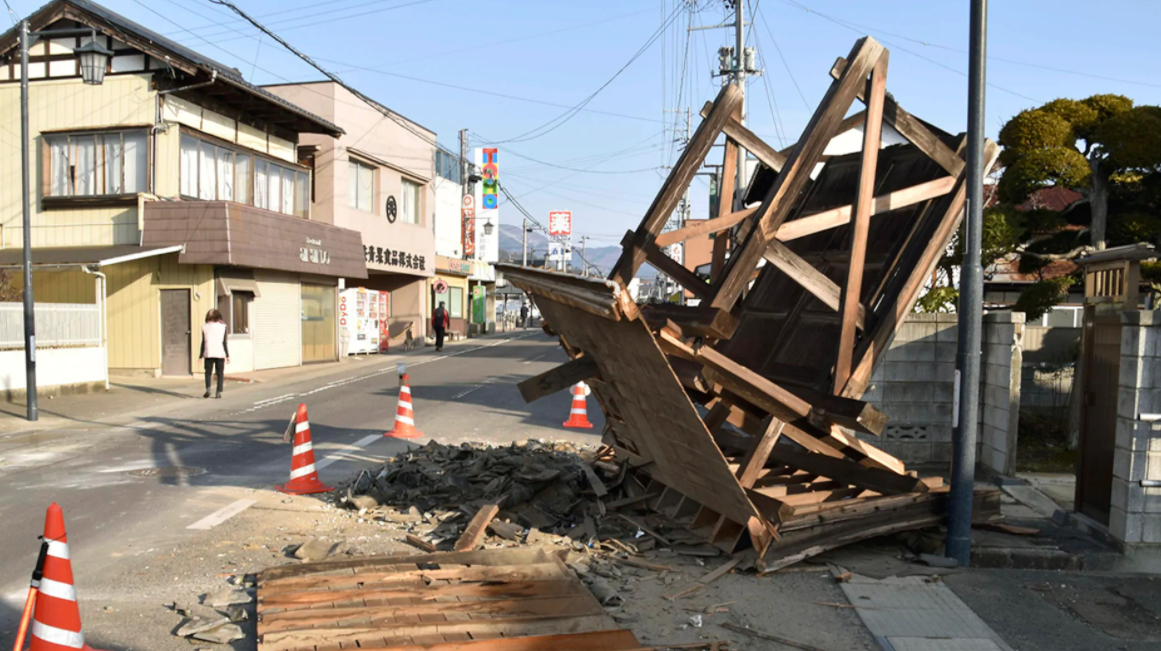 This photo shows a damaged entrance of a house in Kori town, north of Fukushima city, northeastern Japan, Sunday, Feb. 14, 2021, following an earthquake Saturday. (Photo: Associated Press)
TV footage and video shared on social media showed boxes, books, and other items scattered on floors. In the northern Fukushima city of Soma, a roof at a Buddhist temple collapsed. Workers were clearing up a major coastal highway connecting Tokyo and northern cities where a major landslide occurred. Several other roads were also blocked by rocks.
Saturday's quake took place in the same area as the March 11, 2011, earthquake that caused the country's worst nuclear disaster on record, when three reactors at the Fukushima Daiichi nuclear plant melted down, releasing radioactive materials into the air.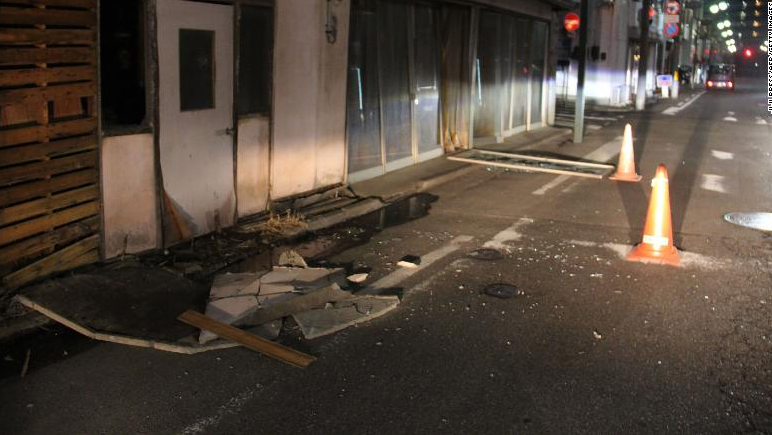 Damaged buildings are seen in Fukushima on February 13. (Photo: CNN)
Despite these ongoing efforts, when Japan hosts the Olympic Games this year the torch relay is scheduled to start its journey in Fukushima on March 25, 2021 -- a symbol of recovery and rebuilding in the area, CNN cited.
"As 2021 will mark the 10th anniversary of the 2011 Great East Japan Earthquake, the rescheduled Tokyo 2020 Olympic Torch Relay will aim to showcase the recovery of the areas worst affected by the disaster," the Olympic committee said on its website.
However, Saturday's earthquake is a reminder that the events are 2011 are not entirely behind the Fukushima region.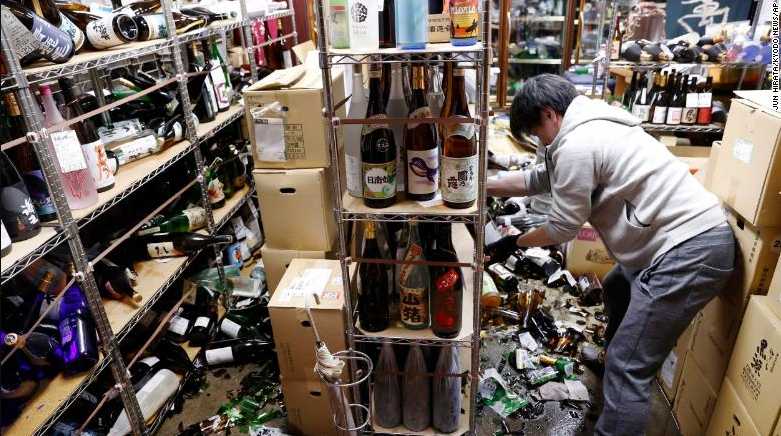 A liquor shop's manager clears damaged bottles following Saturday's quake. (Photo: CNN)
The prime minister's office immediately set up a crisis management office, and Tepco said it was checking its monitoring posts in Fukushima to ensure that there were no radiation leaks at two nuclear plants that have been disabled since the 2011 disaster.
Shortly after midnight, the public broadcaster NHK reported that Tepco had detected "no major abnormalities" at any of the Dai-ichi reactors where the meltdowns occurred in 2011 or at the Dai-ni plant a few miles away in Fukushima, NYT said. The Kashiwazaki-Kariwa nuclear plant on the west coast had suffered no damage.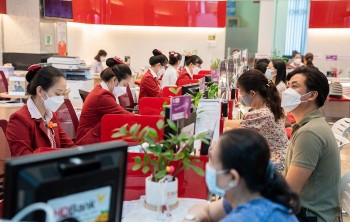 Economy
Vietnam Business & Weather Briefing (August 12): Air passengers reach a record number in July, seafood exports expected to reach 3 billion USD in Q3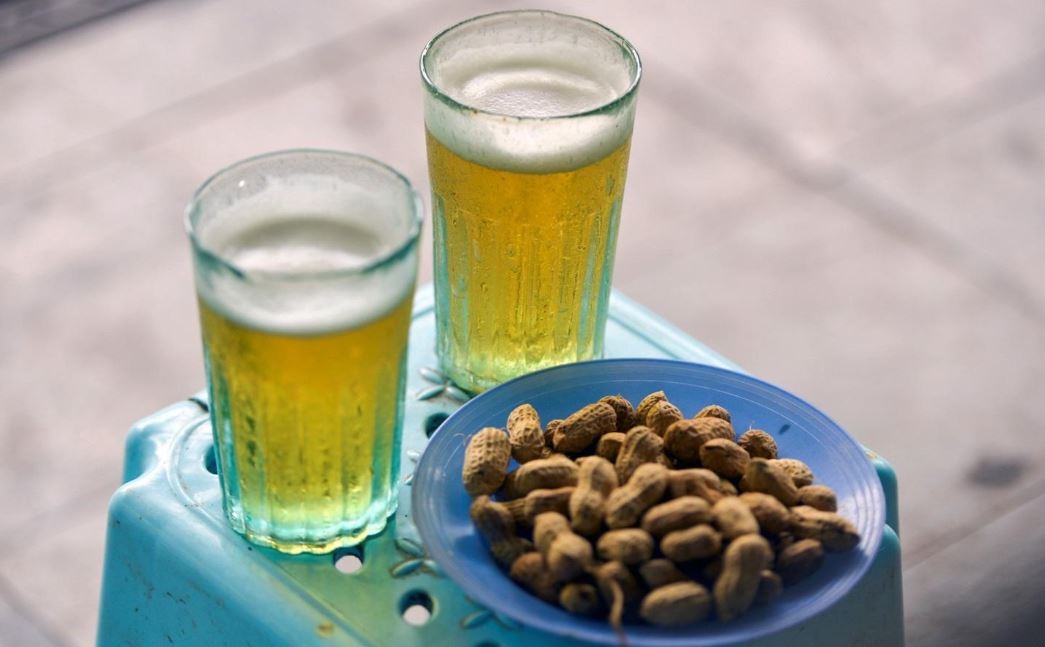 World
Among Vietnamese best beer destinations voted by foreign travelers, Hanoi is followed by Ho Chi Minh City, Hoi An, Nha Trang, and Da Nang.
August 06, 2022 | 14:54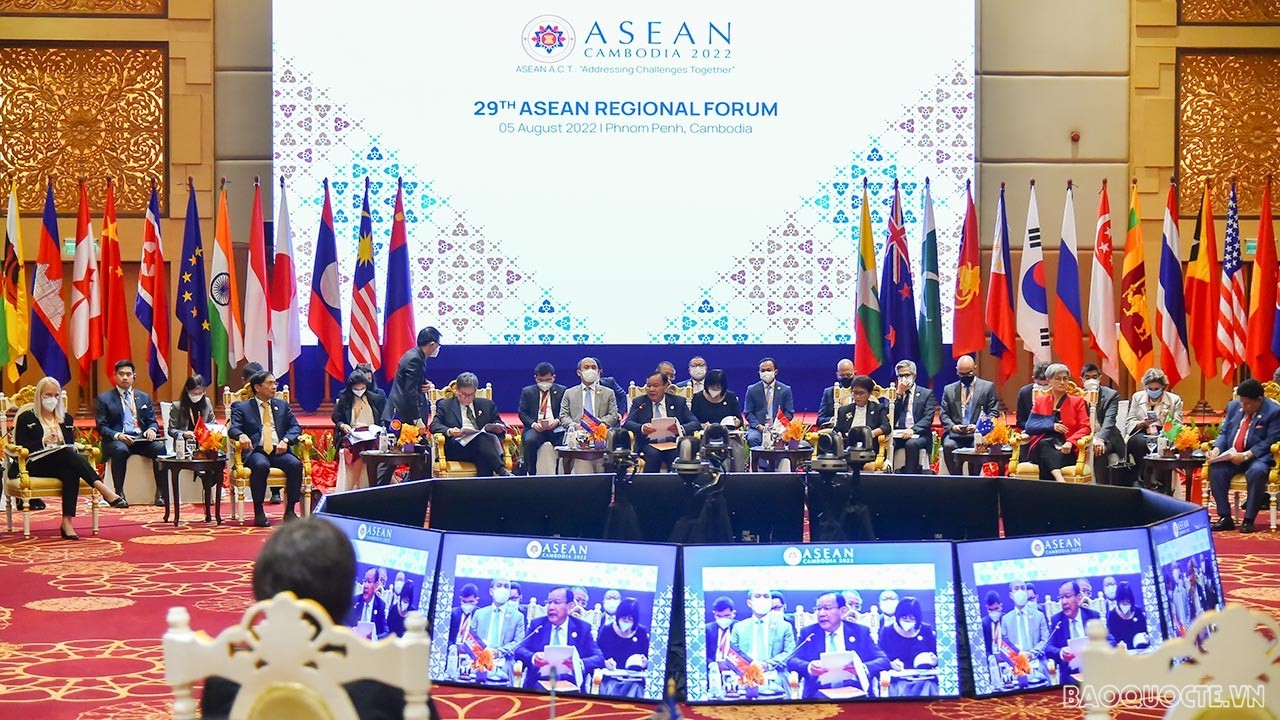 World
Foreign Minister Bui Thanh Son attended the 29th ASEAN Regional Forum (ARF) that took place in Phnom Penh, Cambodia on August 5 within the framework of the 55th ASEAN Foreign Ministers' Meeting (AMM-55), and held several bilateral meetings on the sidelines of the event.
August 06, 2022 | 09:12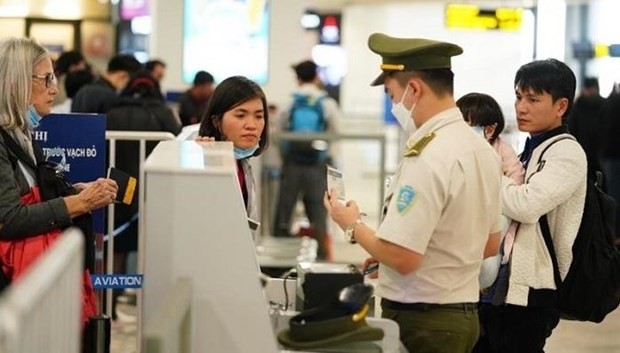 World
The Ministry of Health has asked localities nationwide to monitor foreign arrivals from countries with monkeypox as an early response after infections were spotted in the region.
August 05, 2022 | 16:11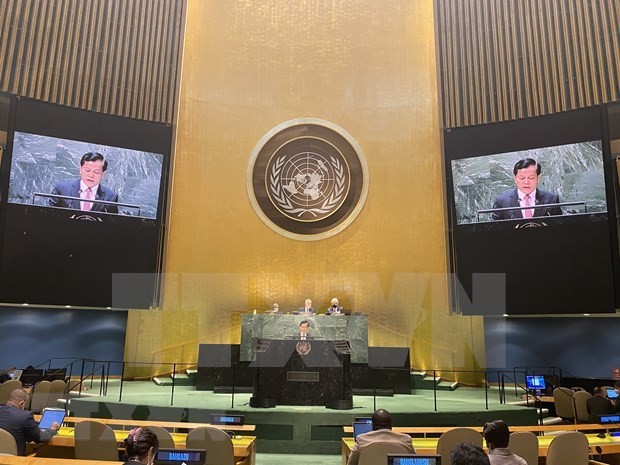 World
Deputy Foreign Minister Ha Kim Ngoc had a meeting on August 3 with United Nations (UN) Secretary-General Antonio Guterres who highly valued Vietnam's active and responsible contributions to the common work of the organisation, especially the country's strong commitments in the fight against climate change, and promised to continue supporting Vietnam in this work.
August 04, 2022 | 16:57