Battling Coronavirus pandemic, Japan plans to extend emergency state, staying ready for Olympics
Prime Minister Yoshihide Suga said Tuesday that Japan plans to extends its emergency state in Tokyo, Osaka and eight other areas amid Covid's cases rising in the country.
Japan plans to extend its state of emergency in Tokyo, Osaka and eight other prefectures as the country continues to battle rising Covid-19 cases, Prime Minister Yoshihide Suga said Tuesday.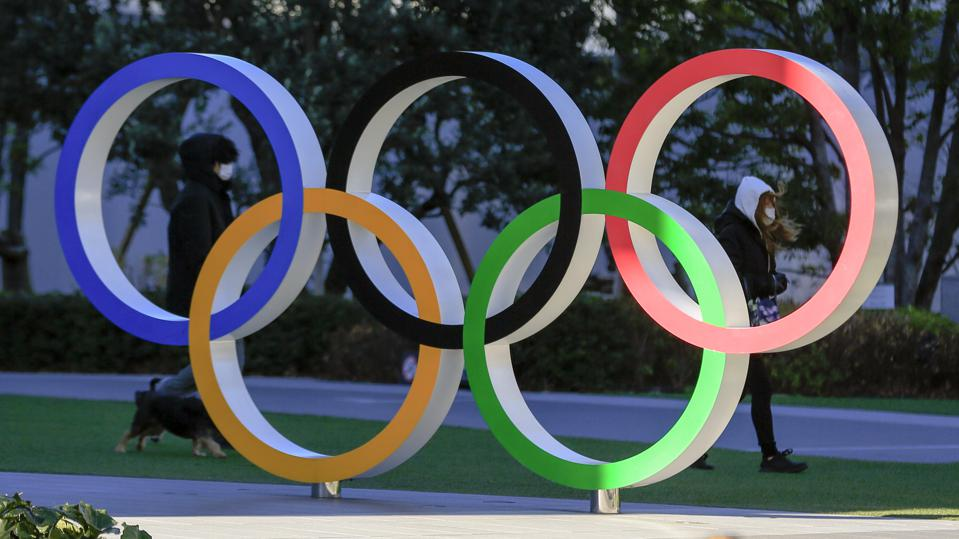 People wearing a face mask walk by the Olympic rings outside Japan Olympic Museum near National Stadium, where the opening ceremony and many other events are planned for the postponed Tokyo 2020 Olympics. (Source: ASSOCIATED PRESS)
The move comes as questions persist over the country's readiness to host the Olympics, which are scheduled to be held in Tokyo this summer from July 23 to August 8.
Eleven of Japan's 47 prefectures are currently under a state of emergency that orders companies to facilitate work from home where possible, and requires restaurants to close by 8 p.m. Sports and entertainment events in Japan are also required to limit the number of attendees.
Suga told Japan's Parliament Tuesday that he plans to extend the state of emergency -- which is set to expire Sunday -- until March 7 for 10 of the prefectures. The state of emergency is set to be lifted for one prefecture, he said.
That decision still needs to be finalized by the government's coronavirus task force, and Suga is expected to hold a press conference Tuesday night over the state of emergency rules.
Japan's Health Ministry on Monday reported 1,792 new coronavirus cases and 72 additional deaths, bringing the country's total cases to more than 392,000 and more than 5,800 dead. Almost 50,000 Covid-19 patients are in need of hospital-level medical care as of Monday.
Around one third of confirmed cases are in the capital Tokyo, which on Monday reported fewer than 500 new case for the first time since December 28.
As the country struggles with its current spike, partly brought on by freezing winter temperatures, it is also grappling with mixed messages and coronavirus fatigue, having been among the earliest hit by the pandemic.
Unlike a number of other countries which have introduced lockdowns and social distancing measures, Japan lacks much in the way of legal powers to force compliance with the government's orders.
Suga has been criticized for what has been perceived as his reluctance to take action to combat the spread of the virus. Kenji Shibuya, director of the Institute for Population Health at King's College London said in January that Japan's response is "too slow and confusing."
"On one hand they encouraged domestic travel and eating out, on the other they just asked people to take caution," Shibuya said. "The government is basically asking people voluntarily to behave properly, but does not do more than that."
Japan dismisses Olympics's rumour to be cancelled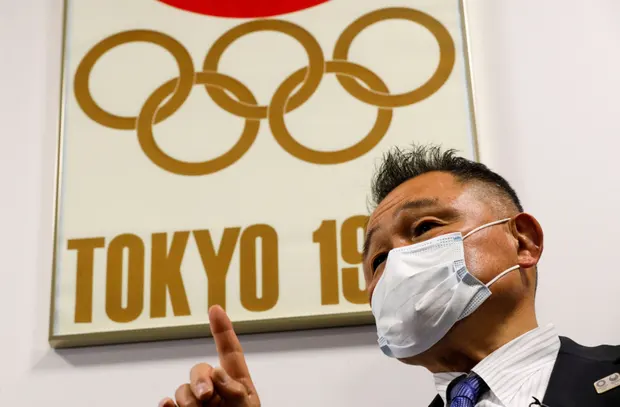 Yasuhiro Yamashita, the president of the Japanese Olympic Committee, during an interview on Friday. Photograph: Kim Kyung-Hoon/Reuters
The Japanese government has vehemently denied a story that it has privately concluded that this summer's Olympic and Paralympic Games in Tokyo are doomed, calling them "categorically untrue".
Sources at the International Olympic Committee have also told the Guardian that they are still planning for a "full Games" in July, despite the spiralling number of Covid-19 cases in Japan and across the globe. They also dismissed a Times report that said that government officials had resigned themselves to cancelling the Olympics and were instead hoping a wave of sympathy would help Tokyo secure the 2032 Games.
"No one wants to be the first to say so but the consensus is that it's too difficult," the Times quoted an unnamed senior member of Japan's ruling coalition as saying. "Personally, I don't think it's going to happen."
"The renewed schedules and venues for the Tokyo 2020 Games, starting with the Opening Ceremony on 23 July this year, were determined at the IOC session in July last year. All parties involved are working together to prepare for the successful Games this summer."
That message was reinforced by Tokyo 2020 organisers, who insisted plans would continue to deliver the Games this summer. "Prime minister Suga has expressed his determination to hold the Games; the government is leading a series of coordination meetings for Covid-19 counter measures and is implementing thorough infection countermeasures in order to be able to hold the Games," it said in a statement.
"All our delivery partners including the national government, the Tokyo metropolitan government, Tokyo 2020 organising committee, the International Olympic Committee and the International Paralympic Committee are fully focused on hosting the Games this summer.
"We hope that daily life can return to normal as soon as possible, and we will continue to make every effort to prepare for a safe and secure Games."
The Tokyo metropolitan government also said there was "absolutely no truth" in the story, while Andy Anson, the British Olympic Association CEO, underlined that commitment in an interview on BBC Radio 5 live on Friday morning.
In response to whether the Games could go ahead without fans as has been mooted, Anson stated: " I don't think we need to make that decision now. Those [sorts of] decisions will be put back to April or May this year. If you go back just a couple of months there were full stadia for baseball matches [in the country]. They have managed to create an environment where they can get people into venues to watch live sport."
However, doubts still remain about whether the Olympics and Paralympics, which are expected to have 15,000 participants, can go ahead given the rising number of coronavirus cases in Tokyo.
The Australian prime minister Scott Morrison admitted on Friday that the pandemic was placing "real pressure" on the Japanese prime minister, Yoshihide Suga.
"Any prime minister anywhere, has to put, I think, the health and safety of their populations first and what can be managed," added Morrison, who said that a cancellation "would be very disappointing for the Japanese people" and for Suga and his predecessor, Shinzo Abe, who oversaw Tokyo's successful bid for the Games in 2013.
Suga, who is struggling to respond to a surge in Covid-19 cases that has strengthened public opposition to Tokyo 2020, said on Friday he remained committed to working with the IOC to hold a "safe and successful" event.
Japan has been hit less severely by the pandemic than many other advanced economies, but a recent surge in cases, centred on Tokyo, and intense pressure on hospitals forced Suga to declare a month-long state of emergency this month.
In addition, about 80% of the Japanese public think the Games should be postponed again or cancelled altogether, according to a recent opinion poll.