Preserving the Craft of Traditional Mooncake Molds
For the past 42 years, Tran Van Ban has always been chiseling, and preserving what is considered an "old-fashioned" profession - making wooden mooncake molds.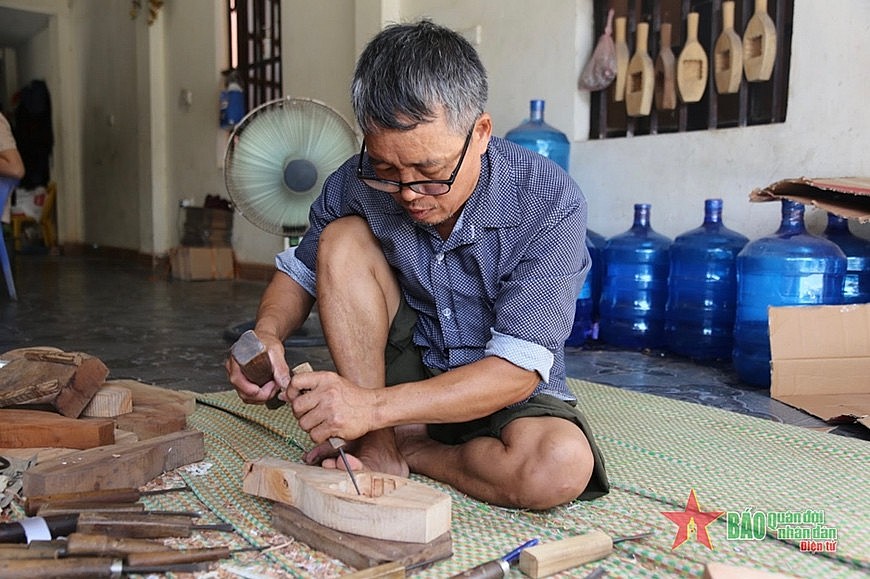 Tran Van Ban is the only person from Thuong Cung village (Tien Phong commune, Thuong Tin district, Hanoi) who still preserves the tradition of making mooncake molds. Photo: qdnd.vn
In a place 20km south of Hanoi city center, Tran Van Ban is the only person from Thuong Cung village (Tien Phong commune, Thuong Tin district, Hanoi) who still preserves the tradition of making mooncake molds.
42 years of preserving the national quintessence
Born and raised in a family without a carpentry tradition, Tran Van Ban fell in love with chisels and pieces of wood. When he was a child, you learned to make wooden mooncake molds after school, mastering the ancient craft.
When Chinese plastic molds spread on the market, Ban still appreciated the beauty of the Vietnamese quinsence . According to Ban, Chinese plastic molds have solved all the problems. However, the difference between them and wooden molds is the traditional patterns, motifs, the issue of food hygiene and safety.
Compared with plastic molds, wooden molds are more hygienic and safe for food because they use the safest woods used in the food industry to produce mooncake molds. Moon cakes made from traditional molds will have a different aroma and taste.
Talented artists
With quick hands, surrounded by hundreds of chisels of different sizes, he said, "Keeping a job is difficult, breathing life into them requires the worker to be a talented artist. Each finished work needs to be beautiful, meticulous and sharp in every detail ."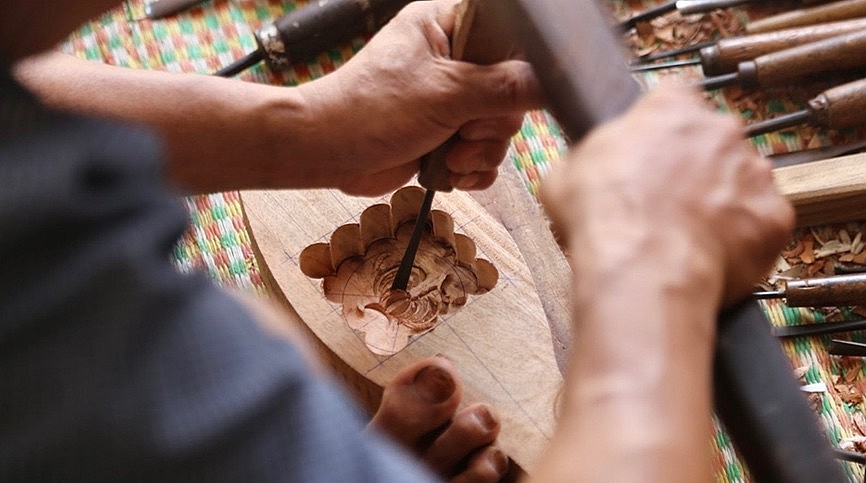 The chrysanthemum cake mold - a flower symbolizing vitality, longevity, happiness and joy. Photo: qdnd.vn
The mold has to go through many stages, from sawing wood, treating moisture to prevent wood damage, cutting the mold according to the customer's request, smoothing it, and then soaking it in grease.
Following this sequence of steps, the mooncake when made will be beautiful and not sticky. The most difficult and time-consuming process, made entirely by hand, is the process of chiseling the shape in the mold. This requires the artist to be meticulous, creative and careful. However, if done well, it only takes 3 hours for a finished mold.
Sitting next to Ban is Pham Thi Tam (Ban's wife) tearing sandpaper to smooth each pattern in the mold. This is the final stage of finishing the mooncake mold.
The patterns are thin, deep, he has to fold the piece of paper to smooth the mold. Tam said, "The mold for baked mooncake and snow skin mooncake are different. Baked mooncakes must be made equally, so that when baking, the outer shell catches fire evenly, does not burn or have an uneven yellow color."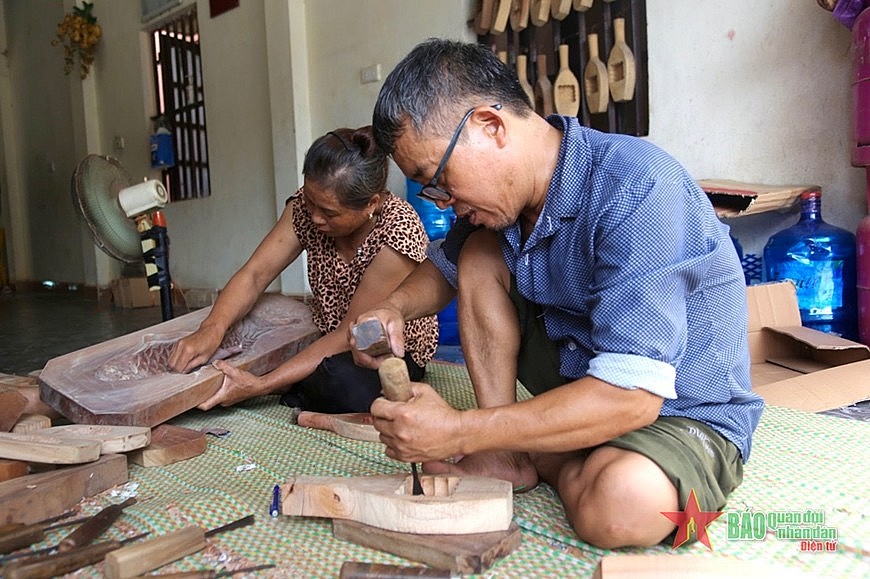 Tam and her husband carved patterns into the mooncake mold. Photo: qdnd.vn
Every Mid-Autumn Festival, Ban makes about 200-300 mooncake molds. The price of the mold ranges from VND150,000 to VND500,000 (US$6.4 to US$21.38) a piece, depending on the size. There are large, sophisticated mooncake molds that cost up to millions of dong. His products sell well from May to August of the lunar calendar with many molds that weigh up to a kilo.
During the Mid-Autumn Festival season, he works until 3 am, take a short nap until 6 am, and then get up to work.
Concerned about the disappearance of this traditional profession, Ban said: "I have kept this profession for nearly half of my life. Being handed down by my customer, I have to try to preserve it for my children and. As long as I live, I still love my job, cherish it, and teach it to my children."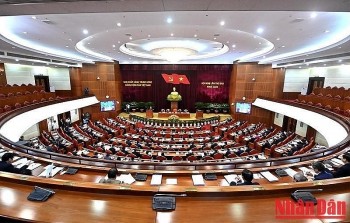 National
The 13th Party Central Committee discussed two important projects on October 4, the second working day of its 6th plenum.