Mesmerized by Vietnamese Handicraft, Australian Designer Builds Fashion Brand in Hanoi
Mesmerized by brocade material, Australian designer Cynthia Mann brought the fashion brand "Future Traditions" which has impressed many customers.
Mesmerized by traditional Vietnamese brocade and ceramics, an Australian designer decided to settle down in Vietnam and built the fashion brand "Future Traditions" which blends the stunning textiles of Vietnam's many ethnic minority communities with contemporary designs.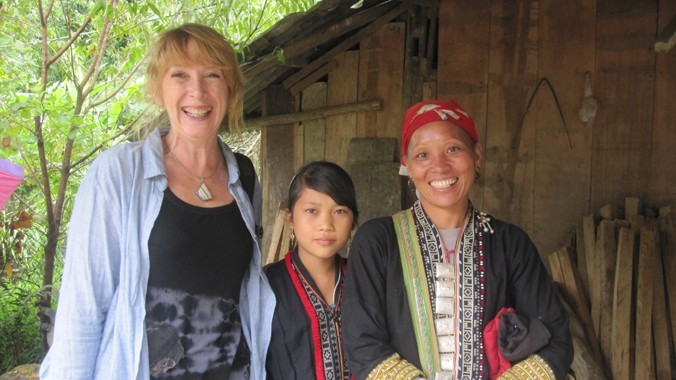 Cynthia Mann's on a trip to Bac Ha, a rural district of Lao Cai province in the Northeast region of Vietnam. Photo courtesy of Cynthia Mann
With a fashion designer for a mother and a graphic designer for a father, Cynthia Mann grew up with a love of design and textiles, designing and sewing from an early age. After performing, directing, and designing theatre productions she moved into the film and television industry as, amongst other things, an art director and designer.
Cynthia first visited Vietnam in 2003 to help her friend complete a documentary project and decided to move to Hanoi in 2008. She said that she found an endearment for Vietnamese cultural tradition, history, and community in her work and life here, and that has kept her staying until now, according to Vietnamnet.
Future Traditions grew out of her love of Vietnamese ethnic minority textiles. Cynthia's aim is to create new markets for traditional crafts by working directly with ethnic minority communities to produce new textiles for her clothing collections. The Future Traditions clothing range highlights these textiles in contemporary styles for everyday wear.
A love for fabrics hand-woven and hand-dyed by ethnic minorities is evident in Mann's designs. She said these fabrics had the highest quality and diversity but the handicraft has been dying out as cheap Chinese goods flood the market while lots of people work with ethnic minority textiles. There are few options for the stable production of handmade goods.
Brocade weaving has long been associated with the daily life of Vietnam's ethnic groups. Each brocade product has its own culture and undergoes many stages that require meticulousness and skill from the weavers, who are women.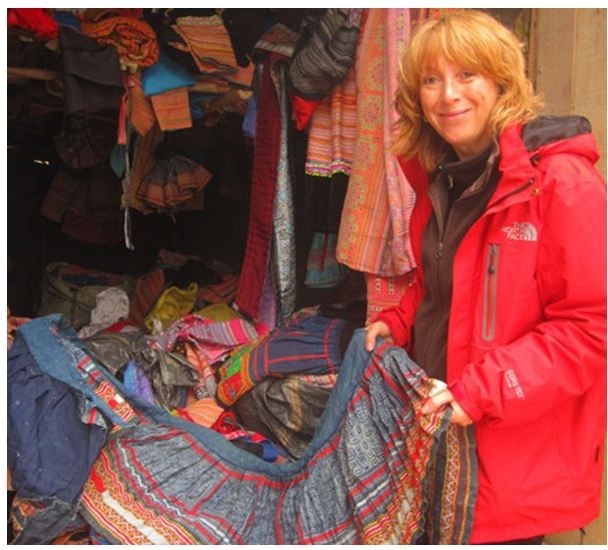 Cynthia Mann said fabrics hand-woven and hand-dyed by ethnic minorities are of the highest quality and diversity. Photo courtesy of Cynthia Mann
In the early days, Cynthia went directly to the mountainous villages to find local textile producers. After completing the designs, she sent them to these producers and handicraft artisans for weaving and embroidering. Cynthia now works mostly with women of the Dao, Hmong, and Thai ethnic minorities. She also got a lot of weaving done through Hoa Tien, a weaving village in the central province of Nghe An.
The designer said that the more she works with ethnic people, the more she is drawn to the way they bring life stories into the motifs of their costumes.
Now Mann has built relationships with locals, so she can order special textiles and use them in their designs. By blending traditional brocade with decorative patterns on small areas like hems, necks, buttons, and border decorations, she creates fashionable clothing at reasonable prices, while using special features of ethnic minority culture.
Mann said she knew she wanted to live in Vietnam the very first time she stepped into a taxi on her first visit almost 20 years ago. Now, some of her favorite things about Vietnam are its coffee and delicacies offered during the Tet holiday.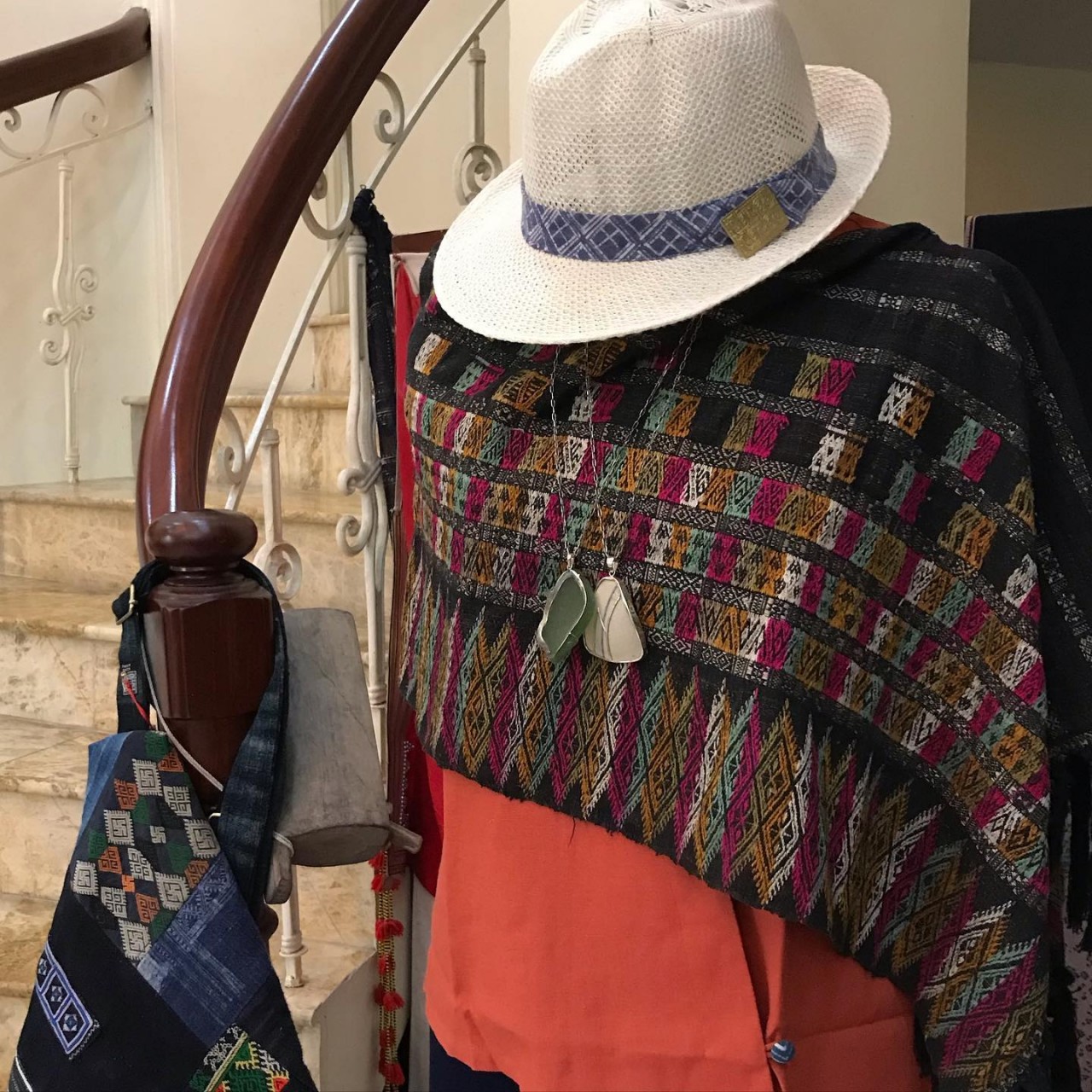 Cynthia Mann blends the stunning textiles of Vietnam's many ethnic minority communities with contemporary designs for people who want something beautiful and unique to wear. Photo courtesy of Future Traditions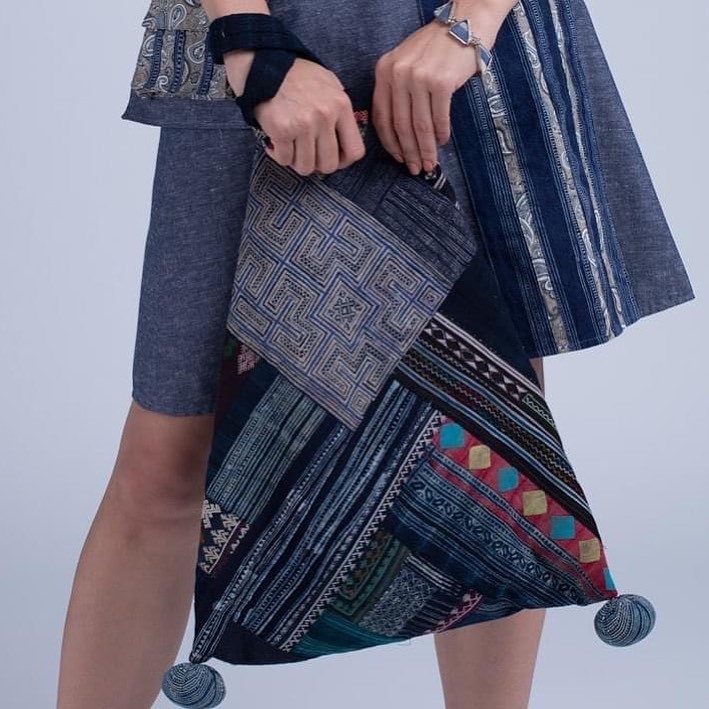 Future Traditions product: a FT Slouch Bag, made from vintage ethnic minority textiles. Photo courtesy of Future Traditions
Cynthia's fashion brand also grew with her love of Vietnamese ceramics.
Some people may like to spend their vacations lying on the beach, doing nothing but enjoying the sound of waves, the smell of water, the white sand, and the cool breeze. But Cynthia loves to walk along the beach in her bare feet with a large, brimmed bamboo hat. From time to time she finds broken pieces of ceramics or glass that most would ignore the small objects. But for Mann, they're an inspiration for new jewelry designs.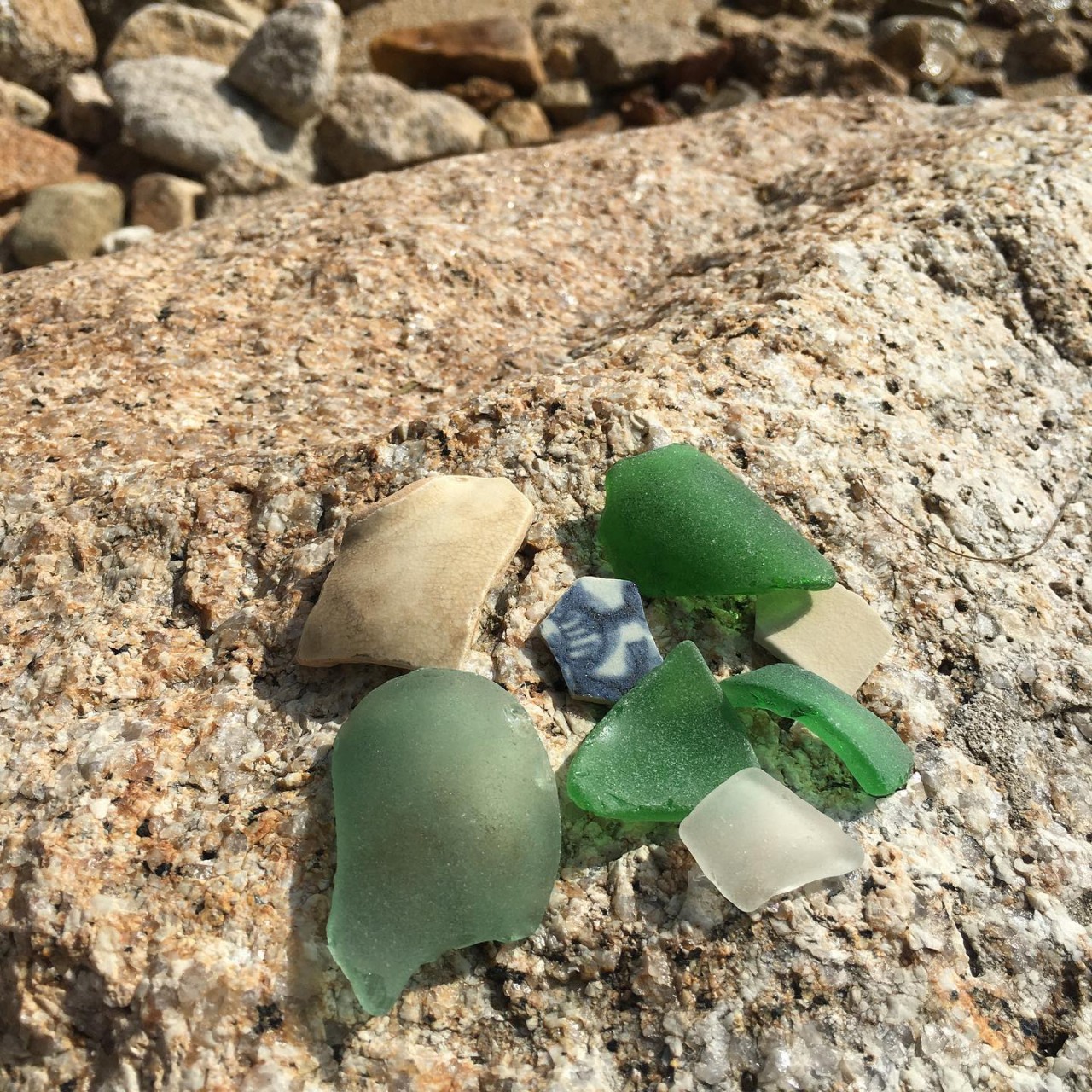 Fragments of ceramics and glass Cynthia Mann collects after a walk on the Vietnam's beach. Photo courtesy of Cynthia Mann
During a holiday on the beach, she might collect dozens of pieces. She reshapes them and frames them with silver, turning them into ornamental wares for her brand "Future Traditions" and sells them at a showroom on To Ngoc Van street in Hanoi. Each earring, necklace, or ring showcased here has a hidden story of its journey in the sea.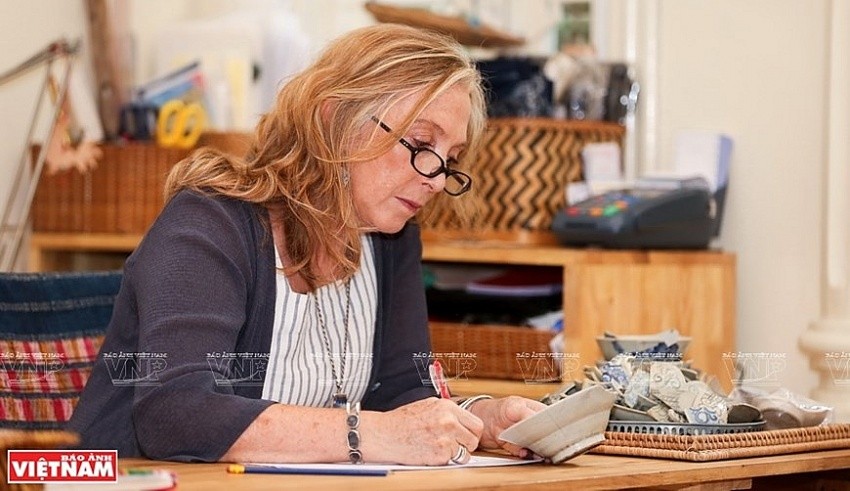 Cynthia Mann uses patterns from discarded ceramic pieces to create brocade patterns. Photo: VNP/VNA
Mann's jewelry is purchased by expats, tourists and some Vietnamese. In photo: Unique sterling silver jewelry featuring seaglass and ceramic shards that wash up along Vietnam's shipwreck coast. Photo courtesy of Future Traditions
"One can only imagine the stories behind each piece of ocean-polished ceramics and sea glass found washed up along the coast of Vietnam – are they fragments from the cargo of one of the shipwrecks which date as far back as the 13th century, intended for trade in Europe?" She wrote on her website.
"Or broken and discarded crockery from which the sailors ate?...We may never know, but in using what others would, and have, thrown away, these recycled pieces can reclaim their part in Vietnam's seafaring history, this time as unique pieces of jewelry."
"I had a trip to Phu Quoc on holiday and I found some pieces of ceramics on the beach. I just thought wow, they're so unique and beautiful pieces of history. They're wasted sitting here on the beach, nobody getting, covered in sand. They're made from natural products, but they've been cast off and thrown away," Cynthia told VOV.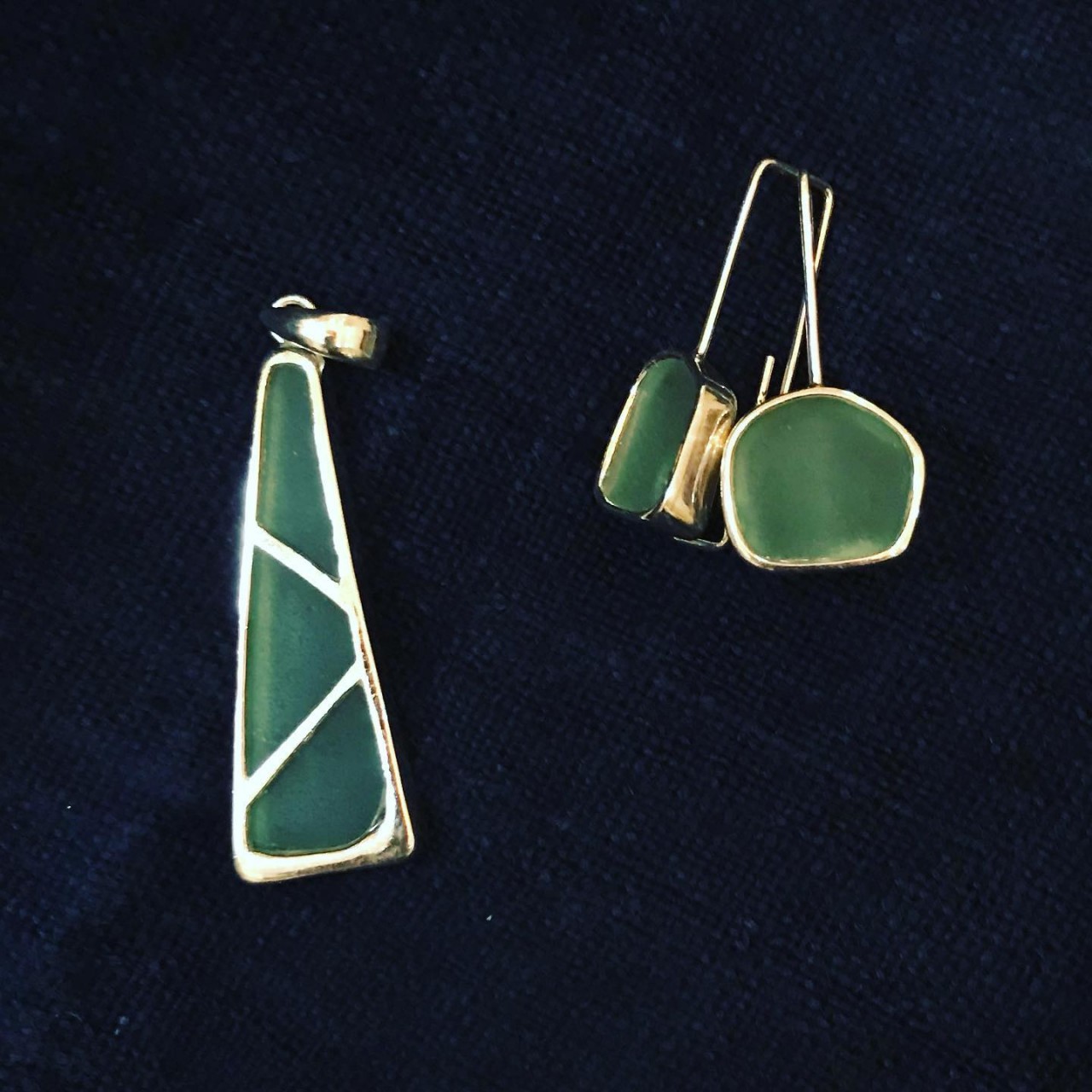 Sea glass from Vietnam's shipwreck coast, set in sterling silver. Photo courtesy of Future Traditions
"And it was a really nice way to rekindle and remind people of Vietnam's seafaring history and how important the coastline has been to the Vietnamese over centuries."
"If you touch this one, you can feel how rough it is, so that's probably a piece from a shipwreck because it's really old and it's been in the ocean a really long time. But then if you feel that one, it's really smooth, so it's probably quite new, maybe it's off the fisherman's boat or washed down one of the rivers from one of the villages," said Cynthia.