President Hopes for Stronger Vietnam-Indonesia Defence Ties
President Nguyen Xuan Phuc on May 13 suggested Vietnamese and Indonesian defence ministries bolster consultations and support each other at multilateral forums, and maintain the common stance of ASEAN on regional issues, including the South China Sea (Bien Dong Sea).
President Nguyen Xuan Phuc (right) and Indonesian Minister of Defence Prabowo Subianto (Photo: VNA)
At a reception for Indonesian Minister of Defence Prabowo Subianto in Hanoi, the President said such mechanisms as the defence policy dialogue play a major role in exchanging viewpoints, handling bottlenecks and promptly guiding bilateral defence ties, VietnamPlus said.
Vietnam and Indonesia have launched measures to consolidate political trust; fully implement signed cooperation agreements in an efficient and practical way, and bolster collaboration between the armies, especially regular exchanges between the countries' navies and coast guards for timely resolution of maritime incidents; and exchange intelligence and defence industry information, as well as participate in United Nations peacekeeping operations.
He affirmed that Vietnam treasures relations with Indonesia, which is the country's leading strategic partner in the region, and strives to foster ties in a stable, sustainable and comprehensive fashion across all fields, particularly economy, security, defence, culture, education, tourism and people-to-people exchange.
Vietnam appreciated Indonesia's contributions to upholding ASEAN's centrality and solidarity, especially the country's active role in promoting the implementation of the Five-Point Consensus on the situation in Myanmar adopted by ASEAN leaders in April 2021.
Vietnam will support Indonesia as Chair of ASEAN next year and hopes the country will further contribute to building an ASEAN Community of solidarity, development, peace and stability that ensures security and freedom of navigation in the region adhering to international law and the 1982 UN Convention on the Law of the Sea (UNCLOS).
President Phuc said that with high consensus between him and his Indonesian counterpart Joko Widodo, the two nations need to raise cooperation in addressing maritime issues and build a regular mechanism in this regard.
For his part, the visiting Indonesian Minister pledged that after his visit, Indonesia will bolster cooperation with Vietnam's navy and coast guard forces in dealing with maritime issues.
Indonesia wishes to learn from Vietnam's experience in defence, fisheries and agricultural development, he said, adding that the Indonesian defence ministry stands ready to partner with its Vietnamese counterpart in technology and military medical training.
Earlier the same day, Prabowo Subianto and his Vietnamese counterpart Gen. Phan Van Giang agreed to intensify bilateral defence relations in the time ahead during their talks, Nhan dan newspaper said.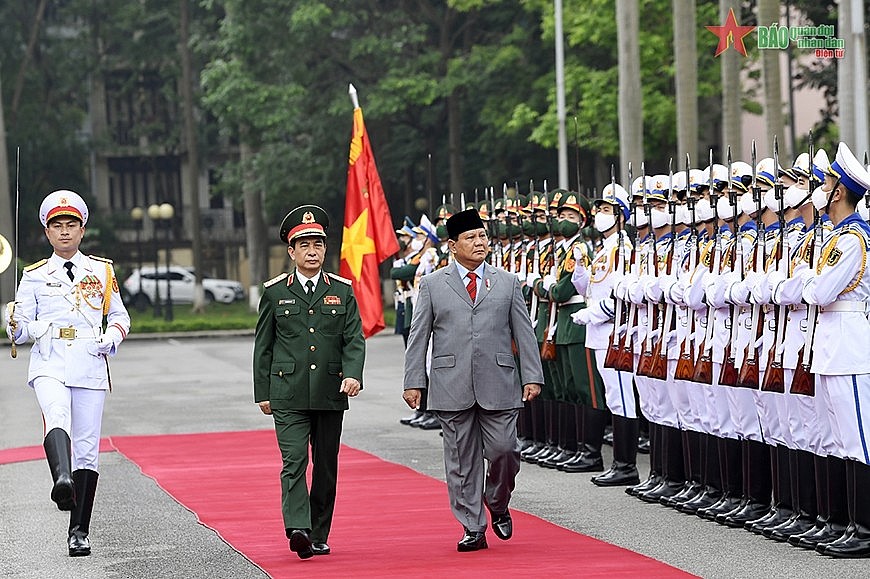 Prabowo Subianto and his Vietnamese counterpart Gen. Phan Van Giang inspect the guard of honour in Hanoi. Photo: qdnd.vn
The two sides shared the view that defence cooperation between Vietnam and Indonesia has been promoted and recorded encouraging outcomes as seen in their effective dialogues, consultations, delegation exchanges, personnel training, cooperation between the naval and coast guard forces, partnership between research institutes, and coordination at multilateral forums.
In particular, despite the COVID-19 pandemic's impacts since late 2019, bilateral defence ties have still been enhanced and obtained certain practical outcomes, especially dialogue and cooperation mechanisms maintained via videoconference, along with cooperation deals signed between the countries' naval and coast guard forces.
They agreed that in the time ahead, Vietnam and Indonesia will press on with effectively implementing the defence cooperation agreements inked between their Governments and defence ministries, bring into play dialogue mechanisms, step up mutual visits at all levels, reinforce relations between their naval and coast guard forces, and boost collaboration in training and the defence industry.
The ministers affirmed the necessity to maintain peace, stability, security, and safety of navigation and overflight in the South China Sea, comply with international law, including the 1982 UN Convention on the Law of the Sea (UNCLOS), effectively carry out the Declaration on the Conduct of Parties in the South China Sea (DOC), and soon finalise a substantive and effective code of conduct (COC) in the waters that is in line with international law.
At the talks, Giang asked the two countries' maritime law enforcement agencies to increase coordination to share information and deal with issues emerging at sea in conformity with the Vietnam - Indonesia strategic partnership and the humanitarian spirit towards fishermen.
He also took this occasion to invite leaders of the Indonesian ministry to attend and send the country's defence businesses to take part in the first international defence exhibition in Vietnam in December this year./.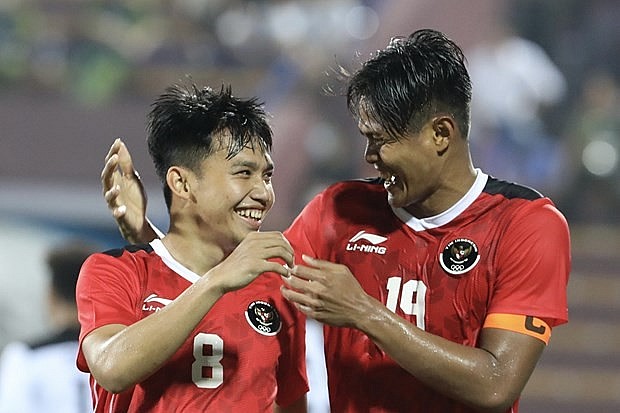 Indonesia players celebrate after scoring the second goal against Timor Leste at SEA Games 31 at Viet Tri Stadium in northern Phu Tho province on May 10. Photo: VNA
Subianto and the high-ranking delegation of the Indonesian Defence Ministry are in Vietnam to make an official visit and attend the ongoing SEA Games 31.
Indonesia is targeting to rank in the top four at the biggest regional sport event that takes place in Vietnam from May 12 to 23, according to Antar news agency.
The country dispatches a strong delegation of 778 members comprising 499 athletes and 214 officials as well as 63 assistants.
The athletes will compete in 318 events and 32 sports out of the 40 sports branches.
Indonesia was earlier placed fifth in the 2015 SEA Games in Singapore and the 2017 SEA Games in Malaysia. The country had then secured fourth place in the 2019 SEA Games in the Philippines.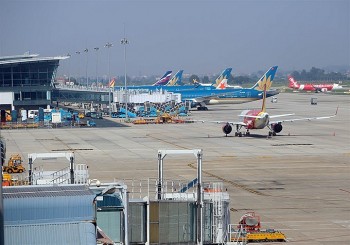 National
Vietnam News Today (May 20): Vietnam eyes 15-day visa exemption from Russia; Vietnam tops medal tally, exceeding gold medal target at SEA Games 31; HCM City, Cuba bolster co-operation in diplomacy, youth and cultural exchanges; Various activities held to mark President Ho Chi Minh's birthday.